Last week, we had the opportunity to visit Paris for an extended weekend. A trip to Paris means lots and lots of delicious food. It also means we had many egg based dishes as is popular in the French culture. After we returned home from our trip, we were missing a lot of the amazing food we had over there. It seemed like a good time for breakfast for dinner. Enter: Cast Iron Baked Eggs. A quick dish we could throw together as we were recovering from the time difference and a nice egg style dish to remind us of all the wonderful meals we consumed.
This baked egg dish is great for those nights you don't want to invest a lot of time in cooking. It tastes extremely fresh and it's also light and healthy. It's also served best with this crusty balsamic truffle bread.
Ingredients for the Baked Eggs:
2 tbsp olive oil
1 red onion
2 garlic cloves, minced
1 green bell pepper, diced
2 tsp paprika
1 tsp cumin
1 tsp red pepper flakes
1/4 cup balsamic vinegar
1 – 15 oz can crushed tomatoes
6 eggs
1/2 cup ricotta
1/4 cup half and half
Ingredients for the Balsamic Truffle Bread:
1/2 loaf french bread
1/2 cup balsamic vinegar
1/4 cup truffle oil
Basil for seasoning
Salt and pepper for seasoning
Instructions for the Baked Eggs
Preheat the oven to 425 degrees F.
In a 9 inch cast iron pan (or similar pan), heat olive oil over medium heat. Slice the onions and add to the pan. Saute onions for 5-7 minutes or until soft and translucent.
Add the garlic, green pepper, paprika, cumin, and red pepper flakes. Saute for 6-8 minutes. Season with salt and pepper.
Add the balsamic vinegar and saute until the liquid has been reduced about 2-3 minutes.
Add the crushed tomatoes to the bell pepper/onion mixture and bring to a simmer. Let the flavors mix for 10 minutes and remove the pan from the heat.
Crack eggs one at a time on top of the sauce. Top mixture with dollops of ricotta and drizzle with the half and half.
Bake in the oven for 15-18 minutes or until the eggs have set.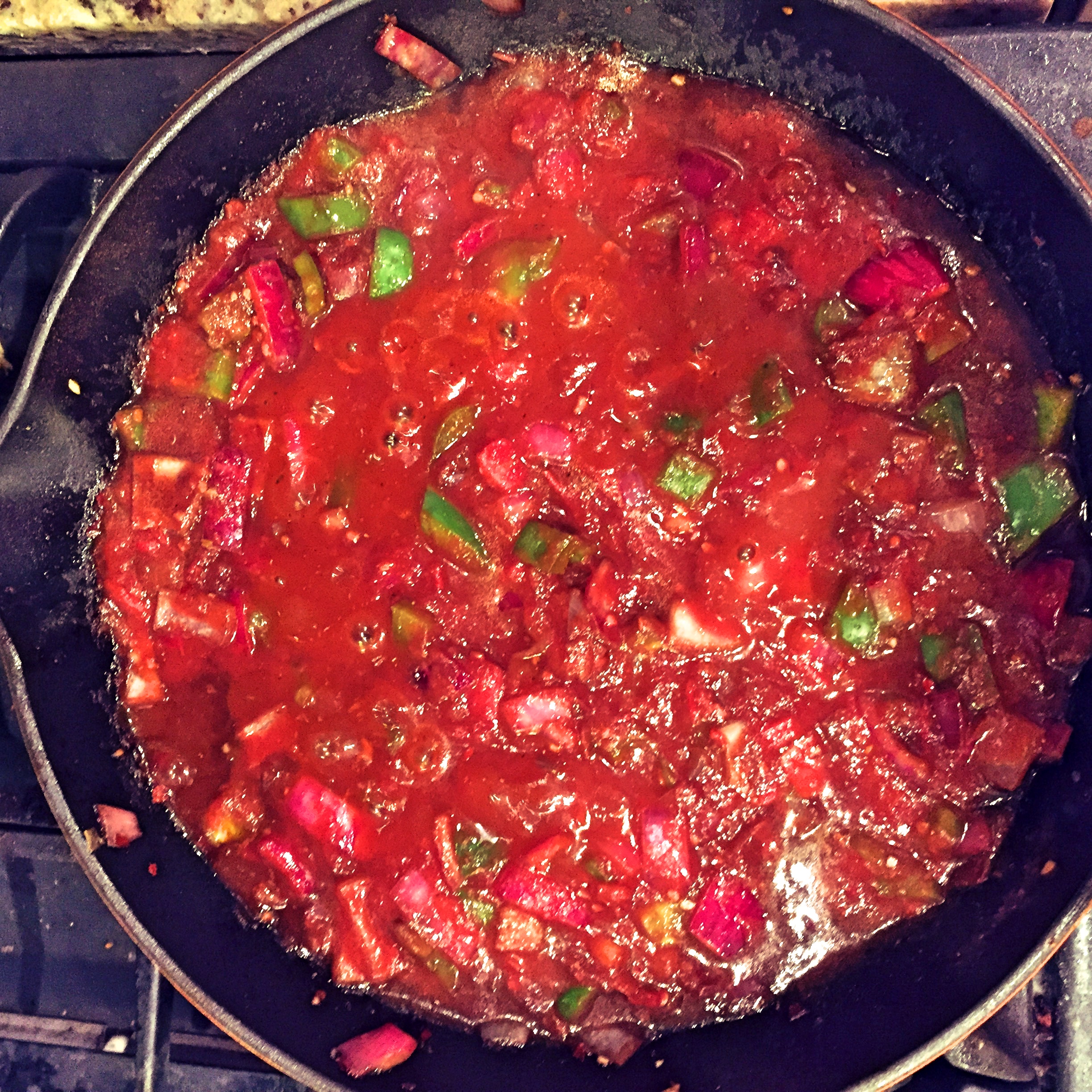 Instructions for the Balsamic Truffle Bread
Cut the french bread loaf into the desired amount of slices.
In a separate bowl, mix the balsamic vinegar, truffle oil, basil, salt and pepper.
Using a brush, spread the mixture on top of the sliced bread.
Bake at 425 degrees F for 5-7 minutes or until slightly browned.
Serve bread with the baked eggs for a delicious meal.
We hope you like the baked eggs recipe as much as we did! Let us know how it turned out or what changes you made to make it your own!