It's the moment you've been waiting for. Maybe you're ready for it. Maybe you're constantly tearing up wondering where time went. But you officially have a school aged child. And now it's time to rip the bandaid off and help them prepare for kindergarten. Those first few weeks are going to be a new and exciting experience for your kiddo. But it can also be a bit scary. So we've put together a list of activities to prepare for kindergarten and help your child know what to expect.
1. Let them participate in school supply shopping
Shopping for school supplies is traditionally the best part about starting a new school year. Just ask any school aged kid. Ok, maybe seeing their friends again once they get to know their classmates. But for kindergarteners this experience is even more exciting because they've never done it before. So take them along and let them decide what color scissors to get. It makes the whole experience more real for them. And they get to replace all their broken crayons, which is always enjoyable for a 5 or 6-year old.
You can even take this a step further and let them pick out a special outfit to wear on their first day. I did this with my daughter and she felt special getting to choose her own outfit. And don't forget the backpack!
2. Start a kindergarten workbook
Workbooks are a good way to ease kids into the types of things they'll be learning. One of our favorites is this dry erase workbook that can be easily wiped clean and used over and over. Learning to write numbers and letters is a big focus of kindergarten, so this workbook can give them a head start.
We also love this massive pre-k workbook with a variety of skill areas. There's lots of kid friendly pictures and stickers, so it's a nice way to introduce the concepts they'll be learning in school.
You can also have them do a page a day for a couple weeks to begin the concept of homework. Yes, even in kindergarten they have homework. This is one of the best activities to prepare for kindergarten because you'll be teaching them responsibility.
3. Download an educational app
Wherever you fall on screen time, schools are more frequently utilizing tablets. Even our kindergarten has one she takes home with her every day. Every school may be different, but most experts agree it's the content, rather than time spent, that really matters. Apps like ABCMouse.com or Epic! are great educational tools in moderation.
If you are struggling to get your little one engaged in learning activities, these educational apps can be a good resource as they are very interactive. Our 5 year old loves playing ABC Mouse for fun!
4. Practice writing their name
One of the first things your son or daughter will learn in school is name writing. They'll do it a ton and it can be helpful to get ahead of the game a bit. Practice writing out their name before their first day of school. This one is quick so you can even practice for a few minutes every day. Plus there's nothing quite like a kindergartener proudly showcasing their work.
5. Start a before and after school routine
Kindergarten is already a major adjustment for kids. And your routines may change as a result. It's best to start practicing your morning and evening routines in advance. This way your kids aren't thrown into a new routine along with all the other changes.
Talk to your kindergartener about how their day will look. If they will take the bus, you can practice walking to the bus stop. If you'll drop them off, you can drive by the school. Start eating breakfast at the same time every morning. And if you aren't already, establish a school night routine, including a set bedtime. You can even describe how time at school will be sent. Young kids especially love hearing about all the special activities – music, gym, art, library, etc.
6. Make a calendar
This one is two fold. Your child has the opportunity to be crafty. And they can use it to count down the days until their first day of school. My 5-year-old makes a new calendar every month in her kindergarten class. And it's always the best part of her day. She loves crossing out the days at home every night.
Here's are a couple easy calendar ideas from PBS. You can use it to show them school days vs. weekends. And how to keep up with special dates.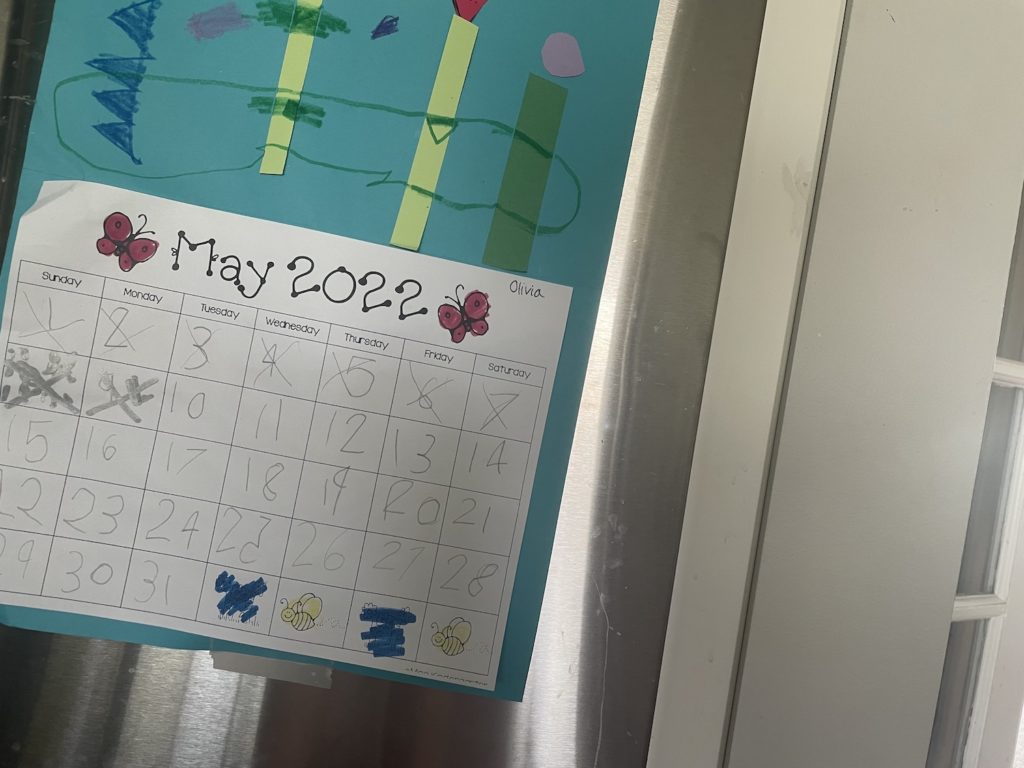 If you want to go next level with it, opt for a magnetic calendar where your kiddo can switch out things like the weather, day of the week, and mood every day. It's a nice way to teach useful concepts that they will likely learn in school.
7. Watch a show together
There are plenty of shows out there that talk about the first day of school. And it could be beneficial to your child as it gives them a visual. If you have an Amazon Prime account, Bubble Guppies is included in your membership. It's an educational show that has a lot of school related episodes. Your kindergartener will especially love the "Get ready for school!" episode.
We ditched the cringey Youtube videos and instead opted for educational content. There are some shows that teach valuable lessons and are better suited to young minds. Even shows like Sofia the First, Daniel Tiger, or Doc McStuffins are better than most because they teach social skills, confidence, and empathy.
8. Sign them up for a class with other kids
Practicing social skills is one of the best ways you can prepare for kindergarten. Maybe your child already goes to a preschool or daycare. Or maybe they haven't had quite as much interaction with other kids. In that case, check your local park district. Most offer classes you can sign up for so your child can interact with other kids the same age. Find an activity of interest – dance, tball, swimming, gymnastics. There are all kinds of options out there. And even if you already have a preschool or daycare, signing up for a class gives even more opportunity to teach your kiddo about listening and following direction.
9. Call daycare "school"
We've been calling our daycare "school" since our kids were 3 months old. This way, kids are introduced to the concept of school at a young age. Sure, at 3 months they aren't many school oriented activities. But it helps with the transition. Instead of going from daycare to school, which can be scary for some kids, they are going from one school to another. If your kindergartener has siblings, now is great time to make the switch and start referring to daycare as school.
Even if your kiddo stays home, you can start using the term school when you do educational activities together. It helps with the adjustment if they have an idea of what school means for them.
10. Practice making friends at the park
Teach your kids how to make friends. It can be intimidating for a 5 or 6-year old to meet a bunch of new kids all at once. But it's also fun making new friends. The park is a great place to practice because it's ALWAYS packed.
Teach them how to introduce themselves "Hi, my name is _____. What's your name?". How to play kind. And how to ask questions. That last one will at least give you a little break from all the question asking.
Practicing how to make and be a good friend will give your kindergartener confidence for their first day.
11. Read a book
If you have a kiddo that loves reading, this is an easy way to help with the first day of school jitters. Kindergarten, Here I Come is a good (and super affordable) option. It's a nice one because it illustrates what a day at kindergarten looks like. The Night Before Kindergarten is another great choice.
You can also get some books to help with social skills. Our daughter LOVES The World Needs More Purple People. There's so many great books out there, it would be impossible to even list them all here.
Now would be a good time to help your kindergarten practice their reading skills. They may not have any words mastered yet, but they'll start learning sight words pretty quickly. The Step Into Reading books are a great way to start teaching them different words, so one day they can read it back to you. And you can get them for all kinds of different themes or characters. You'll definitely find something your child is into.
12. Play a game together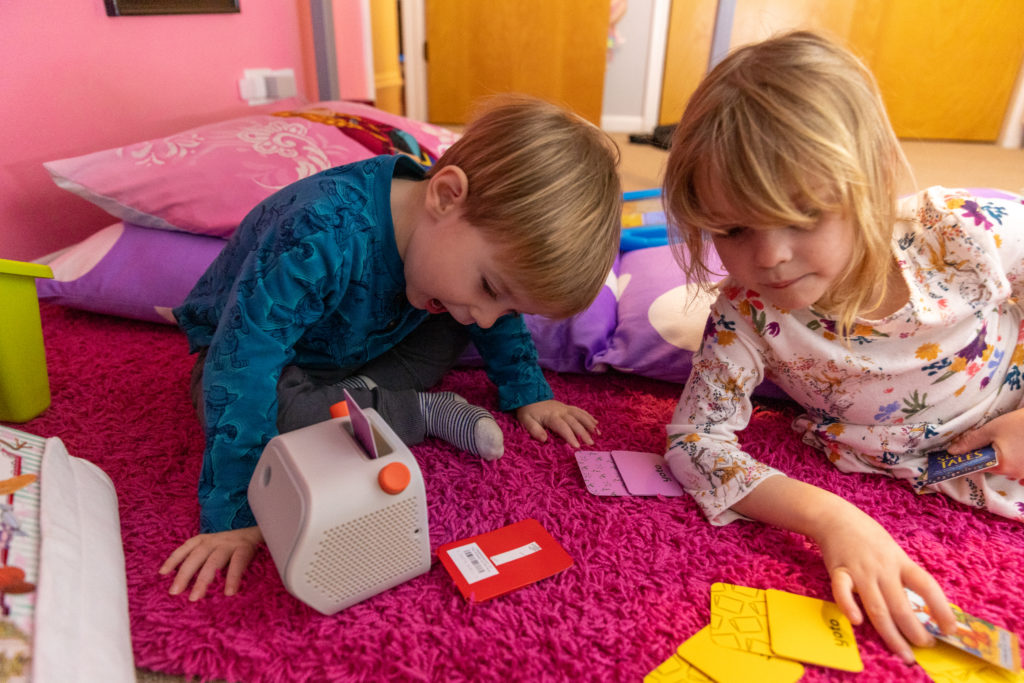 When your child enters kindergarten, you will quickly be introduced to the world of sight words. And will likely be asked to help practice. There are hundreds of games you can create on your own. Like these outdoor ideas from Coffee Cups and Crayons. Or if your child is into board games, Zingo is a popular choice. There are all kinds of games you can play that are a bit more engaging than traditional flash cards. And the fact that you're doing it together is another huge perk in your child's eyes.
13. Practice independence
One of the activities to prepare for kindergarten you may not immediately think of. Tying shoes, helping to zip the coat, assisting in the bathroom. These may be things you do for your little one without thinking. But teachers will want kindergarteners to have some basic skills down. Make sure to double knot those shoe laces and teach your kindergartener how to put on their shoes themselves. They will also need to use the bathroom alone so teach unbuttoning, pulling down pants. And how to turn on the sink and wash hands. How to zip up their coat. These all may seem super basic, but it may be surprising how many tasks you do without thinking.
14. Teach scissor skills
Why do kids like scissors so much? I don't know, but they use them all the time in kindergarten. This was one of the things they taught our kids in daycare, so we didn't have to do a ton of teaching, but its a fun activity for kids to practice. We use the safety scissors, give the kids some construction paper, and let them go at it. Melissa and Doug also has these really cool scissor skills workbooks. I've always thought about getting them, but they are a bit pricey unless you find them when they're on sale.
Create excitement
This is certainly not an exhaustive list. Luckily there is no shortage of ideas to introduce your kindergartener to school life. No matter what you do, do it with excitement. Make kindergarten a big deal. They are such a big kid now (even if you're crying a bit on the inside). That will really help excitement win over nerves.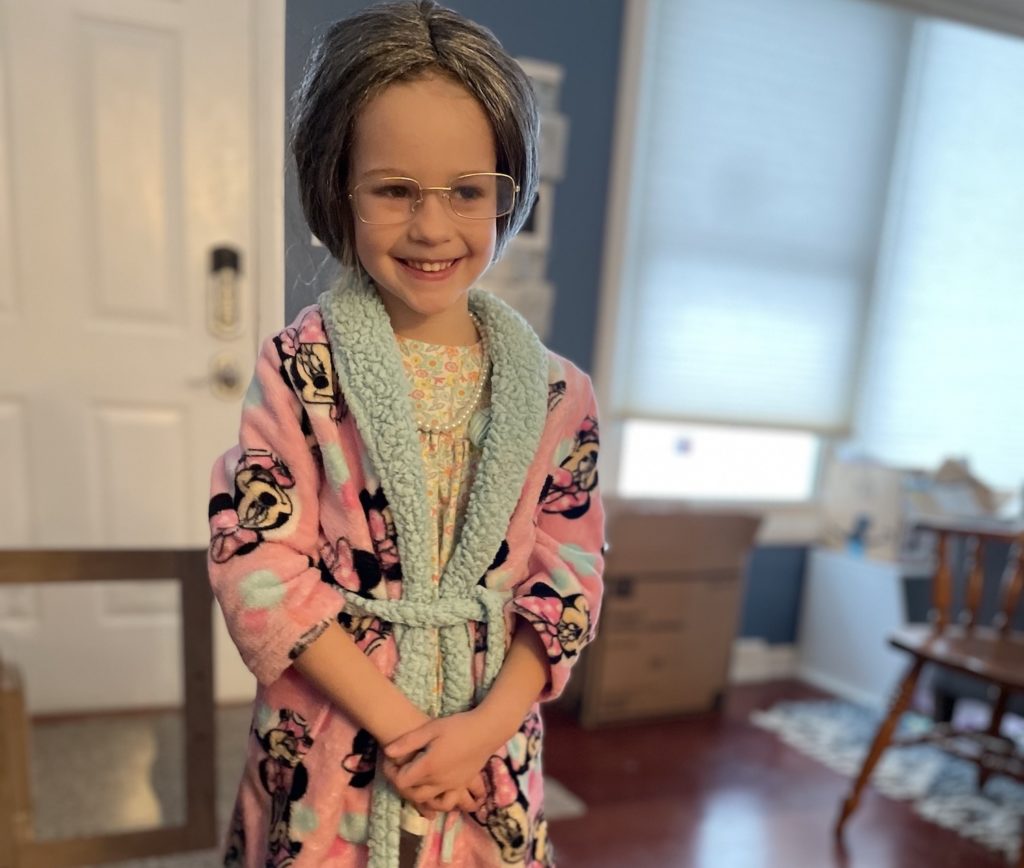 And don't forget the first day celebrations. Make sure you get that traditional first day of school picture. And prepare a special dinner where you talk about all the exciting events of the day. No matter which of these activities you choose to prepare for kindergarten, above all, make sure you are celebrating a huge milestone.
What are you most excited or nervous about preparing for kindergarten?
Check out these other great reads
11 Best Educational TV Shows for Preschoolers
Real Ways to Make Money as a Stay At Home Mom or Dad