After the success of our first two murder mystery parties (one with a Vegas theme and the other Titanic), we decided it was time to get the group together for another round. This time, we wanted a bigger group and more theming. They have always been a hit in the past and everyone was excited for another murder mystery. We used Night of Mystery for our script. We had used them for our Vegas party and really liked how easy the packet made it to assemble everything. They offer a wide selection of themes and simple instructions. I also like that the host can choose to not see all the information and play along with everybody else.
With Night of Mystery, choosing a theme is the hard part because there are so many great ones. Margaritaland, a cruise, the roaring 20's, pirates, and 80's class reunion are just a few of the many themes. We went with Lights! Camera! Murder! because the Oscars were the day after the party so it seemed only fitting. If you're looking for a fun, unique party idea, try out one of these murder mysteries. And if you're on the fence whether your group will like it, we'll take you through our experience so you have a better idea what it's all about.
Assigning the Murder Mystery Characters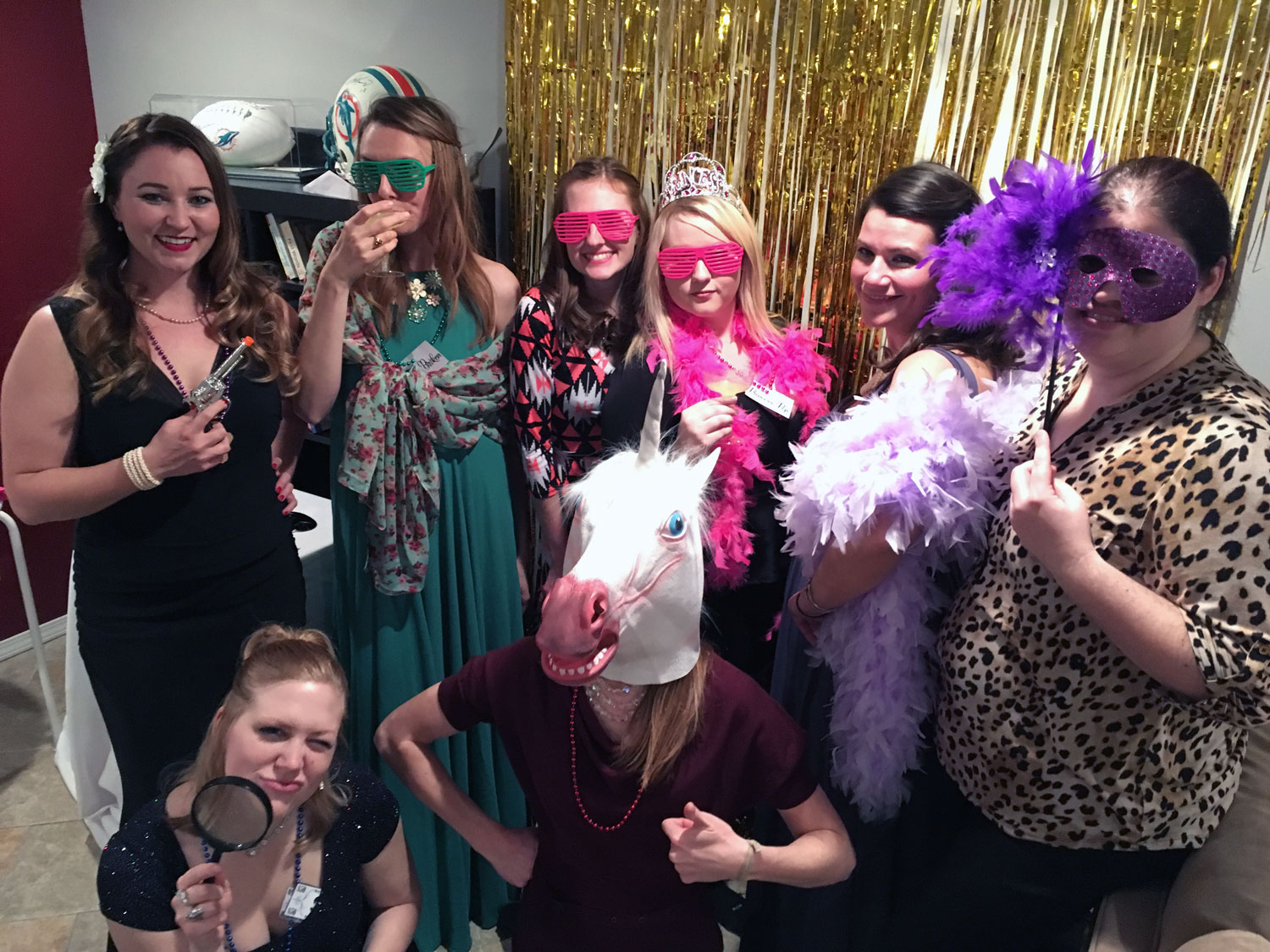 One of the most fun aspects of the party planning process is assigning the roles. When you get your packet, you'll be given a list of characters and a brief description of each. You can then assign each guest to a role at random, or as we did, assign based on personality. Night of Mystery has scripts for varying party sizes (ours had options of 8-12, 10-15, 15-20, and 20-80). It will also say how many of each gender you'll need. Keep in mind there are several roles with a neutral gender so don't let this scare you off. You can mail out invites if you want to go old fashioned style or you can do the quicker email route. One point of caution at this stage – you need to ensure all guests are in. The storyline is dependent on many of the characters, so having guests in the "maybe" column doesn't work so well for the murder mystery party. The exception to this is that there are extra characters that you can assign if a few of your guests aren't 100% committed. Each of these characters will also be given costume suggestions, so at this point you'll want to start brainstorming (and yes, there is a prize at the end of the night for best costume). Along with your packet, you'll also be given some fun printables that you can use in your space.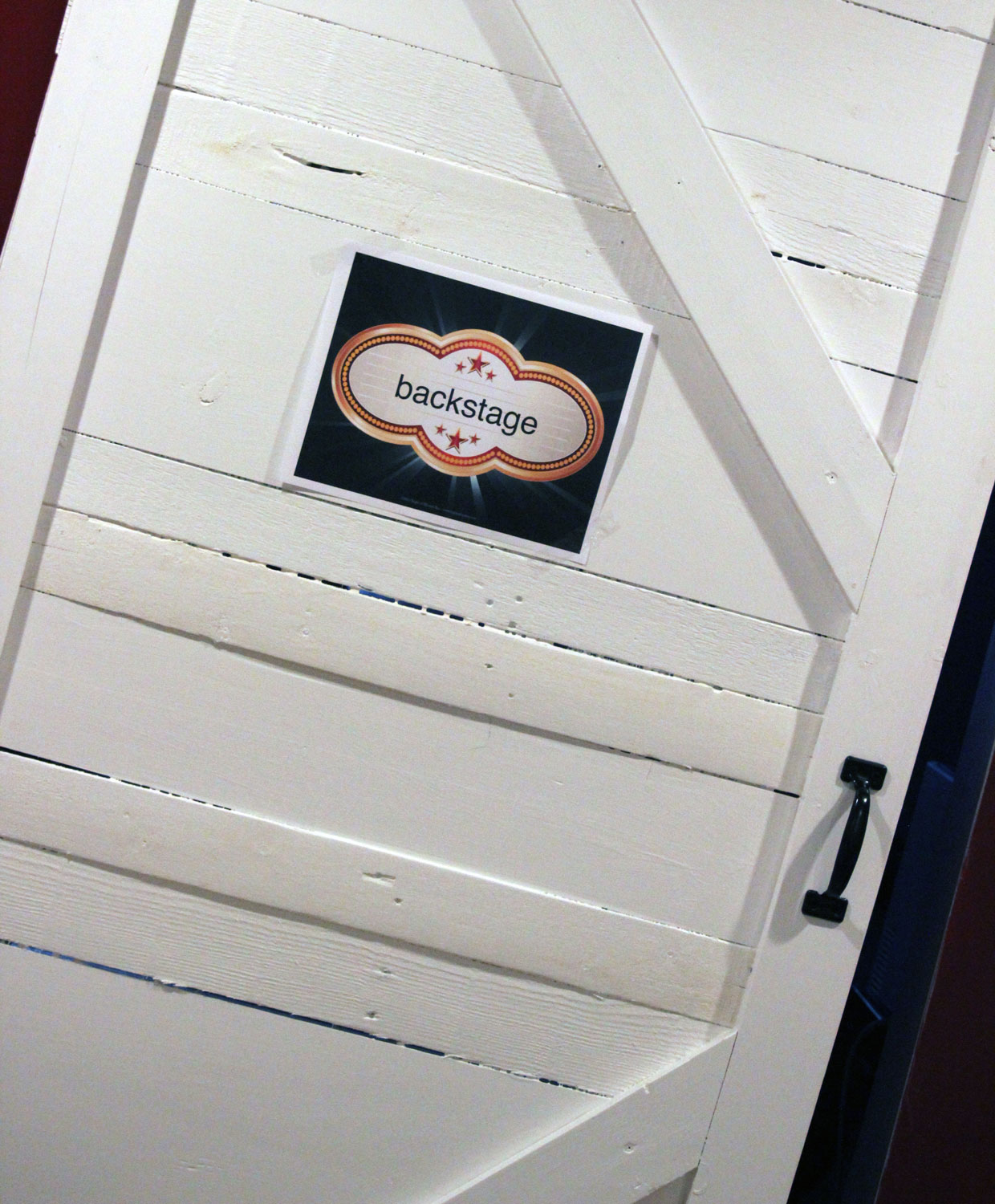 Organizing and Planning
Murder mystery parties can be as easy or time consuming to plan as you make it. There are lots of optional elements and it really depends how detailed you want to get.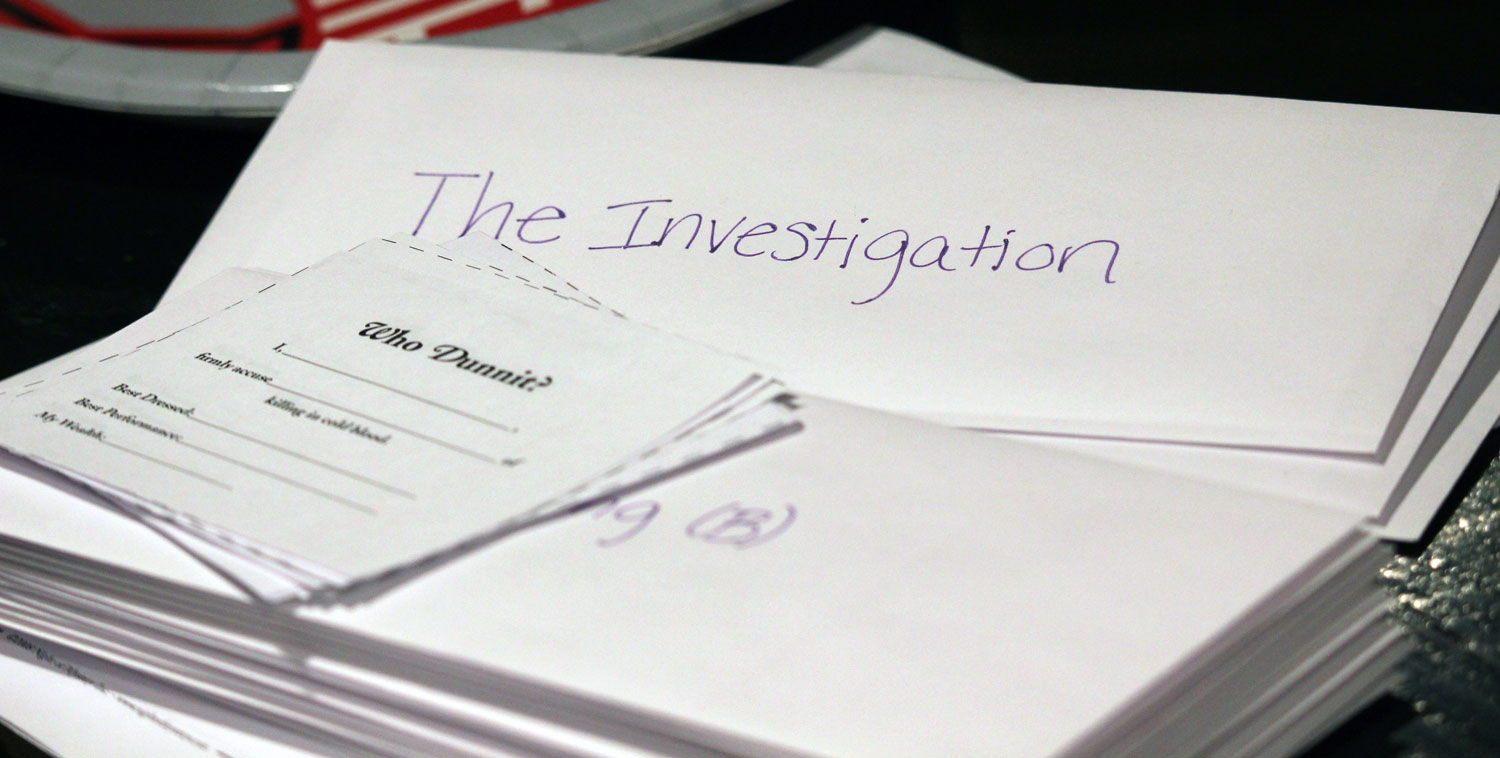 Putting together the character packets that you will give to each guest is pretty easy and takes under a half hour. You have to assemble things like the evidence, introduction, solution, etc. Party food is really how simple or fancy you want to get. You can have anything from a few appetizers to a full plated dinner. We've done both and you can't really go wrong either way. Where the planning comes in is creating food to fit your theme. And along with food, you'll likely want some decorations. It's by no means a requirement, but it adds to the fun and helps set the scene. For our Hollywood theme we created a red carpet, picture wall with props, and a champagne table.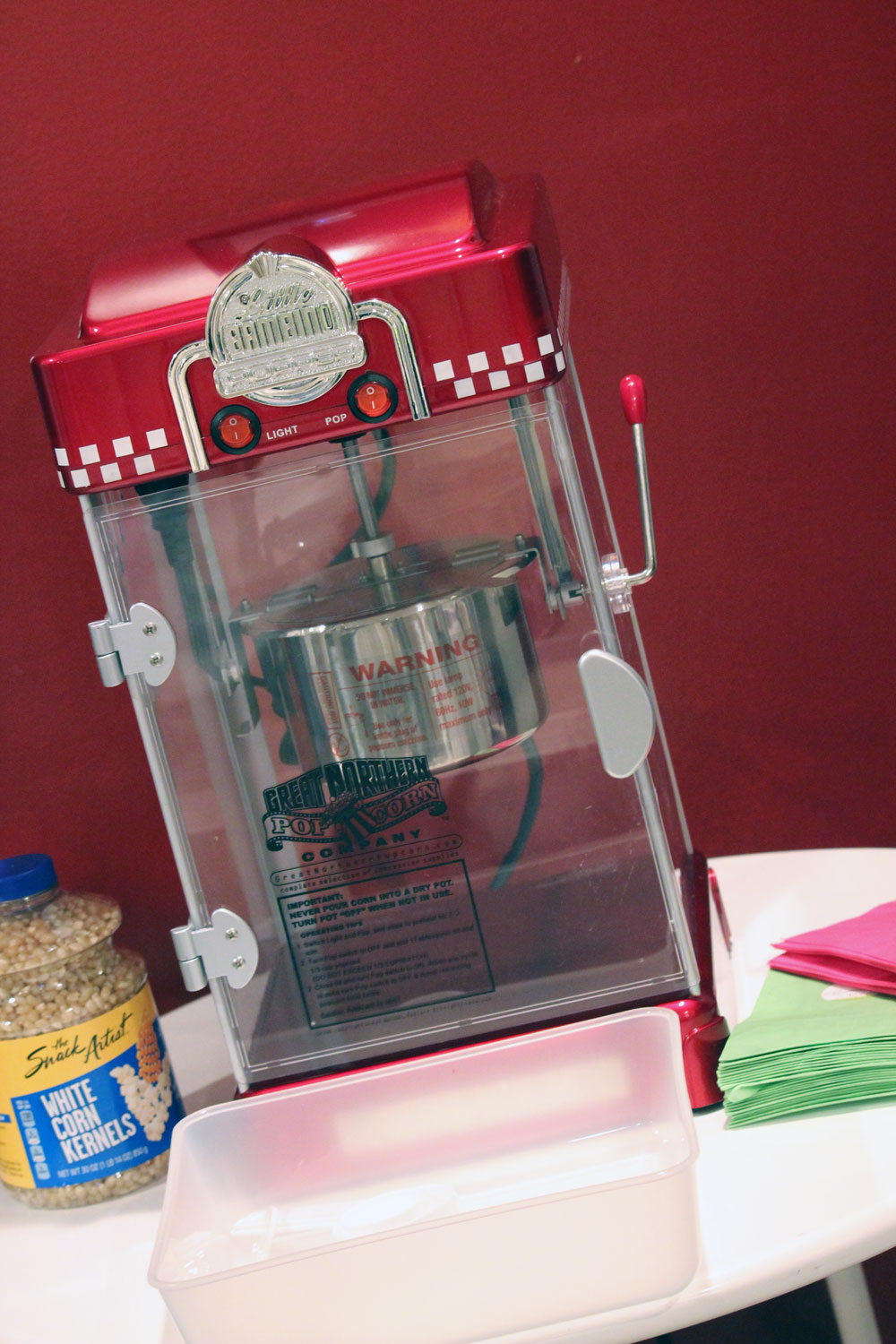 Here are a few of the appetizers we served that we felt went with the Hollywood after party theme.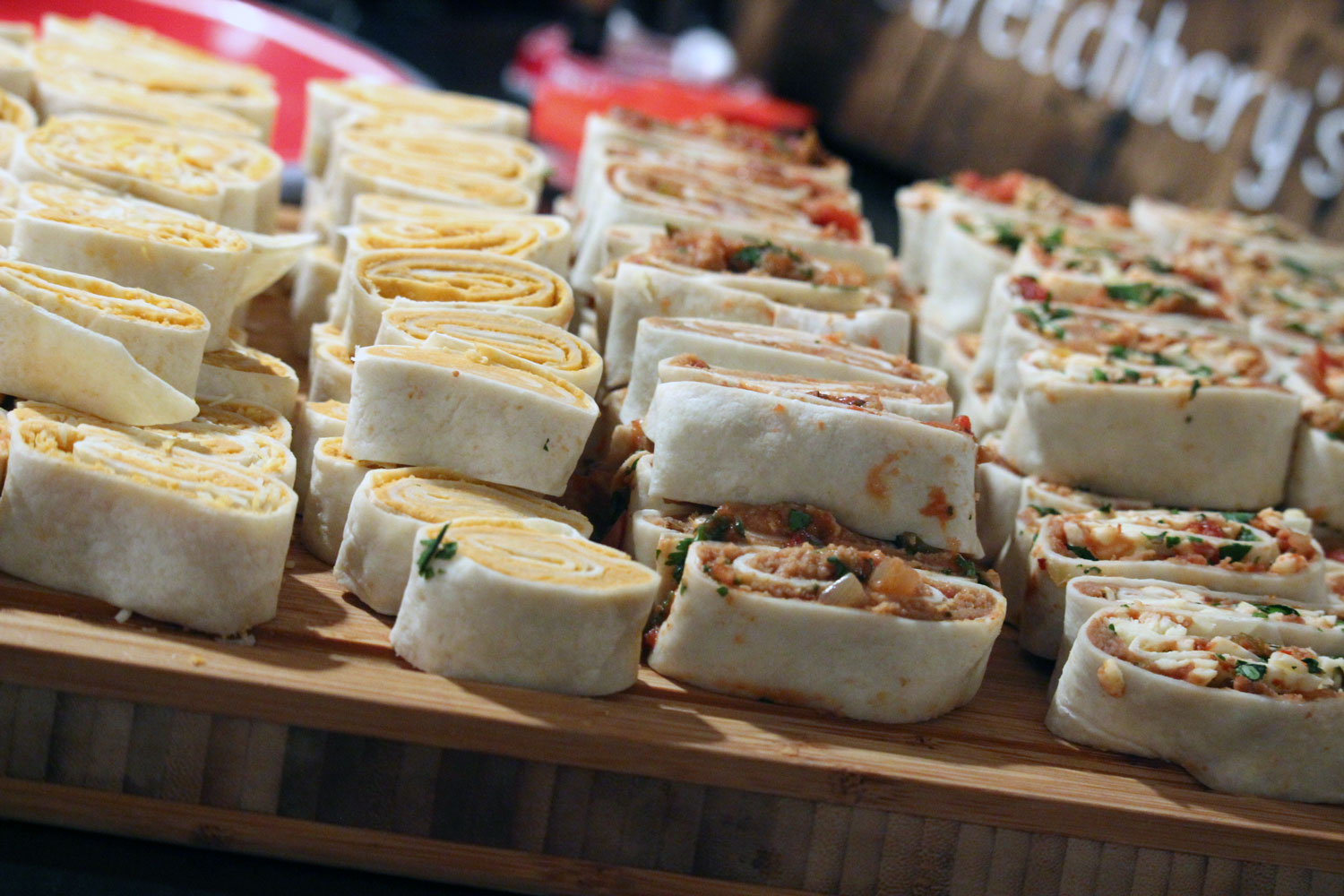 How It Works
If you've never hosted or attended a murder mystery party, you may be wondering how it all works. There are multiple variations depending on the company you use, but as we used Night of Mystery, that's what we'll reference here.
The party begins as guests arrive and you hand each character their first envelope (and maybe a nice glass of champagne to set the mood). In this envelope everyone will have information about their character as well as several questions to ask others. Guests can begin going through their tasks as soon as the introduction is read (which can be done whenever you decide). After guests have mingled and gone through their lists of questions, you as the host arrange for the lights to go out and the victim is named. Then guests will receive a second envelope with more tasks and some will contain evidence. At the end of the second round and the presentation of all the evidence, guests will choose who they believe the killer to be. The solution is then read aloud for all to hear. That's the game in a nutshell. Of course, there's more to it than that. Characters can bribe each other with fake money (whoever has the most money at the end wins a prize). Characters can also make alliances with each other. There's a lot of strategy that can go into the night if you have a group that will get into it.
Someone Said Prizes?
A big part of the night is the prizes that are given out after the game has ended. Prizes make the murder mystery more interesting and can really help guests assume their role. We gave out prizes for best dressed, best acting, most money at the end of the night, and for the guest that correctly guessed the killer (dance off for a tie). Our prizes were fun, silly things, but you could give out anything you want: personal bottles of champagne, trophies, random things laying around the house. Having a fun little competition will entice all guests to remain in character throughout the night.
We've done a few of these murder mystery parties and they are always so much fun. It's something different and it's always fun to get into character and dress up. Night of Mystery also includes a lot of extras like costume, decor, and food suggestions so it makes it really easy if you don't want to invest a ton of time into planning or if you just need a way to get the creative juices flowing. We can't wait to try out some of the other fantastic themes in the future.