It's that time of the year again! Barbecues, sun, pool, boating, fireworks, kids running around, sparklers, refreshing beverages. However you choose to celebrate with your 4th of July party, it's right around the corner. And we gathered up some of our favorite ideas to add some red, white, and blue to your Independence Day bash!
We love this idea for how easy it is to set up. Buy some ice cream, a variety of toppings, ice cream cups, and some cute little labels and voila! It's simple because other people are doing the work of assembled their own ice cream cup. It's fun for both kids and adults, and everyone can choose the toppings they love most. 
It's summery and unique. Plus it will provide hours of entertainment for little ones. What more do you need? I knew those lawn flamingos would come in handy some day.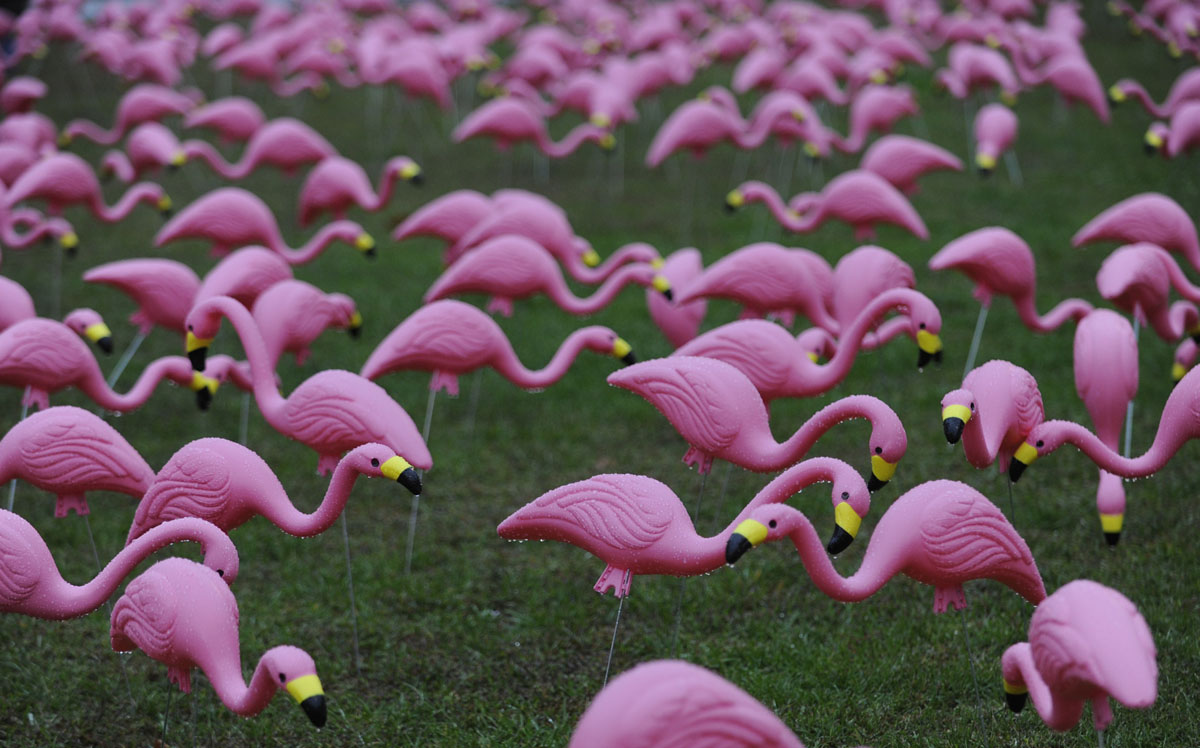 These are a nice touch to send the youngsters home with something fun. Or adults too. You know, everyone likes s'mores. They are practically synonymous with summer. And so delicious, everyone will want s'more. Yeah, ok just thought I'd try my hand at a classic dad joke.
Here's a cute way to organize your sparklers, snaps, and all the other fun things that go along with an outdoor 4th of July party. And the kids will love it!
Hot dogs are quintessential kid foods. Instead of throwing them on a bun, you can jazz them up with this recipe. It's quick, easy, and not too shabby to look at either.
Let's face it, anything on a stick is automatically fancier. These rice krispie pops are fun for both adults and kids. Plus, if you want to save yourself some time you can buy pre-made rice krispies for an easy dessert idea.
This is mesmerizing just to look at. So imagine how much of a rock star you'll be with the kids when you give them some at your party. Or better yet, you can even let them create their own. It only requires a few ingredients and it contains sparkles. Sparkles naturally make everything cooler.
This is a nice, parent-approved, and healthy food idea. It's another super simple idea. And apparently we like food that can be served on sticks.
Keep the little ones busy with a scavenger hunt. It's especially great because if you plan to host a party outside your home, it's easy to take along. You can find majority of these items at any 4th of July party, so it's a great way to keep kids entertained whether at home or on the go.
Beat the heat with this pretty kid friendly drink recipe. It looks like it would require a lot of work with the layering and all, but it's actually quite easy. The key is to get the appropriate sugar content drinks. Then the work is done for you!
It's Not a 4th of July Party
Without One for the Adults…
It's hot. You're probably chasing kids around the yard. You deserve a little something too. And what better way to treat yourself than with a boozy snow cone. They are easy to make and great way to cool off. The only requirements for a 4th of July cocktail.