This shop has been compensated by Collective Bias, INC. and The Coca-Cola Company, all opinions are mine alone. #ServeWithACoke #Jewel #CollectiveBias 
I remember the days before our little one came along. We got home from work, squeezed in a run, and then leisurely prepared dinner. But with kids, nothing happens leisurely (unless you're talking about the length of time it takes for them to put their shoes on). We are always in such a rush to get dinner on the table before bedtime that we've had to get creative with our meal planning. Of course who wants another frozen pizza? Not me! So we found a way we can create meals that are quick, easy, healthy, fresh, flavorful, and liked by both the adults and kids. That's a lot of boxes to check off, but we managed it.
Jewel Osco Ready to Serve Meals
For those of you that live near a Jewel Osco, they have this nifty meal deal thing that they offer. Essentially you get some chicken and a side, and then you can add on Gold Peak® tea. It's a great deal for the summertime because tea and summer are pretty much the perfect combination.
We always gravitate toward Jewel Osco's rotisserie chicken because it's delicious and you can use it in practically any dish. After we learned about the meal deals at Jewel, we began experimenting with using the chicken in different recipes. It has worked out perfectly because it's a convenient and inexpensive way to pull together a meal. We tend to by some seasonal produce to go along with our meal so we aren't sacrificing on the freshness. You get the best of both worlds. A quick meal, but also something that is flavorful and healthy. It also leaves us some extra time to play with our little girl before bedtime because we're not doing as much dinner prep.
We recommend trying to incorporate the ready to serve chicken into some of your favorite recipes. We've found it works great in salads, sandwiches, pasta, tacos, and our personal favorite: pizza. Naan pizza to be exact. We created a recipe for Chicken Pesto Naan Pizza one night and it's something we always go back to. It's fresh and light for Summer. And if you get the Gold Peak tea, it makes for a refreshing combination.
We cooked ours inside in the oven because we had to chase a toddler around at the same time, but these are also amazing to cook on the grill. Just sayin'. If you're in need of inspiration, check out these Coca-Cola™ and meal pairings.
Here's our favorite way to prepare the Chicken Pesto Naan Pizzas, but feel free to put your own spin on it using other seasonal produce or ingredients you have around the house.
Ingredients
(serves 4)
Jewel Rotisserie chicken (you will use 3-4 cups, so save any leftovers for another dish)
4 Naan flatbreads
2 roma tomatoes, sliced
4 oz fresh mozzarella, thinly sliced
1/3 cup balsamic vinegar
Basil Pesto
2 cups packed fresh basil leaves
1/3 cup pine nuts
2/3 cup olive oil
1/2 cup grated parmesan cheese
3 garlic cloves, minced
Salt and pepper to taste
If you can't find Naan, pizza dough is an easy substitute. We just find naan to be quick and delicious! This recipe will give you enough pesto for your pizza, but we recommend doubling it so you have extra to freeze. It's just as delicious when thawed and is easy to toss on some pasta or scrambled eggs for another quick meal! The great thing about this recipe is that all the leftover ingredients (basil, chicken, mozzarella) can be used for other meals, making this a cost saving dish.
Directions
The majority of the work here is to prepare the pesto. After that it's all about assembling.
Preheat oven to 350.
Start by combining the basil leaves, garlic pine nuts in a food processor. Pulse a few times to ensure ingredients are roughly combined.
With the food processor running, slowly add in the olive oil to combine. Add the parmesan and pulse a few times making sure mixture is well combined. If pesto seems to thick, add a little more olive oil. If it is too thin, add a little more cheese. Season with salt and pepper.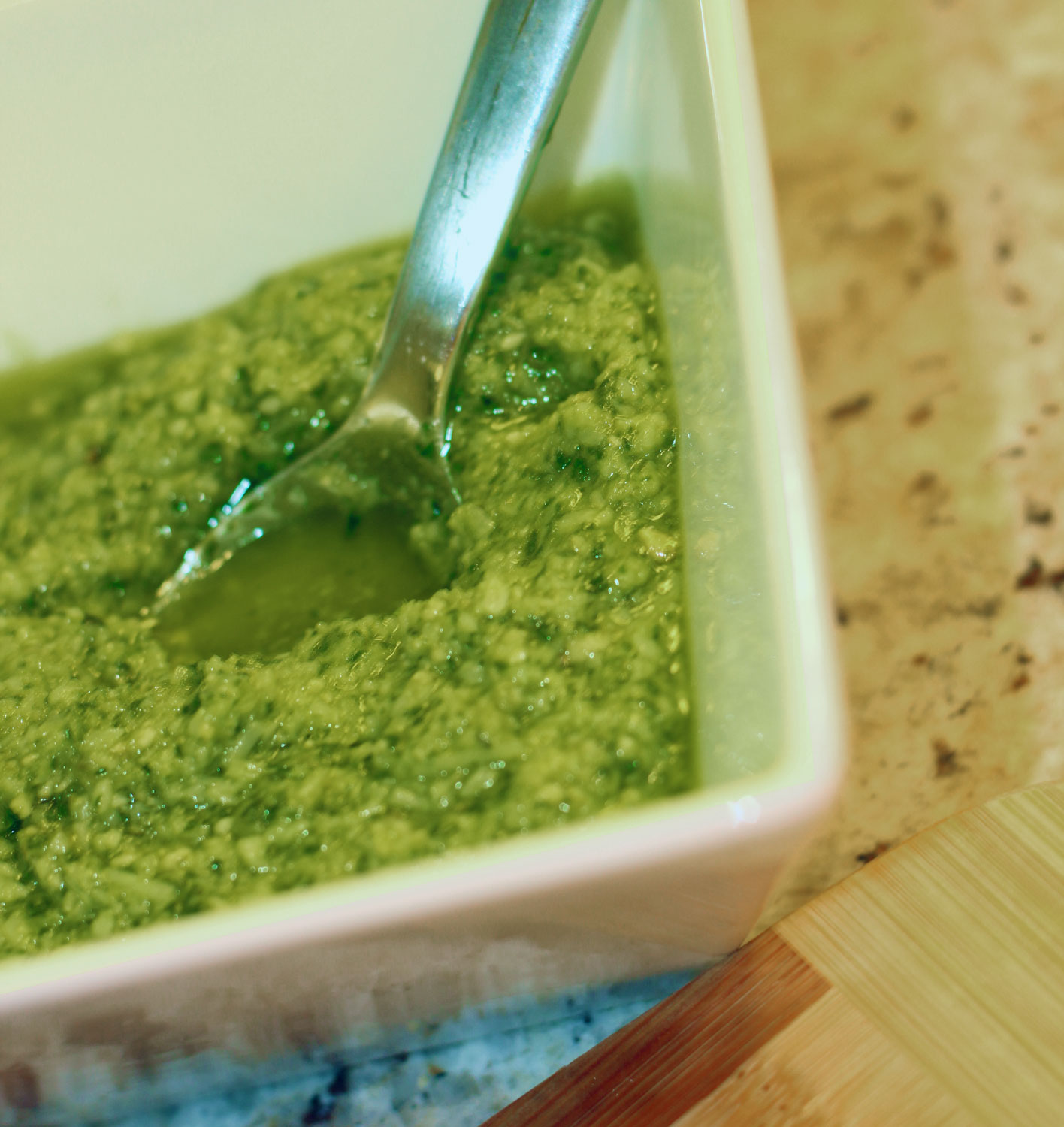 To Assemble: spread a layer of pesto on the naan followed by a layer of sliced tomatoes. Add chicken evenly and top with sliced mozzarella. Drizzle with balsamic vinegar.
Bake for 10-15 minutes or until cheese has melted. Remove from the oven to cool.
Slice up the pizzas and enjoy!
When it comes time to assemble the pizzas, this is a great way to get the kids involved. Let them contribute to cooking dinner by helping assemble the pizzas. You can also add your own creative toppings like red onion, caramelized onion, red pepper flakes, etc. For any leftover pesto, store in an air-tight container and freeze up to 3 months.
Now that you've heard our favorite dish, we'd love to hear your creative uses of the meal deal.