Another year down, which means another birthday bash! Our little girl just turned two and she LOVES her some Minnie Mouse, so of course we had to go in search of Minnie Mouse birthday party ideas for a 2 year old. If you remember, last year we celebrated her 1st birthday with a flamingo themed gathering. We had so much fun and we wanted her 2nd birthday party to be just as special. From a Minnie Mouse dress to a full Disney themed food spread, we had our bases covered. We went one step further with a garden party theme and even the Minnie Mouse Birthday cake had adorable floral touches. Here were some of our favorite ideas that we incorporated into our Minnie Mouse themed birthday:
Just like last year, we designed our invitation first and then designed the rest of the party around it. Zazzle is a great place to go if you have an invitation and want to print it. We also feel like this is the easiest way to go because it gives you a solid jumping off point. When you go on Pinterest, you'll see a million different colors and ideas, so we like to pick an idea for our invitation, which sets the scene for the rest of the party planning. Our Minnie Mouse invitation had floral designs on it, so we went with a Minnie Mouse garden party. Here's how the invitation turned out: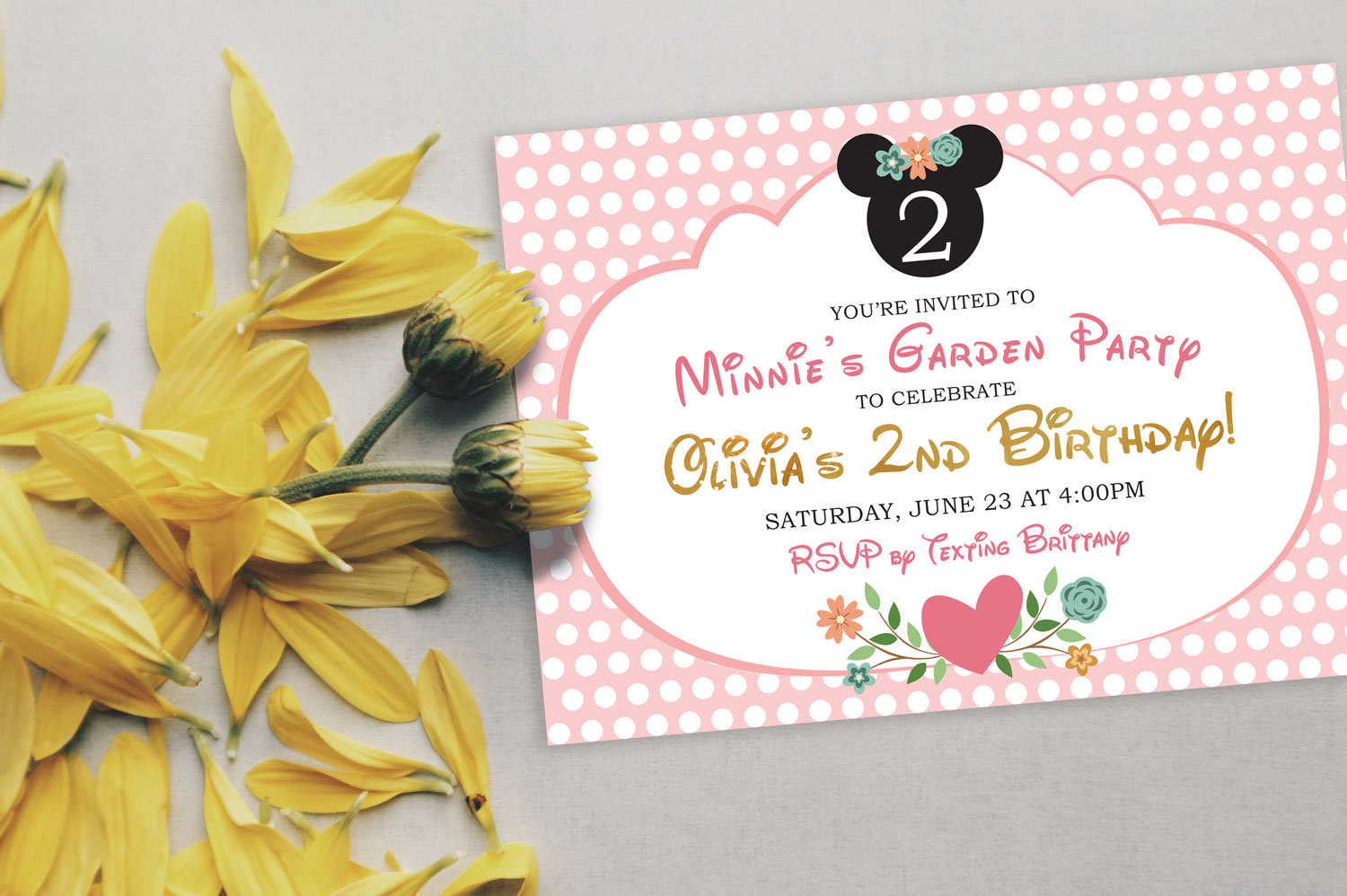 The Minnie Mouse Birthday Cake
The cake is the focal point of the party. For any Minnie Mouse birthday party for a 2 year old, designing the cake is a good place to start. We tend to plan around the invitation design, but you'll want to make sure your theme matches your cake. This year, we were excited because The Cupcake Counter helped our Minnie Mouse birthday cake vision come to life.
We loved how detailed they were during the planning process. They offered their suggestions for flavors based on the season and weather (for an outdoor party). They also had us send over decor samples so they could match the exact shades – which we found was spot on! We had their Celebration White Vanilla Bean cake on the bottom and their chocolate on the top tier so we could offer a variety. The cake was covered in strawberry buttercream – which received so many compliments. It was delicious and perfect for summer!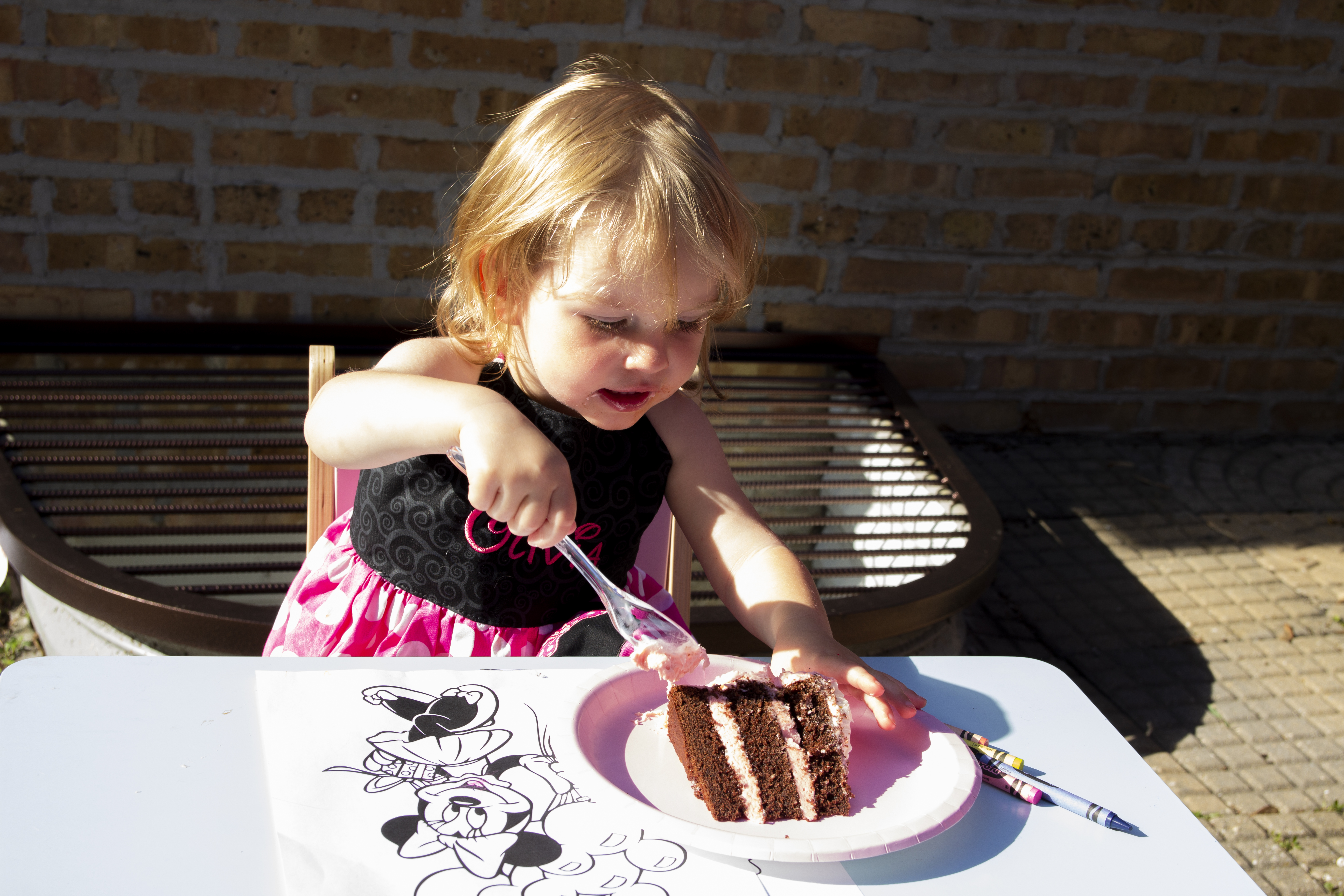 If you're in the Chicago area, I highly recommend them for custom cakes. And if you're visiting Chicago, I highly recommend stopping by and picking up one of their seasonal cupcakes: Blueberry Lemon, Pineapple Pleaser, Orange Dreamsicle, and our personal favorite Strawberry Lemonade. Also, the fondant mickey mouse ears on the sides were a major hit with the kids!
With any of their cupcakes, when you by 11, the 12th is free! Plus, if you mention Bottles & Banter, you'll get a 10% discount!
We always like to pick out a special outfit for the birthday girl (all two of her birthdays). She loves dresses and she loves Minnie Mouse, so we went in search of a Minnie Mouse birthday dress. My go-to is always Etsy. They have the cutest items that are original and customizable. Most shops let you pick the colors and this dress we chose by GooseGooseDuck allowed for some personalization. It's also a super cute halter design that can be adjusted so it will fit for a few years.
The biggest selling point for me is that it wasn't a one and done type of dress. It's perfect to wear to the parks for a Disney vacation or even if you're going somewhere outside.
Minnie Mouse Party Food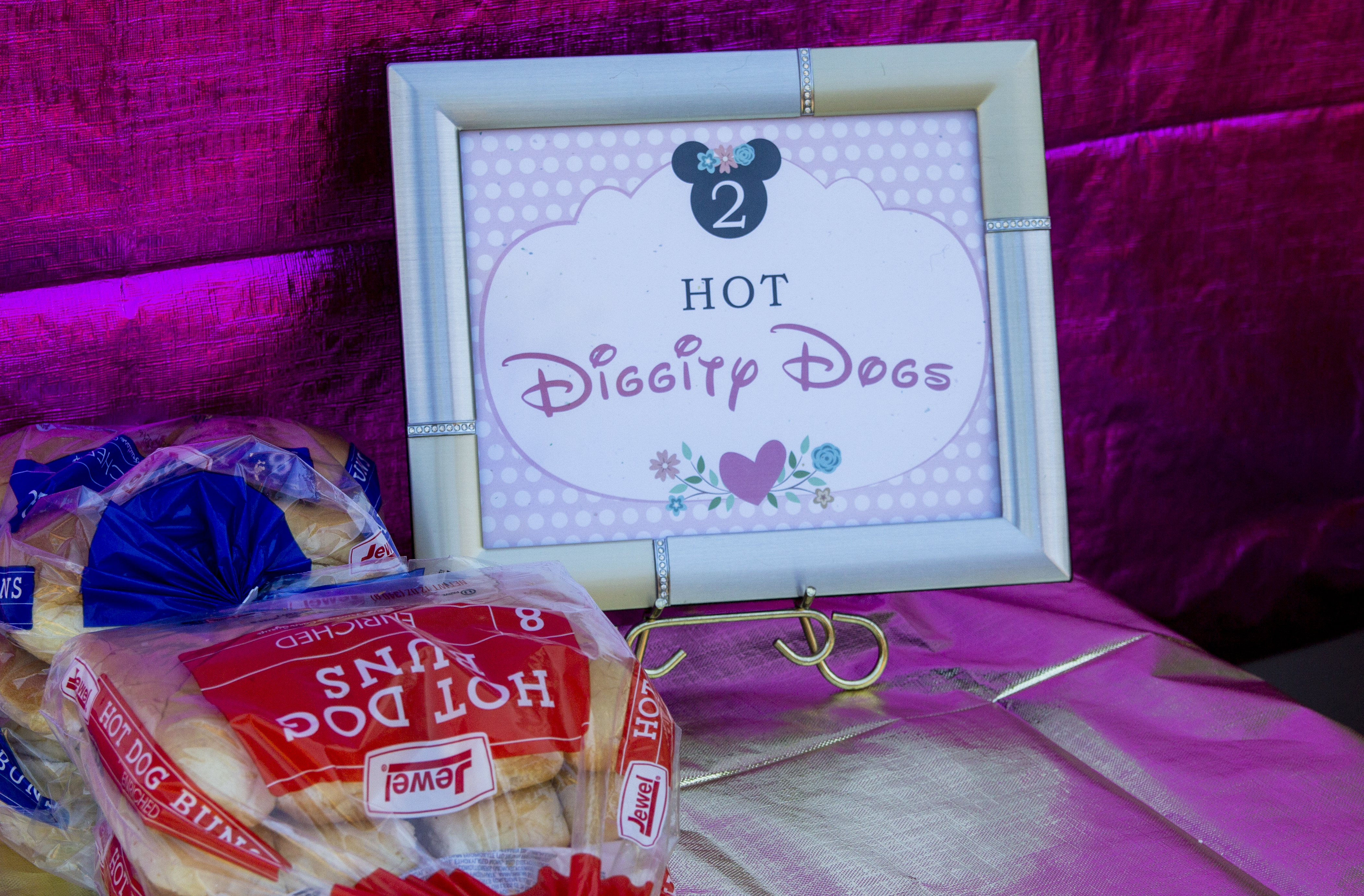 It was an outdoor garden party, so we wanted to the food to match. We planned to do hot dogs and burgers on the grill. And we created cute little signs next to some of the food items. For instance, Hot Diggity Dogs. And Meeska Mouseka Mac n Cheese. We did a mac n cheese bar with toppings (carmelized onions, bacon, bbq sauce, etc.). Of course we had to have our handy helpers (aka utensils) to serve the food with.
We also had Minnie Mouse fruit kebabs (two strawberries on the end and a blueberry in the middle to create a bow), charcuterie, and a tickled pink punch. It was the perfect amount of food and met the needs of both adults and kids.
Minnie Mouse Party Games &
Minnie Mouse Cookie Favors
This year, we had kids attend the party so we planned with that in mind. The kids fell within the range of 9 months – 7 years old so we needed a variety of entertainment. We got out her slide for them to play on in the backyard. We also blew up a bunch of balloons and attached them to balloon sticks. This was a huge hit at the party and such a simple idea! They were entertained running around chasing the balloons for a surprising amount of time. Balloon options are endless for Minnie Mouse, but this giant Minnie will make you a hero to a toddler. We also found lots of balloon sets if you want to go big.
We also had a table of "Mousekatools" where we set up different toys they could play with and then bring home. We had some bubbles, coloring pages (you can print your own) and crayons, sunglasses, and party hats.
For party favors, we sent the kids home with personalized Minnie Mouse cookies. We got them on Etsy (there's clearly a trend here) and they turned out AMAZING.
We had a variety of Minnie Mouse faces, bows, and personalized cookies with our daughter's name. We thought they were gorgeous and a unique favor to send the kids home with. They have all kinds of designs like Disney princesses, unicorns, Harry Potter, Paw Patrol, and Trolls.
Creative Banners
Last year we had Designs by Denis create some banners for the first birthday and we loved them, so we were so happy to have them again this year.
We had a Minnie Mouse happy birthday banner with silhouettes. We also had a photo banner with pictures for each month from 1 year – 2 years. Sidenote: during the first year we took pictures with our daughter posed exactly the same way. I think this is a thing a lot of people do.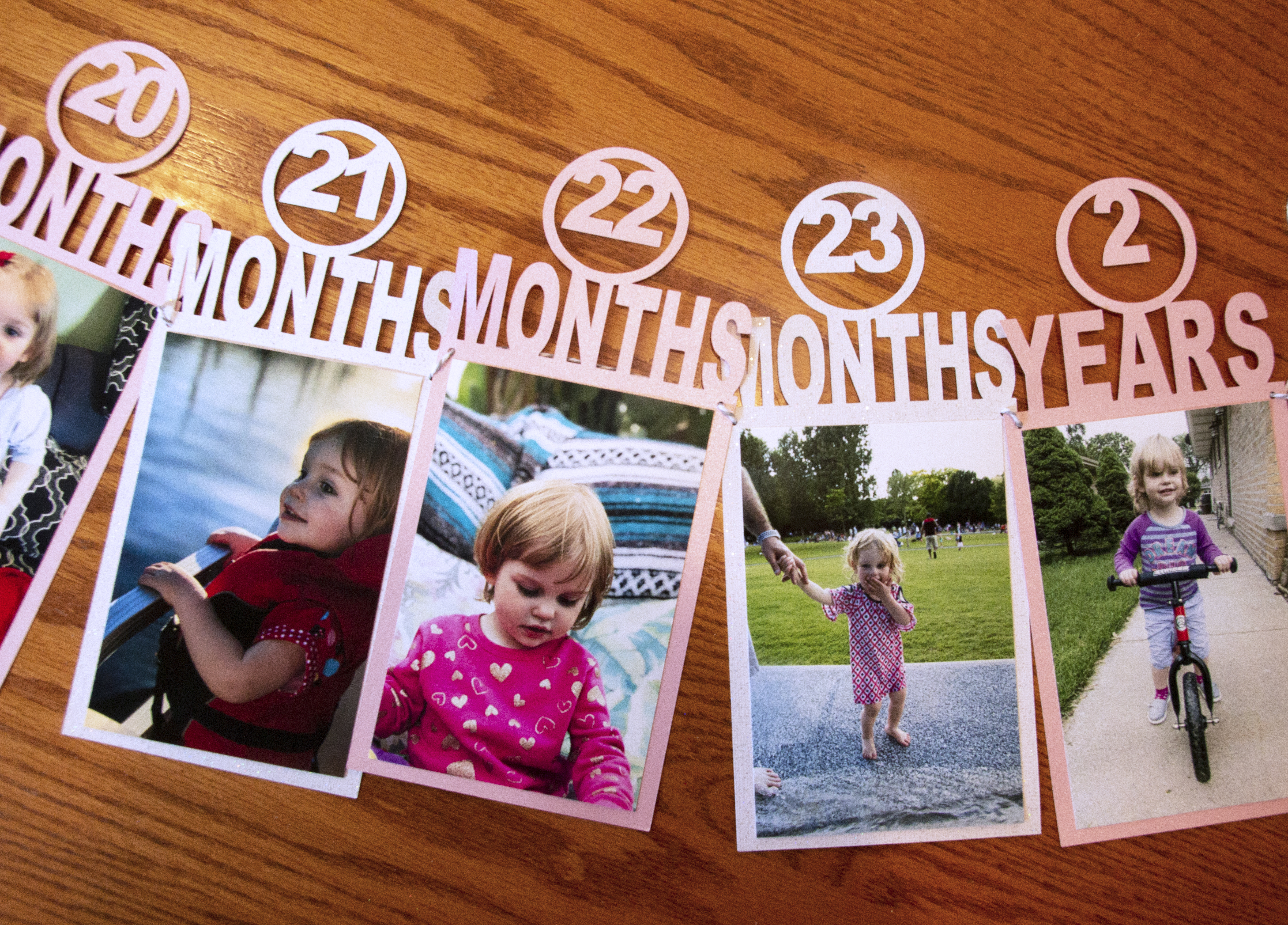 During the second year, we just put random pictures from each month (vacations, holidays, fun moments, etc.). It was more casual and I liked doing it this way. We'll see if we continue the trend into year 3. Also, Olivia is famous! Check out the birthday banner for her pictures.
We put a lot planning into this Minnie Mouse birthday party to make it memorable. It was also the last party before moving houses, so we wanted it to be special. The thing is, all of these ideas are very affordable and easy to assemble. We had a blast planning and an even better time celebrating our little girl's 2nd birthday, Minnie Mouse garden style.
Other Popular Parenting Articles