Baby shower planning is always an exciting time. It's the perfect event to celebrate new life and give the mom-to-be advice on parenting. Because it is so special for the expecting mom, you'll want to put time into the details and ensuring a successful day. Whether you are the parents-to-be, host, family, or even know someone planning a baby shower, here are some cute supplies to make your baby shower fun and original.
Baby Shower Invitations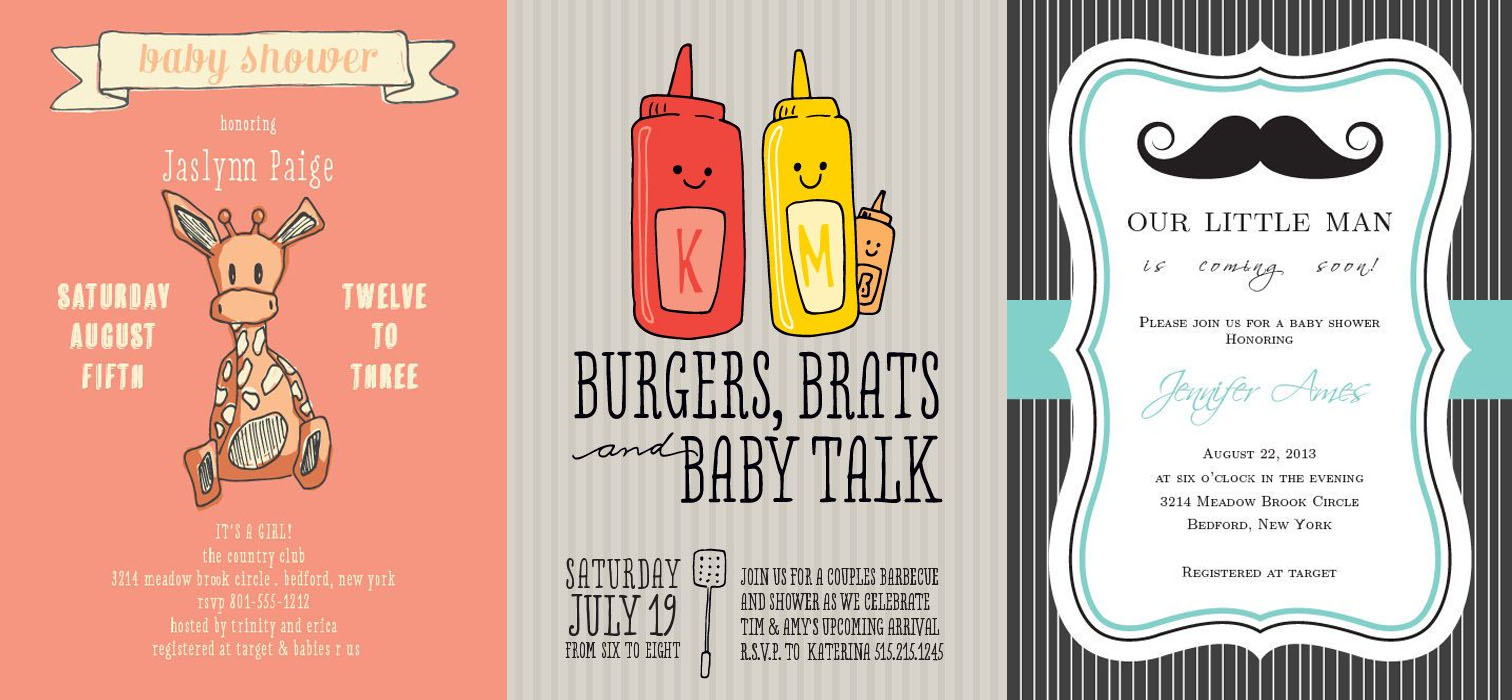 It all starts with the invitation. This is the first place guests will get a feel for your baby shower theme. You really have a chance to show some personality and customization with the invitation. Of course, there are so many great places that will work with you to create your dream invite. We like these from Basic Invite. They are highly customizable and offer many adorable designs to meet your style.
Wall Decor for the Baby Shower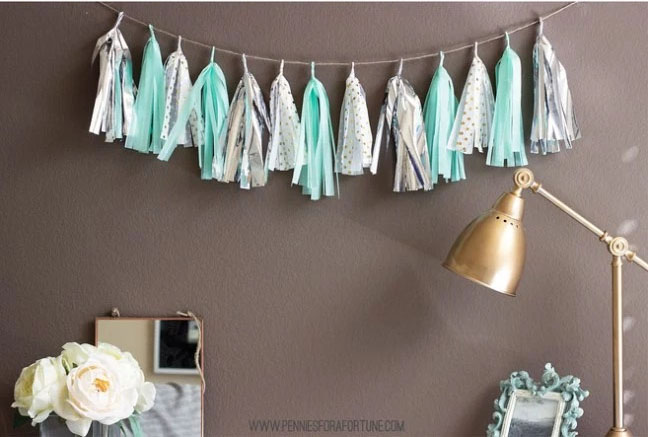 Dress up your walls with a cute banner like this one from Lola and Company. You can also create your own tassel tissue paper garland. Choose your own colors and follow the tutorial here. Wall decor adds flair to your baby shower and is a fun way to take your shower to the next level.
The All-Important Centerpieces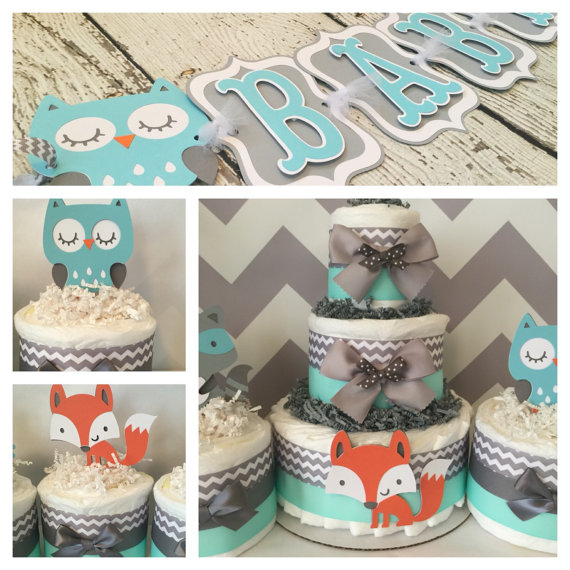 Table decor is an opportunity to show off some personality. There are endless options to reflect your theme. For a vintage style shower, these classy mason jar centerpieces are perfect. Or for more traditional decor, set your table with a diaper cake. Create your own or check out these beautifully handcrafted diaper cakes.
Create Your Own Snack Bar
You can pick from a variety of themes to give your guests a little treat. For a brunch baby shower we love the idea of a cereal bar (grab some of your childhood favorites) or a yogurt bar for a healthy option. Add some color to your breakfast bar with these cute paper straws. And for an evening shower, pick up some of these easy to assemble popcorn boxes and build a popcorn bar with all the fixins'. Or put together a pregnancy cravings bar with the mom-to-be's favorite snacks and decorate the table with these fun craving food tents.
Custom Baby Blocks
These blocks can be set out for baby shower guests to decorate and personalize for the baby. Just be sure to seal them with something non-toxic to ensure they are safe for baby play time. Snuggly Monkey offers some great wooden blocks in a variety of sizes.
Advice Cards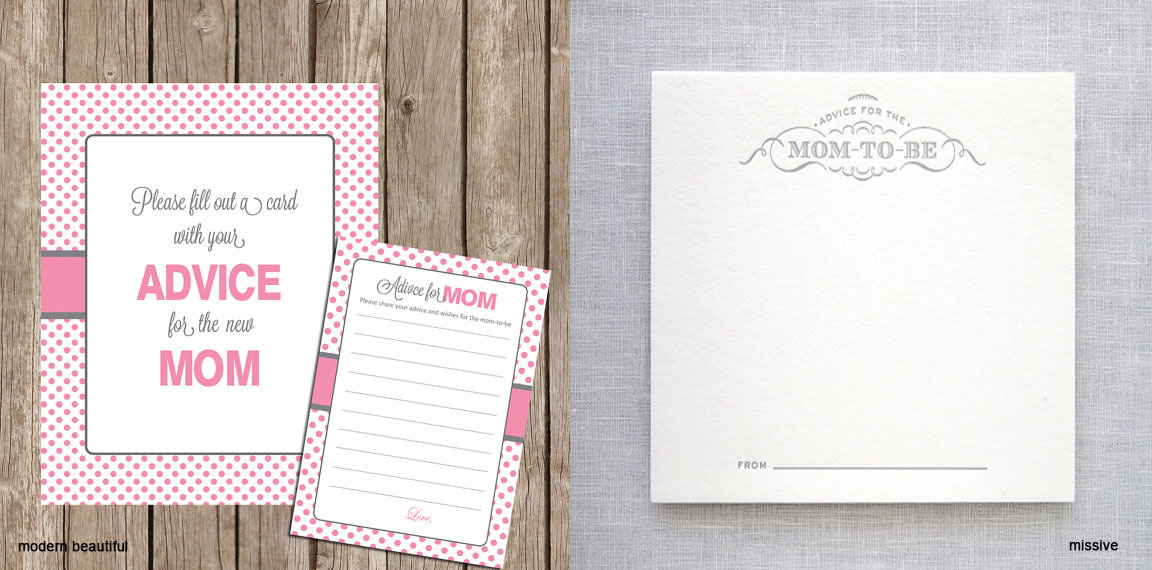 Baby showers are about celebrating, but also a time for sharing advice. One way for guests to share all their helpful tips is by having them fill out advice cards. Choose a design that goes with the theme of your shower. Modern Beautiful makes great advice cards that can be customized to your style. For a simple vintage look, these letterpress cards work perfectly.
Baby Shower Favors

Make sure to leave your guests with a lasting impression and something they can take home to remember the special day. Popular baby shower gifts usually involve handmade soaps, candy, seeds, and candles. For some delicious edible options, we like these cookies (you can even buy the ever popular Sophie the Giraffe) and these adorable mini pies. Or for a unique option, pick up some of these vintage milk bottles and pack them with your favorite treat.