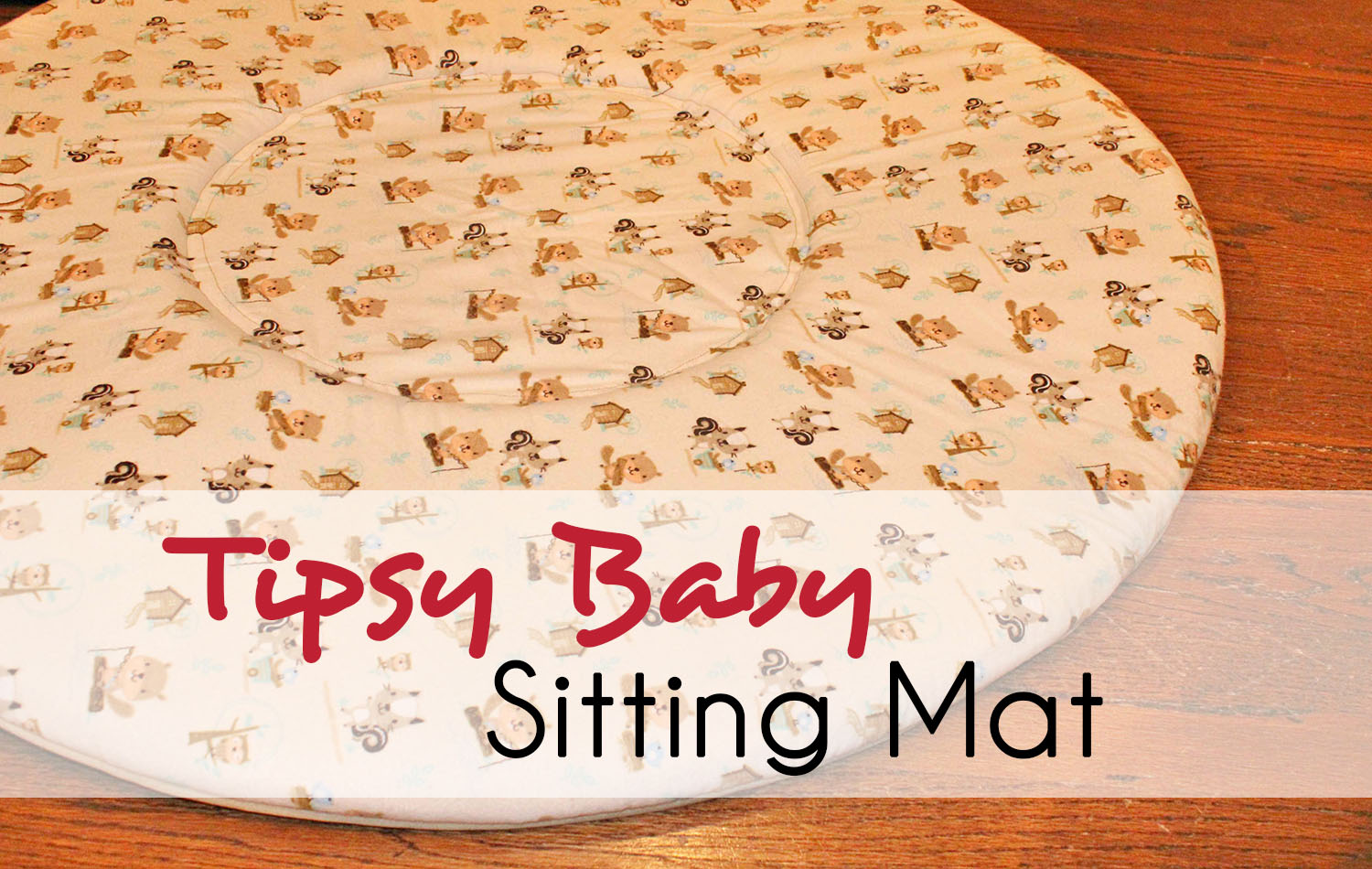 UPDATE: As of 7/2020 the Tipsy Baby Sitting Mat is no longer available. If you're looking for a cozy lounger for your baby, we recommend checking out our review of the Dockatot.
Here are some of our favorite baby sitting mats that are similar to Tipsy Baby and support small businesses:
Marnie and Mister Natural Play Mat
Finch and Folk World Explorer Mat
One of the things soon-to-be moms, myself included, look forward to the most is seeing the new bundle of joy go through all kinds of different milestones. I'm a first time mom, so I'm really excited to watch her grow and learn new skills. As I was browsing around for products that help babies develop, I came across the Tipsy Baby Sitting Mat. The Tipsy Baby is designed to assist your baby as he/she learns to sit up alone. It also makes a great tummy time mat and cozy place to sleep. The company kindly offered to send us one to check out, and I am excited to share this product with all of you.
The Tipsy Baby Story
One of my favorite things about the Tipsy Baby brand is that they are family owned and operated. It's no secret that I love these companies because they always have great stories and put so much care and detail into their products. Tipsy Baby was created by two parents of an adorable little girl, who inspired their product. They were nervous and inexperienced, as most first time parents are, and wanted to provide a safe environment for their 5 month old to learn to sit on her own. And thus, the Tipsy Baby Sitting Mat was born.
What We Like About Tipsy Baby
As most parents experience when they go through the anticipation of a new baby, navigating the world of parenting is scary. There are so many opinions on what and when to teach your baby, and how to do it. Luckily, there are products out there that are designed to help with this process. With the Tipsy Baby Sitting Mat, allowing your baby to experience tummy time and teaching him/her to sit up on their own can be a more relaxing experience.
Safety First
When I first saw this product online, I didn't expect it to be all that big. But after receiving it in the mail, I am very impressed. The mat is expansive and has a ton of room for babies to move around. The amount of space will allow our little girl to experiment without fear of falling on the hard wood floors that run all throughout our house. There is also plenty of room for her to explore during tummy time. The safety factor is a major selling point point for me.
Portable, Easy to Travel
I actually wasn't aware of the folding capabilities until I physically had one to examine and touch. We travel frequently and anything that can make our lives easier in that respect is icing on the cake. The mat has buttons and straps so you can easily fold it up and take it with you. At first it looks like it might be challenging to fold every time, but it's easy. I had the hang of folding it in about 2 minutes.
Soft and Removable Cover
The material on this mat is amazing! It's very soft, but the mat itself is firm. So I feel like I'm getting the best of both worlds. A functional product, with a cozy flannel feel that she will want to sit on. And the cover is also removable and machine washable. Every time I buy something I check to make sure it can be easily washed (because who has time to invest in extensive cleaning with a newborn). Just take the cover off, wash, and toss it back on.
Motor Skills
The way the mat is designed encourages independence. I can be sitting right next to the mat to provide comfort to her, while she can learn on her own right next to me. It's a great way to teach her she can do things on her own. And with the soft feel, she's less likely to bonk her head on something and give up.
Multiple Uses
One of the best aspects of the Tipsy Baby Mat is that it can be used for multiple stages during a baby's development. My original intent was to use the mat for tummy time. I have all wood and tile floors, so I need somewhere comfy, big, and safe for her to experience tummy time. After doing more research, I also found out the mat is perfect for teaching her to sit up on her own when she's a little older. And kids of any age can use it for nap time – especially while traveling. Knowing I can use it for several years is a great benefit.
The Tipsy Shop
We tried the Woodland Workers mat because I find woodland creatures irresistible. This was just one of the many designs they offer. You can check out the full collection here. Each mat can also be personalized, which adds a unique touch to it. We had ours personalized, but we're keeping the name a secret until she is born. So here's a little sneak peak of how it looks when you add the name.
Check it out and let us know what you think!