When O was first born, we had to Snapchat every five minutes. Because, why not? Among a few friends, it became a running joke that O has about a million laying devices. And she does. She has beds, mats, swings, hammocks, bean bags, and everything in between. But we've settled on the ultimate laying device. A laying device to rule them all. One that got the "do they make that in adult sizes?!" reaction from everyone on Snapchat. Enter: the DockATot.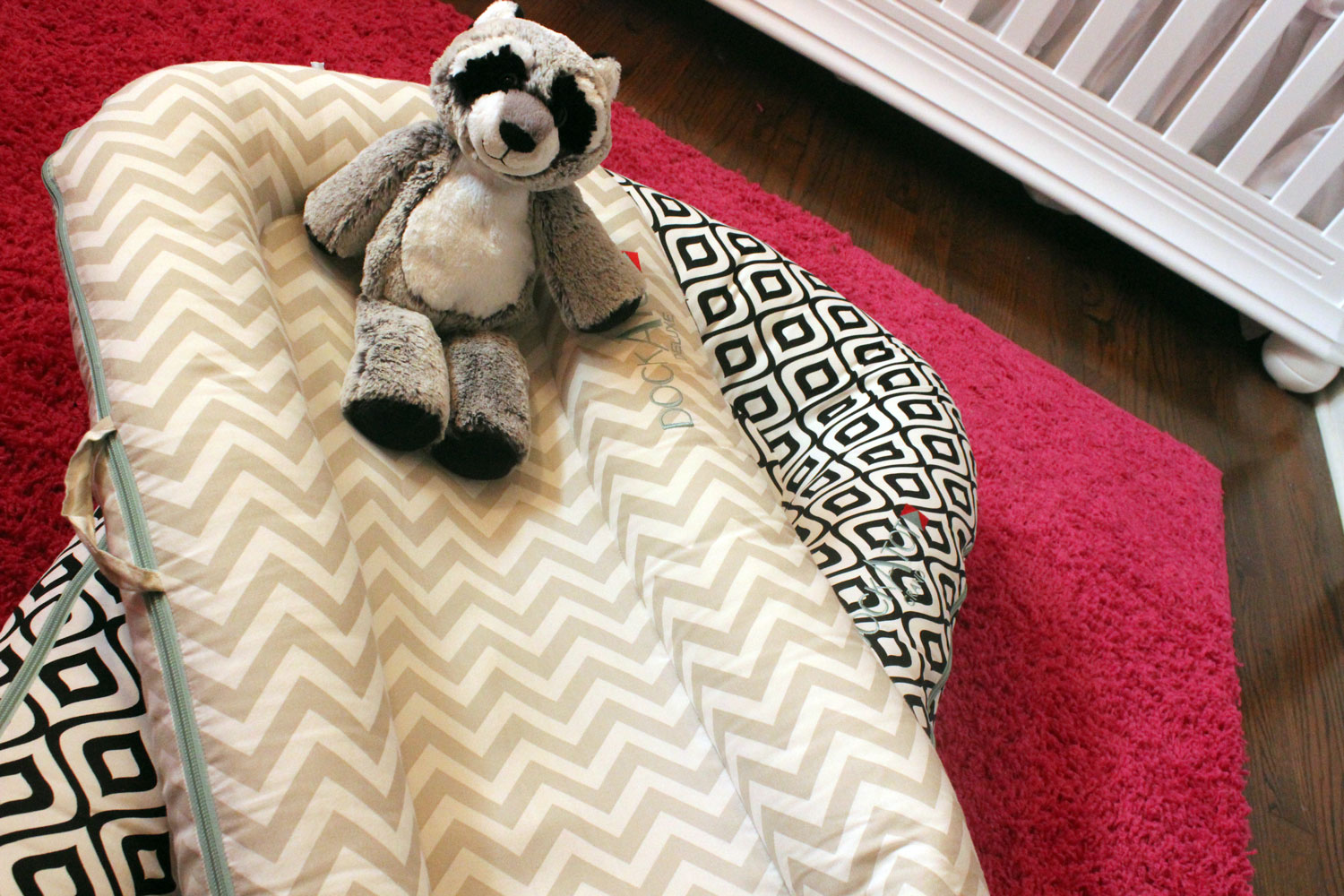 What is the DockATot?
The DockATot is your best friend if you love sleep. That's all you need to know. But I'll go on if you aren't convinced. DockATot is a product designed by Lisa Furuland – she had her first child in 2006 and looked for a more snug and versatile option for general baby use. There was nothing, so she created the DockATot. We love entrepreneurs here at Bottles & Banter, so her story really struck a chord with us. We got a DockATot Deluxe (the newborn version) as a gift and then DockATot sent us a Grand (the older baby/toddler version) to try out when we saw how much Olivia loves her bed.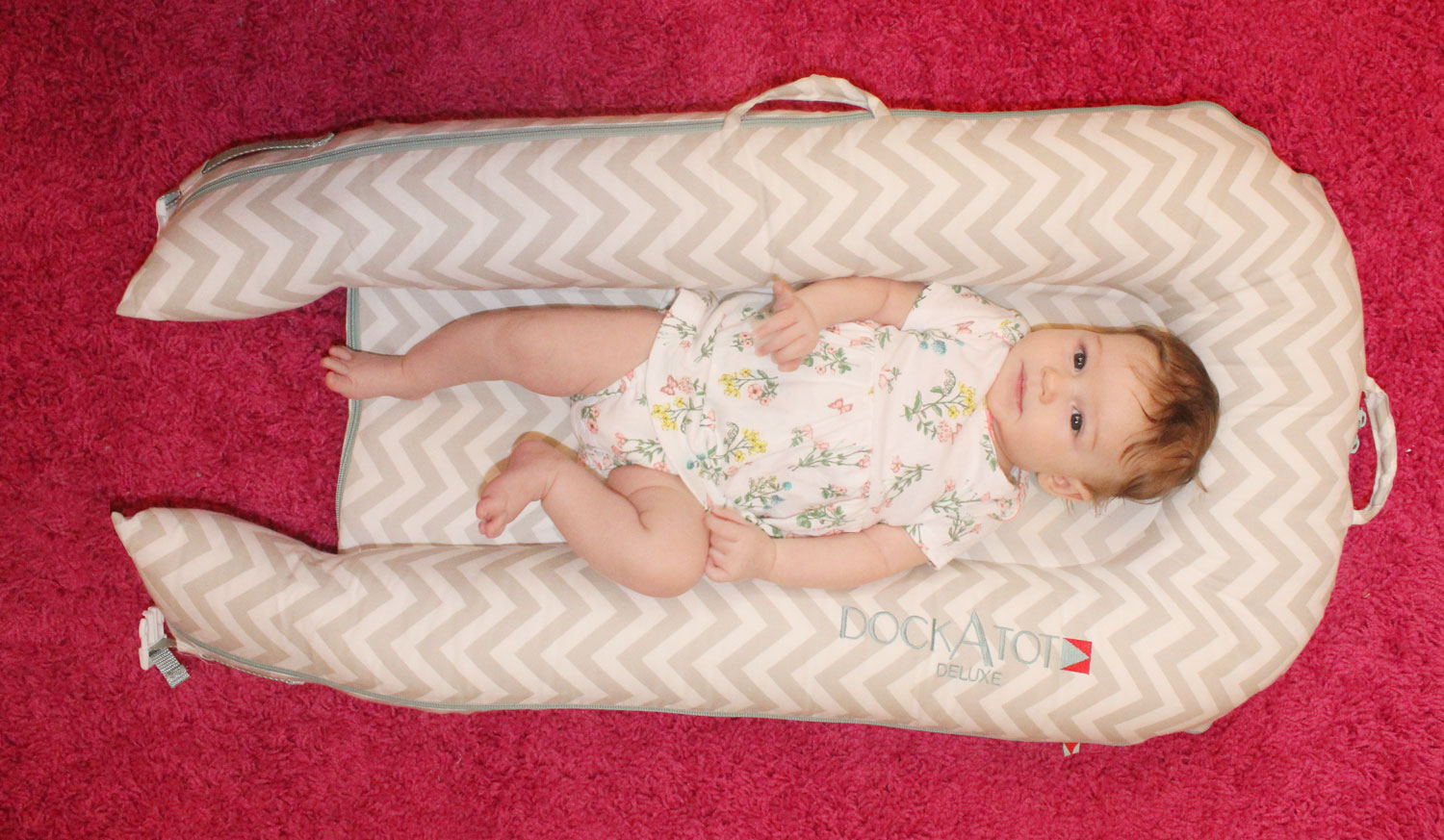 DockATot has several key functions it tries to accomplish: it's portable, re-creates the womb, facilitates tummy time, reduces risk of flat-head syndrome, reduces startle reflex, regulates temperature, and eases crib-to-bed transition. All the while, it's meant for lounging, sleeping, playing, and traveling. Got that? It's a laundry list. Some of the key points:
Re-Creating the Womb
The design of the DockATot is such that it's long enough to grow with the baby, but stays narrow enough that it's snug and protective. The little one can move freely without the restrictions of belts and buckles while staying safe and secure. This helps immensely with easing the startle (moro) reflex. We've noticed that when she sleeps and startles herself awake, she goes back to sleep on her own far quicker and easier than anything else she's slept in. It's been an amazing help in lengthening the stretches of time Olivia sleeps overnight.
Portability and Travel
If you could take your bed on vacation, you would. It's no different for the kiddo. Super lightweight and flexible, DockATot is ideal for travel across the world or across the house. There's nothing better than when the little one passes out in one spot and you can just pick 'em up and move 'em to the final sleeping destination. Plus, we find it gives Olivia a bit of an at-home feel when we are in strange new places.
Comfort and Safety
The tubes surrounding the sleeping area are genius. Basically, they serve two purposes: keep baby and parents separated when co-sleeping and preventing baby from overheating. It's made from a soft, breathable fabric that feels like it's a part of the bed itself. We can still get all of the great snuggles and closeness without any of the stress of accidents happening.
How We Use DockATot
Quite literally, we use the DockATot Deluxe everywhere and in every way. Shoot. Even the dog loves it and we have to shoo him away, the poor guy. The DockATot goes everywhere we go – it's quite nice to have a little slice of home for the baby when we travel. She's slept in it everywhere from our couch or our bed to the plane en route to SFO to Grandma and Grandpa's house. It's always comforting to her.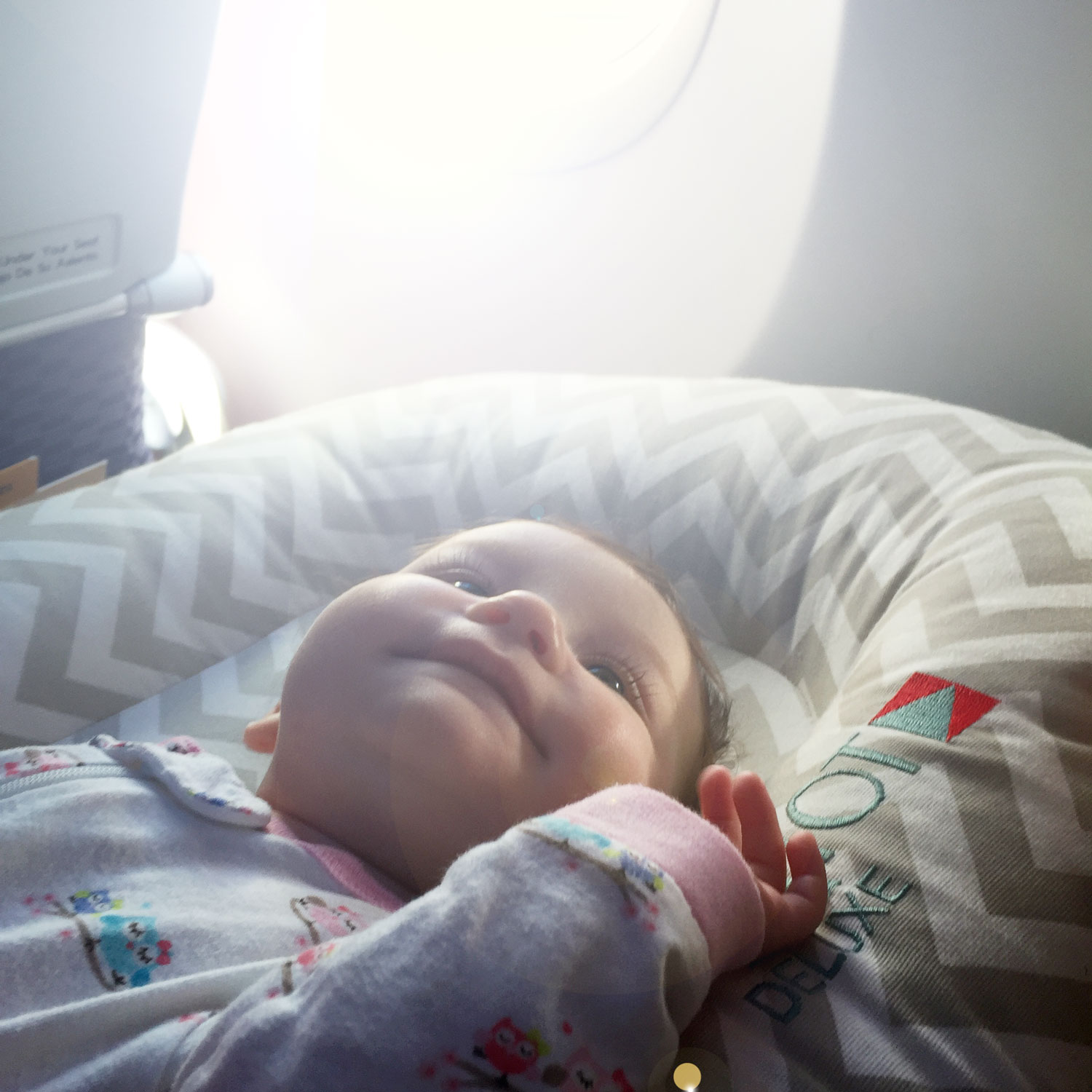 Most importantly, we used it for co-sleeping with Olivia between us. I was nervous as I move around a lot, but the raised edges prevented me from rolling too much on to her. But in a soft way not a roll-onto-metal-and-bruise-your-arm type of way. And most recently, it was instrumental in transitioning from co-sleeping to the crib. It provided her a stable place to sleep during what can be a traumatic switch.
The DockATot is your best friend if you love sleep. That's all you need to know.
And now, it's a staple for our nighttime routine. Olivia falls asleep in the living room, all ready for bed in her pajamas. Since she doesn't quite like sleeping alone in a room yet, we can keep her out with us and when we're ready to sleep, we just carry her in her DockATot and set it in her crib. Simple as that! The transition couldn't be easier.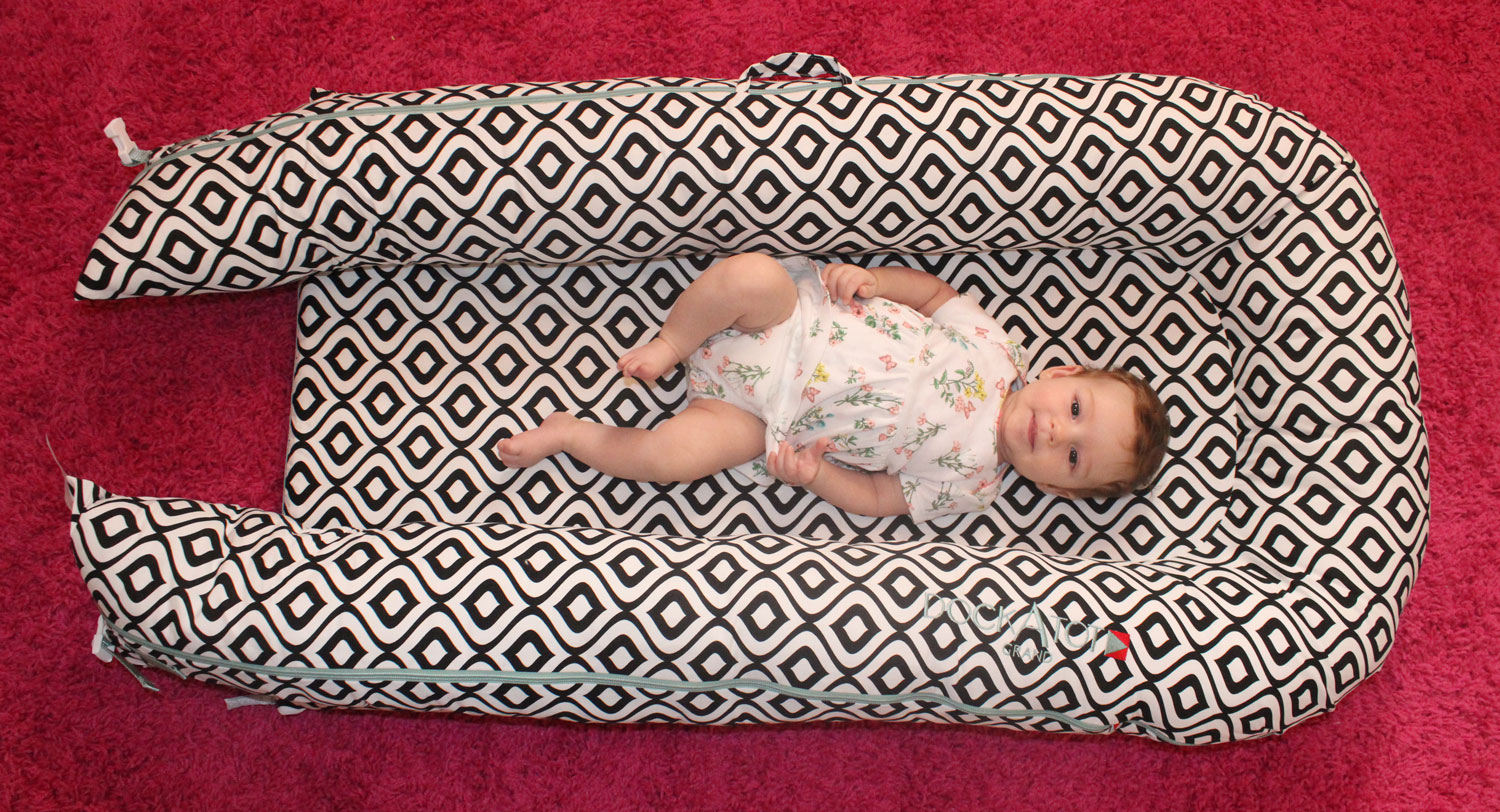 With the Grand, it's still a touch big for her to sleep in. We use that a ton for tummy time and general play because it affords her some room to practice being up on her arms and for her to roll over. Mostly, it stays in the living room and is her own personal play space. When she gets bigger, we'll begin to use that to transition her to sleeping between the crib and toddler bed.
Basically: the only thing we don't use the DockATot for: a changing pad. Frankly, it's much to nice and expensive to risk that sort of mess. Not a chance. But hey, to each his own!
Overall: It's Fantastic
While this is certainly a high end baby product ($185 for the Deluxe and $290 for the Grand), it is worth every penny. I mean, I know people say it a lot, but you can't put a price on sleep. Far beyond the baby finding it comfortable to sleep in without startling herself awake or being over heated, I know my child is safe because of the design and construction. Those two factors make for a much more relaxed night.
Design, Construction, Materials
The modern fabrics and accent colors of the zipper make this a piece in your house that people will want to talk about. It's so well made with strong seams, thick-but-breathable materials and packed with great padding. And the covers are easily removed for washing when the inevitable mess happens.
Our Recommendation
Snap this baby up. Like yesterday. Put it on your shower registry. Or just go buy it out right. You'll find so many uses for it that the price point is something you won't even think about later. It can easily replace a bassinet and will be used a heck of a lot longer. It is also quite a unique gift if someone you love very much is having a baby. You know it's something they'll use and more than likely they won't get two!
Our only qualm: we'd recommend holding off on the replacement covers, but that's only because you can only use one at a time. And unless the thing is destroyed, you can wash it quickly and be back up and running. Wait a little bit and decide which awesome patterns you want as a special treat. Because there are some awesome prints to choose from.
Take $10 Off Your DockATot!
Check it out – Bottles & Banter readers can take $10 off of their purchase. Just click here and get the coupon code. Seriously, you won't regret it.
This is an affiliate link and we get a portion of the sale. It doesn't raise the price for you (and is a true $10 discount), but we do get money to keep the site running. For more information, please read our advertising policy.