Last month, we showed you a cool new food delivery box called Degustabox. Each month it's filled with 10-15 food products handpicked to introduce your family to new flavors. Instead of just showing you what's inside the box, we thought we would give you a peek at how we've incorporated some of the products into our weekly meals.
A Look at What's Inside Our September Degustabox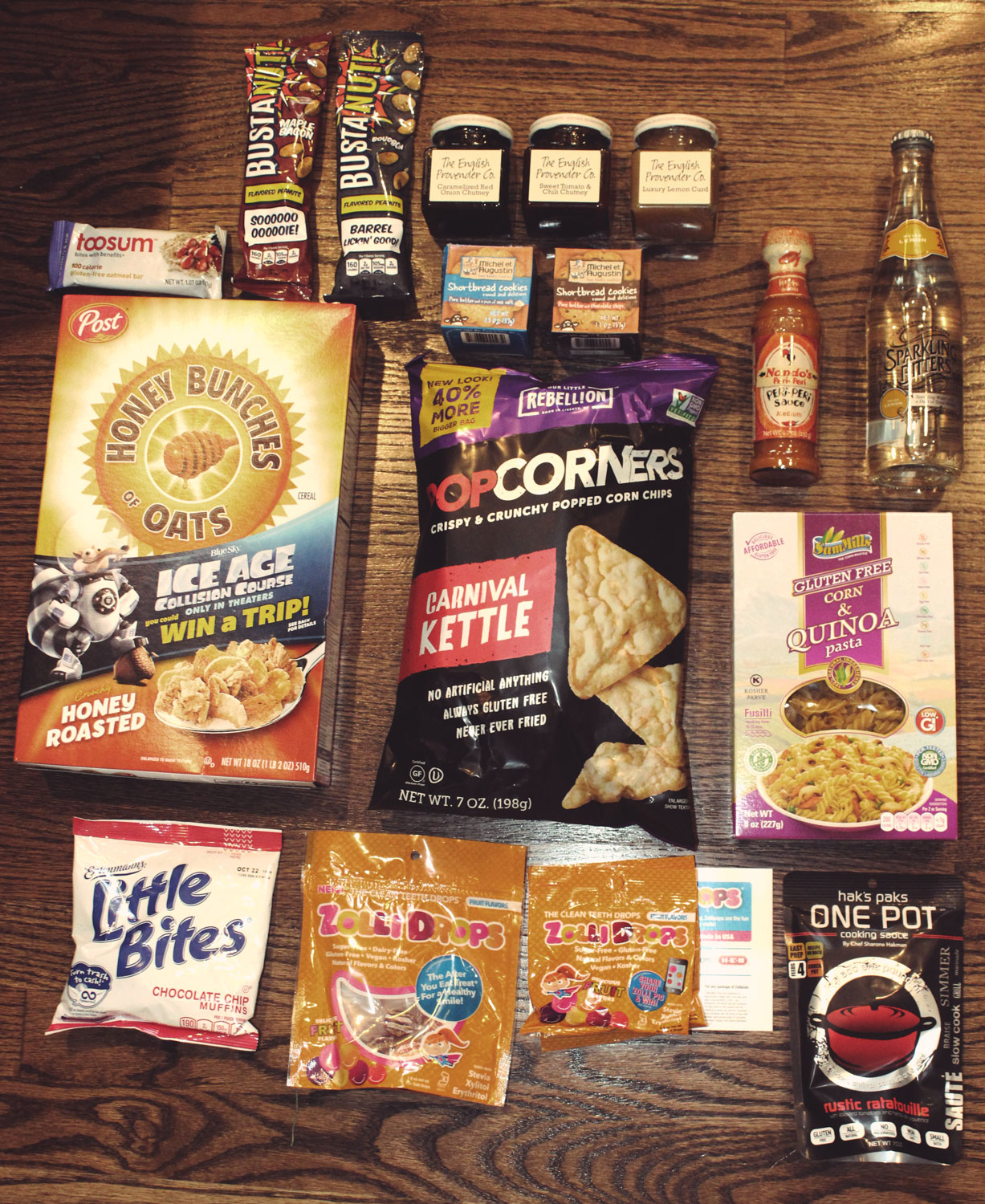 PopCORNers chips
Sparkling Bitters (flavored water with bitters)
Toosum oatmeal bars
BustaNUT! peanuts (we tried maple bacon & bourbon)
Sam Mills gluten free corn quinoa fusilli
Entenmann's little bites chocolate chip muffins
Nando's Peri Peri sauce
English Provender chutney
Honey Bunches of Oats
Michel et Augustin butter cookies
Hak's one pot cooking sauce
Zollipops clean teeth pops
We loved the box this month and feel that we can regularly use majority of the items. We were actually able to include the food from this box in each meal of the day. We tried both the oatmeal bars and Honey Bunches of Oats for breakfast. The bars were great for on-the-go. And cereal is cereal. It's great any time of the day, but we decided to be traditionalists and had it for breakfast. We at the peanuts (SO good and flavorful) and muffins for snacking. And for dinner, we used the chutney (sweet tomato & chili) to jazz up our shrimp burgers. We also used the Nando's Peri Peri sauce to add some spice to our fajitas. So many great things this month, we can't wait to see what other meals we can come up with. We loved the flavor of the fajitas so much that we decided to pass along the recipe.
Fajitas for Dinner
One of the items in this month's box is Peri Peri sauce. As major hot sauce fans, we were excited to give this one a try. The bottle suggests pairing with chicken (which I have no doubt is fantastic), but we wanted to go an alternate route by trying it in a less conventional way. Everyone loves a piping hot plate of fajitas. And instead of using our usual hot sauce, we're using Peri Peri sauce. Here's our basic recipe:
Ingredients
Flank Steak (could use chicken instead)
1 Can of Beer (we classed it up with Busch Light, but you can certainly use a higher quality beer)
8 Corn Tortillas
2 Green Peppers
2 Tablespoons Olive Oil
1 Can Black Beans
2 Cups Brown Rice
2 Avocados
2 Roma Tomatoes, diced
1 Lime
2 Cups Lettuce, shredded
1 1/2 Cups Pepperjack Cheese
Salt and pepper to taste
Nando's Peri Peri Sauce
Preparation
To start, we cut the steak into strips and marinated it in beer for about a half hour. While the steak is marinating, cook the rice according to package directions. Next, make a simple guacamole by peeling and mashing the avocado, and adding the roma tomato and juice from the lime. Add the steak with beer marinade to a skillet (cast iron works great if you have it) and cook over high heat. While the steak is cooking, slice the green pepper into strips and cook on a skillet with olive oil until softened. When the steak, rice, and green pepper are almost cooked through, heat up the beans in a saucepan.
Assemble fajitas according to taste. We layered on beans, rice, steak, and green pepper. Then we topped with cheese, lettuce, guacamole, and Peri Peri sauce. The Peri Peri sauce adds a mild spiciness to the fajitas. We found it to be the perfect level of heat, not overly spicy, but enough to add some great flavor!