When thinking of where to take your next family vacation, an overwhelming amount of options come to mind. And Napa Valley doesn't usually crack the top 5. Yet. While somewhere like Disney is typically the most popular, taking a baby to Napa Valley is a great decision. So let's get in to some of the reasons why Napa Valley should make your list.
Flying with a Baby
We had an awesome experience with United Airlines. They were very patient and helpful as we asked to gate check the stroller and carseat. Plus no damage (see: how to protect your stroller when flying). These gate check bags are must. Bring a bottle or breastfeed the baby for take off and landing; whatever you feel comfortable with. And carry on a DockATot or other comfy laying device to keep your baby sleeping peacefully. This is what made our flight a better experience than we had anticipated.
Family Friendly Resort in Napa Valley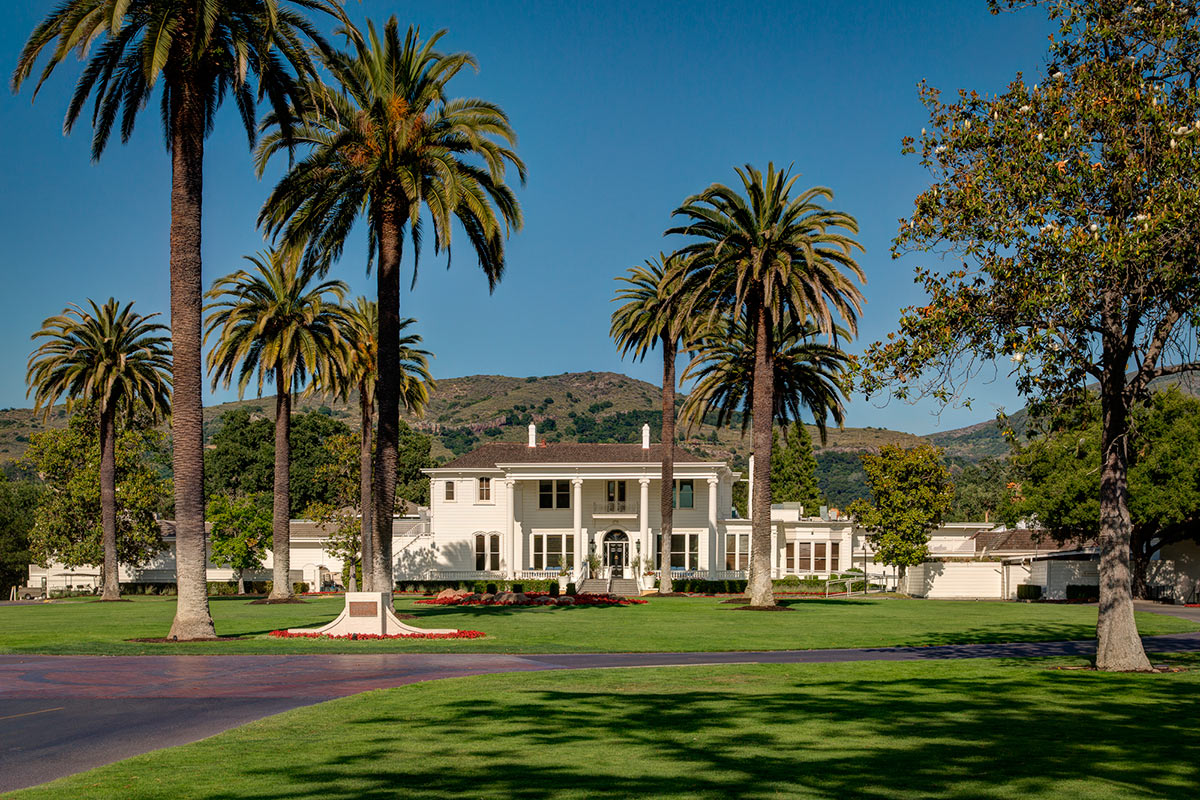 We stayed at a little place called the Silverado Resort & Spa while in Napa Valley. And when I say little, I actually mean huge. This resort is massive and there is so much to do. We had the best experience. As a group of five, we stayed in a two bedroom suite in the Oak Creek neighborhood. It was a short 2-3 minute drive from the main resort and they also have 24/7 hotel transportation to take you back and forth if you prefer.
The Suite at Silverado Resort & Spa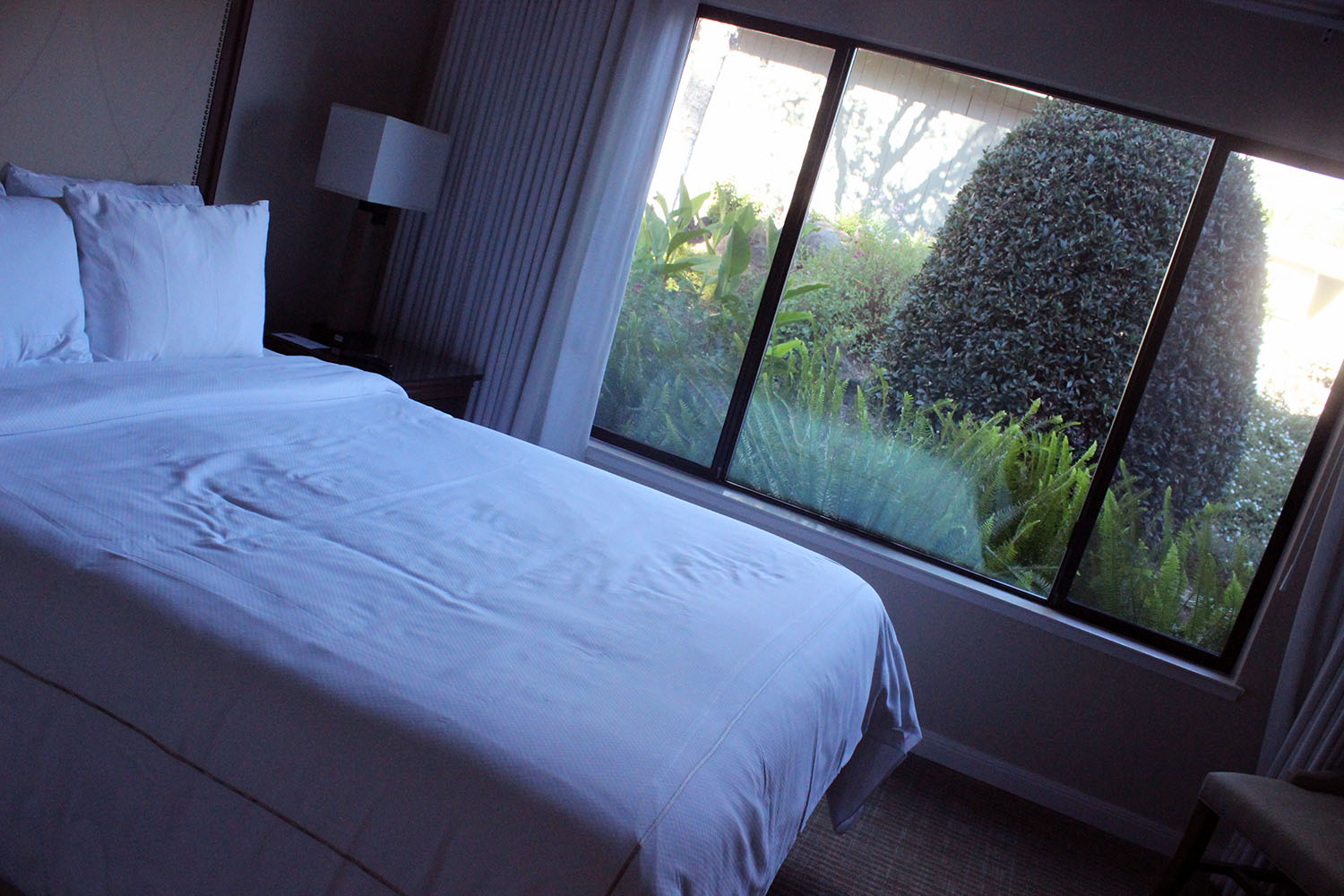 The two bedroom suite is perfect for families. One bedroom had a King bed and one had a Queen. Plus, two huge bathrooms. It also had a spacious kitchen, living room, and patio. Our patio overlooked the pool, which was very convenient and picturesque. The suite is set up like a condo to give you plenty of space and privacy, but you still get all the great amenities of a resort, which was one of the biggest draws.
They even had a little champagne and cheese waiting for us, which was a very pleasant surprise.
The Amenities at Silverado Resort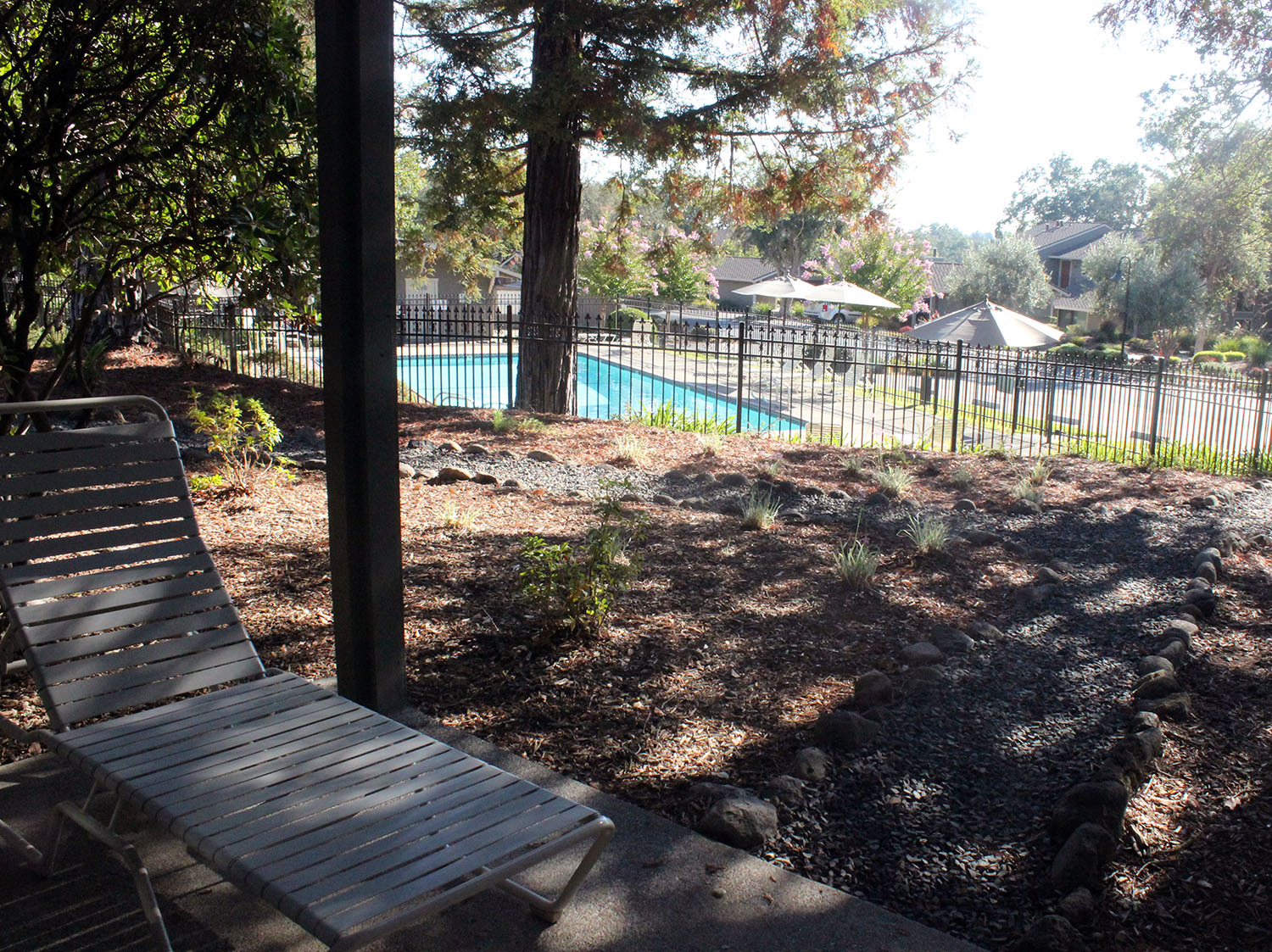 If you are looking for a place with a great pool, Silverado will more then meet your needs. Our suite complex had its own pool right outside the room. The pool was always very quiet so we had it to ourselves most days. We also used the main resort pool which had a large hot tub and snack bar. If you prefer to picnic out or enjoy fine dining, the resort also has a market and restaurant. Driving through we noticed a really pretty golf course (they were hosting a PGA event while we were there). We didn't golf, but absolutely recommend it for golf lovers.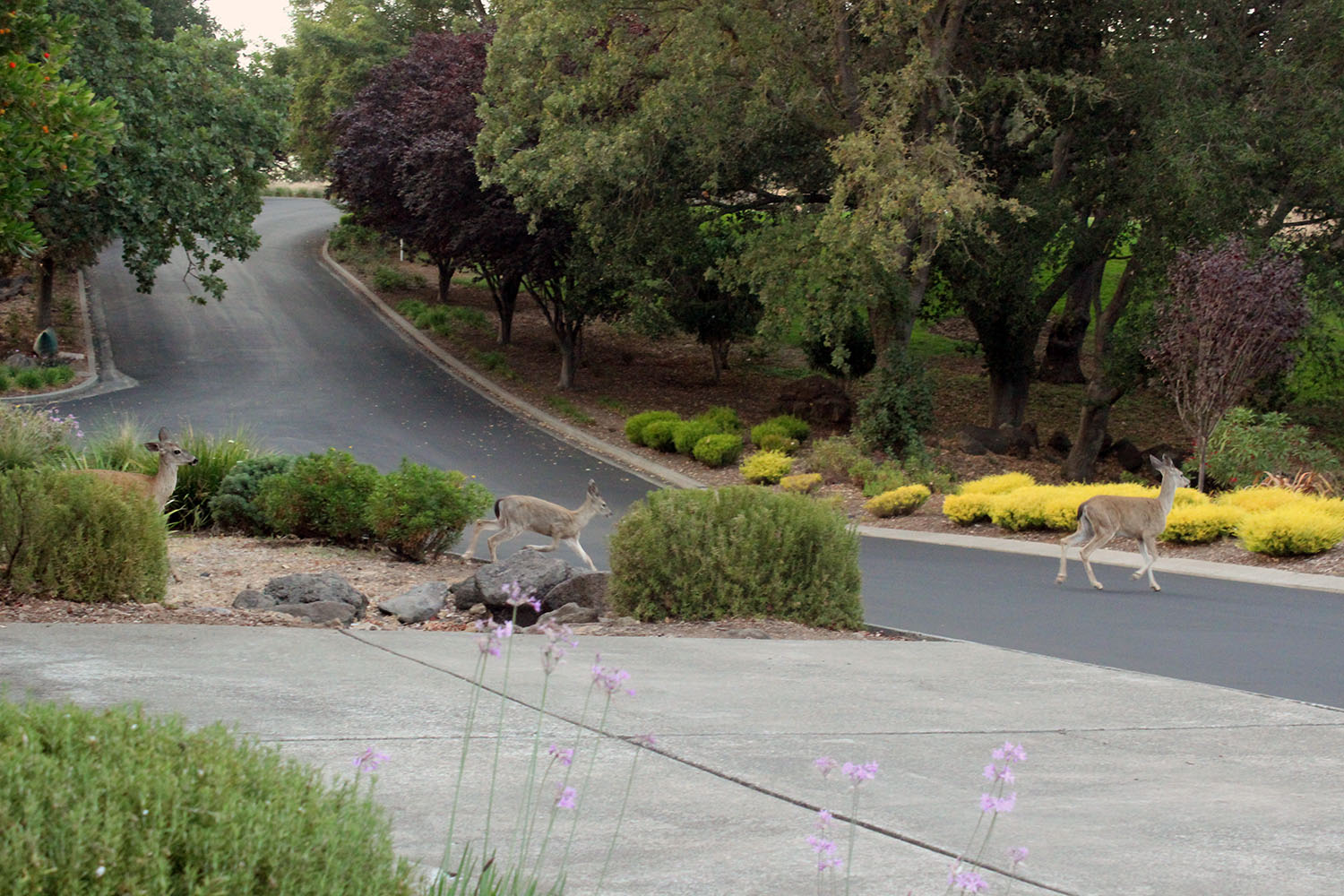 Dining in Napa Valley
Napa Valley is full of places to eat, which can make it challenging to decide on a place. I recommend a healthy mix of planning vs. unscheduled stops. I was scared some of the trendy restaurants would frown upon children, which luckily turned out to be false. We ate at Bottega the first night, which is owned by celebrity chef Michael Chiarello. It was every bit as delicious as I had hoped and receptive to kids. Try the lamb or one of the amazing pasta dishes. Afterward you can stroll around the beautiful Yountville area where the restaurant is situated.
Another dinner pick for tasty Italian is Ca' Momi. They are known for authentic food with no substitutions. We had to break that a tad for a food allergy, but it makes for a unique experience. While we were there, the proceeds for a special spaghetti dish went to help victims of a recent earthquake in Italy. For happy hour, check out Bounty Hunter Wine Bar. It will appeal to both beer and wine drinkers, and has some tasty BBQ. Cooks Tavern is another pick for a drink or quick bite. Cooks is located in St. Helena and has some excellent beer.
Family Friendly Wineries to Visit
No visit to Napa is complete without visiting a few wineries. I did a lot of research prior to our visit to pick out wineries that were accepting of little ones. We loved each of these for different reasons and I would be hard pressed to pick a favorite.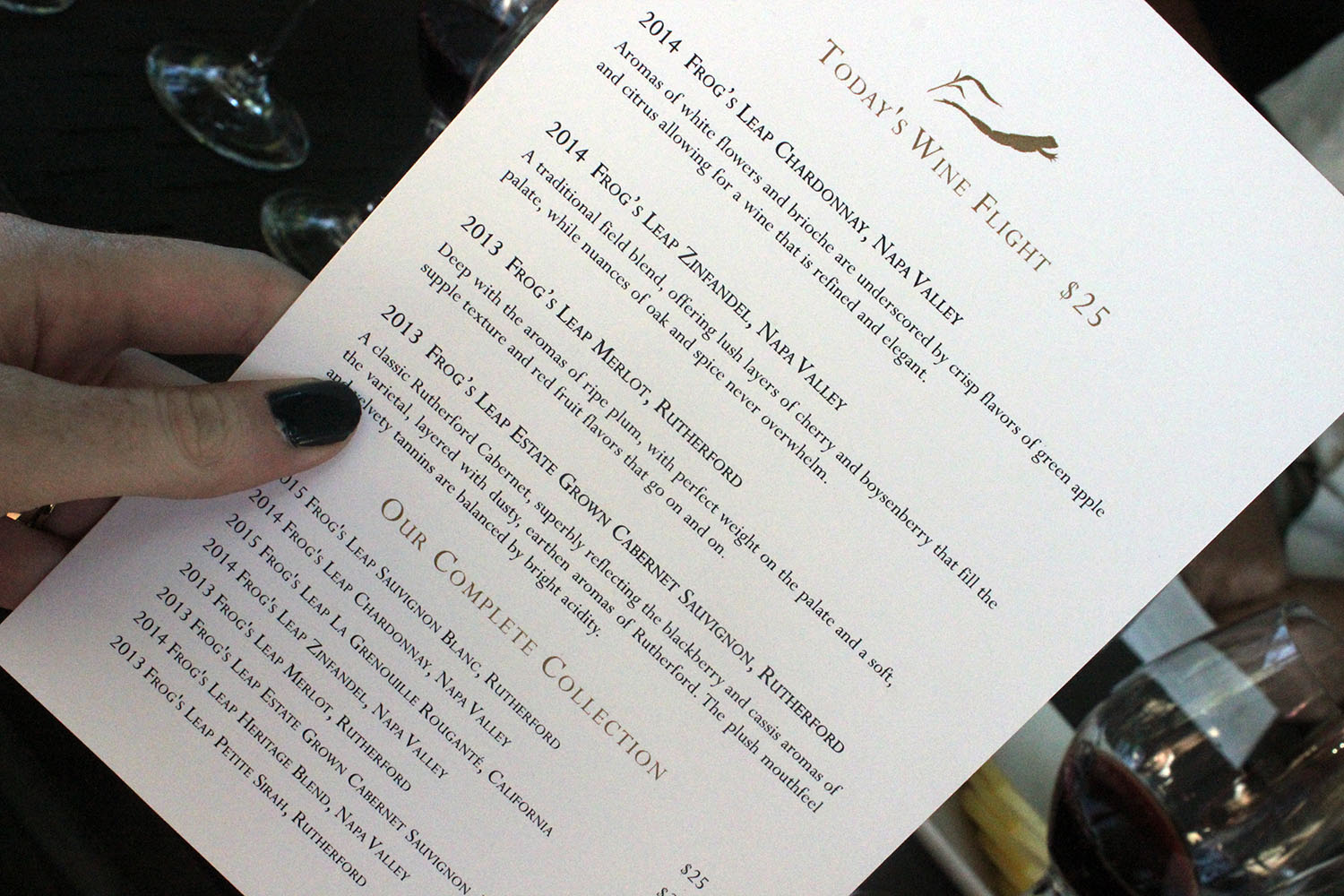 The very first winery we visited and located in the Rutherford area. We took part in their signature seated tasting on the patio, which included four current releases for $25. I would suggest this for a more casual setting and to ease your way into wine tasting. Our wine specialist did a brief run through of each wine we were sampling and then left us to enjoy our wine in private. He was there to provide more information if requested and he also gave us a cheese and cracker plate to pair with our wine. The main appeal of this winery is the setting. The beautiful scenery really stole the show. You can wander through the gardens with the kids and take some great pictures. It was very spacious and even had a little farmhouse for the kids.
Perfect for: relaxed wine tasting in a gorgeous, kid-friendly setting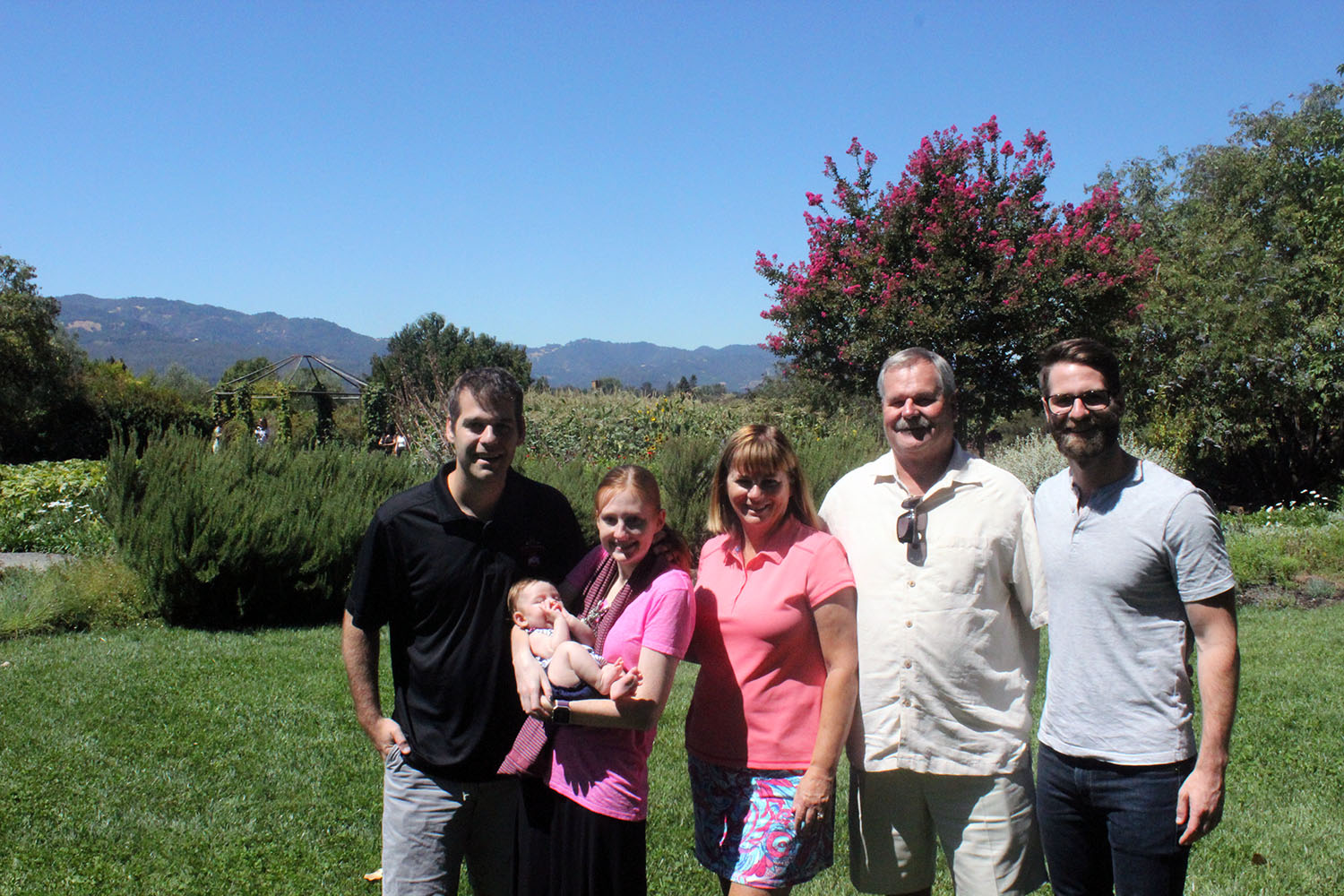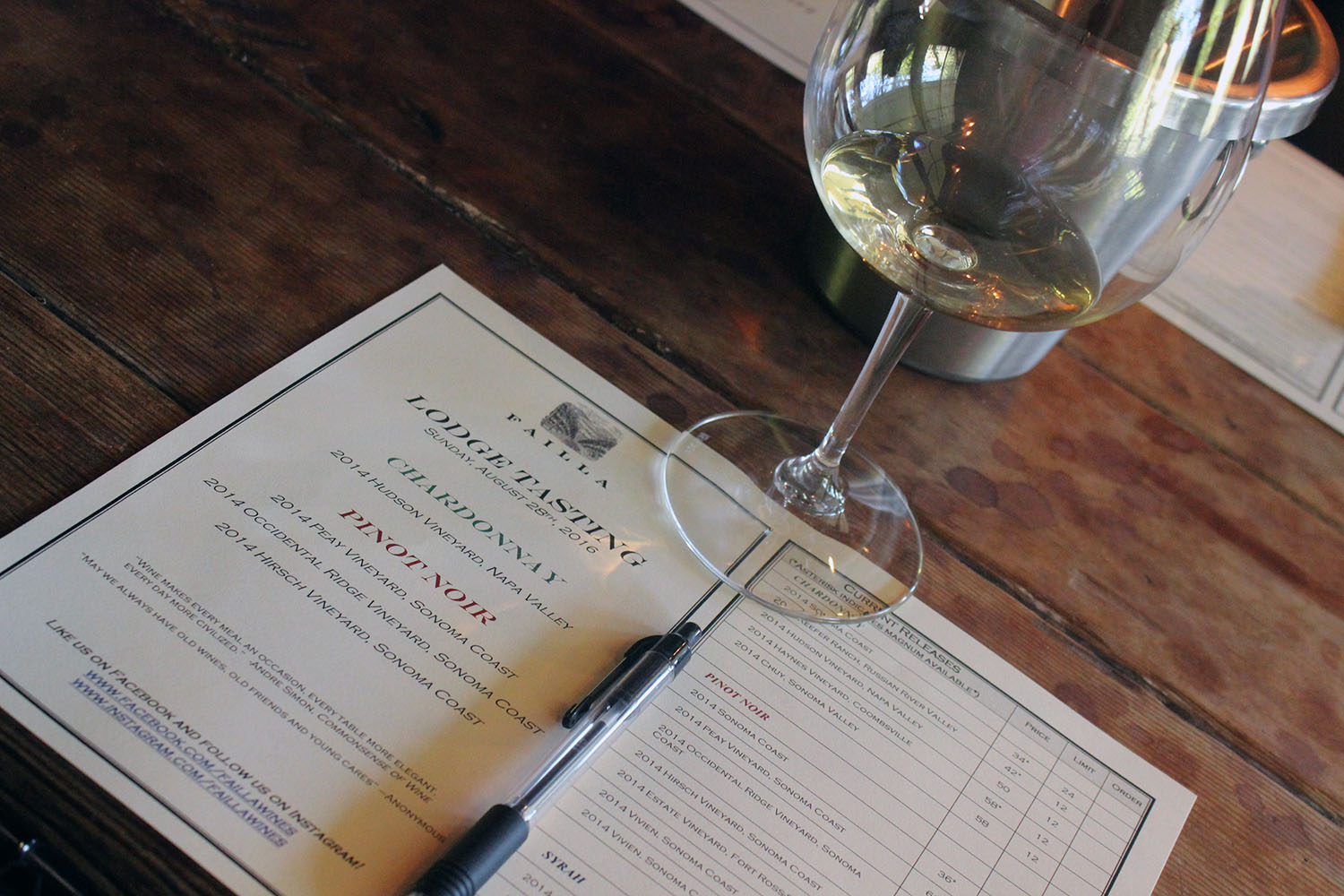 Failla is an appointment based winery in the St. Helena area of Napa Valley. They call themselves the Sonoma ambassadors of Napa Valley. We participated in the tasting lodge, which includes a more personalized sit down experience in their 1930's farmhouse. Our visit included four current release selections. Our specialist, Jane, was incredibly knowledgeable about both wine and the winery. She explained each wine as we were enjoying them and knew so much about the history of the winery. Olivia had some typical baby fussy moments while we were there and she was very accommodating by giving us regular breaks to walk around with the baby. We loved how child (and dog) friendly they were. All the wines were delicious, but our favorite was the Hirsch, which we took to calling the Thanksgiving wine as it comes highly recommended for your Thanksgiving meal.
Perfect for: groups looking for a private, historic setting led by a knowledgeable wine specialist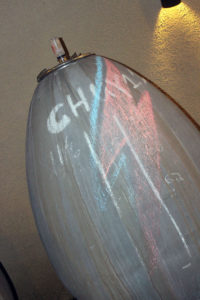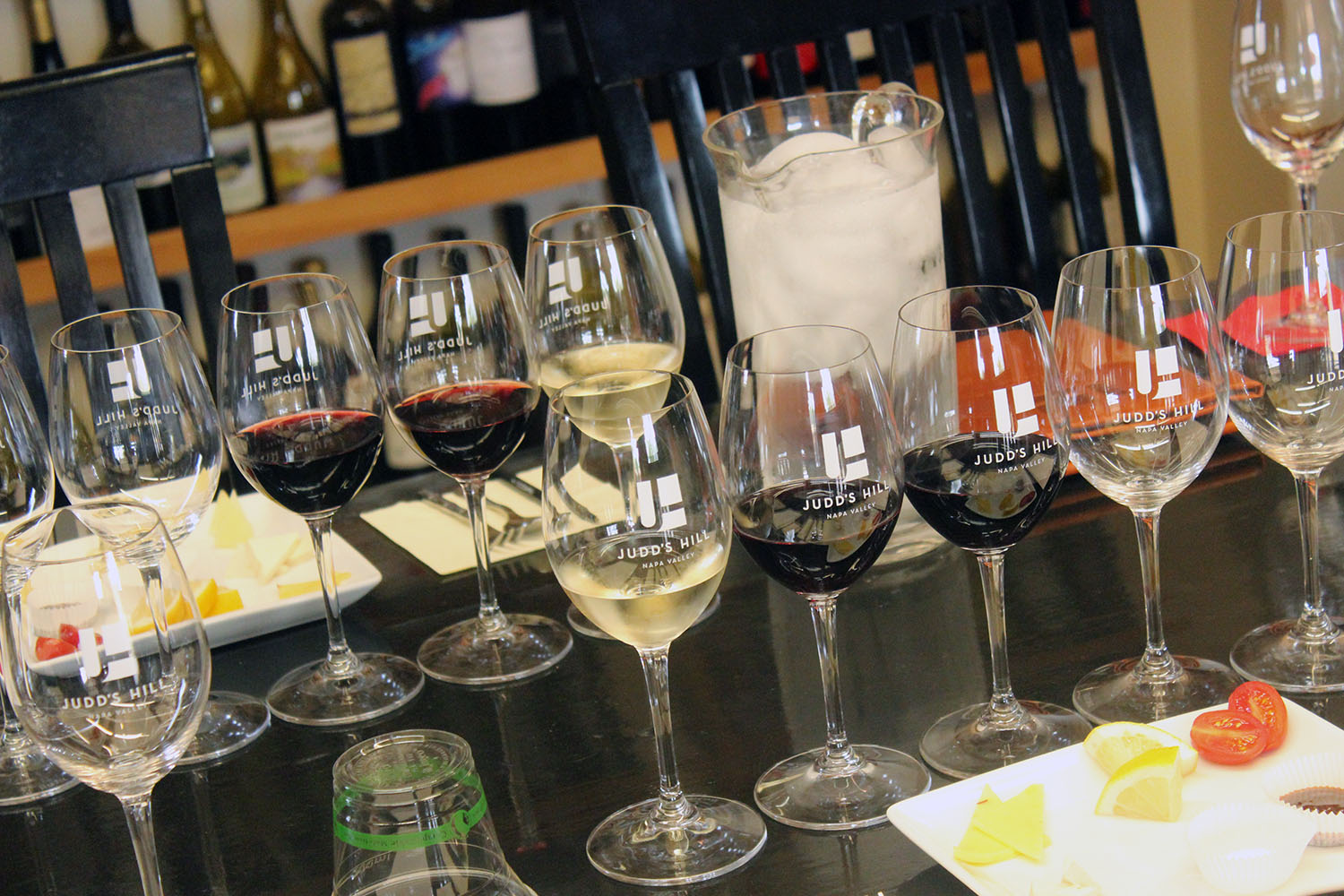 I have to start off by saying CJ was one of the best wine educators we met during our visit to Napa Valley (or really ever). We visited for the Food and Wine Seminar and it was quite the experience. As a sidenote: this is not for the faint of heart. You will learn about wine and you'll need to pay attention or CJ may call you out. Grandpa got called out several times, but then, this was no Busch Light tasting, either. It can be intense for some, but our group was really interested in learning more about wines instead of just tasting it, though you'll do plenty of that too.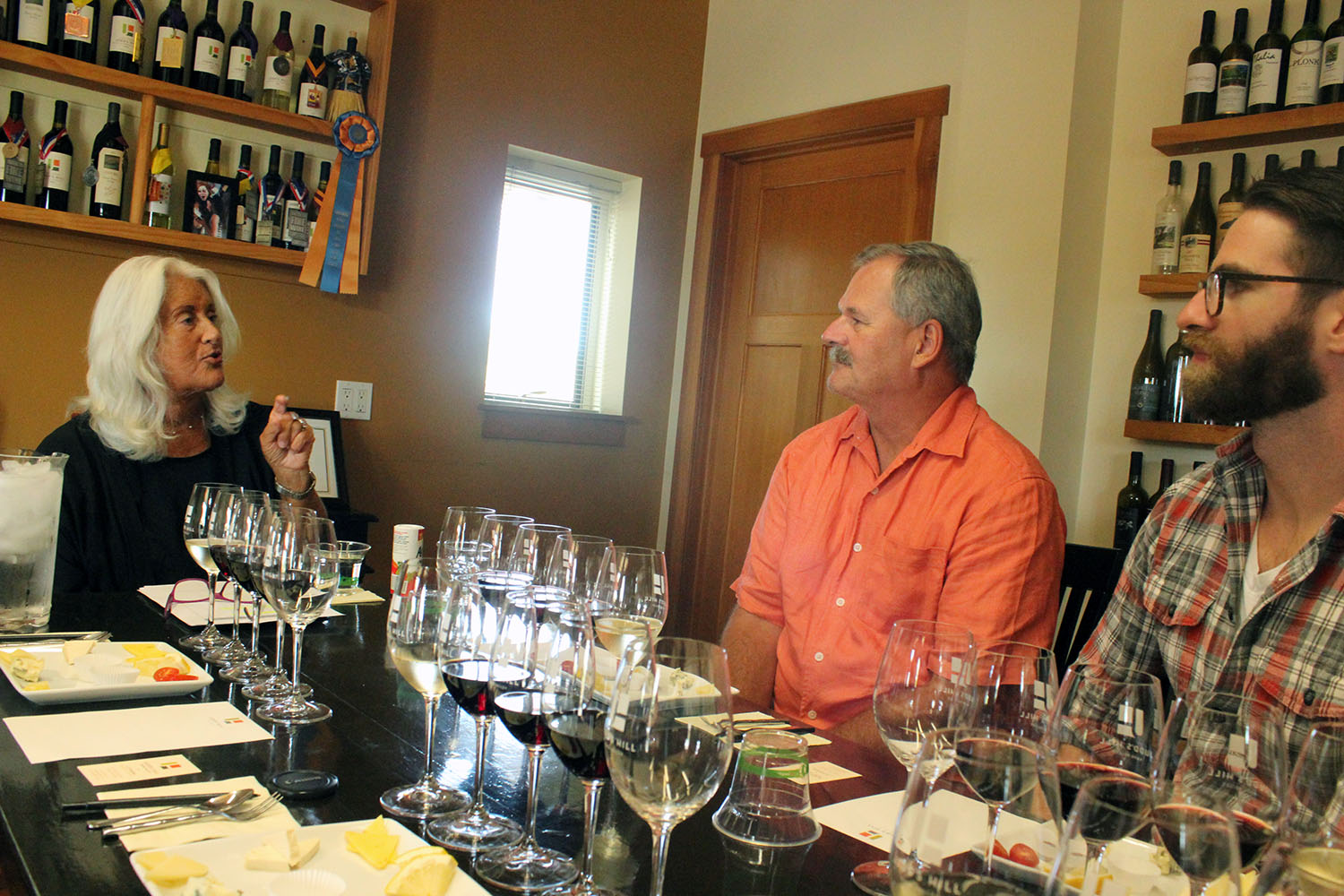 We started off in a private room learning more about wine in general and the tannins. Then we got to tasting. We talked about what various flavor profiles do to the taste of wine. It was very, very interesting and you'll learn all about which type of wine to pair with different snacks for your desired effect. I could go on and on about this experience and just may in a separate post. It was the only one we sampled a sweet wine (a delicious Port) and they gave us a bottle for answering a trivia question. It was also very private and easy to enjoy with a baby. I even fed the baby right at the table and CJ was totally cool with it.
Perfect for: Groups that want to deepen their knowledge of wine in a fun, intimate setting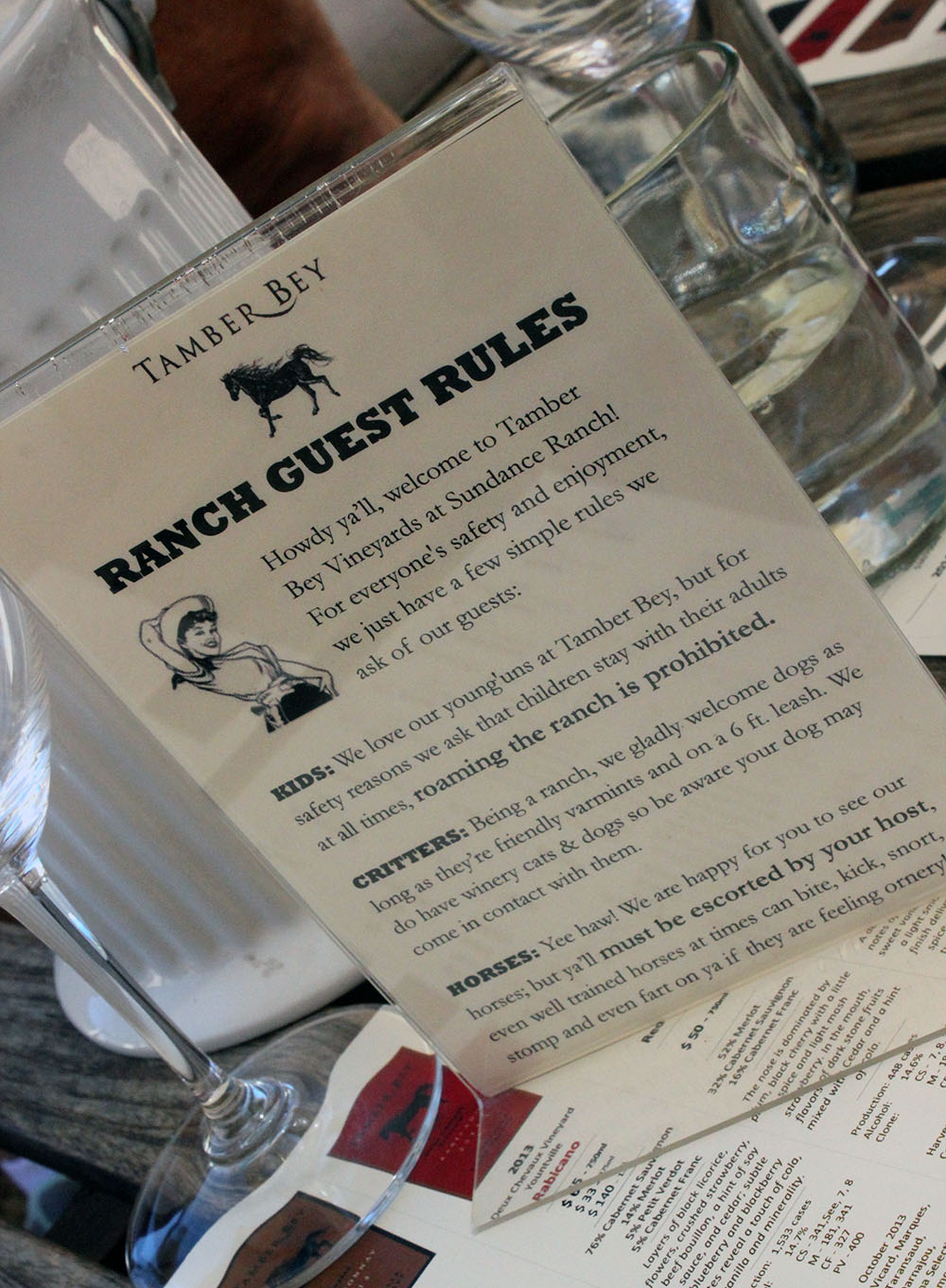 On our last day we traveled to the town of Calistoga to sample some wine. Tamber Bey is part horse ranch, part winery. Our guide, Doug, showed us around the place to check out how they crush grapes and barrel the wine. We then got to take the baby to visit some horses. Along with two of the resident horses, Tiki and Woody, they rescue horses. How cool is that?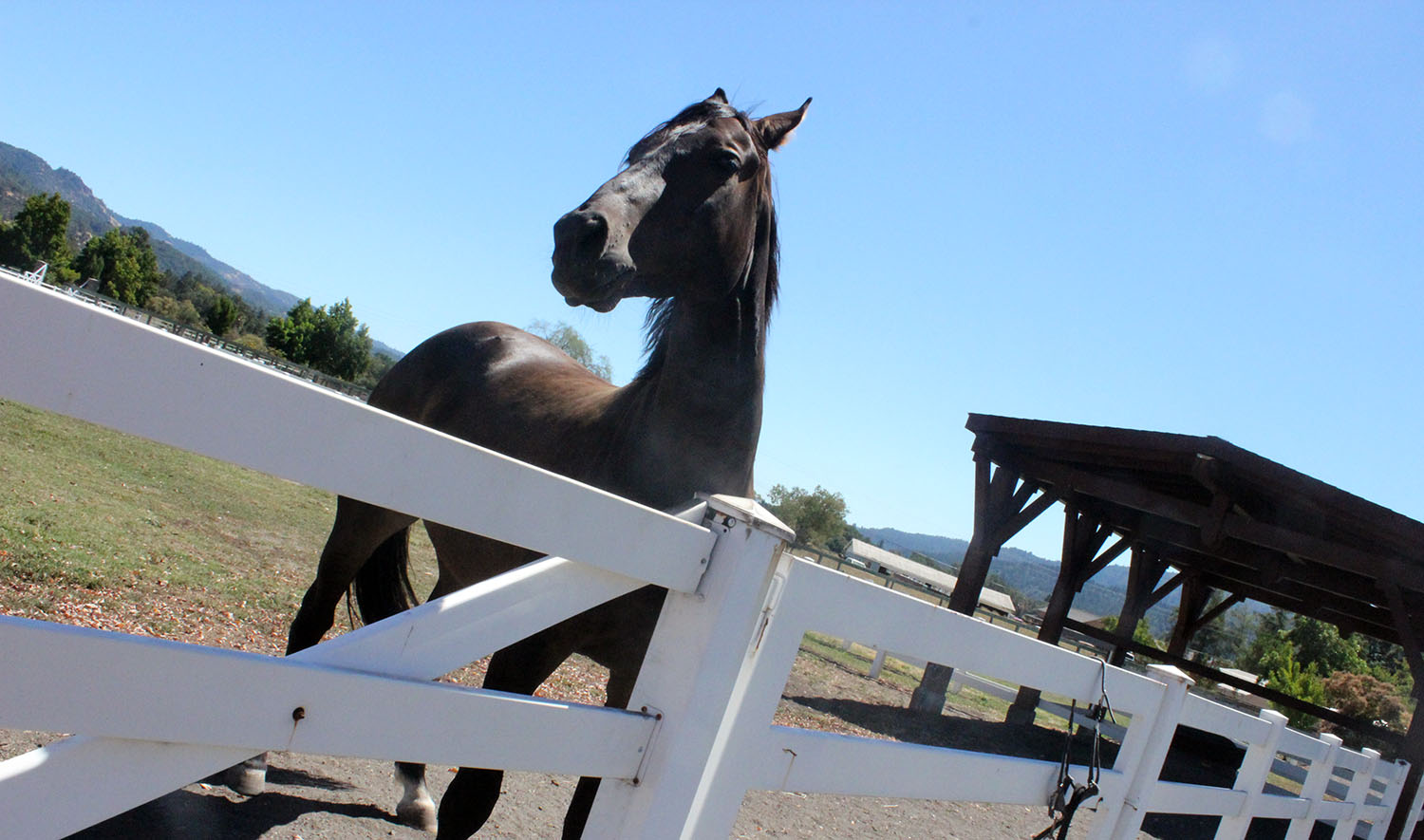 The location is right by the Geyser and a favorite of local movie star Robert Redford. Our guide gave us an interesting peek at the history of Tamber Bey as we sampled wines. Our favorite was Red Wine. The name is straight and to the point, and the flavor changes from year to year. I have to say the history of this place is one of the most fascinating. So much star power in one place! They were also extremely adaptable to bringing in the baby and the horses make for a fun kid friendly activity.
Perfect for: guests looking for a unique winery experience with a equestrian twist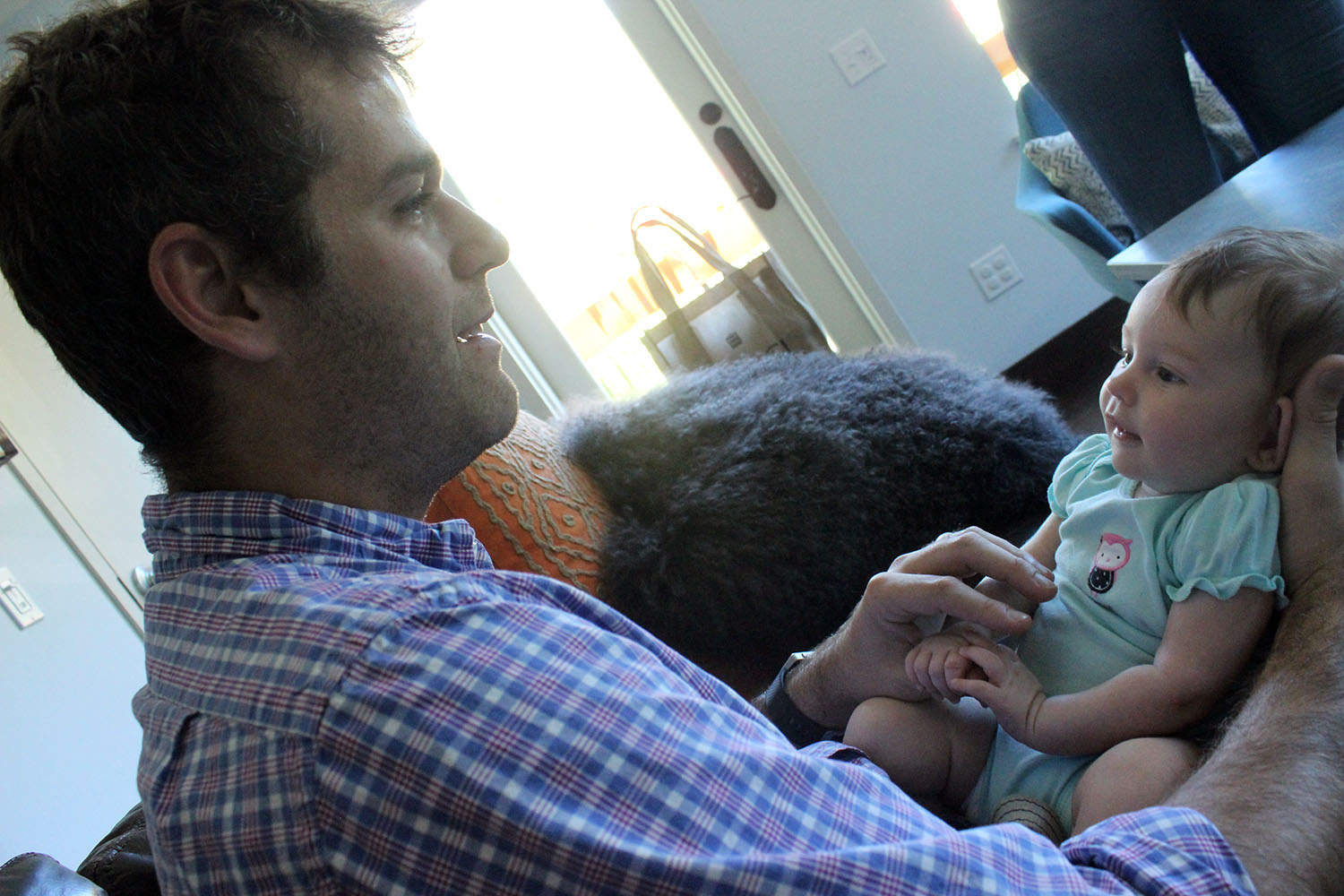 Tucked away in Calistoga, this place was tough to find at first, but totally worth it when we got there. They have a beautiful tasting room outside on a picnic table beside a mouth watering smoker. It was a touch warm for the little one, so we hung out in the equally gorgeous indoor room.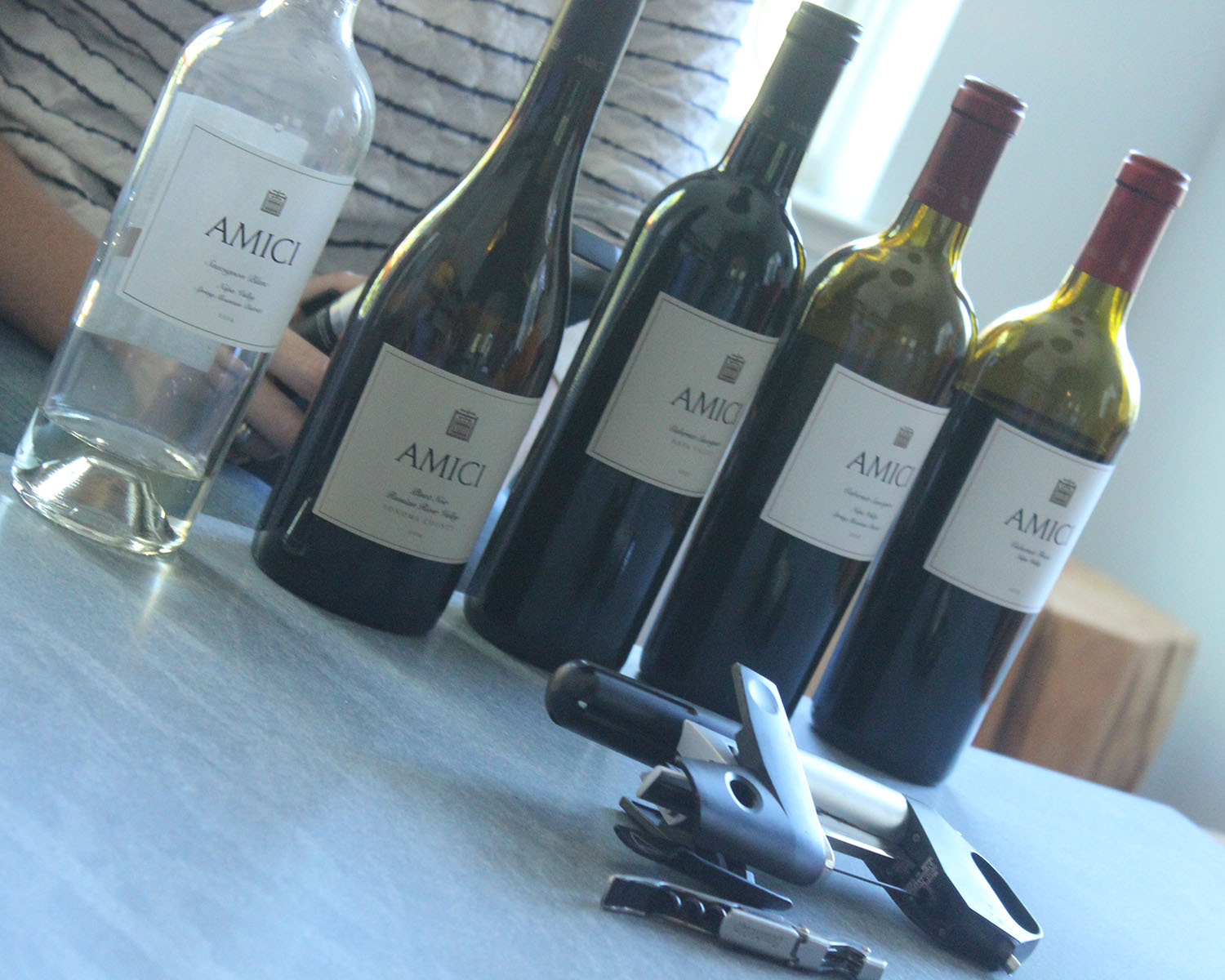 Amici is known for sourcing their grapes from prestigious vineyards. Our wine specialist, Tara, was an expert in the land and types of grapes they use.The name Amici means "friends" in Italian, so you already know it's going to be a good time from the start. I loved how conversational and laid back our visit was, while tasting some high class wines. We tried one white and four red wines. Two of the wines can only be purchased at the winery and had an unbelievable quality to them. There was also a lot of harvesting going on during our visit so we were able to see the production up close.
Perfect for: premium wines in a hillside, off the beaten path location.
Grgich Hills Estate was on our list and they were so great to work with during the planning stage of the trip. Unfortunately, we didn't get to make it out for a tour, which we were totally bummed about. While visiting other wineries, we were constantly told Grgich is the go-to place for grape stomping. It's a great way to get the kids involved in a fun family activity. Plan your visit from August – October to take part in a unique grape crushing experience.
The Takeaway
Each of these wineries was fun and educational in their own way. More importantly they were all incredibly friendly and welcoming. All spoke very highly of other Napa wineries, which was so refreshing to see. And they were very considerate when Olivia got a bit fussy, which means you absolutely can do Napa Valley with a baby. We had the best time doing family friendly Napa Valley. You can still have a great time while experiencing some adult-oriented activities. So the next time you're thinking about family travel destinations, add Napa Valley to your list. Hopefully our guide can give you inspiration and family friendly locations to make your trip unforgettable.
You may also like:
Baby Friendly Destinations for your First Family Vacation
Packing Light and Traveling with a Baby
21 Best Family Instagram Accounts for Keeping Things Real
Minimalist Disney World Packing List with Kids