If you're anything like me, the minute you find out you're having a baby girl, you think of all the cute little outfits and accessories you can buy. There is no shortage of adorable baby gear out there and you think "get ready wallet, you're about to take a hit". Well, there are many different shops out there with both attractive and affordable designs. One I came across recently is Polkadots Boutique. They specialize in hair accessories and offered to let us try out of few of their popular items.
Inspiration Behind Polkadots Boutique
Polkadots Boutique was started 12 years ago when mom Angela had trouble finding cute accessories that also worked with her baby's fine hair. So instead, she decided to create her own. She takes great pride in everything she creates, using only high quality ribbons and embellishments. Her passion for her family is apparent in all her work.
Baby Bows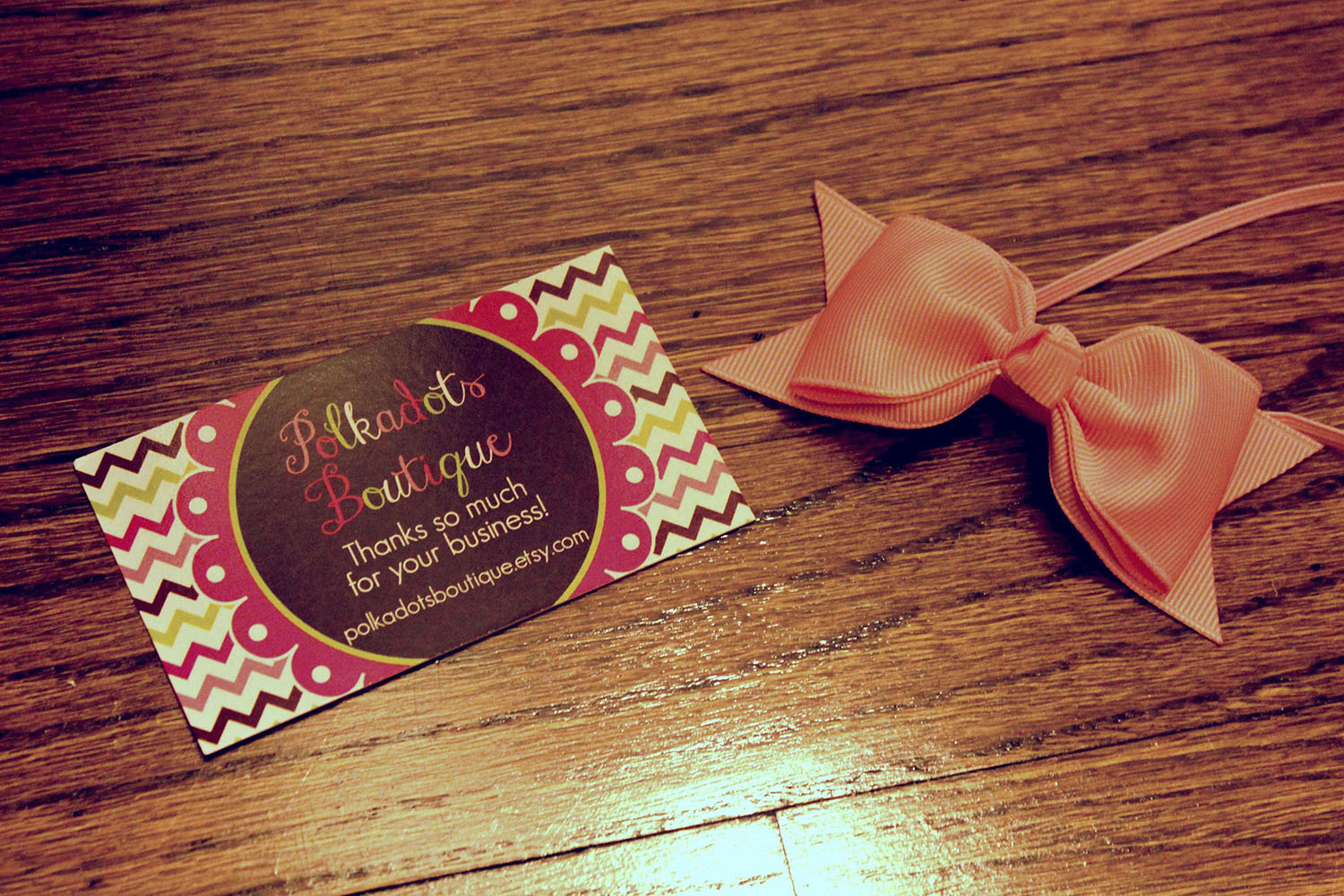 There are many different styles and colors to choose from, but we tried the tuxedo style bow in pink. It was so little and adorable! The first thing I noticed was how durable the fabric feels. The quality was great and I feel that it will hold up to many uses until the baby grows out of it. I also love how they are available in different sizes (newborn, 3-6 months, 6-12 months, 12+ months). Choosing from the different sizes will help to ensure a more perfect fit for your kiddo.
Baby Headbands
We also received the shabby chic headband in ivory. I really love the color of this one – so classic. It feels like the perfect headband to use in a newborn photo session. The flowers are made from chiffon and have a very silky feel to them. They are also embellished with little pearl and rhinestone accents. These headbands are also available in different sizes (preemie, newborn, 3-6 months, 6-12 months, 12+ months).
Sports Themed & Custom Baby Headbands
This is without a doubt Nick's favorite of the three. Of course we are suckers for anything Ohio State themed. And tiny Ohio State baby headbands are just impossible to resist. I love everything about this headband. There is a lot of detail that went into making this. The fabric is perfect and soft. The colors all work nicely together. And the little football center tops it off. A lot of baby sports items are a little on the boyish side for my liking. This headband is both sporty and feminine. Don't worry if you're not an Ohio State fan – you can custom order one in your team's colors. I can't wait for our baby girl to rock this on game day in the fall.
Polkadots Boutique's Custom Baby Headbands
If you don't see anything that fits your style perfectly, don't hesitate to ask for a custom order. Angela welcomes new ideas to spark her creativity and find the perfect accessory for each baby. If your baby isn't so much a baby anymore, they also make ribbons and bows for toddlers, which are just as cute.
They make great baby shower gifts, newborn photo accessories, and new mom gifts. Or you know, just because you like cute things.