Bottles & Banter is founded on the fact that Mom knows best. Or is it that Dad know best? Crap.
When it comes to buying baby gear, there are endless options. Frankly, it's overwhelming. And we've made it no secret that we have regular debates about which products to splurge on and which to go budget-friendly. Here is Bottles & Banter's list of fun new products and our "Mom" and "Dad" perspectives on each. Some we agree on, and others not so much.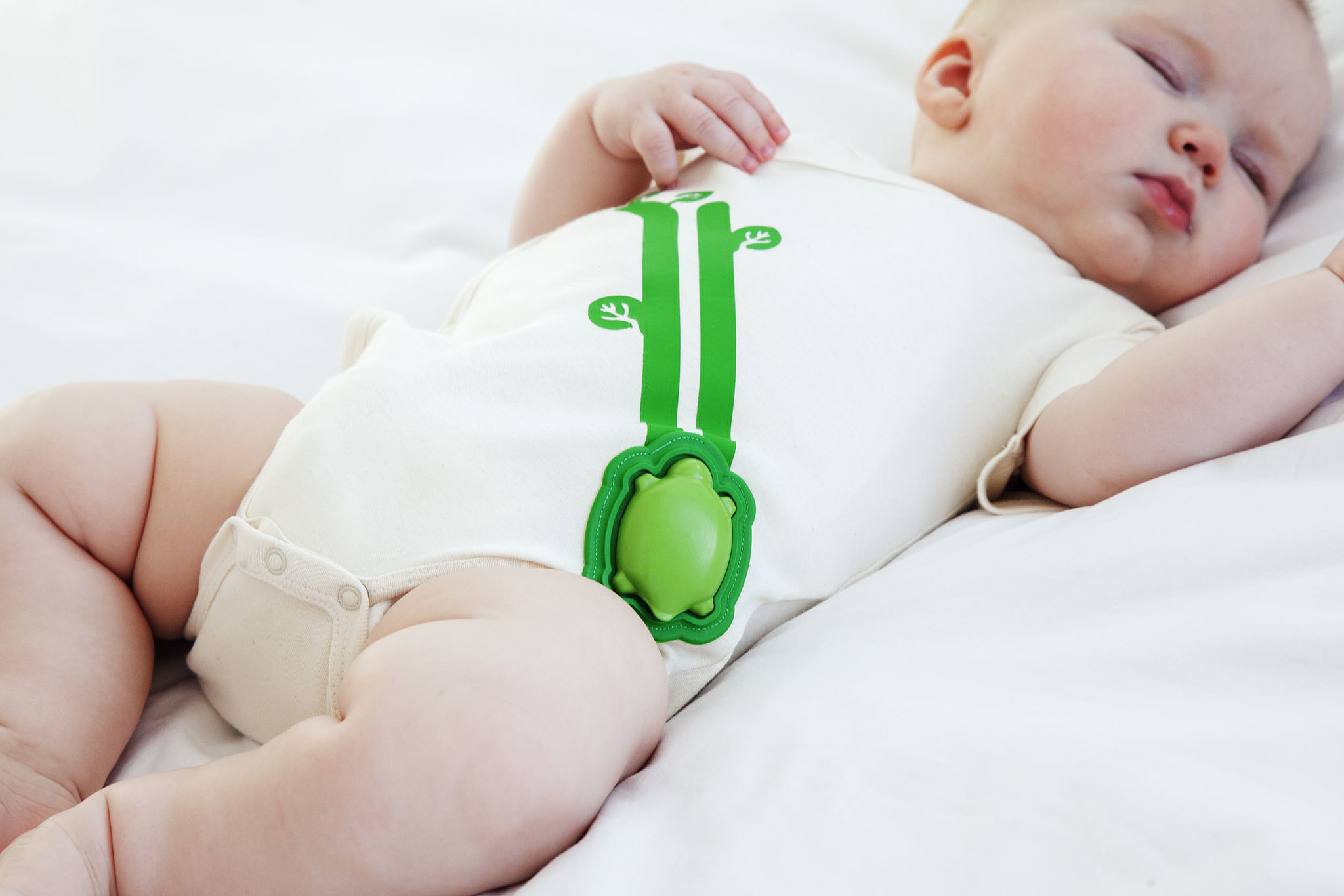 Mimo Onesie – $199
This is one of our most hotly debated baby items. Essentially, Mimo is a breathing monitor that can track baby's pulse, breathing rate, heart rate, and body position. The starter kit comes with three onesies for babies 0-3 months. It also includes a smartphone app that provides alerts and sends nightly reports on how your little bundle of joy is sleeping.
Mom's Take: Skip this one and go for a different model. There's no doubt that a breathing or movement monitor can provide much needed reassurance for new parents. I'm totally on board with the idea, but I just can't get over the fact that I have to put my baby in the same outfit every night. Not only does it force you to buy extra onesies (unless you'll be doing laundry every night), but they also grow out of each size so quickly. So you're constantly buying new compatible onesies that don't come cheap. Instead, opt for the Monbaby. It's cheaper and can clip on to your baby's existing clothes, making it a lot more reasonable.
Dad's Take: Let's rephrase this question. Instead of "Would you pay $300-ish to have a monitor?", let's say "Would you pay $300-ish to be able to relax and know baby is doing well?" for argument's sake. And that, my friends, is an easy answer. I'll do that every single time. It keeps baby comfortable, we know she's safe, and it syncs movement with the camera. And all of that without me moving from the couch? Done and done. Please, take my money.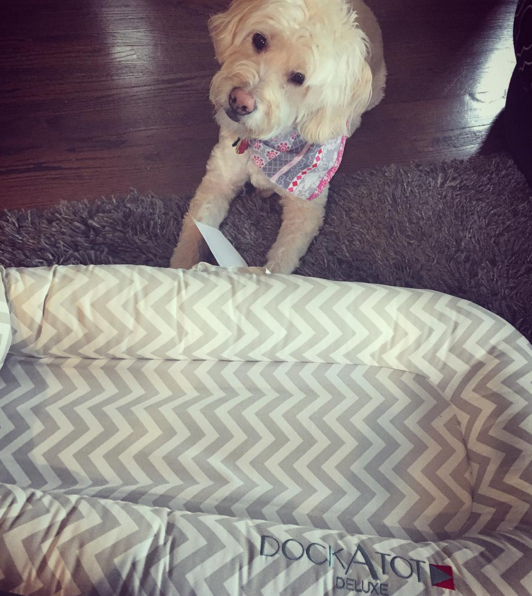 DockATot – $185
The DockATot is a multi-use docking station for your child 0-8 months old. An invention of Sweden and made in Europe, it is designed with high-quality, breathable, washable, and hypoallergenic materials. Some of its uses include tummy time, diaper changes, lounging, playing, cuddling, and sleeping. It's also lightweight and portable so you can use it on all your travels. And you and you can dress it up with fun covers.
Mom's Take: This is definitely worth the money. We heard so many great things about the DockATot and just picked one up for ourselves. The reason why I like it is that it functions in so many different ways. We travel frequently and were looking for something we could take with us. While we're on the go, we can use it for napping, sleeping, and changing. And it's incredibly portable. If you were to bring along separate items for sleeping, changing, and tummy time, not only would it be more expensive, but you would also be that family getting annoyed looks at the airport.
Dad's Take: What she said. I am totally on board with this one. A Bottles & Banter win if I've ever seen one.
Hatch Baby – $249
The Hatch Baby is a smart changing pad. It is a means of creating peace of mind by tracking important information for you and your pediatrician. It will track your baby's weight and compare it to worldwide averages. It tracks how much your baby is getting during each feeding. It will record diaper changes to ensure your baby is drinking enough. You can use it to measure your baby and track his/her growth over time. And it will track sleep patterns. All of these things can be accessed in stored in their app.
Mom's Take: I love the idea, but I just don't see the price being worth it. Not that collecting this kind of data isn't important, but I feel like you could get the same results with some less costly products. To me, it seems like it's able to charge $249 by throwing the word "smart" in front of changing pad. There are many free apps out there that will allow you to enter in this kind of data. Now if the price were to drop a bit, then we'll talk.
Dad's Take: Ok, this might be a touch excessive. I'll give you that one. Knowing weight gain and such is nowhere near as important as, say, knowing if she's breathing and comfortable. You know, like the Mimo. Tell you what. I'll give up this one in exchange for that.
Ju-Ju-Be Diaper Bag ($165 – $180)
The Coach or Michael Kors of the diaper bag world. The Ju-Ju-Be is a designer diaper bag, created to be both functional and stylish. They come in a wide variety of patterns and also sell tote bags and purses, but their standard diaper bag runs about $165 – $180. These bags are packed with memory foam changing pads, bottle pockets, crumb drains, and are machine washable.
Mom's Take: I say to splurge on this one. You will be taking it everywhere and it comes with a lot of great features. The designs are all really cute, so I think if you usually splurge on a purse, there's nothing much different about splurging on a diaper bag.
Dad's Take: Ya, cute design over functionality. Totally get it. Never mind that I've had the same wallet for over a decade and you get a new purse every year, how is this helping your life any? Sure it looks pretty. But so is a live and well rested baby with her well rested parents. You know, but cause they were able to relax at night. You are more than aware of what I am getting at.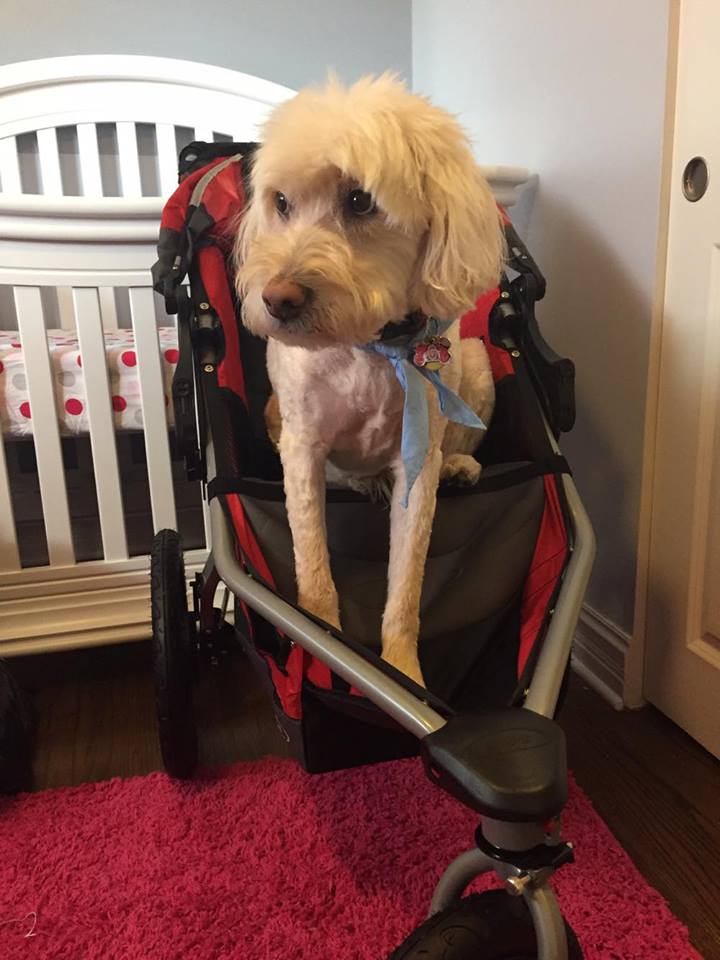 B.O.B Jogging Stroller ($350 – $689)
These BOB strollers are designed with active parents in mind. They offer strollers for light joggers, extreme runners, and everyone in between. They offer a three wheel design, with the front wheel swiveling for maximum maneuverability. They offer two step folding, making them very convenient. The five point harness also ensures your little one will be safe and comfortable. And you can choose from a variety of colors depending on the model you go with.
Mom's Take: Worth it. The reason being that no stroller is cheap. Sure there are less expensive models, but you are going to be paying a decent amount either way. You may as well get one built to last. This stroller is high-quality and made to endure. You can use it for jogging or just everyday use. It makes more sense to me to spend the money now, rather than having another stroller break and having to replace it.
Dad's Take: We are on the same page here.
4moms mamaRoo ($269)
This infant seat is designed to bounce up and down and side to side in order to simulate motions parents use when comforting their baby. There are five motions including car ride, kangaroo, tree swing, rock-a-bye, and wave. Each infant seat includes a removable, washable cover. And the seat features an adjustable recline to fit your needs. There are also built-in sounds or you can plug in and play your own MP3s. The mamaRoo is bluetooth enabled so you can control sound, motion, speed, and volume from any smart device.
Mom's Take: There are some great features on this bouncer, but I would opt instead for the cheaper rockaRoo. The design is super attractive for both and each have many features to make them very functional. The ability to control it from any smart device is really the distinguishing factor here. For about $100 more, I think the ability to connect to your phone is unnecessary. If you have it in the budget, go for it, but I would check out the rockaRoo instead.
Dad's Take: Ya, I am not sure it's really worth it. I am all for connectivity, but I don't think this is a true enhancement. I don't see the value proposition here.
Beaba Babycook ($119)
A small appliance built to steam, blend, warm, and defrost food. It's claim to fame is that it keeps baby meals healthy by preserving vitamins. The babycook can steam food in less than 15 minutes. It is dishwasher safe and comes with a handy recipe book for inspiration.
Mom's Take: Pass on this one. It just doesn't make sense to me. You can get the same results with a small food processor. It seems like they slap the word "baby" on a food processor and then charge twice as much. You can find an equally impressive product for much cheaper.
Dad's Take: This is one of those "Unitasker" tools that Alton Brown likes to rail on. I'll keep my standard kitchen tools at the ready.
Pottery Barn Critter Wraps ($34.50)
These cozy bath wraps don't have the highest price tag on our list, but as far as bath towels are concerned, they are more of a luxury purchase. They are made of cotton velour and terry to help with absorption. They will fit kids 0-24 months. And they come in a variety of animal designs, topped off with playful eyes and ears.
Mom's Take: I've been in love with these ever since I first saw them. They are so gosh darn adorable, it has been hard to resist buying one. And it doesn't help matters that ads have been plastered all over my screen ever since. Most bath towels, while considerably less, are also thinner and may not last as long. I am in favor of spending the extra money on these due to their thick, long-lasting quality. The hard part is deciding which to get because they are all so unbelievably cute.
Dad's Take: I am a firm believer that it should be a legal requirement for kids hats/hoods to have animal ears on them. In fact, I might even start a Change.org petition. Needless to say, I am totally on board.
Itzbeen Pocket Nanny Baby Care Timer ($23)
Another item that isn't overly expensive, but also not considered a necessity. The pocket nanny is a device designed for new parents to remember basic baby care. It has four timers and the ability to set alarms. You can set it to remember diaper changes, administer medication. or nursing. If a time limit is reached it will light up and an optional alarm will sound.
Mom's Take: Another cute idea, which I'm sure can be helpful to many new parents. The only reason I would pass on this one is that there are many free apps that can essentially do the same thing. Instead, I recommend the Baby Bundle app. It's free, has all your monitoring needs, plus it offers articles, a community to chat with other parents, parenting guides, health references, growth tracker, and a vaccination schedule.
Dad's Take: Go with the free. Seems pretty equivalent to me. Though i can say, if I start getting annoyed with intrusive ads, I might decide to spring for the more expensive version. A good user experience is totally worth spending extra money.
Stokke Tripp Trapp Highchair ($249)
The Tripp Trapp highchair is designed with modern parents in mind. It's a Scandinavian style made from European beech wood. The highchair was created to grow with your child and is very adjustable. For use in babies 6-36 months, you will also need to purchase the accompanying baby set. It also comes in a variety of different colors.
Mom's Take: While I love the modern design, it just seems expensive for what you get. You have to add on the baby set. And if you want a tray, you also have to add that. By the time all is said and done, you're looking at a price tag of more than $300. Plus, it doesn't look all that comfortable to sit in.
Dad's Take: It seems durable and would fit in perfectly with our house. Plus, you can use it for when the next kid comes around. I'd say go with it.
Bottles & Banter's Overall Take?
Of course everyone is different. And we recommend buying things that fit your lifestyle. But hopefully this gives you some inspiration and also eases your guilt when you and mom/dad have your own banter about what is right for the baby.