Let's start this whole thing off by pointing out that Brittany and I just absolutely do not agree on radio preferences. I have a huge disdain for listening to the same 3 Taylor Swift and Adele songs during the same 15 song loop every hour on whatever Top 40 station's territory we happen to be in. And what I lack in interest, she makes up for in sheer lack of taste. Just kidding. Kind of. We both love 80's and Hair Bands, but that's just not always an option, especially with a little one joining us. And since my go-to is NPR, suffice it to say we don't see eye to eye. This is why we're so very much excited for the Honda Road Readers app.
Honda, a small manufacturer of motorized vehicles you may have heard something about, suggests each family spends 208 hours per year in cars. You could watch Titanic 70 times. Or the entirety of the West Wing series. Twice. You could drive from NYC to LA five times. What's more, that's about 20% of the average amount of time your children spend in school. As much as I love Sam Seaborn and the Presidential Communications team, I think there are probably better ways to spend a car trip. Thankfully, Honda agrees.
What is the Honda Road Readers App?
Honda Road Readers is a children's audiobook app meant to make more out of the time families spend in their cars and encourage kids to use their imaginations. You can enjoy your favorite classics and the latest bestsellers with your family, straight from your smartphone. Even better, many titles have a "Discuss with Your Family" feature with meaningful questions to start a conversation with your child about what they read.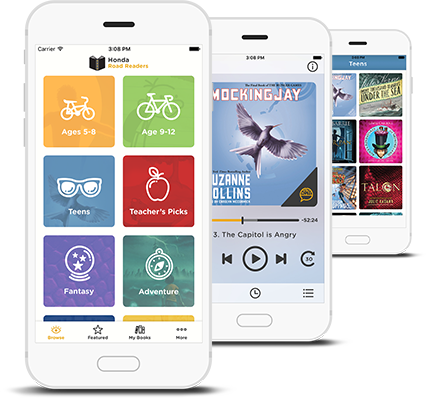 There are over 100 titles available, including James and the Giant Peach, Mary Poppins, Frozen, Winnie the Pooh, Through the Looking Glass, plus the Peter Pan audiobook comes already downloaded in your library once the app is installed – so you can start listening right away! As well, there is a "Teacher's Picks" category where Honda has partnered with the National Teacher of the Year Program to allow winning educators to provide selections they deem particularly relevant, challenging, and meaningful for kids.

The App and Our Family
Brittany and I absolutely love road games. Being in Chicago and using public transit, we aren't in the car as much as the average. But when we make the trek back to Ohio, you better believe we have our iPad packed with music prepared for our "Name That Tune" challenge. She always wins. I don't want to talk about it. With the new app, though, we'll be able to make the most out of our drives. Reading, discussion (you know, in a few years when the little girl can actually talk), and entertainment. It doesn't get much better.
It's time to upgrade our road trips. And now you can, too.
The App and Your Family
Now's your chance! Honda Road Readers has generously agreed to give five readers two books each through our giveaway! Maybe you have a spouse with dreadful taste in music, or more importantly, you have a love of literature. Either way, enter below for your chance to win!
a Rafflecopter giveaway