It's grilling season! And it's not Summer without a juicy, flavorful burger to enjoy with friends and family. We are always looking for new flavors and creative ways to dress our burgers, so we came up with this delicious concoction. This recipe was made possible by the delicious finishing sauces from Top Mates.
Top Mates Sauces
If you've never heard of Top Mates, they are a line of finishing sauces that can be used to complement a variety of dishes. Of course we chose to use incorporate them into burgers for Summer entertaining, but you could also pair with chicken, sausage, seafood, potatoes, veggies, cheese, and pretty much anything else you can think of. We were sent two of their unique flavors to sample, and here's how we decided to use them.
Burger Ingredients
This recipe makes four 1/2 pound burgers. You can certainly make them bigger/smaller depending on your tastes.
2 lb ground beef
4 tbsp Top Mates Onion & Shiraz Sauce
4 cloves garlic
2 tbsp worcestershire
Salt and pepper to taste
8 baby portabella mushrooms, sliced
1 yellow onion, diced
1/4 cup balsamic vinegar
1/4 olive oil
4 oz goat cheese
2 tbsp Caramelized Garlic Top Mates sauce
4 hamburger buns
Putting It All Together
Form the burger patties by combining the ground beef, onion & shiraz sauce, garlic, worcestershire, and salt & pepper. Divide mixture into four equal patties and set aside.
In a large bowl, combine the mushrooms, onion, balsamic vinegar, and olive oil until well coated. We transferred the mixture to a cast iron skillet, but you could also grill on a regular skillet or in a foil packet.
Fire up the grill and put the cast iron skillet (or regular skillet) on grill to cook. After mushroom/onion mixture has been cooking for about 5-10 minutes, add burgers to grill.
Cook burgers to your preferred level of doneness and remove from grill. Cook mushroom/onions until soft and slightly caramelized, approximately 20 minutes total. Remove from grill.
Combine goat cheese with caramelized onion sauce.
Assemble the burgers by topping meat patties with goat cheese spread and mushroom/onion mixture. Top with buns and serve immediately.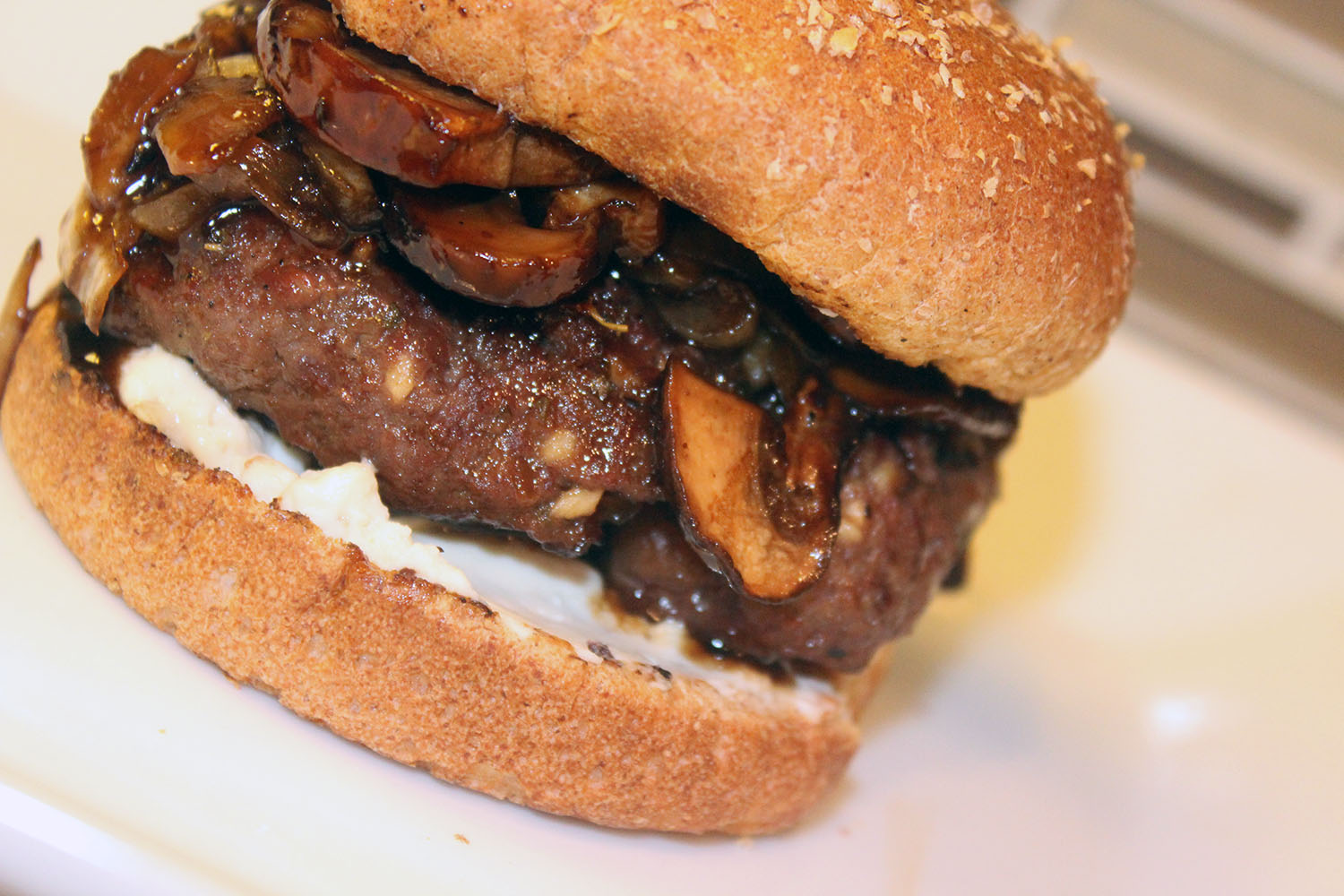 Tip: Don't over-work your burger mixture during the mixing stage. You want to proteins to stay intact so you don't get a burger that falls apart or dries up. We like to leave them as a nice ball to flatten (only once, and never while cooking!) right before grilling.
We loved incorporating the finishing sauce directly into the meat patty for a juicier burger. And also found the goat cheese paired wonderfully with caramelized onion sauce. So much so that we recommend creating a cheese plate using these finishing sauces as a nice accompaniment! It's a perfect dish for Summer entertaining and BBQs. Some of the other flavors Top Mates offers includes Apple & Mint, Savory Cherry, Smoked Tomato, Savory Pineapple, and Chipotle & Onion.
Looking for a more complete meal? Pair the burgers with cast iron mashed potatoes. Just whip up your favorite mashed potato recipe and place them on the grill in a buttered cast iron skillet for a smoky charred touch. You could also combine some components with our BBQ Poutine recipe. Remember: When it comes to grilling, there are no rules. The world is your oyster.