Monthly Newborn Photography Ideas!
We've all seen them. The monthly newborn photography that is so adorably creative. New ideas and ways of capturing your baby's first year are popping up all over the place. The major problem is, with all the diaper changes and 3am feedings, how is anyone to remember to take a baby photo every month? Well, we rounded up some of our favorites that are totally worth placing a reminder on your phone.
Stuffed Animal
A classic way to document your little one's growth. Place your baby on a chair or the floor next to their favorite stuffed animal. As the months tick by, you'll see how much your baby has grown. And how fast time is flying by…
Milestone Stickers
There are many companies out there that make cute stickers for your little one to wear and showcase their age. They are great because they are fast, easy, and inexpensive. Check out Lucy Darling for their many unique options.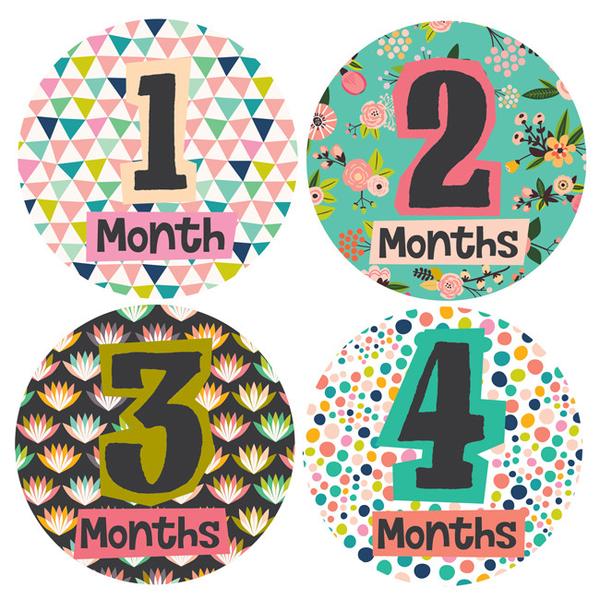 Chalkboard
Chalkboard art is so hot right now. Grab some chalk and a chalkboard to create a cutesy, modern look. Use the chalkboard to announce the month, or use it to write some of your baby's newest likes and dislikes. It's your chance to really get creative with your newborn photography. We cheated and used design software (because we can't hand draw), and you can totally do that, too.
Monthly Facts
Take an overhead shot of baby on a simple, neutral background. Make sure to offset the picture so you leave space on one side to write. Type up some facts on the open side to document your favorite facts about baby this month: likes, dislikes, nicknames, milestones, etc. That way you'll always remember all the important things from each month.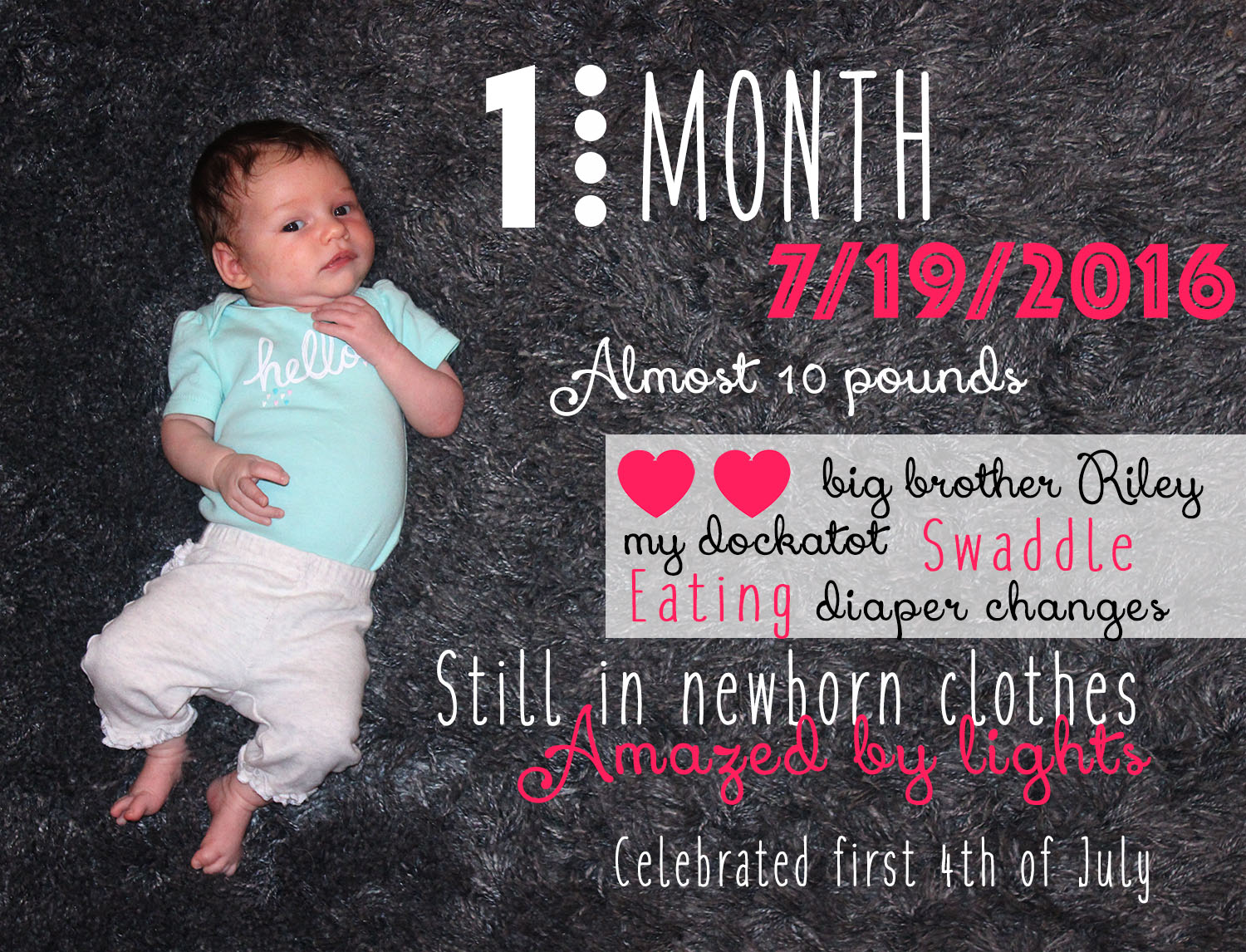 Calendar
Another cute idea is to find a calendar with the current month and take baby's pictures overtop. We love these dry erase calendars from Think Board and used it for our own monthly pictures. The clear material means they are very versatile. One idea is to put the calendar over a fun paper design and place it in a vintage frame. After using these for baby photos, another great use is to stick it to the fridge to keep track of all the family's appointments and happenings. The fun thing with these calendars is you can remove them and reuse somewhere new.
Think Board also offers more than just calendars. You can get clear kits in a variety of sizes. Use these in place of the chalkboard to display fun baby facts. The creative options are endless. And Think Board has offered to give 6 readers a chance to win one of their own. One winner will receive a large 54″ x 30″ Think Board and 5 readers will each win an 8″ x 11″ Think Board. Enter below for your chance to win. You can also use code "bottlesandbanter" to get $5 every order along with free shipping.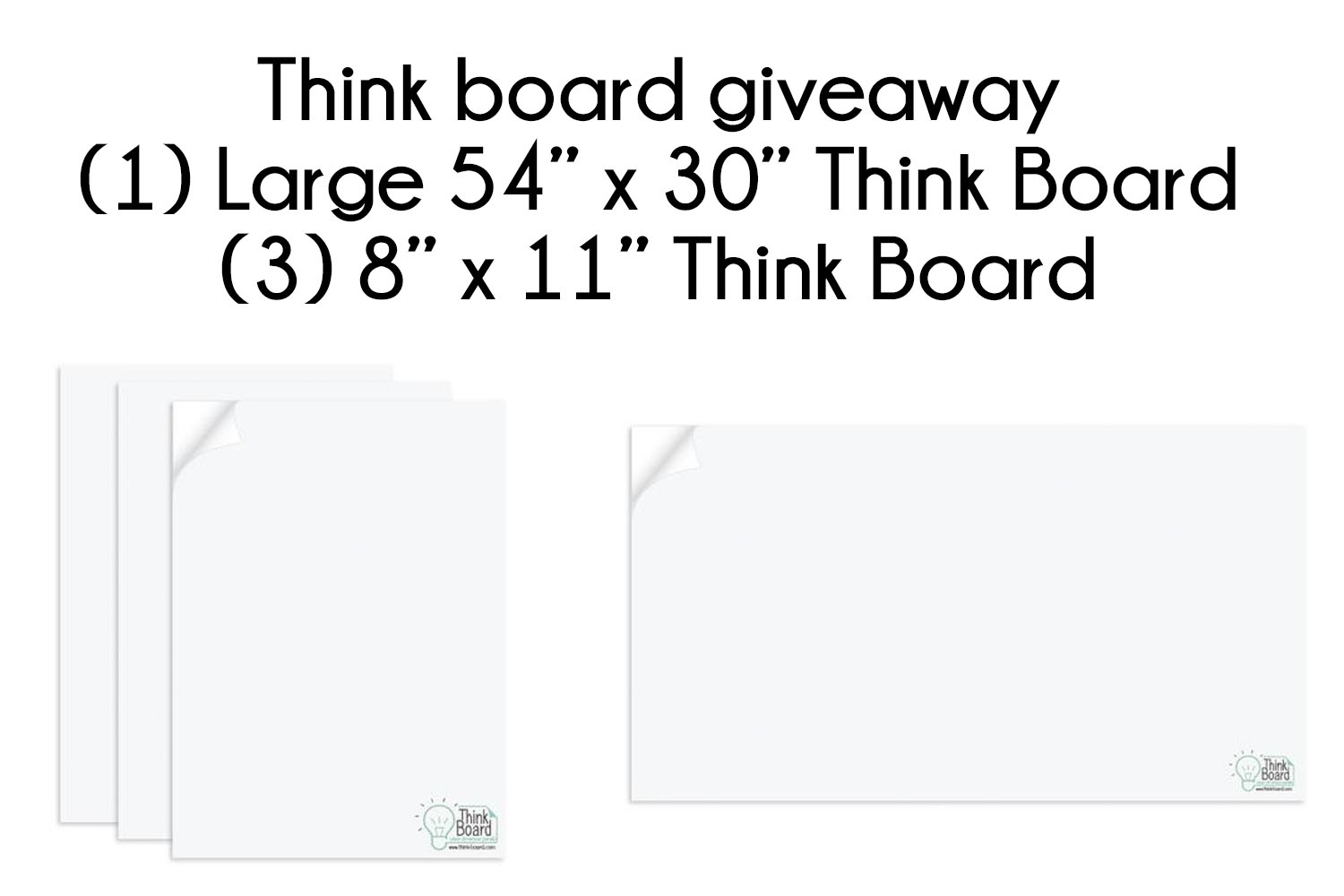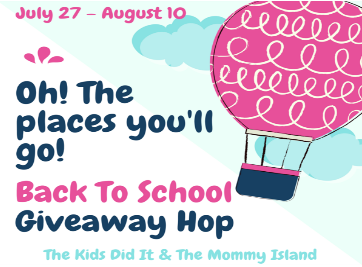 We are happy to be partnering with many other great bloggers in the Oh The Places You'll Go! Giveaway Hop hosted by The Kids Did It & The Mommy Island. After entering our giveaway, be sure to hop around to all the other awesome giveaways below.
Disclosure: We received the giveaway items for review purposes. Hosts & participating hop bloggers are not responsible for sponsors or self-sponsoring bloggers that do not fulfill prize obligations.