Packing is one of those tasks that is bittersweet. You don't really like it, you just like the idea of it. It's exciting knowing you are about to go on a trip. But it's exhausting trying to remember everything to bring, so you ultimately put it off until the last possible minute.
What we've learned during our travels is that packing doesn't have to be miserable. Don't worry about packing up your entire house. Stick to the essentials and you won't stress so much. In addition to your must haves, we put together a list of unique travel gadgets to make your trip much more pleasant. We know you'll still wait until the last second to pack, but at least you'll have a handy checklist when that time comes.
Fitbit Blaze
One of the travel gadgets that's really an every day gadget. Depending on the type of vacation you're taking, this could either make you feel really good about yourself, or really bad. The main function is to count your steps. If you plan on doing a lot of walking, a Fitbit is essential. We like the Blaze for its sleek style and enhanced features. Even if you don't want to closely track you steps, use it to check text messages and calls, track sleep, make sure you're staying hydrated (you know, for some type of vacations), and of course tell time. It's also much cheaper than buying an Apple Watch.
Zolt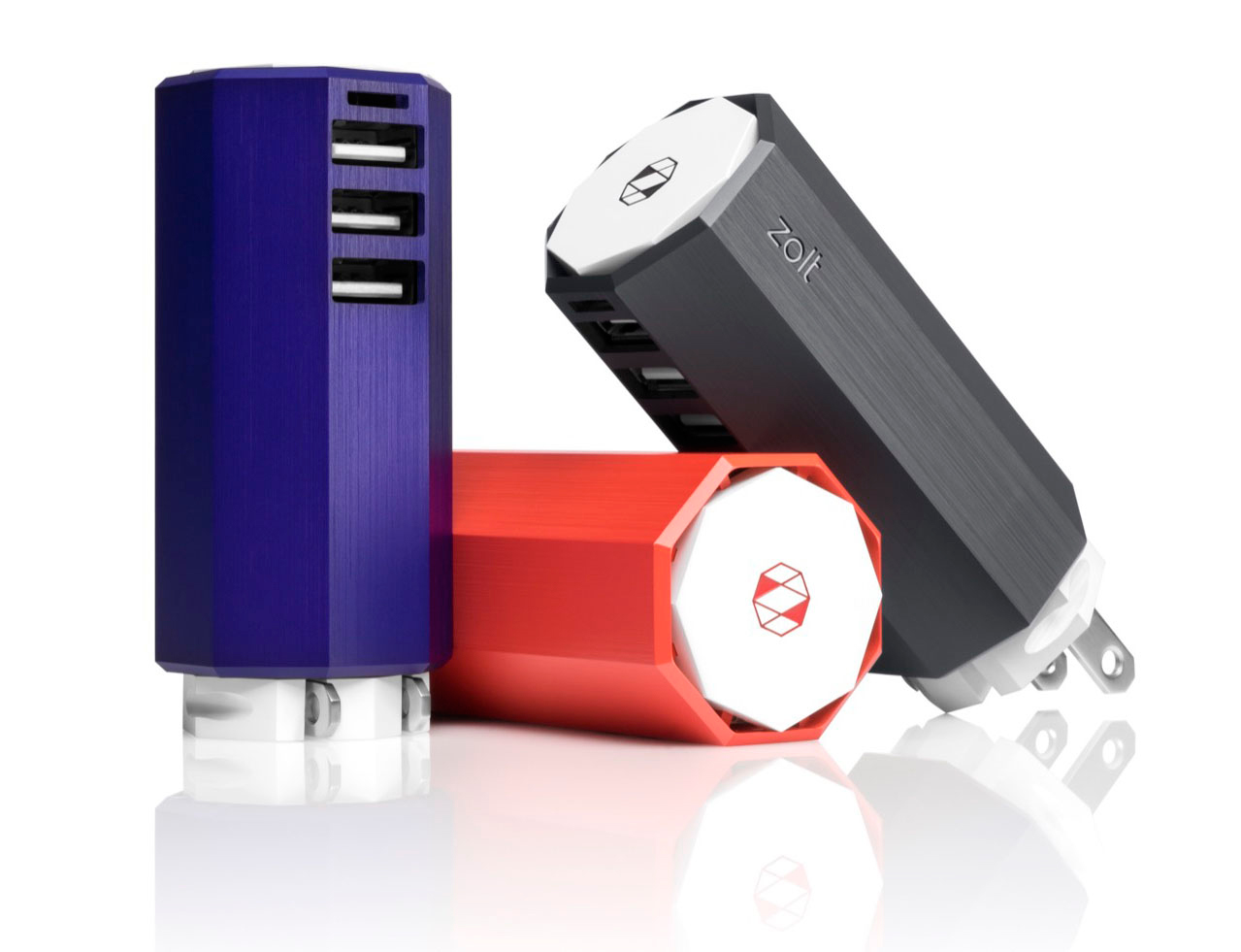 These days, most people travel with a full set of technology that needs to be charged on a daily basis. Phones, laptops, iPads, watches, cameras, etc. Typically you need more than just one outlet when you make it to your hotel room or while you're sitting at the airport. That's where Zolt comes in. Zolt is a super portable and light charging device. You just plug it in and you can charge three devices at once. The best thing about it is its size. It's incredibly small so you don't have to give up valuable suitcase space.
Wacaco Minipresso
For those that need a little pick me up on the go. We love this little gadget for coffee and espresso lovers. So slim it fits perfectly in a carry on or while you're out exploring. It's also perfect to use in hotel rooms when you aren't really digging the hotel brand. You can purchase a Wacaco model compatible with ground coffee, Caffitaly capsules, or Nespresso capsules. You'll thank us when you're falling asleep from all the vacationing fun.
The Egg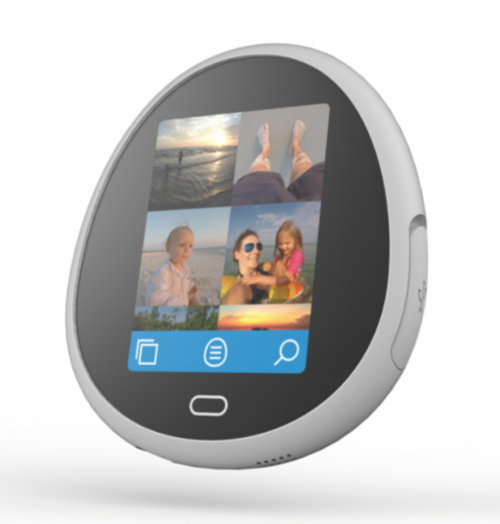 Just what everyone wants to carry around on their vacation. An egg. Except this is no ordinary egg. The Egg is a smart storage device. It's small enough to fit in your pocket and you can use it for a variety of things while you're out and about. When you're out enjoying a lovely day and your camera runs out of storage. We've all been there. Upload your images to The Egg and continue snapping pictures. You can also store and stream music and videos. Online or offline – The Egg can be accessed either way. It's a brilliant way to manage all your valuable content.
Narrative Clip 2
Speaking of videos, another of our favorite travel products in the Narrative Clip 2. This sleek little square is labeled as "The World's Most Wearable Camera". Simply clip it on to your clothing and this guy will record all your vacation memories without having to carry around a camera all day. It will store up to 4,000 photos or 80 minutes of video. You can even set this gadget to timelapse and it will automatically capture images for you at specific intervals. It's certainly nicer than dragging around a bulky camera and camera bag throughout your whole trip.
Thermos Connected Hydration Bottle with Smart Lid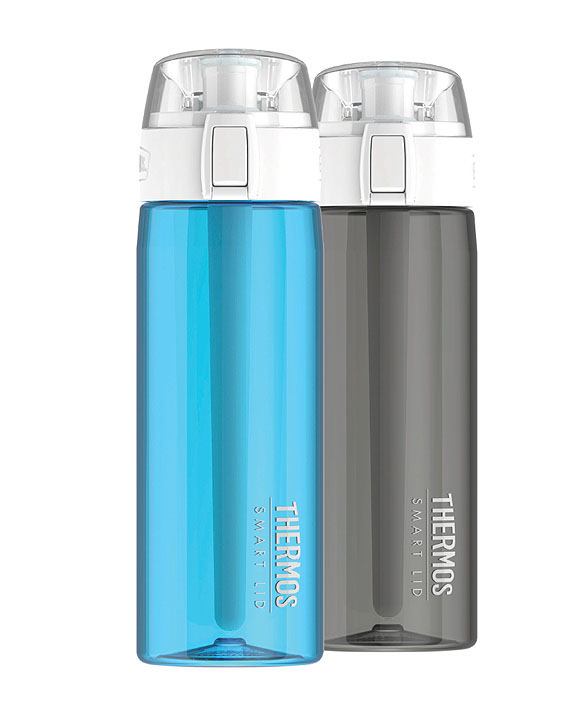 Our love for smart products continues with this deluxe water bottle. It may seem silly to spend money on a glorified water bottle. And maybe it's not the most necessary of products on the list. But it's pretty great. Hydration is important and this bottle will monitor your water intake. You can set goals and track your progress to make sure you are maintaining a healthy amount. Take it with you to the airport and fill it up once you're through security. Plus, it syncs with your Fitbit. How cool is that?
ROBOCOPP
Some travel gadgets are for fun, others are essential for safety. When I first heard about this product, I thought it was a smart, unique concept. For those unfamiliar, ROBOCOPP is the world's smallest SOS alarm. It was designed to keep you safe on the go. The ROBOCOPP Sound Grenade is legal in national parks, music festivals, airplanes, federal buildings, and concerts. It will emit a 120-decibel alarm when activated. For those curious, that's somewhere between a chainsaw and a jet taking off. And after you're done traveling, this little device is perfect to help kids feel secure when headed back to school. The device is water-resistant and TSA approved. To use it, just remove the pin and the alarm will sound for 30 minutes or until the pin is re-inserted. The device is reusable so you don't have to worry about its lifespan. This is the product we hope you never have to use, but will help you feel so much better when traveling to unknown territory.
Essential Travel Gadgets: A Giveaway
We love the ROBOCOPP concept so much they have agreed to give one of our readers a free ROBOCOPP to use during your travels. We're also teaming up with our friends at Casual Runner to show how this cool little gadget can be advantageous to bring along while running. Check out their recent post. Enter below for your chance to win one of these clever little gadgets.