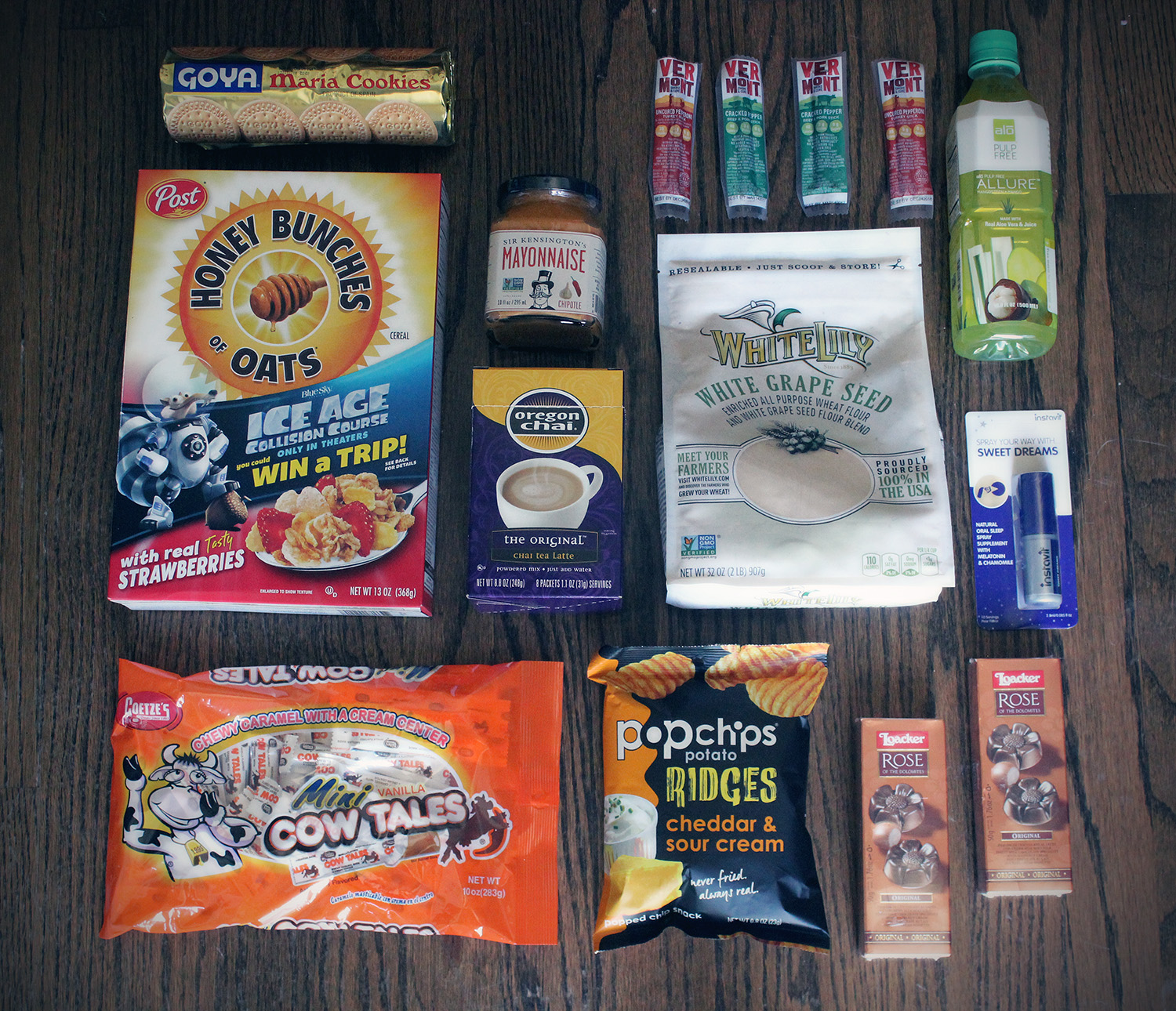 As self-proclaimed foodies, one of our favorite pastimes is testing out new foods and flavors. Usually I find cool products just walking by in the grocery store. Like the other day I came across Pumpkin Spice Life cereal. Ok, first of all it's not fall yet. And second of all, stop trying to make everything pumpkin spice happen. It's not going to happen. But moral to the story, I never would have known it existed if I hadn't noticed it strolling by in the grocery store. Recently, I discovered an easy way to find and test new food products. It comes right to your doorstep and it's called Degustabox. You may not have heard of it before because it just came to the U.S. Degustabox is a monthly subscription box full of surprise food products from major brands. In each box, you'll get 10-15 products including a range of flavors so everyone will find something they like. We were offered the August Degustabox to try out and I have to say, I am impressed. It contains full size products and I love that they are big brands. So if you like them, you don't have to hunt them down. You can pick up most of your favorites on your next grocery store outing. And with that, let's take a look at what's inside.
Stop trying to make everything pumpkin spice happen. It's not going to happen.
ALO Allure Pulp Free
I have to admit, I've never been the biggest fan of all these juice crazes. I know there are a lot of people out there would love these things. I just find there are too many and it varieties and brands out there so I really wouldn't even know where to start. I was happy to find one in the box purely because it gave me an excuse to try it out. I love that it's pulp free and the taste is great. It's not something I see myself buying on a regular basis, but I recommend it for people who like these types of drinks.
Popchips Ridges
I had seen these chips before, but never actually tasted them. I tried the cheddar & sour cream flavor in my Degustabox. These are crunchy and delicious. I love that they are healthy as far as potato chips are concerned. These chips are gluten free and have no added preservatives or artificial colors. They were very tasty, but not my favorite potato chip. Another thing that I thought was nice, but I don't envision myself buying them all the time.
Goetze's Cow Tails
I used to eat these all the time as a kid, so I was nostalgic when I found them in the box. They are essentially a chewy caramel filled with cream. I received a big bag filled with these yummy treats. They are travel sized so you can grab while you're walking out the door for a little to-go treat. Fun fact: the also come in vanilla, chocolate, strawberry, and caramel apple.
White Lily White Grape and Wheat Flour
When I first saw this in the box I didn't think it would be something I would use often. Frankly, I didn't know what it was until I researched it a bit. Grape seed flour is made from the seeds of grapes that have been used to make wine. It is gluten free and often added to other types of flour for flavor and nutritional value. Grape seed flour has lots of fiber, calcium, potassium, and antioxidants. The flour in the box was a grape seed and wheat flour blend, which is the easiest way to use grape seed flour. Check out the back of the package for an excellent pizza recipe.
Sir Kensington's Chipotle Mayonnaise
This was the product I was most excited about. There are many uses for chipotle mayo, but I think it works best with a nice burger. We made a Mexican style burger with avocado and jalapeños, and the chipotle mayo worked amazingly with it. It's flavorful and works on a variety of dishes. My one critique is that it's not very spicy and I like spicy.
Post Honey Bunches of Oats
As a huge cereal fan, I'm always looking for varieties that are both healthy and delicious. You know, somewhere in between Peanut Butter Crunch and Fiber One. With Honey Bunches of Oats, I get just that. It's packed with whole grain flakes and granola clusters (love granola clusters in cereal!). There are several flavor options and I tried almond. It's light, healthy, and yummy.
Oregon Chai Tea Latte
I've never really been one for chai tea, mostly because I'm more of a coffee fanatic. But I love to experiment with different types of beverages every so often to mix things up. This chai tea is creamy and satisfying. What I like most about it is that it's portable. It comes in little packets so you can take them wherever you may need a warm treat.
Loacker Rose of the Dolomite
Yeah, so it has a bit of a unique name. You probably can't tell from the name alone, but these are rich chocolates. I got a couple packages of the original and could immediately notice their quality. It's maybe not something I would buy on a regular basis, but they are delicious enough to buy every once in awhile to curb those chocolate cravings.
Goya Maria Cookies
The perfect complement to a steaming cup of coffee. We enjoyed these on a nice Sunday morning and their light butteriness made them perfect with breakfast. They would also be great straight from the package as an afternoon snack, but I think they are best served with your morning beverage. You could even jazz them up with a little jam.
Vermont Smoke & Cure Mini Meat Sticks
Who doesn't love little sticks of meat? In the box you'll receive both the cracked pepper and turkey pepperoni flavors. These are great because they aren't overly salty and greasy like many other brands. Plus, they make another perfect on-the-go snack.
Degustabox in a Nutshell
So there you have it. Ten fun, new products to try out. Some of which I will certainly purchase in the future. And others I wouldn't go out of my way to buy. That's the fun in the Degustabox. Of course you aren't going to love every single thing you will get. But it's a great way to experiment and find new products to enjoy. I would recommend Degustabox for a unique gift idea or for those that love to experiment in the kitchen.