Living in Chicago, I often forget we have so many great things to do right in our own backyard. This city is such a family friendly place to visit and there are so many activities to keep the kids entertained. Whether you are swinging by for a quick weekend trip or are taking a long vacation to the Windy City, you'll find plenty for everyone. Here are 10 awesome things to do with kids in tow.
1) See the Animals at the Lincoln Park Zoo
Chicago thrives in the Spring and Summer months, which in my opinion is the best time to visit. (There is also something to be said about the holiday lights during the Winter months.) Whenever you choose to visit, the zoo is open year round, though some rides or exhibits may be closed during certain months of the year, so I would recommend checking in advance if you have your heart set on seeing the monkeys out and about. The Lincoln Park Zoo is filled with animals, rides, and food. Fun fact: it's one of only 3 free zoos in the U.S.! So save your money on other fun trip activities. It's also located in the heart of Lincoln Park, so you'll have plenty of dining options nearby. I recommend RJ Grunts, which is essentially right across the street and perfect for kids.
2) Visit the Chicago Museum Campus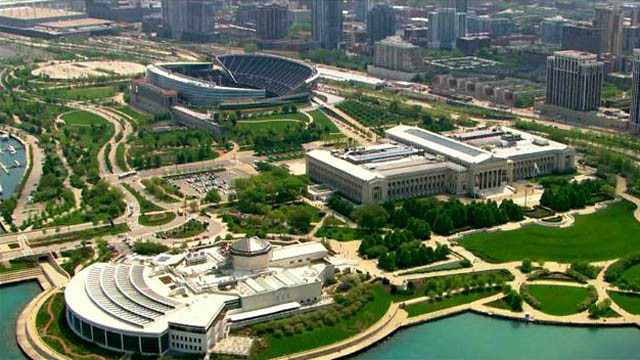 Known as the Museum Campus, the Shedd Aquarium, Field Museum, and Adler Planetarium are all in walking distance of each other.
Located right on Lake Michigan, The Shedd Aquarium is a monstrous building offering a wide array of aquatic animals. The Shedd is packed with more than 32,000 animals! There are always new events and exhibits, but I recommend the Stingray Touch (May – October) and the Aquatic Show. You can also become a trainer for a day, encounter penguins, or feed sharks. General admission is $6 for kids and $8 for adults. You can also splurge on the total experience pass to take part in all exhibits and experiences (Adult $39.95 & Child $30.95).
The Field Museum is an excellent place to inspire your kids to learn about life on earth. It's filled with interesting exhibits and events, most notably SUE the dinosaur, the largest and most complete Tyrannosaurus Rex ever found. Other exhibits to hit include Inside Ancient Egypt (one of the largest collections of mummies in the United States) and Underground Adventure, where you'll shrink to the size of a bug to explore the environment around you. Tickets to the Field Museum start at $15 for kids and $22 for adults.
Rounding out the Museum Campus is Adler Planetarium. Here kids can learn all about our wonderful solar system. If you have young kids, you can't miss Big Bird's Adventure, where you'll travel to space with all your favorite Sesame Street characters. Another great kids activity is Planet Explorers where little ones can feel what it's like to walk in space. The general admission price is $8 for kids and $12 for adults.
You can also save on all these museums by purchasing the City Pass, which will get you access to 5 iconic attractions. Starting at $82 (kids) and $98 (adults), you'll be able to visit the Shedd Aquarium, Sky Deck, Field Museum, Museum of Science and Industry, and the Adler Planetarium.
3) See the City from 1,353 Feet at the Skydeck
One of the most famous attractions in Chicago is the Skydeck, located on the 103rd floor of Sears Tower Willis Tower. Explore the city from above and be sure to experience The Ledge, glass boxes extending 4.3 feet outside the Skydeck. It's a different experience during the day than at night, so keep that in mind when deciding to visit. I love how the city shines at night, but you can't go wrong with either, or both!
4) Take a Walk in Millennium Park
Chicago is full of sprawling parks and Millennium Park is the most iconic. You can't miss "The Bean", which as it sounds is a massive bean shaped structure. Remember to get a picture of the entire fam in front of Anish Kapoor's Cloud Gate, the official name for the landmark. In the warmer months, stroll past the fountains and beautiful gardens. And in the Winter, grab a pair of skates and slide around the McCormick Tribune Ice Rink.
5) Soak Up the Sun at the Beach
Chicago is located right on Lake Michigan and as a result, the east side of the city is sprawling with beaches. The beaches typically open in May and there are several to choose from. The North Avenue Beach is known as one of the most popular and is also centrally located. If you happen to visit during the Chicago Air & Water Show, this beach is the prime viewing location. You can see a more expansive list of beaches here.
6) Explore the Museum of Science and Industry
The Museum of Science and Industry is separate from the Museum Campus, but equally as entertaining. It's dedicated to…you guessed it…science. And industry. There is a strong focus on innovation and creativity to peak your kids' interest. If you have Lego fans in the family, catch the Brick by Brick exhibit, famous structures re-engineered with Legos. You can also learn about math with a fun mirror maze or step aboard the U-505 submarine, the only German U-Boat submarine in the United States. Ticket prices are $11 for kids and $18 for adults.
7) Stroll Navy Pier
Another Chicago landmark, Navy Pier is a popular spot for families. Right off Lake Michigan, you can walk around the pier and take in the wonderful scenery. Navy Pier recently underwent a redesign to make the space greener and more contemporary. You can check out all the unique shops and events. If you come during a Wednesday or Saturday in the Summertime, it's the perfect spot to watch the nighttime firework show. Other popular attractions here include the 6 story IMAX theater and newly rebuilt centennial wheel. There are also plenty of dining options for when hunger strikes. You can even order a "Cheezborger" from the famous Billy Goat Tavern.
8) Take in Chicago Sporting Event
Taking a step away from the hustle and bustle of the city, check out nearby Evanston for a Northwestern game. Depending when you visit, football and basketball games are always an exciting experience. And if pro sports are more your style, visit during a Chicago Bears game or the ever popular Wrigley Field for a Chicago Cubs game.
9) Michigan Avenue Shops
Known as the Magnificent Mile, Chicago's Michigan Avenue is packed with all your shopping needs. Everything from designer fashions to gourmet food shops, this is where you want to be. Make sure to visit Eli's Cheesecake Cafe for this local treat. And the massive Eataly complex is an Italian food fan's dream. Top keep your youngsters entertained, make sure to stop by the huge American Girl store.
10) Cruise Down the Chicago River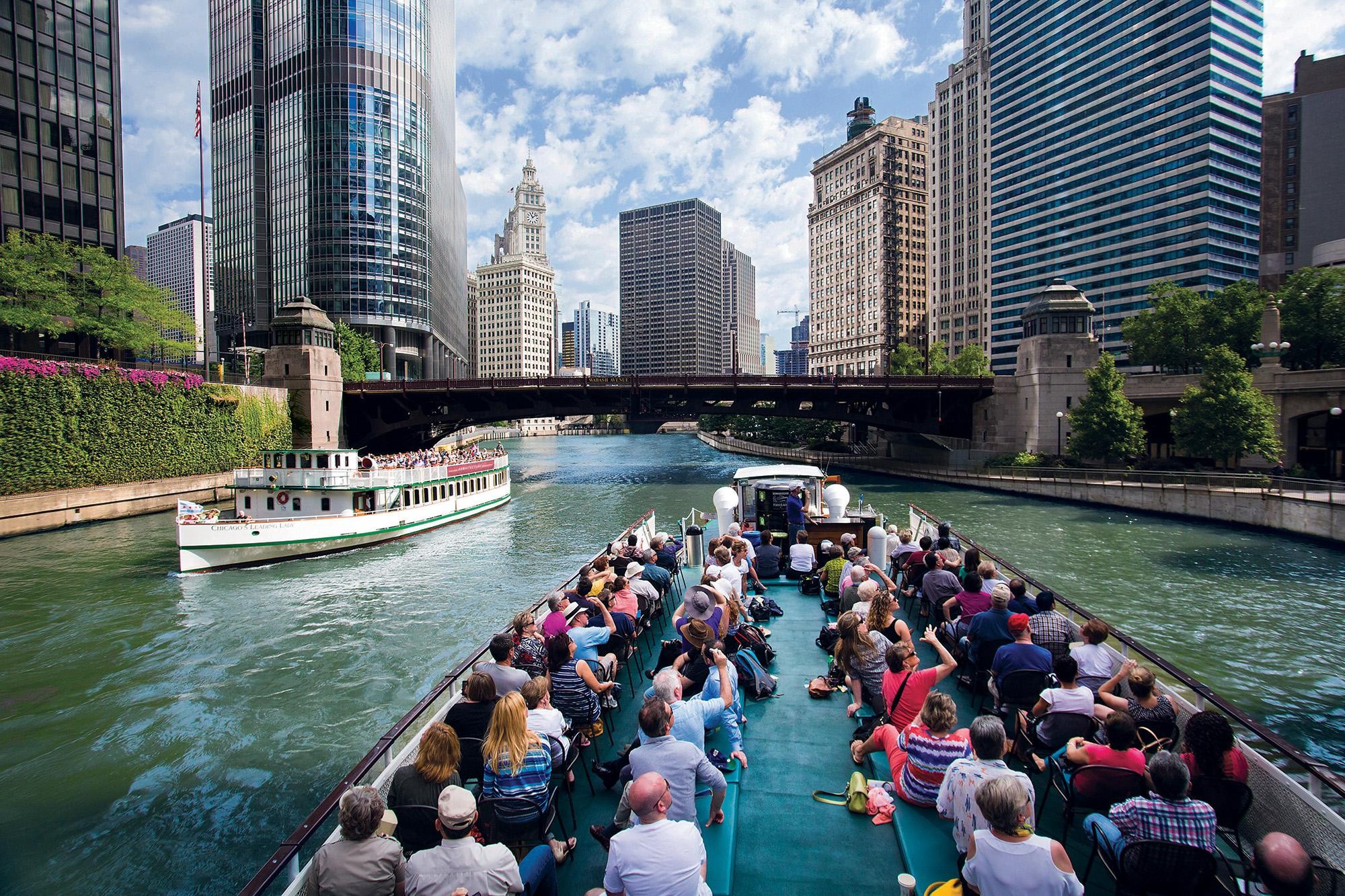 When it's nice out, Chicago can be best experienced by boat. The Chicago Architectural Cruise is a must for learning about the Chicago architecture while experiencing it firsthand. Or if you prefer a quicker ride, navigate from place to place with the Water Taxi.
You can't go wrong with any of these Chicago kid-friendly things to do. On another note, if you are looking for restaurants and hotels, I recommend the Little Goat Diner to eat and Hotel Lincoln to stay. Both amazing!
I can't say enough about how family oriented the city of Chicago really is. There are so many sights and experiences that make for a memorable family trip. Of course, there are many other activities outside this list, but hopefully this gives you a good place to start.