I love light recipes that utilize healthy veggies. That leaves room for a nice glass of wine, right? Recently, we have been eating a lot of naan dishes. It pairs with so many different flavors, so we thought we would try out a chickpea inspired recipe. This dish is very fresh, flavorful and tangy. It's perfect to enjoy out on the patio during a warm Spring or Summer day. We charred the poblano, tomatillos, and naan on the gas burner inside, but you could also use the grill to get some great smoky flavor.
Ingredients for Poblano,
Tomatillo, and Chickpea Naan
Makes 2 servings
2 naan bread rounds
1 poblano pepper
6 tomatillos
3 cloves garlic
1 tsp oregano
1 tsp salt
1 tsp black pepper
2 tbsp + 1 tbsp olive oil
1/2 cup milk (we used almond milk, but you could also use coconut milk or half & half)
1 1/2 tbsp curry powder
32 oz can chickpeas
1/2 cup water
1 cup crumbled feta cheese
Directions
Roast your poblano over direct gas flame for 5-7 minutes. In lieu of a gas stove, you can also stick it in the broiler or on a gas grill for the same amount of time, or until nicely charred. While poblano is roasting, cut tomatillos in half and arrange flat side down on a medium sized skillet, set to high heat. Cook until well charred, about 5-6 minutes.
Removed seeds and skin from poblano and transfer to food processor along with roasted tomatillos, garlic, oregano, salt, pepper, and 2 tbsp olive oil. Process until a thick sauce forms, adding more olive oil as needed. Remove mixture from food processor and set aside.
In the same food processor, add 1 cup of the chickpeas. Process until fully mashed and a paste has formed.
Heat a large saute pan with 1 tbsp olive oil over medium heat. Add the curry powder and let the flavors mix with the olive oil for 30 seconds.
Add in the green tomatillo/poblano sauce and let cook for 2-4 minutes.
Add mashed chickpeas, remainder of whole chickpeas, and water. Bring to a boil, reduce heat and simmer for 10-15 minutes. Sauce should be thick and creamy. Season with salt and pepper.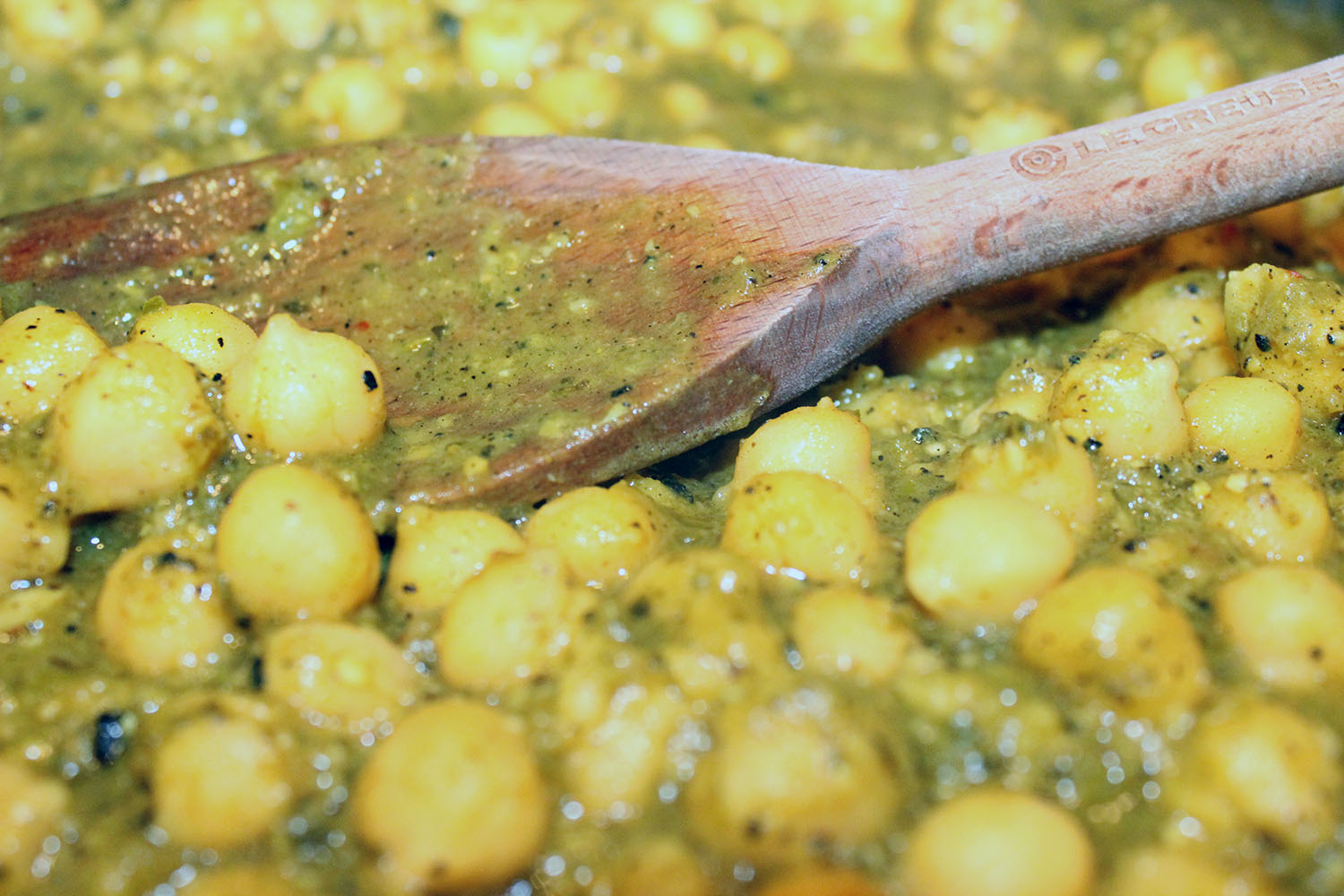 While mixture is simmering, prepare the naan. Use a a gas burner, broiler or gas grill to char the naan. Place naan over direct flame for 1-3 minutes (or until you notice a nice char) and flip to char the other side for the same amount of time.
Scoop sauce evenly over naan and sprinkle with feta cheese.