Sure, we all love to get that fancy children's toy that has interactive features, fun sounds, and is iPad compatible. But when you put it in front of her and she'd rather play with fridge magnets, you wonder why you needed all those high-tech features in the first place. Or the frilly dress that looks stunning on the hanger, but your little one wants to rip off before you even get it all the way on. We may or may not be speaking from experience here. So in the spirit of throwing it back to a simpler time, we've rounded up some of our favorite, classic kids' products that will leave you feeling nostalgic.
Check Out Our Favorite,
Classic Kids' Stuff
Rowdy Sprout
Your kiddo may not know who Pink Floyd is, but that doesn't mean they can't rock a fringy hippie tank. If you're a fan of music, Rowdy Sprout has a line of seriously cool throwback outfits. They also aim for a mom and pop sort of mentality by selling to brick and mortar boutiques as well as some awesome online shops. There's just something very comfortable and carefree about their clothing.
Olivia was entertained all day with the fringe on her Woodstock shirt. They have all kinds of artists from The Beatles and Jimi Hendrix to Waylon Jennings and Johnny Cash. It's a fun way to let your kid stand out, while reminiscing about some of your favorite bands. Start them off liking good music at an early age.
Wooden Rocking Horse
When Olivia first opened this up on her birthday, she was smitten with it. You know what's great about the wooden rocking horse? It's the most durable thing on the planet. It is THE classic kids toy. It's not like many of your other toys that you step on and it breaks in half. It will last. Case in point: this rocking horse was actually Nick's when he was little. And it's still good as new. Sometimes it's nice to get your kids toys you know will last. And that way one they may even be able to pass down to their own kids. We recognize not everyone here is a carpenter, so here are some beautiful amish made rocking horses. You can also find a more modern wooden rocking horse at Land of Nod. It's a great updated spin on a kids classic!
Little Golden Books
I'm the first one to admit I love a lot of the modern children's books. Llama Llama Red Pajama. Don't Let the Pigeon Drive the Bus!, Olivia (we're not biased at all). Those are gold right there. But don't forget about the classics! It's always such a great feeling to read your little one a book you remember reading as a kid. So while you love the new books that are just as entertaining for adults, don't forget to pull out some older reads.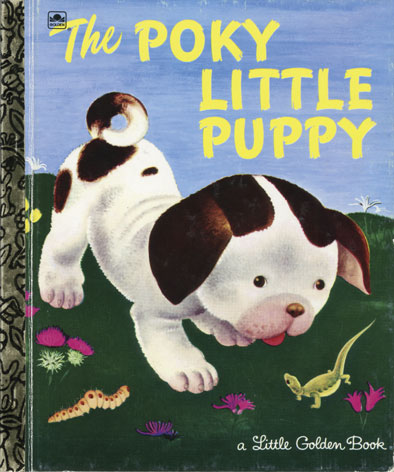 Little Golden Books started back in 1942 – holy moly! And they are still going strong. I remember when I was little, these things were falling apart we read them so often. There are a ton of titles from you to choose from, but some of the popular picks include The Poky Little Puppy and The Bunny Book. If you're kids are Disney fans, there's also a lot of classics like Snow White and the Seven Dwarfs and Dumbo.
Classic Fisher Price
Fisher Price is the quintessential baby toy brand. They are always coming out with fun, educational toys for babies and toddlers. And while we love some of their new creations, you can't forget about the classics. There's a reason why some of their original toys are in practically every home in America. They may be basic. And they may not have all the bells and whistles. But so is that pair of socks my little one likes to play with. Sometimes the best, most entertaining toys are also the simplest. Our favorite Fisher Price toy, the Rock-a-Stack. You know it as the colorful rings babies stack, and then unstack, and then stack again. At $7, you can't beat the price. And this will keep your little one busy for hours.
Nesting Blocks
Yes, there will be times when you trip over these at 5am because your baby decided not to sleep until a reasonable morning hour. But outside of that instance, these have optimal entertainment value. When your kids are younger, they will love to disassemble and pack these full of any and all objects. And as they get older, they will of course build towers with the sole purpose of knocking them down. Melissa & Doug makes an awesome wooden animal design. They are great for a variety of ages, which makes them an excellent toy. Plus, they teach your kids some valuable skills. At first Olivia would get frustrated when she couldn't figure out the nesting pattern. But the more and more she played with them, the faster she started figuring it out. Yay motor skills.
Estella
"Kids have personality. And their clothes should too". This is what Estella was founded on. And for this reason it made our list of old style that never really went out of style. Because anything colorful with kid-friendly artwork is always going to be a hit (by parents and toddlers). Olivia recently started rocking this hot dog shirt. It's simple, bright, and what kid doesn't like hot dogs? Why not let them show off their favorite things?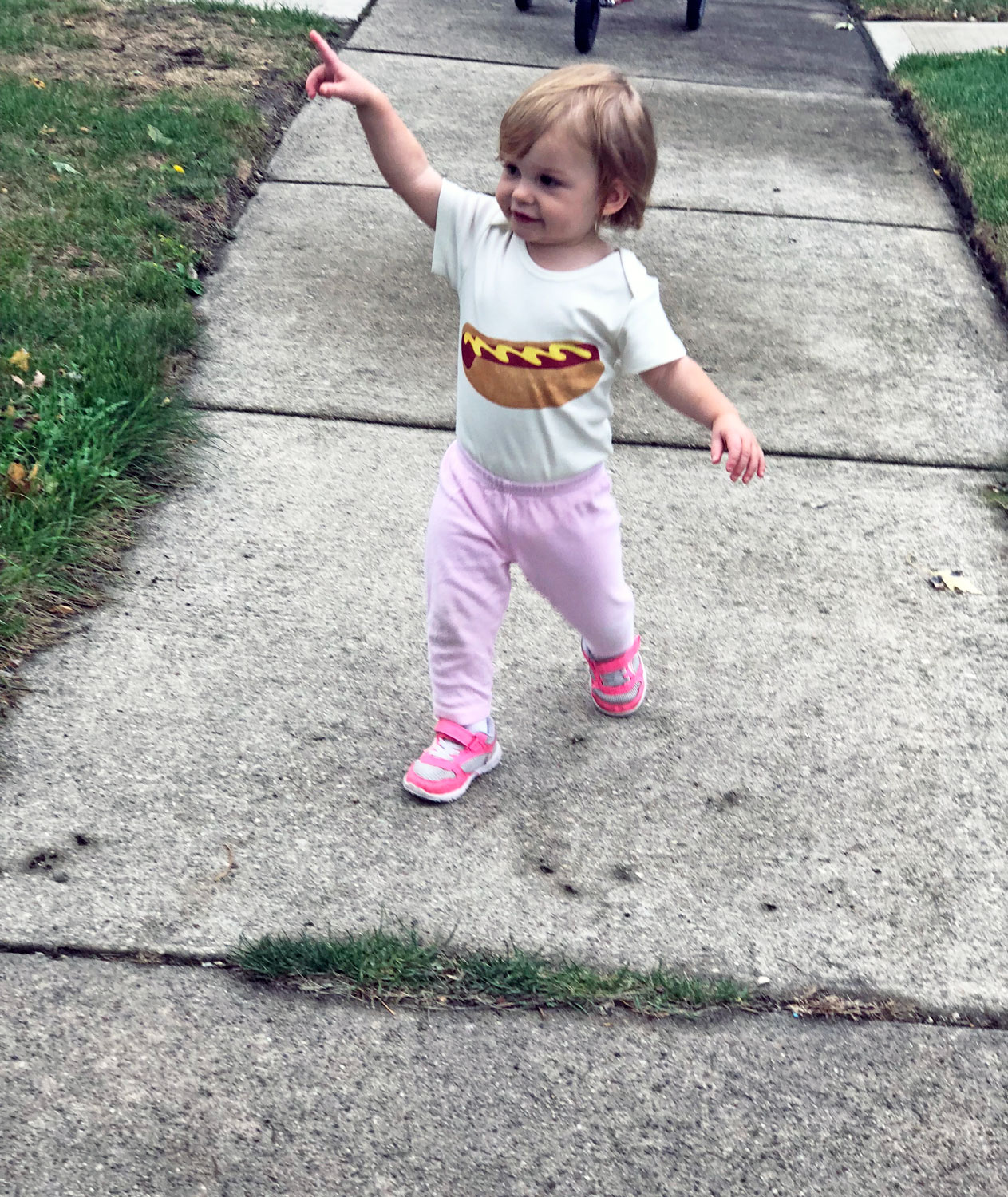 Not only do we love the styles, but the quality is awesome. Their clothes are all made from a thick, organic cotton. It's super soft and I feel so great about its durability. There's no doubt it will withstand running, crawling, rolling, and everything toddlerhood. The material is certified organic. The dyes are eco-friendly. And the design is cute. It's a classic look, but with luxury, modern materials.
Rockabye Baby!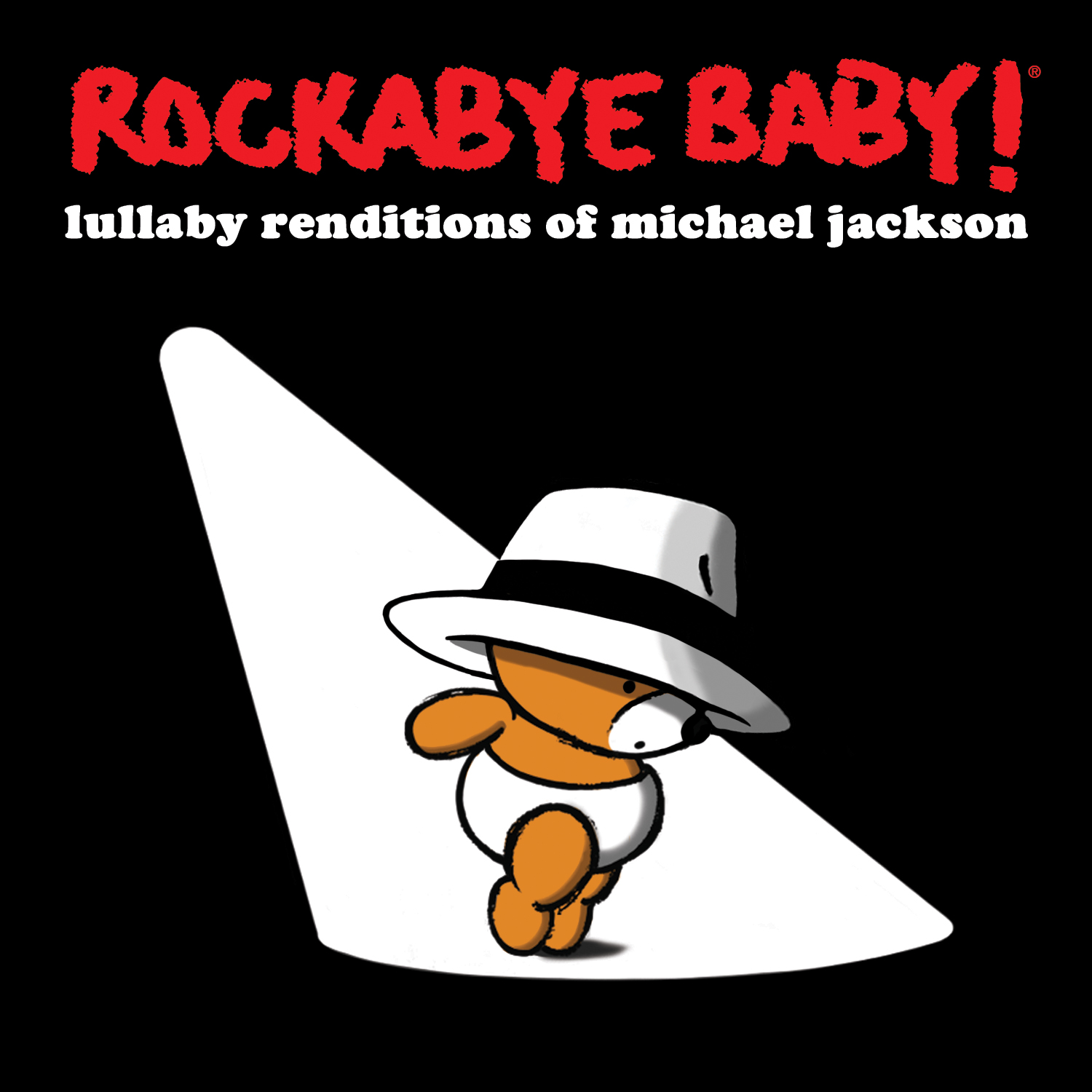 We're all familiar with the Twinkle Twinkle Little Stars and Itsy Bitsy Spiders of the world, but sometimes you just wanna just rock out to something that you haven't heard 400 times on repeat. Enter Rockabye Baby Music. It's a simple concept, really. Take a rock song you love. Transform it into a lullaby. Music you love. Music your baby loves. You can't beat it. The Rolling Stones, Aerosmith, Led Zeppelin, Journey, Bon Jovi, and Pink Floyd are all in the lineup. Look, you'll even find non-rock artists like Taylor Swift, Adele, Justin Timberlake, and Elton John. Classic Rock? Classic Kids' Rock.
Sure there are lots of cool, new toys out there with all the bells and whistles you could ever imagine. But sometimes, it's nice to stick to the classic kids' gear.