For us, simply mentioning grilled cheese is basically what childhood dreams are made of. And this event was no different. We are always looking for fun activities that are always kid-friendly. You can always go to the park, or the zoo, or a museum, but every so often you want something a little bit different. We are big fans of Time Out Chicago, so we knew this would be a quality event. And it's great for both adults and kids.
The When and Where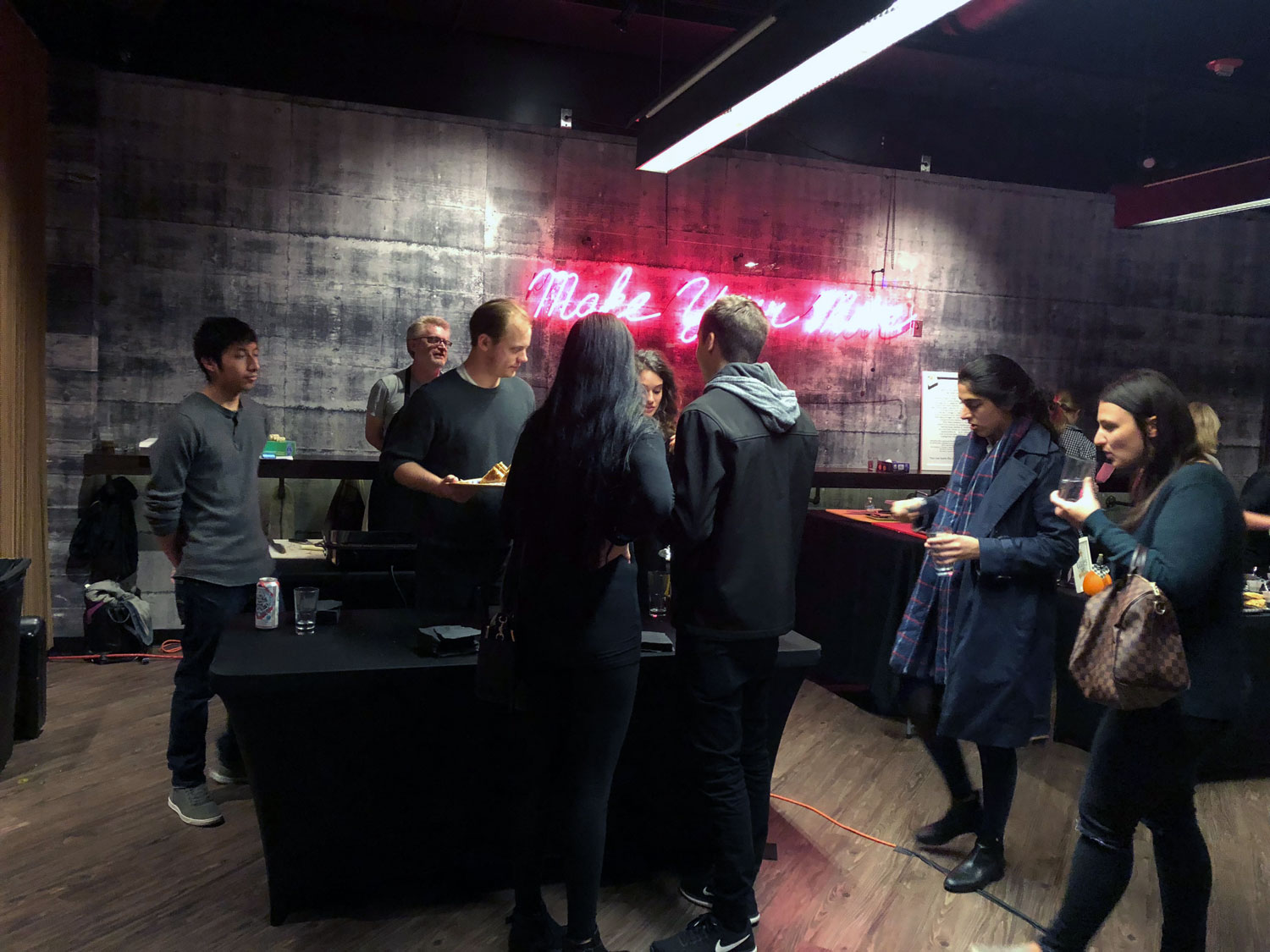 The event was hosted at SPiN. This was our first time here, so we were happy to find out the place is essentially a ping pong wonderland. Ping pong balls are flying everywhere and it's really a fun atmosphere and a great location for the event. We were able to choose one of three sessions: 11:30am-1:30pm, 2:00pm-4:00pm, and 4:30pm-6:30pm. We chose 4:30pm, which worked out nicely because it coincided with dinner. Each ticket comes with tastings from each restaurant, two complimentary drink tickets, music, ping pong, Cholula hot sauce tasting station, and a few other things. We were pretty pumped to see what kind of melty creations would be available to us.
When we got there, we were presented with our drink tickets and list of all participating restaurants. We started with the Shiraz before grabbing our first sandwich. It was a Jam Jar wine and a little on the sweeter side than we usually drink, but delicious nonetheless.
And then it was time to start tasting. Nick and I had pretty similar feedback, but in typical Bottles & Banter fashion, we each had our own opinions about how a grilled cheese should taste. Olivia only really knows the words "doggie" "mommy" and "dada" and since none of them really apply, we're going to have to infer her thoughts here. And in full disclosure she also only tasted two sandwiches and then decided she'd rather run around and chase ping pong balls.
The Contestants:
House-made white sourdough, fresh butter, butterkase cheese, tomato, basil pesto (no pine nuts), served with or without local bacon
Brittany – I enjoyed how light this tasted. It was also served with a side of tomato soup which I appreciated. It was the only restaurant to include tomato soup – a classic pairing!
Nick – Bold move with the soup. It was a delicious classic that reminds you of childhood.
Olivia – Pretty great mouth feel, excellent taste and texture, though I do miss the pine nuts in the pesto. The tomato soup was a great addition.
Cheddar and smoked gouda on house-made rosemary bread
Brittany – It's a classic grilled cheese. And if it isn't broken, why fix it? The rosemary bread was really the highlight for me. I could eat these all day, every day.
Nick – This was the only true grilled cheese of the bunch. I am all for the competition and being creative, but a grilled cheese is comprised of cheese and bread. Simplicity always wins out. 
Olivia – I had like 4, so…
House-made nacho sauce, roasted poblano, pickled jalapeño, cilantro and tortilla chips on a bolillo roll with tomato-chipotle dip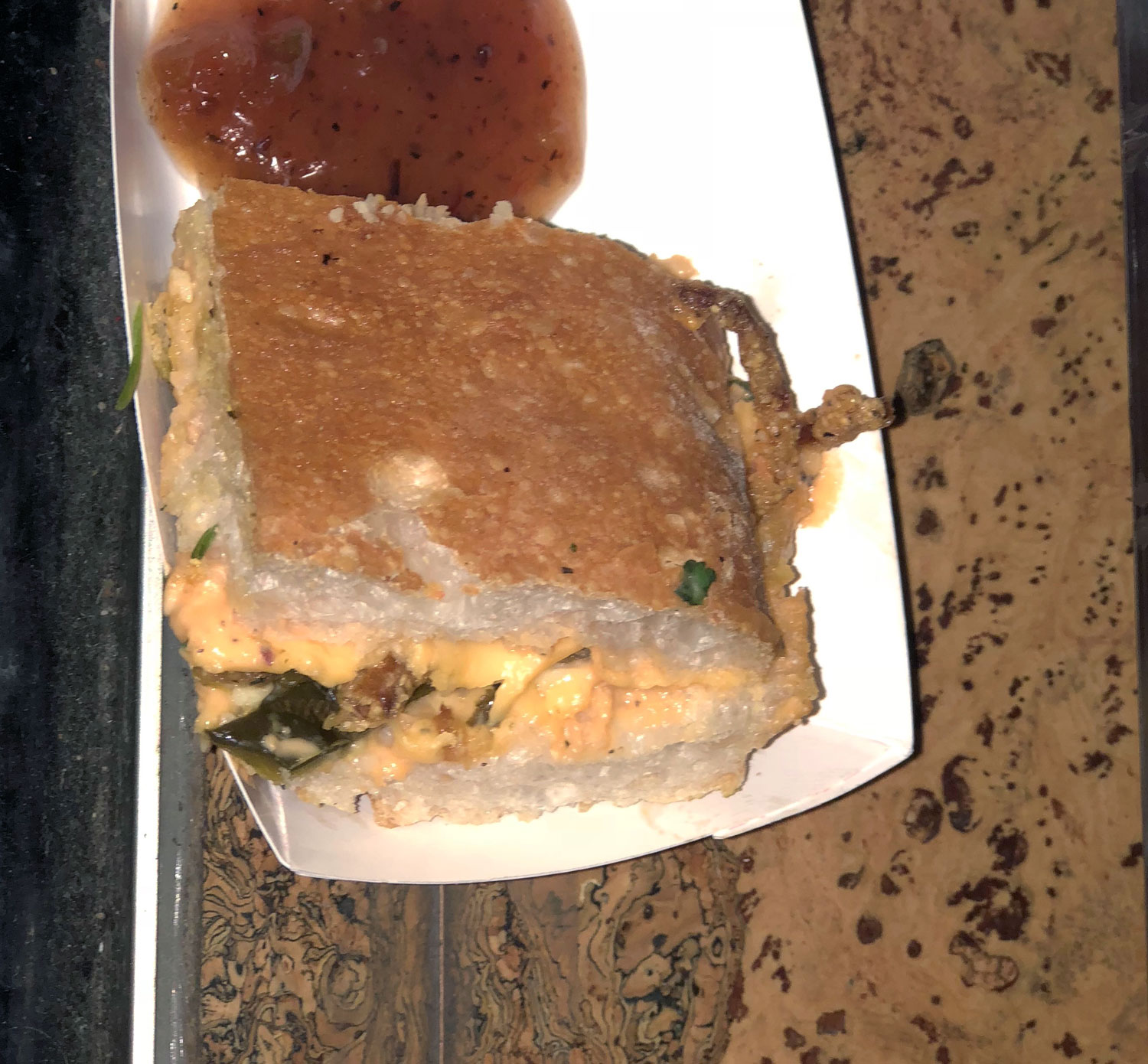 Brittany – just thinking about this is enough to make me hungry. It was SO good. It had the perfect amount of spicy, but also a little sweet with the sauce. I could seriously have eaten 5 more of these sandwiches.
Nick – One of the favorites, for sure. I loved the spice and the texture with the tortilla chips.
Olivia – Mom and Dad said it was too spicy for me. They still got three of them, though…
Slow-roasted pulled pork, spicy barbecue sauce and Fresno chilies sandwiched between two applewood smoked ham grilled cheeses with two-year-old cheddar, smoked gouda and "Hook" sauce
Brittany – when I was eating this, I didn't know exactly what I was eating. Just that it was good. It was also crazy spicy, which I wasn't expecting. It was tasty, but I couldn't eat more than one – super filling!
Nick – Unlike Brittany, I had a couple of these bad boys. Delicious.
Olivia – See above.
Fontina and gruyere with fresh jalapeño, cornichons, blueberry jam and arugula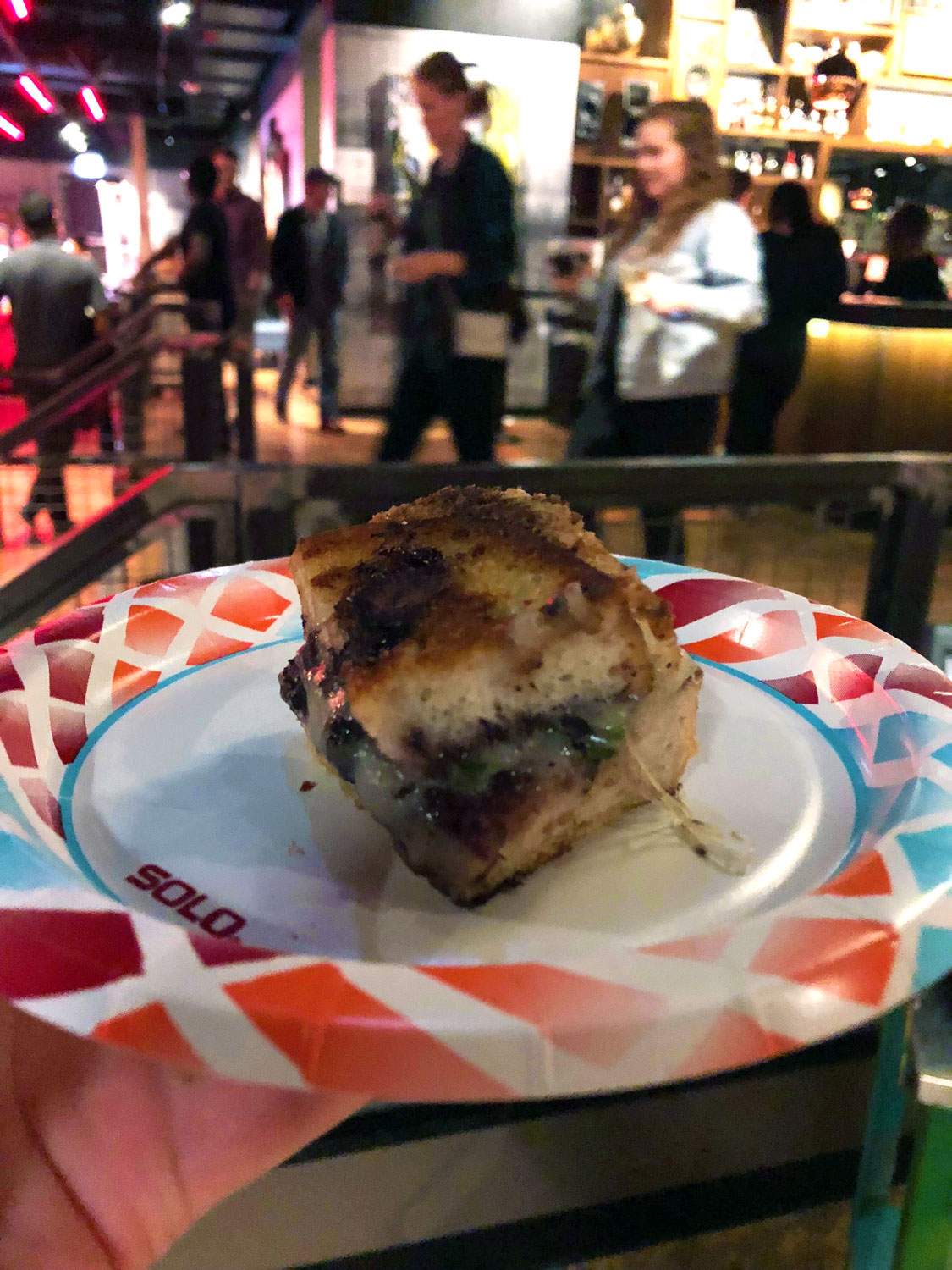 Brittany – I had mixed feelings on this one. It's refreshing to have a sweeter grilled cheese, but one was enough for me. I also love the idea of the spicy jalapeño paired with the sweet blueberry jam, but I couldn't taste the jalapeño.
Nick – If a dessert grilled cheese is a thing, this was it. It was a bit overly sweet for my liking, but I have to applaud the risk!
Olivia – If you guys could quit making things spicy, I would very much appreciate it.
BBQ Pulled Pork Grilled Cheese from
WHISK
House-made Kansas City style BBQ, 12-hour slow cooked pork butt and cheddar on sourdough bread
Brittany – this just honestly wasn't my favorite. The description sounds so yummy, but I found it to be fairly dry and lacking flavor.
Nick – I think this one was lackluster at best. I get what they were going for. The meat was nice as was the sauce, but the bread was sad soggy. 
Olivia – I had a few bites, but not the most exciting thing in the world.
Oaxaca cheese, arugula, fried avocado and chipotle mayo on telera bread
Brittany – I was super excited to try this one. Sadly, they ran out before we got to it. Boo!
Nick – Womp womp.
Olivia – Maybe next year!
Sweet soy-braised pork belly, foie gras, pickled daikon, cucumber and fresno chiles
Brittany – Another top contender in my opinion. Pork belly and foie gras pretty much sells it. But it was slightly overpowered with meat to be a "grilled cheese" winner.
Nick – Brittany is finally on board with what a real grilled cheese is! This was a great sandwich for sure; one I'd eat over and over. But… it's not a grilled cheese.
Olivia – I ate a couple of these. What toddler doesn't love some pork belly and foie gras? 
And the Winning Grilled Cheese is…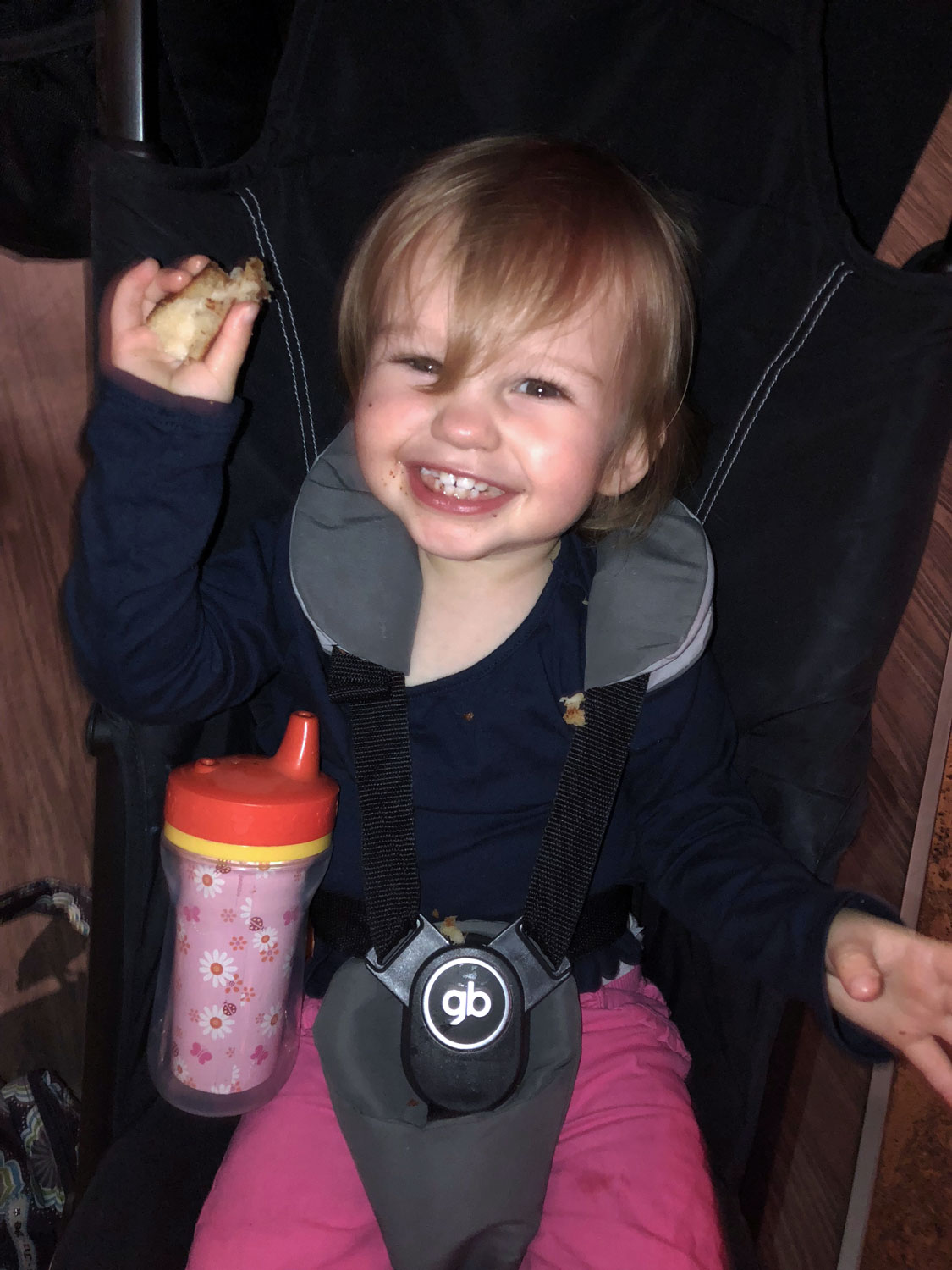 So out of all those mouthwatering creations, you're probably wondering who came out on top. The winner – Same Day Café! To refresh your memory, they served up the classic style grilled cheese with rosemary bread. We were glad to see it win. The cheese and the bread were well highlighted and that's really what grilled cheese is all about.
All in all, it was a fantastic event. The perfect amount of food. A fun, yet family friendly atmosphere (yes, we saw other strollers!). And a couple refreshing drinks to wash it all down. Would we go back next year? Absolutely. Though we really have our eye on that Harry Potter themed dinner being hosted by Time Out Chicago in the coming months.