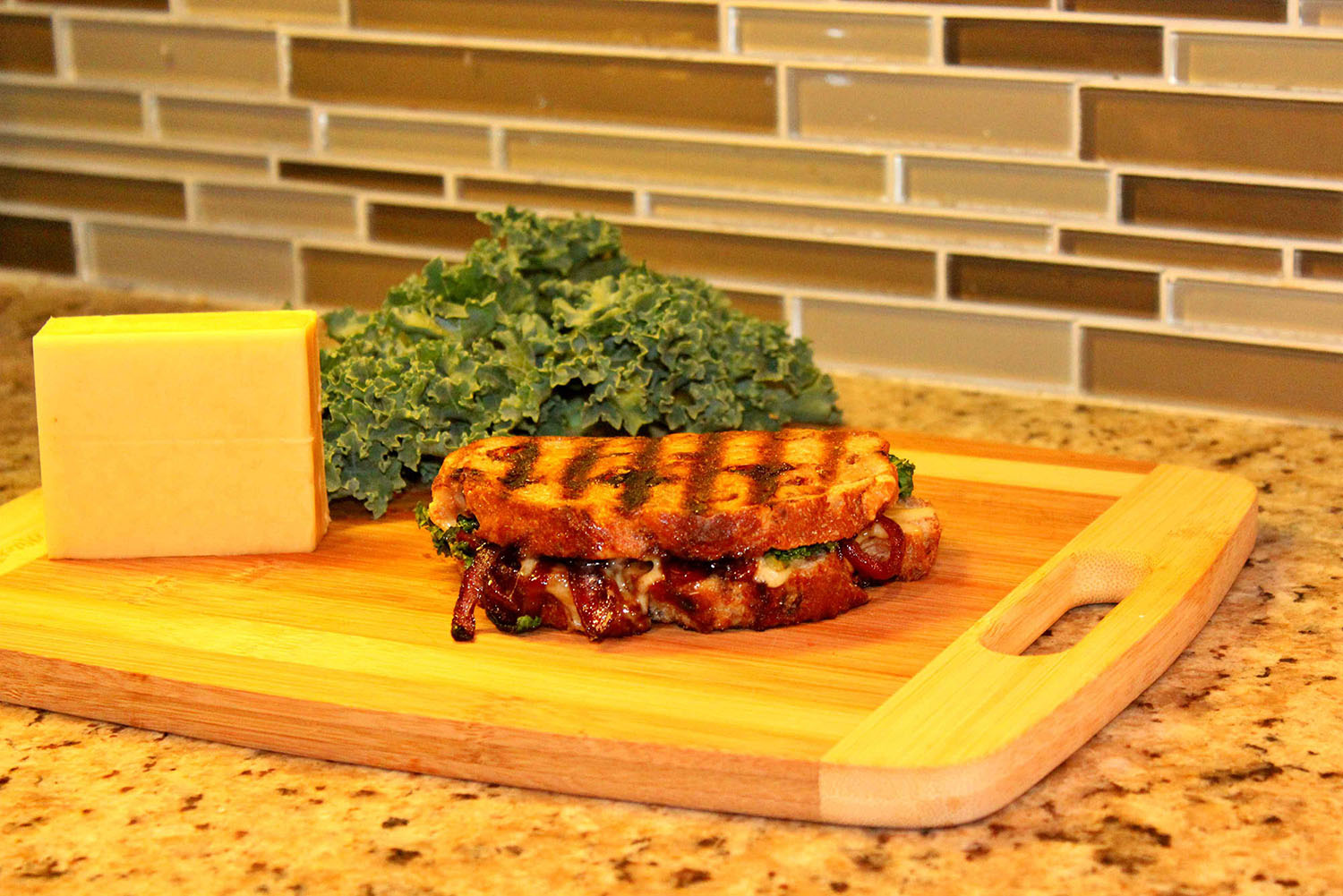 I must admit, grilled cheese is one of my all time favorite foods. It's easy to make and involves cheese. What more could you ask for? Well, in honor of National Grilled Cheese Month (yes, it does exist because grilled cheese is awesome), I wanted to enjoy a fancier style grilled cheese. Don't get me wrong, there's nothing wrong with the classics. But every once in awhile it's nice to try something new. And given that balsamic vinegar is one of my favorite ingredients, I thought I would give it a shot combining them. This is also a good way to sneak some onions and kale into your kids' grilled cheese because the hint of sweetness from the balsamic vinegar will appeal to them.
Ingredients
Yield: 4 sandwiches
Prep Time: 5 minutes
Cook Time: 25 minutes
For the Grilled Cheese
8 slices good quality bread (I've tried it with regular, but it certainly takes it up a notch if you use a heartier bread)
2 tbsp mayonnaise
8 slices Rumiano Organic Mild Cheddar Cheese
2 cups Kale
For the Caramelized Onions
2 tbsp butter
1 large red onion
4 tbsp sugar
1/2 cup balsamic vinegar
Salt and pepper to taste
Directions
Cook the caramelized onions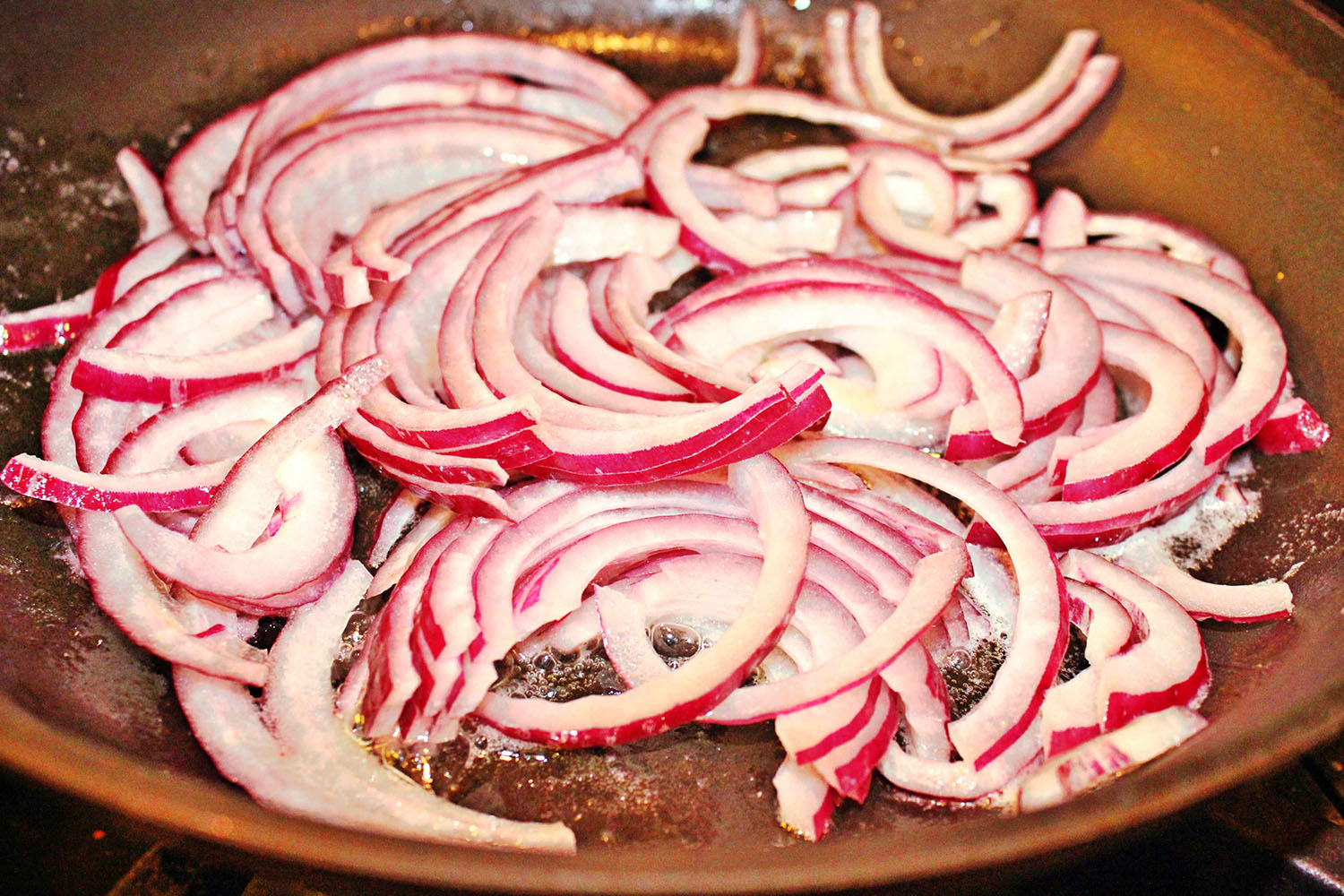 Cut onions into 1/8″ half circles
Heat the butter in a medium saucepan over medium-low heat.
Add the onions and cook until soft, about 10-15 minutes.
Add the sugar and cook for 2-3 additional minutes.
Add the balsamic vinegar and cook, stirring occasionally, on low heat for 5-10 minutes.
Assemble the Grilled Cheese
Spread the mayonnaise on one side of all eight bread slices.
Assemble grilled cheese by stacking a piece of bread (mayo side facing out), slice of cheese, 1/4 of the caramelized onions, 1/4 of the kale leaves, a second slice of cheese, and another bread slice (mayo side facing out).
Repeat until you have all 4 sandwiches assembled.
Heat a skillet or griddle over medium heat and place sandwiches in the skillet so that the mayo side is touching the skillet.
Cook until the cheese begins to melt and the bread appears golden brown
Flip each sandwich and cook until the other side is golden brown and the inside is melted to your liking.
Variations
If you don't like kale, you can opt for spinach instead, which goes perfectly with the balsamic vinegar.
Add some red pepper flakes or jalapenos for a sweet and spicy version.
Mustard pairs well with the balsamic flavor, so spread some on for a slightly acidic touch
Slice up some apples and add them for a sweeter grilled cheese
Will You Celebrate National Grilled Cheese Month With Us?
We hope so – you now have the perfect recipe! Let us know how you like the recipe or if you have another favorite fancy grilled cheese.