Here's the story most people know: You visit Las Vegas, things happen, you come home pregnant. And what happens in Vegas doesn't actually stay in Vegas. But did you know you can go to Las vegas pregnant already? Yup. A Las Vegas Babymoon. Trust us, you can do it. And we took a trip just to try it out. You might be asking yourself, "Didn't you already take a Babymoon to Paris?" Well, you'd be right – we did. But this time we made a quick weekend jaunt to visit my brother and his girlfriend. And it was fabulous.
Yup. A Las Vegas Babymoon.
Las Vegas has everything you'd need to have a successful babymoon: food, entertainment, pools, nice weather, and did we mention food and pools?
Making A Las Vegas Babymoon: Getting There
Once you decide on this not-so-typical destination, you really can't miss as far as planning goes. Since we missed out on a nice tropical vacation (damn you, Zika), our number one priority was a nice pool. Nearly all of the hotels around have great resort-style pools, so we didn't need to be overly concerned with where we stayed. Orbitz, Hotwire, and HotelTonight are all great options for last minute, cheap rates.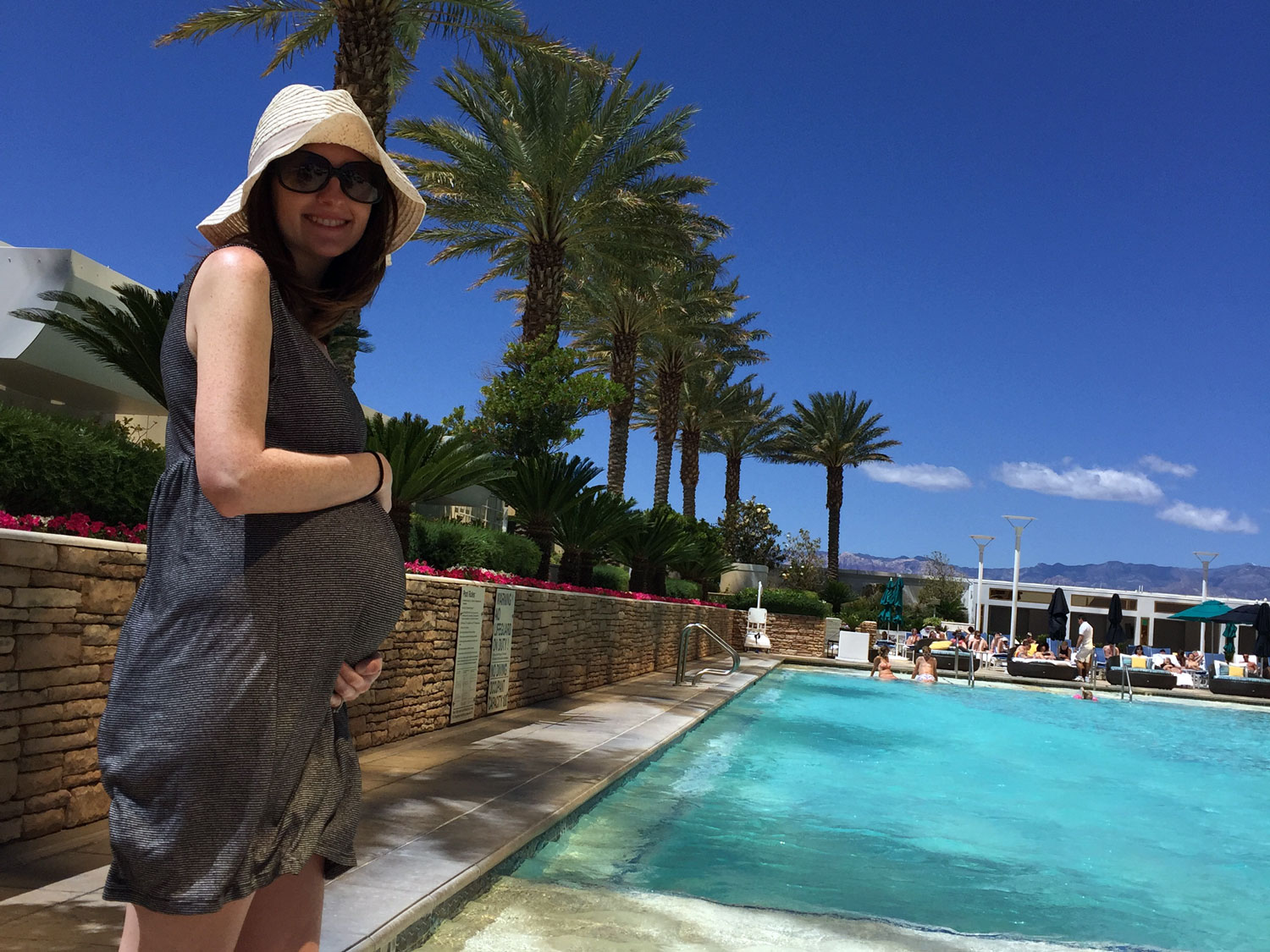 And just as important: actually getting to Las Vegas! When booking your flight, make sure you check out The Matrix. It's probably our favorite website of all time. You can search flights (not purchase) and then go directly to the airline to buy so you can maximize your flexibility and minimize your spending.
We ended up staying at the Trump International Hotel. Yes, we know. But it had a great pool and a nice room. You've already compromised your principles by going to Sin City once, may as well keep the hits coming. In all seriousness, though, it was a great place to stay. It was quiet and somewhat off the strip, but we could take the free shuttle to the action when we wanted to. Before you ask, no we did not try Trump's Taco Bowl.
What to Eat?
Everything. Everyone knows of the endless buffets at the casinos. They're fantastic and we certainly spent a few hours at one. But Las Vegas has really stepped up it's culinary game with celebrity chef's opening new restaurant after new restaurant. We gave Gordon Ramsay's Burgr a try and it was delicious. Truffle fries, duck breast bacon, foie gras (for the Dad's, of course), and perfectly cooked burgers make this place an affordable, fun, and delicious dinner spot. Come ready for a line, though. It can get quite busy.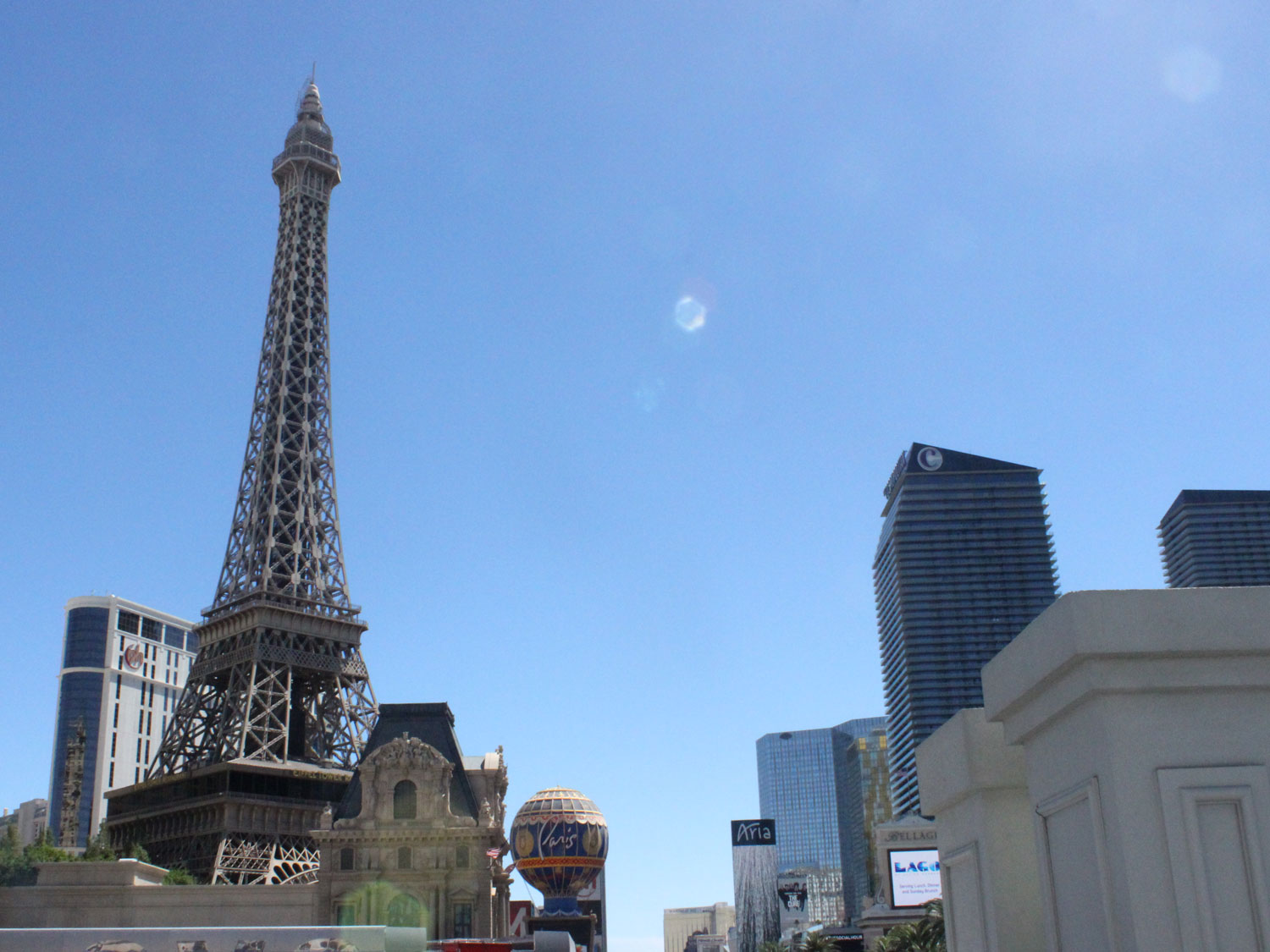 Another great spot: Pink's Hot Dogs. I don't even need to try and sell you on this one. They have the best hot dog we've ever had outside of Chicago. Pastrami, Jalapeños, Tortillas, Mushrooms, and pretty much anything else you can imagine can be found on a hot dog here. This place alone is worth the trip out.
Pink's has the best hot dog we've ever had outside of Chicago.
The Bacchanal Buffet at Caesar's. Here's another must-do. With such a wide variety of food, it's hard to not find something you like. And it's all great quality food prepared expertly and with fresh ingredients. It's not your hometown buffet, for pete's sake. Anyone who knows me knows my love for Chicken and Waffles. And while we aren't in Texas anymore, it certainly felt like it at lunch.
Is there anything to do other than drink?
Absolutely. We love people watching, so walking up and down the strip was a riot. So many different people. The club pushers (you know, the annoying people who rope you into overpriced and gross nightclubs) all but ignored us because of the bump. Score. Eating can certainly take up tons of time. But pool time is key here during the day, and by night, shows are a must. I'm partial to Donny Osmond, but sadly got vetoed on that one. If we had gone longer, which we wish we could have, we would have had this as an ideal day:
Breakfast/Brunch at Bacchanal
Hit the pool
Enjoy a late lunch at Pink's
Hit the pool
Dinner at Burger
Take in Blue Man Group
Walk the Strip, people watch, enjoy the Bellagio Fountain show
Find some sort of tasty dessert – whatever catches your eye
Get some rest, wake up, repeat.
That's A Las Vegas Babymoon
We had a great time and we're sure you will, too. The best part about a Las Vegas Babymoon is that there is so much to do that we couldn't even come close to listing it! We didn't get a chance to hit the spa, visit the Hoover Dam, nor did we get into any shopping or gambling. And that's just fine with us – we had the perfect trip for us!