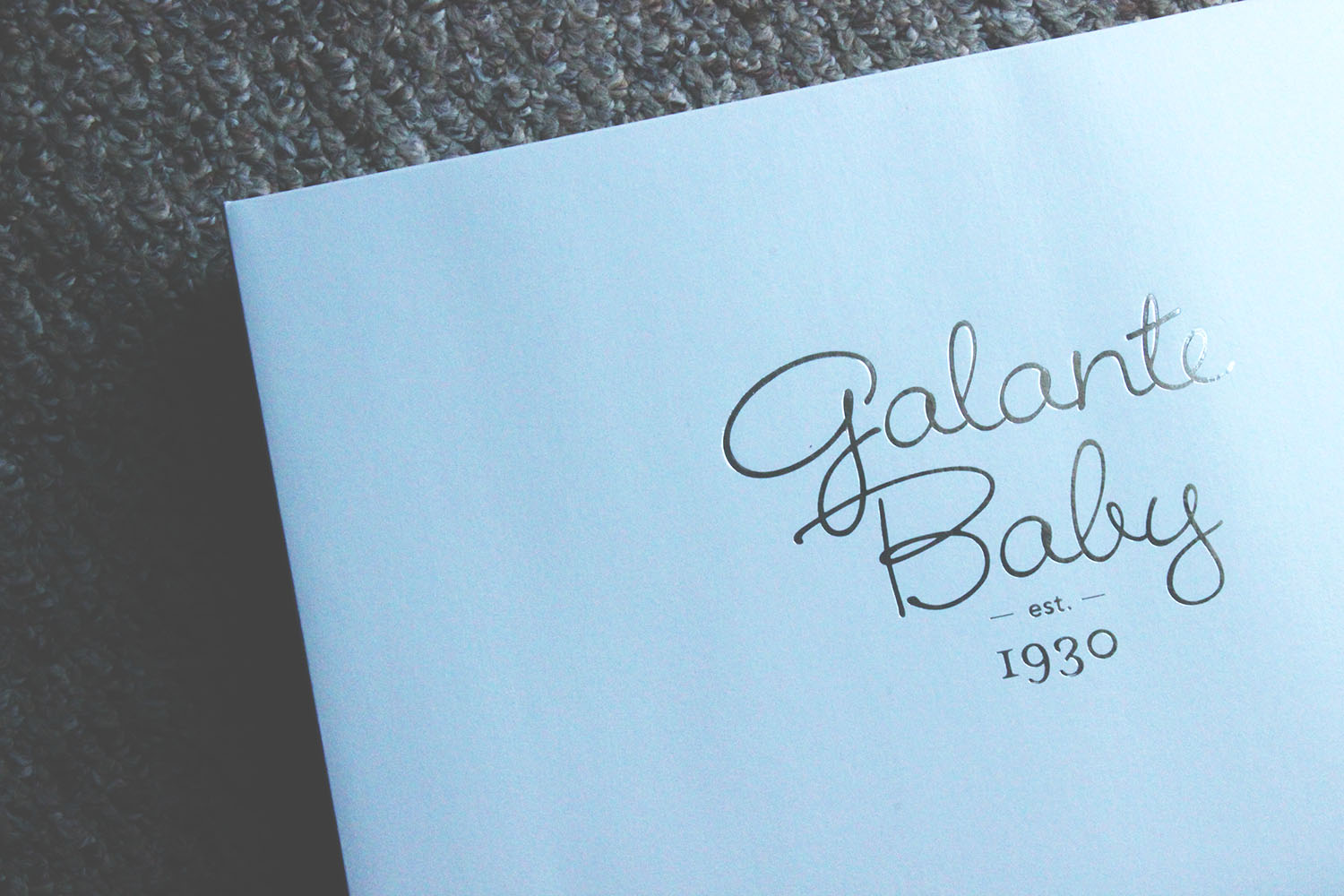 We're down to 4 weeks until baby girl is estimated to make her arrival. And with that comes a mad dash to finish getting everything together and making sure we have all the baby gear covered. Most people stock up on onesies and footie pajamas, but don't always remember to add a few nicer, more elegant outfits to the wardrobe. Recently, I had the opportunity to try out several different styles from Galante Baby and just fell in love with the craftsmanship.
Galante Baby has come a long way since being founded in 1930. Originally Galante's Studio, a husband/wife team began creating beautiful women's clothing. At the time, many local women would often drop by to help out in the production process – how interesting! Eventually, the studio expanded into luxury, custom travel and baby gifts. And today, owner Douglas Shavel has kept that same great quality alive in Galante Baby products.
What to Look for When Buying Baby Clothes
Quality – Sure, you'll want a good amount of inexpensive options for when baby is cycling through multiple outfits a day. We all know why. But you'll also want to make sure you have some high-quality styles for more special occasions.
Easy Changes – You'll be tired and the little one won't always make dressing a breeze. Having clothing that can be quickly taken on and off can be a lifesaver. Look for options that are simple without tons of bells and whistles.
Styles – Pick up a mix of casual and formal, but most importantly, comfort is key. Choose materials that won't scratch or irritate baby's precious skin.
The Galante Baby collection
I had the opportunity to check out several different styles from the Galante Baby line.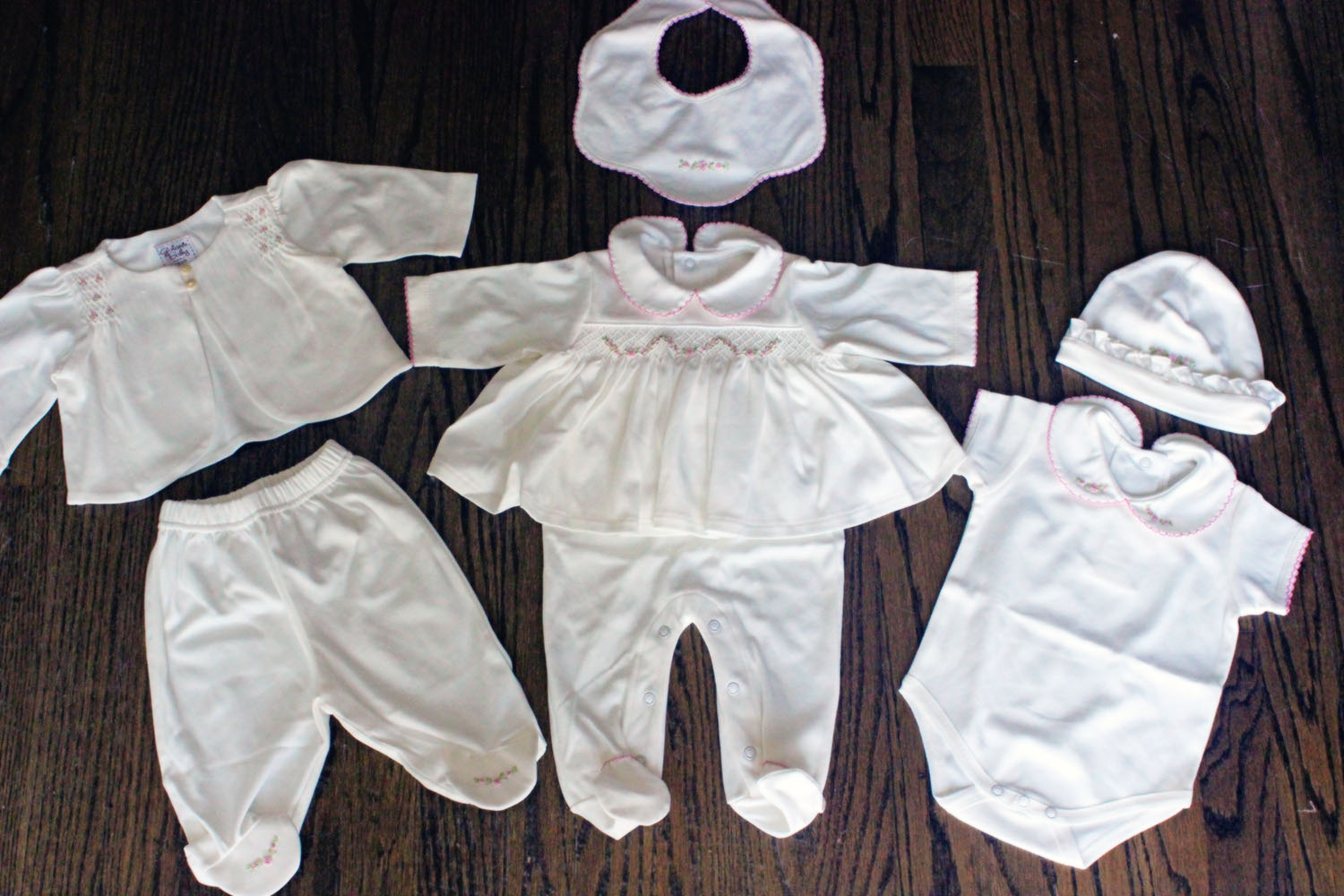 Swaddling Blankets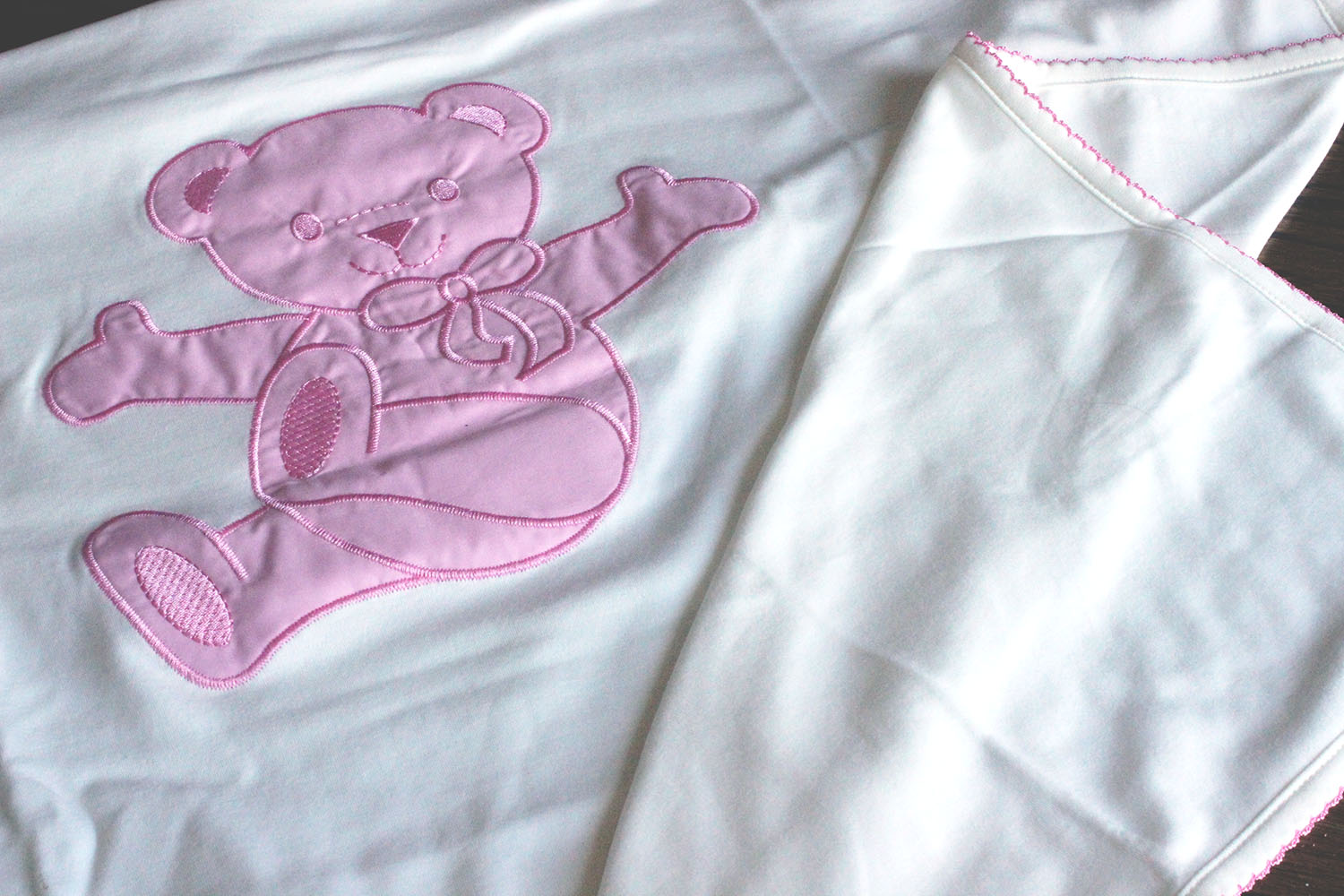 Super soft and sizeable. You can choose from a bear or duck in pink or blue. While they are swaddle blankets, it's so soft you could also use it for a baby blanket. It may quickly become your little one's favorite.
Accessories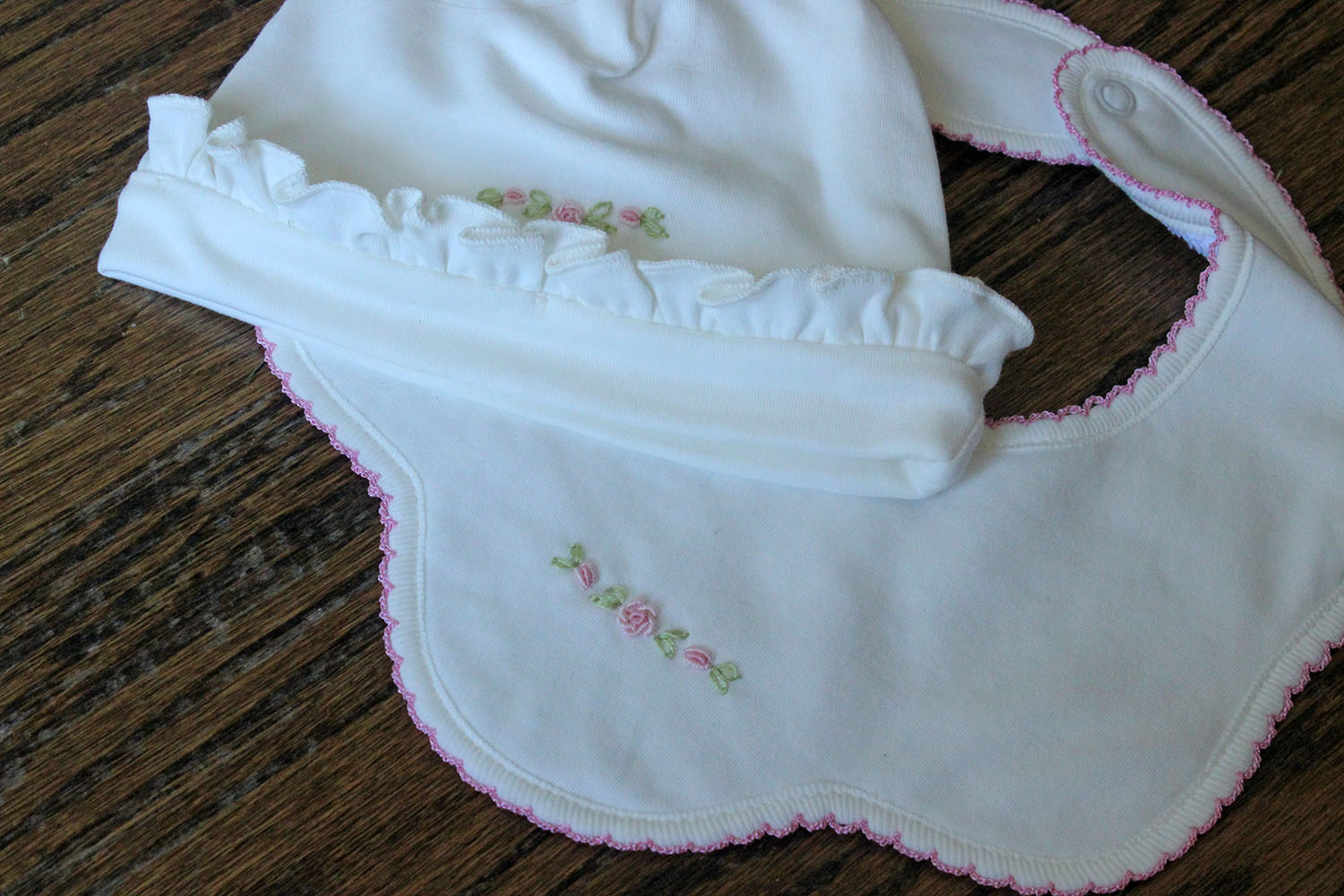 Bibs, hats, and bonnets. You can get any of these accessories to match your baby's outfit. The material and embroidery is designed to match all the outfits and blankets.
Onesie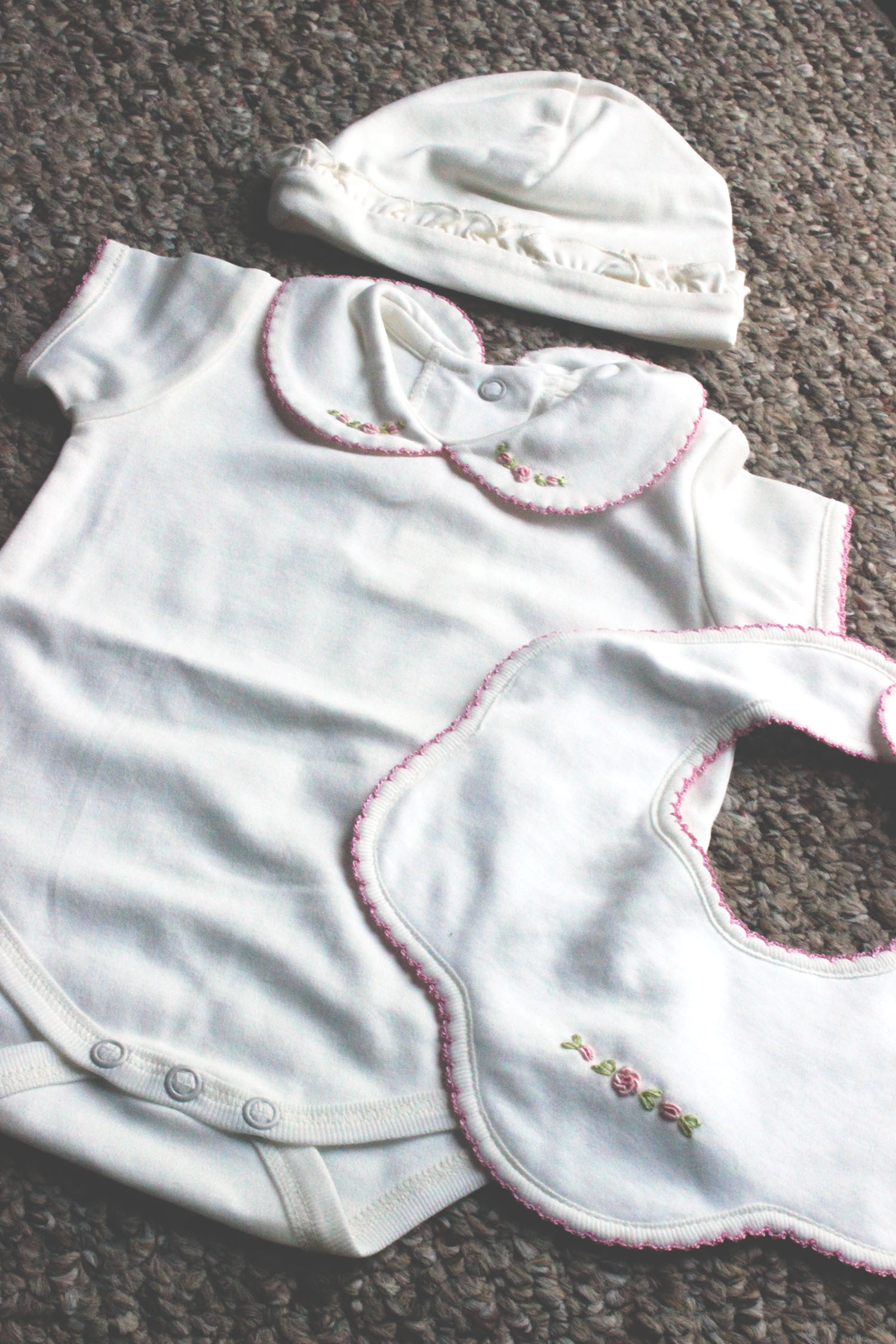 This has to be the softest onesie I've ever felt. The Peter Pan Onesie has an adorable embroidered collar and the hand-sewn floral accent is beautiful. It's a great choice for a more luxury, stylish onesie.
Floral Layette
This is not your standard sleep n play footie pajama. It's designed as a one-piece outfit for your more formal occasions. There is hand-sewn embroidery on both the top and the feet to give it a more elegant feel. What I love most is that it's so soft and cozy, but also more formal looking. Many of the formal baby clothes out there look downright uncomfortable. I'm glad I have something to dress the little girl in that is both dressy and comfortable.
Floral Cardigan and Collared Jacket
The cardigan is so adorable. It has fantastic detail and embroidery, and I love the button accents! Another great, yet comfortable option for baby's first outing. For boys, they also make collared jackets – your little guy will look so handsome.
Trousers
Pair these adorable baby trousers with the cardigan, jacket, or onesie for a complete outfit. They come in plain white as well as embroidered at the feet.
Clothing Sets
If you can't decide which items you want for your little one, they make full sets with a little bit of everything. The Newborn Take Home Set has 6 different pieces and would make a unique gift for the baby to be. For slightly older babies, you can get a 4-piece 3 month set.
How Does Galante Baby Compare to Other Brands?
I was so impressed when I received these baby clothes. Like, really excited. Their website does not do the quality justice (which is understandably a very difficult thing to show online). When you touch these items, you will immediately notice a strong difference from many of the other baby clothes you own. Here's what I really like:
Soft on skin
My favorite part of these baby outfits is the material used to create them. It is insanely soft and luxurious feeling. If you check the website, they use 100% pima cotton in all of their products. I didn't really know what that was or whether it would make a difference. It does. Pima cotton gets its softness through the ideal growing conditions located throughout Peru, where it is grown. Without going into a science lesson, the cotton is harvested by hand (giving it the perfect white color) and results in one of the most prestigious materials.
I have very sensitive skin and always anticipate my baby being born with the same genes. So I look for products that will be very soft and gentle on her skin. Of all the clothes we own, this one is at the top for softness.
Comfortable
It seems fitting that anything soft would also be comfortable. From what I have noticed, that is not always the case. You also want to take into account how breathable the materials are. Fleece, for instance, is always really soft on baby's skin. But it is not very breathable and can cause your baby to overheat. The Pima cotton used in the Galante Baby products is breathable and will allow baby to be both warm and comfortable.
Handcrafted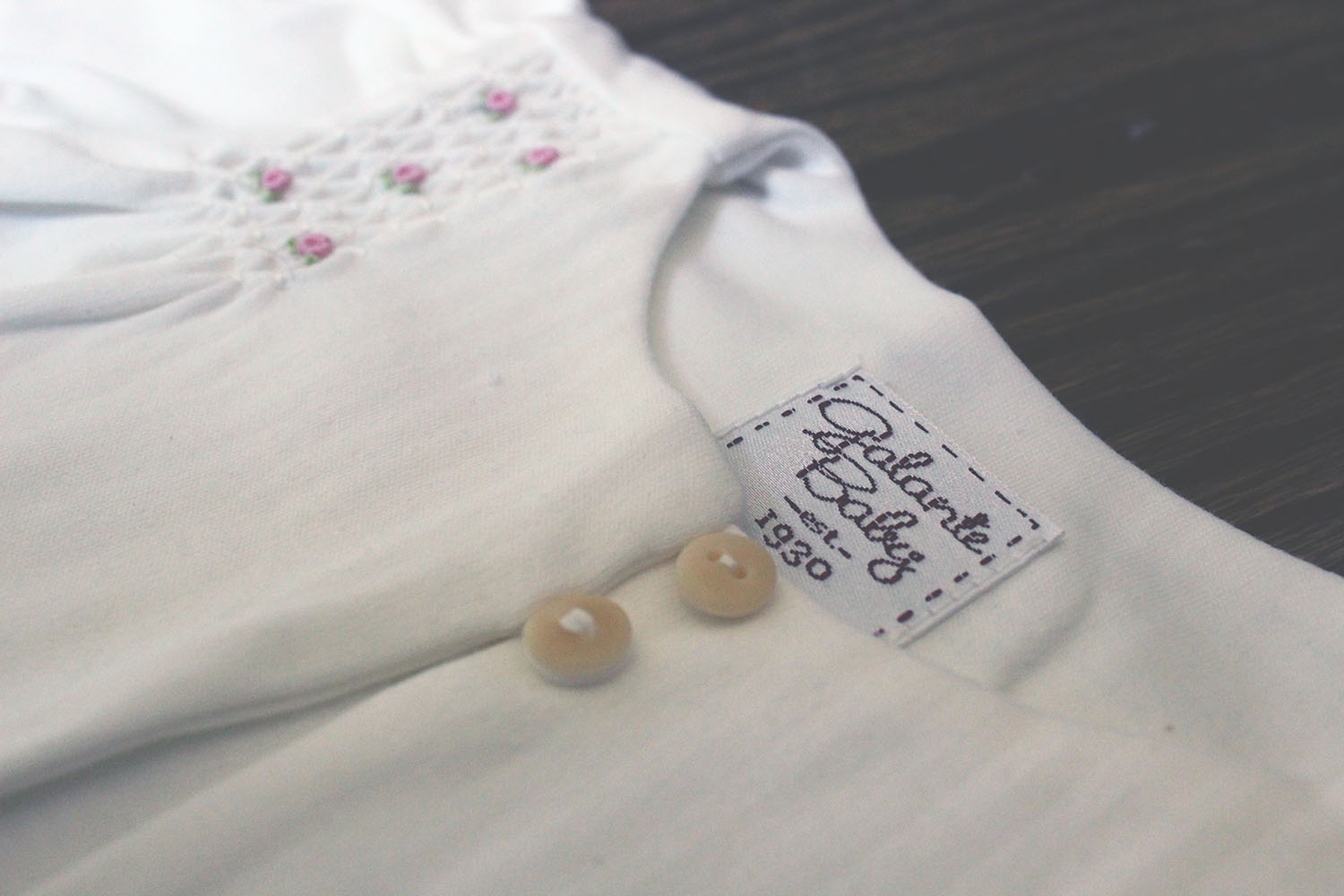 When you are picking out everyday outfits, often you grab whatever is cutest, on sale, or comes in the largest quantity. But for nicer outfits or special occasions, quality matters. Galante Baby handcrafts and embroiders their outfits and blankets. There is a lot of detail that goes into each item and the skill level is noticeable.
I've been very impressed by the quality and detail of Galante Baby. I'm also so happy to announce they are giving one lucky reader a chance to experience Galante Baby firsthand. The winner will have his/her choice of a handmade plush crib puff or any of the Galante Baby blankets.
a Rafflecopter giveaway