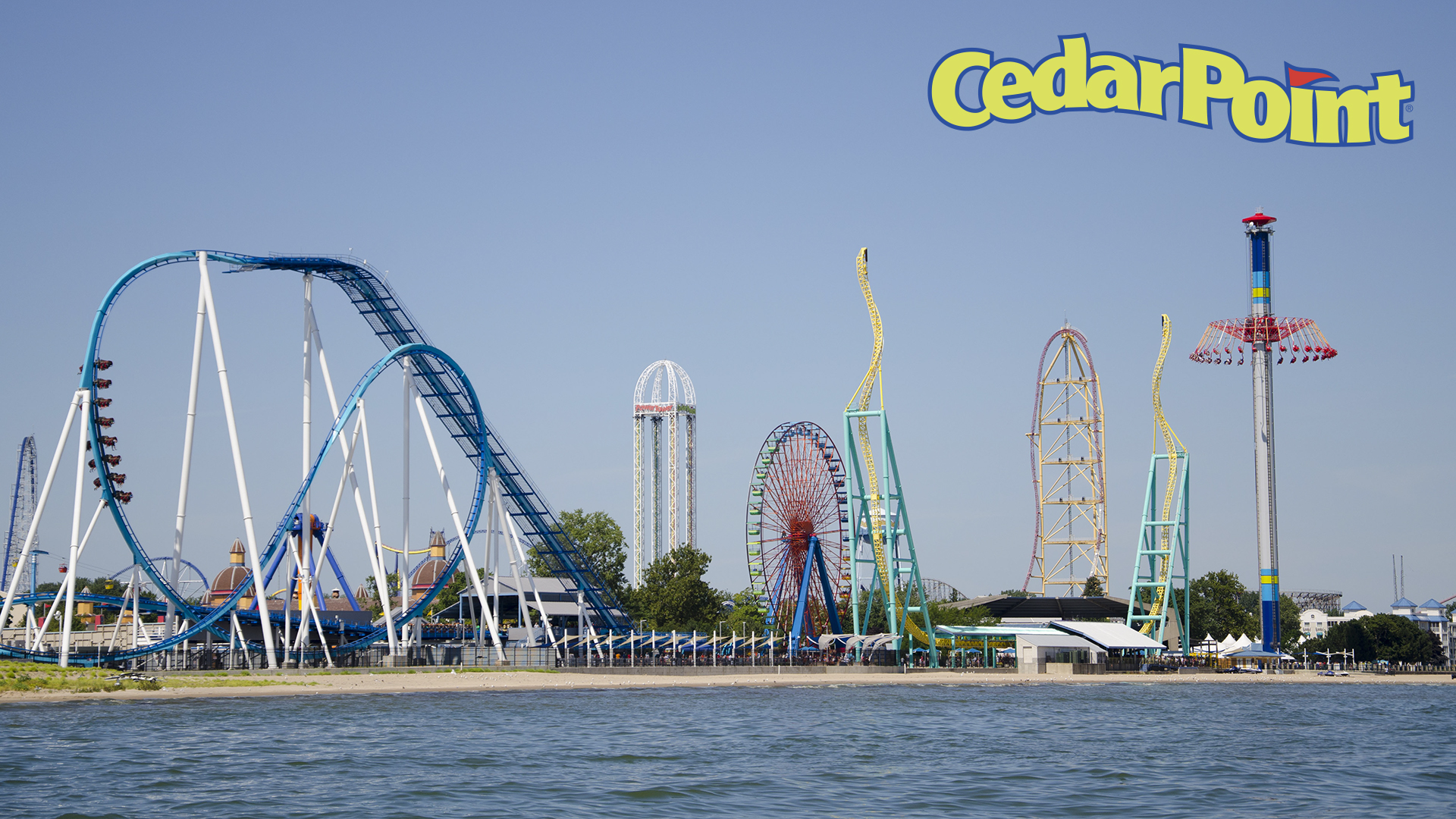 Growing up in northwest Ohio, there weren't a ton of attractions nearby like we now have in Chicago. The exception to this is Cedar Point. Hubby and I were lucky enough to both grow up about an hour from what they coined "America's Roller Coast". If you've never heard of Cedar Point, it's an amusement park packed with some of the world's best rides. It's located in Ohio off the shore of Lake Erie in the small town of Sandusky. Our Summers were filled with opening days, water rides, roller coasters, season passes, Dippin' Dots, and standing in line for hours to be the first to experience the newest ride. Spending the Summer at Cedar Point was always a tradition and needless to say, we both became experts on everything the park has to offer.
Living in such close proximity, our families would regularly take us during the Summer months and we were able to experience the good times as kids. Now that we have a little one on the way, we can't wait for her first trip to Cedar Point so she can experience the same family fun as we had growing up. Cedar Point makes the perfect family travel destination and here are some of my favorite reasons why.
Variety of Rides and Attractions
This is probably the biggest reason Cedar Point is perfect for families. They really excel at making sure everyone is happy and entertained.
Big Coasters for Older Kids and Adults
You may or may not have heard about their new Valravn ride. They also offer some tamer coaster options like the Cedar Creek Mine Ride for kids who aren't totally sold on the whole roller coaster thing just yet.
Thrill rides that aren't quite as intimidating as some of the coasters
Windseeker or the classic Cedar Downs are always great options.
Rides that are fun for the whole family
The antique cars are always a must ride no matter what age. The Lake Erie Railroad functions as both a ride and a transportation device. Plus, there is a fun little show along the way. And the Sky Ride is a great way to see the entire park from above while sailing down the midway.
Water rides for a quick cool down
Snake River Falls and Thunder Canyon are two great options. Caution: you will get wet on both. I guess that's kind of the idea.
And of course there is plenty to do for babies and young children.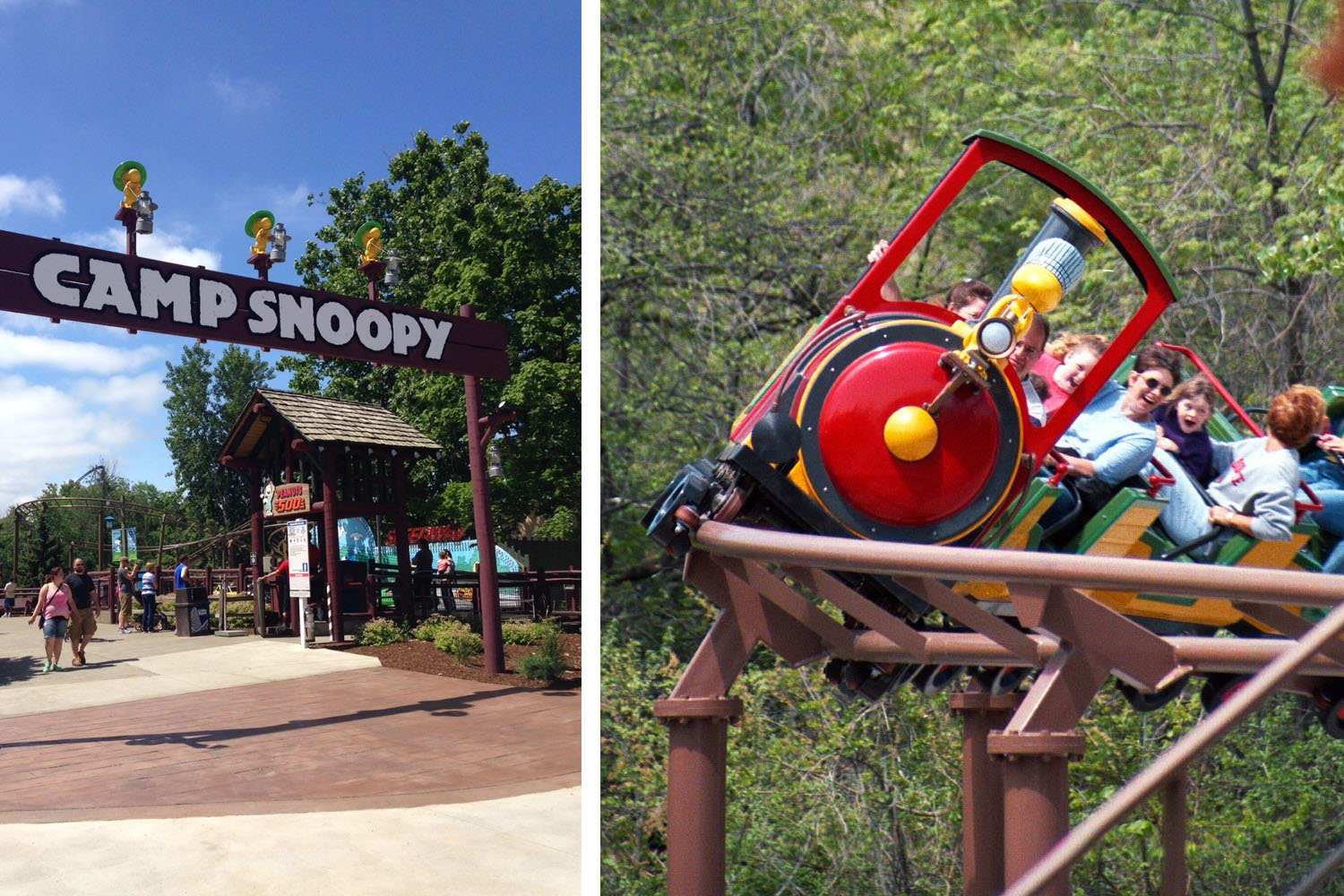 Cedar Point has an entire area dedicated to Snoopy and Snoopy themed rides. The Woodstock Express allows kids to get in on all the roller coaster fun. And the Red Baron gives them the ability to be pilots. There is also a second kids area, Kiddy Kingdom, with rides that have no height requirement. Every kid can enjoy the the open road in their very own Mustang.
The Weather
Cedar Point is only open from late Spring to Fall, so you're likely going to experience some heat. But not Florida heat. Just Midwest heat. Typically the weather is very moderate. It's located right off Lake Erie so you get a nice breeze and it often cools down a bit at night. There can be some rain here and there, but Cedar Point does their best to ensure you still have plenty of options during those times.
Family Friendly Shows & Restaurants
Ok, I'll be honest. You're not at Disney. Cedar Point is an amusement park, not a theme park. So let's get that distinction out of the way. They revolve their park around around bringing thrills to the whole family, from newborn to adult. That being said, they do put out some great shows. These are fun for the whole family and great for a nice break during your day. I recommend popping in the Red Garter Saloon for some country tunes, but the nighttime and Charlie Brown shows are great, too!
As for food, there are plenty of options from grab n' go to sit down service. Coasters Drive In is a family-friendly burgers and fries type place with fun 50's decor. And don't forget to pick up some Toft's Ice Cream, a local favorite, for a nice midday treat.
Cedar Point's Record Breaking Rides
Nothing brings the family closer than breaking some world records together. Cedar Point is known for their innovation and technology. They are constantly breaking new records to ensure they are the fastest, tallest, longest, etc. Pretty much any kind of record that can be broken, they break. It would really take too long to sit and list all their accomplishments here. But my recommendations include Top Thrill Dragster, the world's second largest coaster (should be the tallest – sorry fans of Six Flags Great Adventure, but we all know Kingda Ka was a total copy cat), Millennium Force (my personal favorite, it's so smooth!), and Maverick (highly underrated). And if you have a little one that doesn't quite meet the height requirement, Cedar Point offers a parent swap. This way both parents can have a little fun while ensuring the kiddos are taken care of.
Great Resort Options
There are lots of great hotel options surrounding Cedar Point. I like Hotel Breakers. It's Cedar Point's iconic hotel. Right on the beach with tons of amenities like an outdoor pool with a kids play area, hot tub, sun deck with umbrellas, and complimentary access to Cedar Point an hour before it opens. It's perfect because you get the beach vacation along with direct access to the amusement park. It also makes it convenient to take a quick snooze or dip in the pool during the day.
Other nearby hotels include the Sandcastle Suites (which is also very close) and Castaway Bay (a little further out, but doubles as an indoor water park). Or for a more outdoorsy feel, check out Lighthouse Point. Pull up the camper or rent one of the cozy cabins. Complete with pool and hot tub. We've stayed at all of the options through the years and each one has been great for different reasons!
More Than Just Roller Coasters and Thrill Rides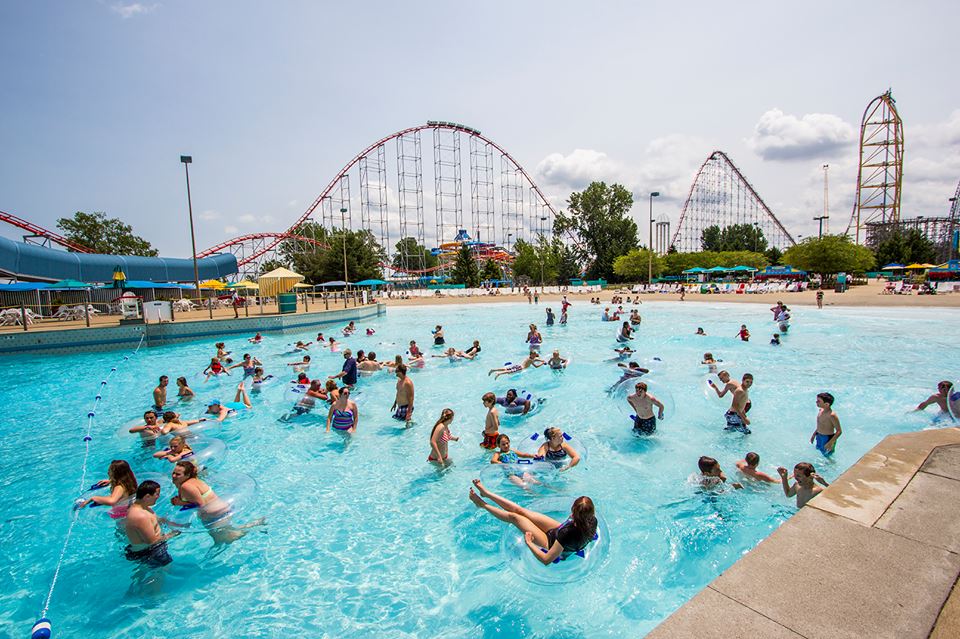 Cedar Point can be done in a day. It's difficult to fit everything in without running from place to place, so I recommend doing it in two days. But if you squeeze everything in and are looking for other vacation ideas, there is plenty to do. Cedar Point has an adjoining water park, Soak City. There are many slides and attractions as well as kid-friendly activities. It can be great if you know one of your vacation days will be a scorcher. You can also check out the beaches of Lake Erie. Cedar Point has its own stretch of beach – no park ticket required. You can parasail, rent a waverunner, charter a boat, or just have a relaxing day catching some rays (don't forget the sunscreen for those youngsters).
Planning Your Visit
Cedar Point generally opens in May and closes right after Halloween. Speaking of Halloween, I highly recommend HalloWeekends if you can make it out. It's a great time with lots of kid approved activities in the daytime and thrills during the evening. 4th of July is a really fun time to go, but just keep in mind you'll be dealing with large crowds. For shorter ride times, you'll likely have better luck during the week rather than weekends. Tickets start at $45, which is very reasonable for everything the park offers.
Of course not everyone lives a convenient hour long drive from the amusement park. Our drive is now closer to 5 hours. But whether flying, driving, or taking a train, I highly recommend you add this to your list of vacation spots. There are so many great reasons to visit and will quickly become a memorable vacation for the whole family.