It seems like just yesterday I was enjoying a buttery slice of Chicago deep dish pizza (if you ever visit Chicago, any true Chicagoan will tell you Lou Malnati's is the best. And if they try to say Giordano's, you can tell them they aren't a true Chicagoan). I've never really been big into meat, so I always joked that if I had to give up dairy I would never survive. Well, here I am still standing.
Babies can be allergic to food through breastmilk? I literally never knew this was possible. I just watched my caffeine intake and made sure my occasional glass of wine wouldn't reach my milk. I never thought my diet would really go beyond that point. I won't go into the gory details, but after some not so normal diapers, a colicky baby, and a couple projectile milk instances, we found out our little one has an intolerance to milk and soy.
What is Milk Soy Protein Intolerance?
If you've ever been told your baby has MSPI, or Milk Soy Protein Intolerance, it essentially means the digestive system just can't handle the majority of foods (because soybean oil is literally in everything). One note on soybean oil: you will read most people can tolerate it. Our GI doctor said just cut it out and afterward we saw improvement. So be careful! Anyway, kids with MSPI will generally outgrow it by 5 years old, if not 1 year when most kids outgrow it. It's an intolerance, not an allergy. That's an important distinction because it means there are no tests to offer proof of allergy. You basically just assume it's milk and/or soy causing an issue because doctors tend to recognize the symptoms and most cases present in the same manner. So once you find out your baby has this semi-rare intolerance, you have two options:
Buy a ridiculously expensive hypoallergenic formula ( like $26 or $100 per can expensive depending which kind you have to get)
Cut your losses and stop eating dairy and soy
We weren't really into the whole spending $100 every 3 days thing. Plus, breastmilk has so many other great benefits. I also has endured so much work to get to a good place breastfeeding-wise, so I didn't want to quit. Whatever your decision is, no judgement. This was just our decision.
The first thing we noticed after going off all dairy and soy (Nick decided he would join in the fun so I wasn't alone – what a nice guy!), was that it is so hard to eat out or shop in the grocery store. As far as fast food goes, we're pretty much limited to Chipotle because they post all their ingredients and are in a vast minority of places that don't use soybean oil. We also found it so time consuming to shop for food at the store when we had to stop and analyze every ingredient. So for those of you on a dairy free, soy free diet, we thought we would make it easier on you by listing some of our favorite products.
Daiya
They sent us some coupons so we could try out some of their products. Daiya offers many soy and dairy free products like shredded cheese, cheese slices, cheezy mac, pizza, greek yogurt, and cheezecake. When we were shopping at our usual grocery store (Jewel Osco), I couldn't find a lot of there products, but I found all of their cheeses, so that's what we decided to try out.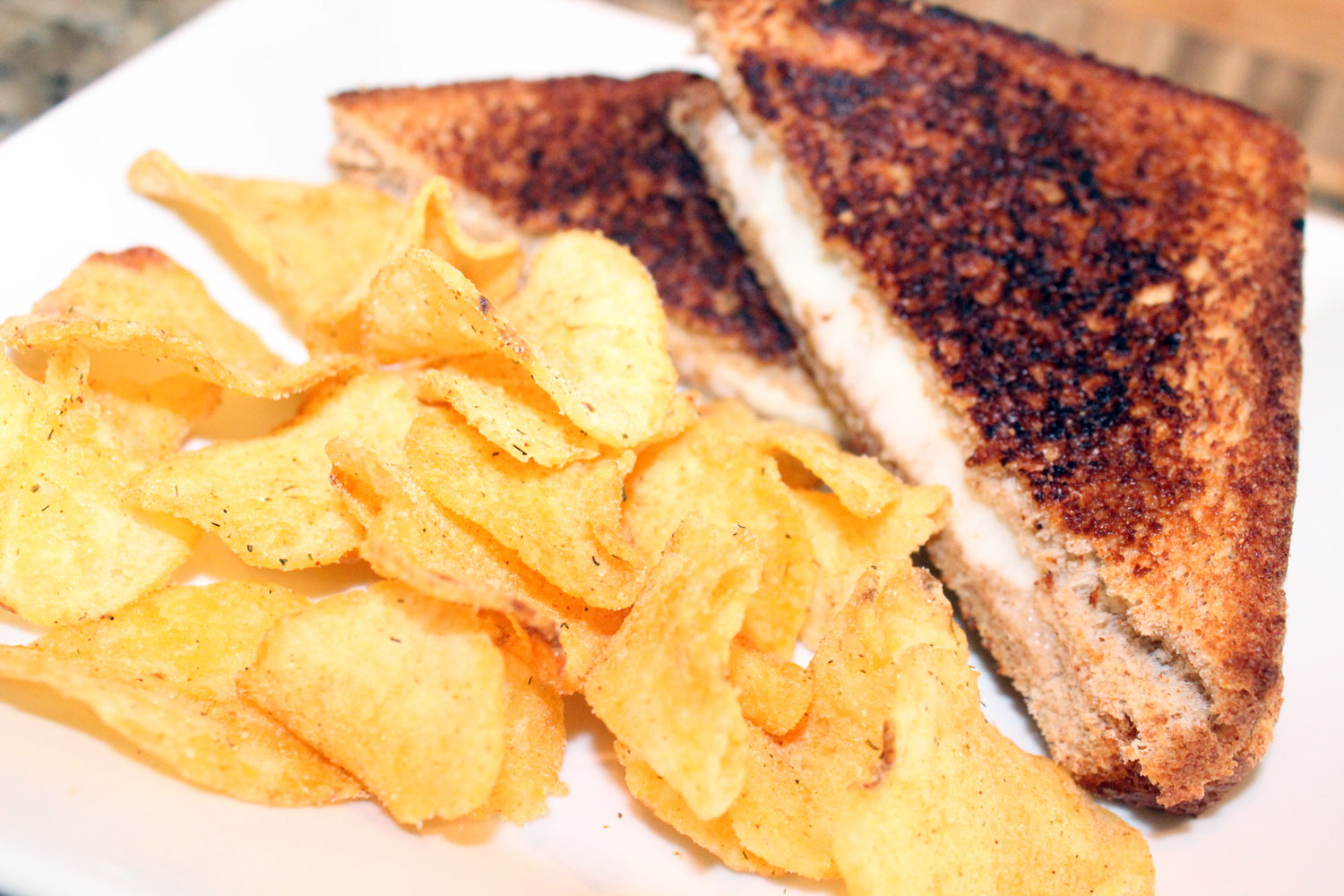 Out of the cheese slices and the cheese shreds, I have to say I much preferred the shreds. We tried the cheese slices on a grilled cheese and I have to say, it wasn't my favorite of the two. It had a very creamy flavor and the texture was similar to Velveeta (except different flavor). The shreds, though, were great. We had them on tacos and they had perfect consistency and a mid flavor. Of course don't expect it to taste like normal cheese, but the shredded cheese was a nice substitute. It's also worth mentioning there are a variety of cheese flavors from mozzarella and pepperjack to provolone and smoked gouda. My recommendation would be to skip the slices and pick up the shredded cheese to sprinkle on your food. I was very happy that not only does Daiya provide a great cheese alternative, but they give you multiple flavors to choose from. From a major cheese lover, they made my job so much easier!
Trader Joe's
Trader Joe's is a dream for people with a food intolerance. There are so many allergen free items that you can get many of your staples in one place. We found a large selection of dairy and soy free products. Here are some of our favorites:
Various types of bread, including hamburger and hot dog buns
Mayo made with canola oil
Penne Arrabiata
Beef Tamales
Tortilla Chips & Bean Dip
Polenta (check out our recipe for Polenta, Kale, and Sausage with Marinara)
Whole Wheat Cous Cous
Sweet Chili Sauce – we used this as a glaze for chicken
Ridge Cut Salt & Pepper Chips or Kettle Cooked Sriracha Potato Chips
Wine (ok so this is dairy and soy free anywhere, but who doesn't love a good bottle of two buck chuck?)
Enjoy Life
Enjoy Life sent us several products to try out and I was so impressed. One of the hardest things to give up is desserts. Dairy is in almost every dessert and I had resigned myself to the fact that I wouldn't be able to eat cookies for awhile. Enjoy Life has a line of cookies that are both dairy and soy free. I was super happy and excited to give them a try. After trying out the snickerdoodles, I have to say they were a good way to satisfy your sweet tooth, but weren't my favorite of the products we tried. That title belongs to the delicious pancake/waffle mix. Though I will say, the cookies come in individual packages, which makes them perfect for on-the-go. And when you can't eat out, portable foods are such a life saver.
The pancake/waffle mix is also dairy and soy free. We made pancakes served with chicken for dinner one night (who doesn't love breakfast for dinner?).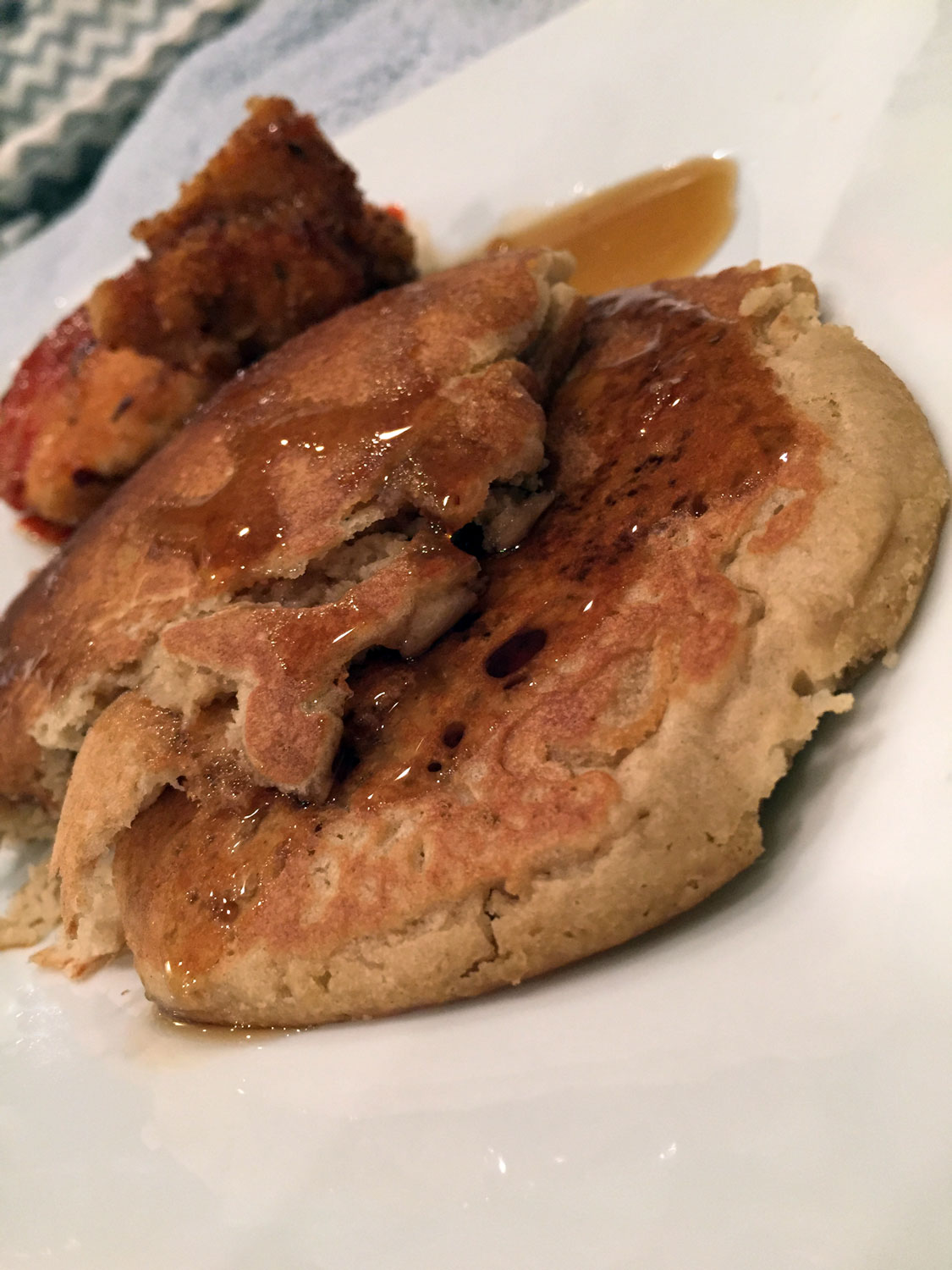 They are certainly different from your standard pancake. The result is a buckwheat type flavor, which we thoroughly enjoyed. The pancakes taste healthy and delicious. I love the flavor and you can pretty easily find a dairy/soy free syrup to go on top. No butter though unless you buy the dairy/soy free kind. But who needs butter – these pancakes taste great on their own!
And the last Enjoy Life product we tried was the Plentils, which are flavored lentil chips. We sampled the sea salt flavor, but you can also get other yummy varieties like himalayan pink salt, thai chili lime, margherita pizza, and moroccan spice. I really love these for snacking. If you've ever tried veggie straws, that's exactly what these reminded me of. They are very light and healthy. A quick, delicious snack option.
All of Enjoy Life's food products are gluten-free, and free from the top 8 most common food allergens including wheat, dairy, soy, eggs, tree nuts, peanuts, fish and shellfish. That makes it super simple to order and enjoy. They also make baking chocolates for you to enjoy, which are also Paleo Friendly.
Enjoy Life products will meet almost any dietary restriction including food allergies, gluten allergies, Paleo, and vegan. Check out their website to find the full range of products.
And there you have it. Our favorite dairy and soy free products. We are really hoping in the next couple months to start phasing some foods back in, so wish us luck! And to anyone just starting out on this journey, may the odds be ever in your favor.