Unlike America, shopping has stopped being great. And really, shopping was never truly great, just "sorta ok" when it's just Brittany and I. But after having Olivia join us? It's like we're on a countdown. Maybe there's a solution? Every once in a while, a product comes along that you didn't know you couldn't live without. DockATot, NüRoo Swaddle, Zipadee Zip, and now: the Binxy Baby Shopping Cart Hammock. It's just… so simple and game changing! But what is Binxy Baby, exactly?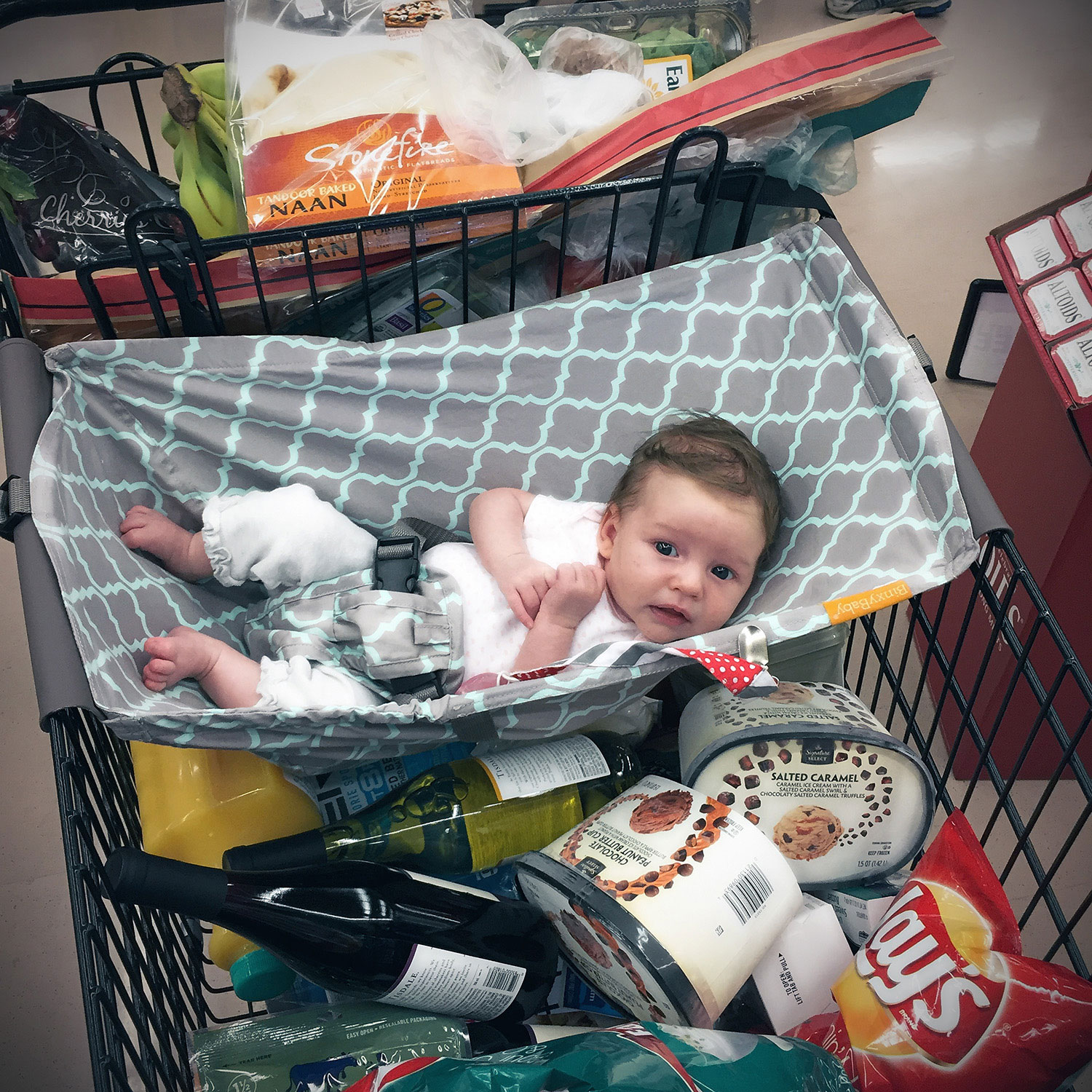 Introducing the Binxy Baby Hammock
The Binxy Baby is exactly as it sounds – it's a hammock that fits in a standard shopping cart to carry baby. And there are two ways to use it. If baby is small enough, you can simply buckle him or her in and go. And it looks just so comfortable! As well, you can simply set your infant seat in the Binxy, buckle up, and shop! Super easy.
We have worked hard to create a product that provides a safe and secure place for your baby while you shop. We are fully compliant with the US Consumer Product Safety Improvement Act (CPSIA). Safety is extremely important to us at Binxy Baby and we want you to feel confident about using your Shopping Cart Hammock.
But what we love most about the Binxy Baby is that it provides a safe place to keep baby when you shop. I can't begin to tell you how much I cringe when I see carseats perched on top of a shopping cart – but sometimes, that's the only option people are aware of. You can't fit a baby carrier in the cart along with your groceries. So it's that or push a stroller around, too. Not that it's a good choice, but I can see where they're coming from.
Binxy Baby Features
There are a few features that make the Binxy Baby super easy and convenient to use. The biggest of which is how small it actually is. It just rolls up nicely, so much so that if you were so inclined you could keep it in the diaper bag. We don't (instead opting to keep it in the trunk with our cloth shopping bags) but it's certainly an option. Another great feature are the velcro straps that attach between the rungs of the cart so baby doesn't slide back and forth. And this is worth noting – there are very clear instructions on which end of the hammock goes toward the front of the cart. We didn't try it the other way, but we couldn't see any functional difference. We're just rule followers. The last major feature is the dual use option we mentioned. When in use without the baby carrier, the belt for the carrier can be clipped underneath the hammock and thus out of the way entirely. And then obviously the carrier just sits inside the Binxy, covering up the extra straps used as a harness. Genius.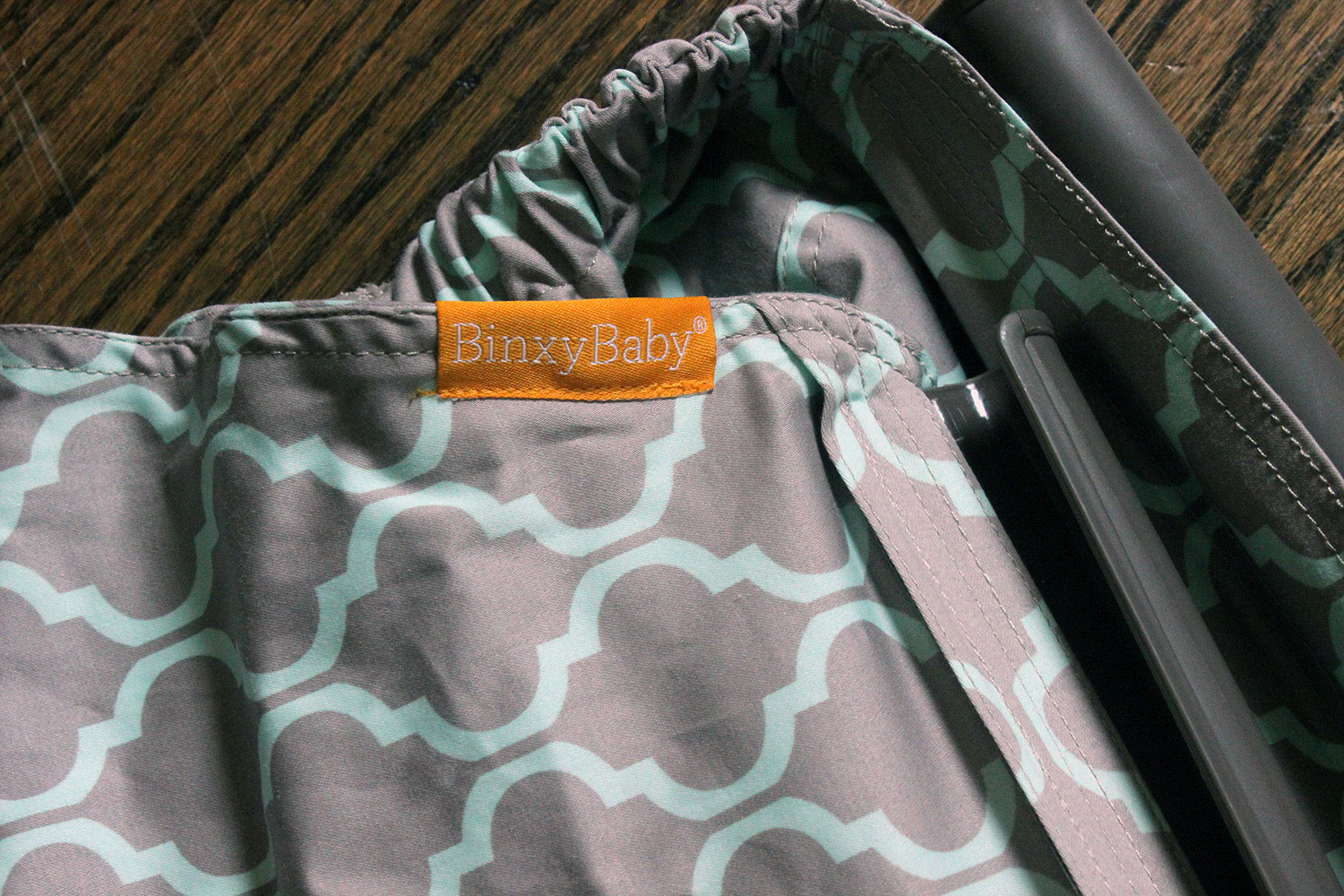 Our Takeaway
Binxy Baby is one of those products that is totally worth the $49.95 spend. Sure it can impede putting big boxes into the cart and it can make grabbing small things under baby difficult at times, but that is but a small sacrifice for safety and the extra room you get. No other product outside of maybe the DockATot has gotten so many questions and comments when used in public, either. It's unique and so cool looking with a variety of patterns to pick. In fact, when your Binxy Baby arrives, they literally give you a stack of business cards to give out. I Thought it was a bit much of a marketing ploy at first, but boy was I proven wrong. Every. Single. Shopping. Trip. We couldn't recommend this product enough.
Quick Note on Compatibility
We've used this in many stores, both as a pure hammock and with our Graco Snugride, which fits beautifully. If you're going anywhere with wire shopping carts, you know the typical ones, it'll fit perfectly. Basically all grocery stores, Walmart, etc. Target's big red carts also work perfectly. We used it at Costco and it was a touch stretched. We did it, but we wouldn't do it again. She was safe, but it certainly stretched it out.