We recently watched the Cubs finally break their legendary 108 year losing streak. What a series! The City of Chicago is alive with all the happy fans. As such, we decided to use this month's Degustabox for a time of celebration. First things first, let's show off all the goodies we found in the November Degustabox.
Here's What We Found In Our Degustabox: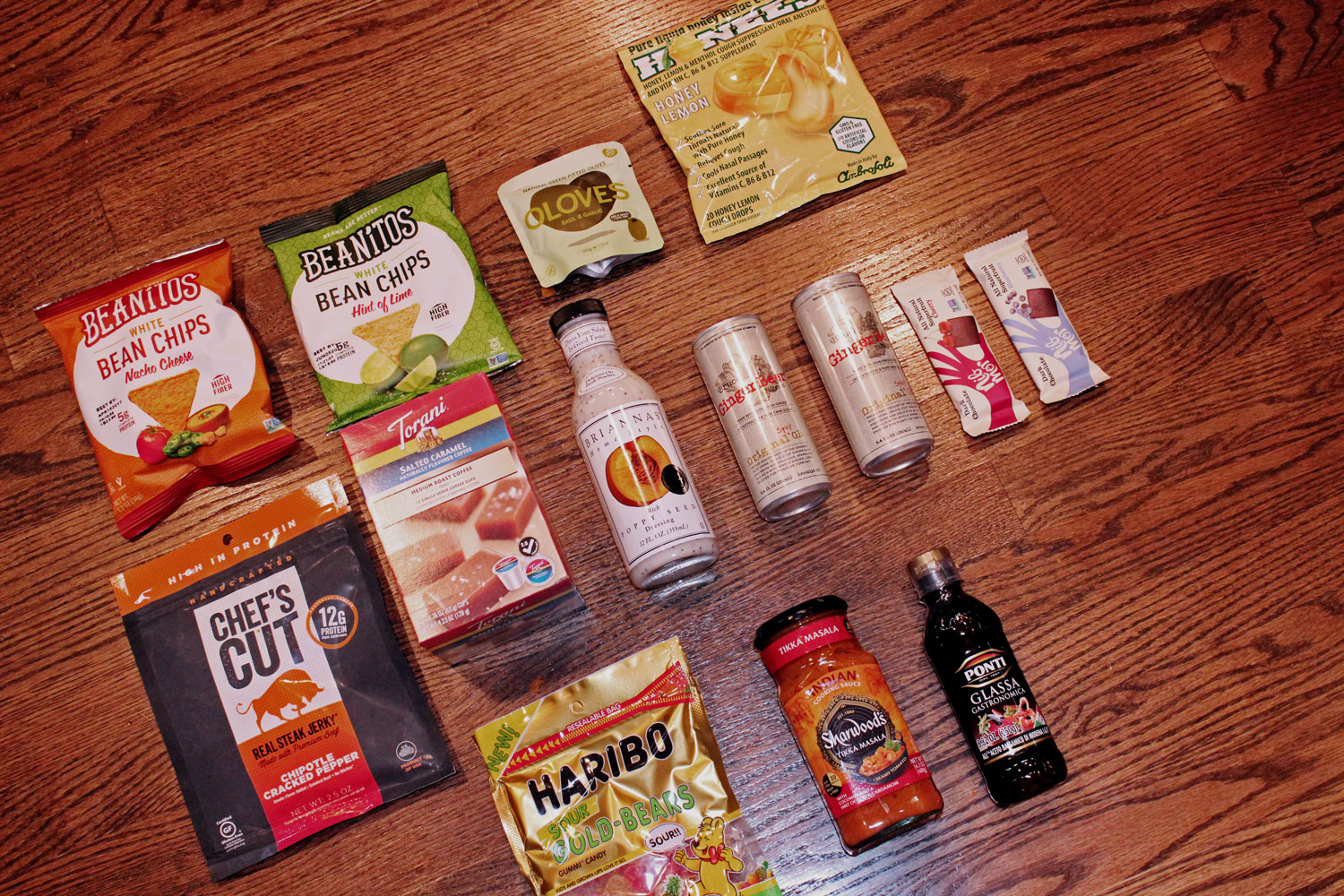 Beanitos – nutritious chips made with beans and packed with protein and fiber. We tried the Nacho Cheese and Hint of Lime. I love these things. I seriously found a new favorite snack item. They are healthy and delicious. I can't recommend these enough!
Bruce Coast Spicy Ginger Ale – see our delicious recipe below
Brianna's Poppy Seed Dressing – love that this dressing is healthy with no random fillers. And they offer a wide selection of flavors.
Sharwood's Tikka Masala Cooking Sauce – we love curry and this sauce makes dinner super simple.
Nibmor Dark Chocolate – we were sent blueberry and cherry. The great thing about this chocolate is all the natural ingredients.
Oloves – healthy and delicious. We tried Basil & Garlic. I love olives and this is a brilliant travel snack idea.
Honees Honey Lemon Cough Drops – we're getting into cold season, so these are nice to have around. And as far as cough drops are concerned, these are good ones.
Chef's Cut Real Jerky – beef jerky is so hot right now and this is a quality, handcrafted brand with mouthwatering flavors. Try the Chipotle Cracked Pepper!
Ponti Glassa Balsamic Glaze – for fans of balsamic vinegar, this goes with almost everything
Haribo Sour Gold Bears – sour gummi bears that come in a variety of flavors
As you can see, there were a lot of fun things to try this month. Now, how does this have anything to do with the Cubs winning the World Series? Even though one of us is an Indians fan, we live in Chicago. So we wanted to celebrate. This month's box set us up perfectly for a little post-game adult beverage.
This isn't so much a recipe given there are only 3 ingredients, but more of a "this is a great combo, you should really try it out" type thing.
Essentially we mixed a half can of Bruce Coast Ginger Ale (eyeball it) with a shot (or more depending on how rowdy you want to get) for a refreshing cocktail. Play around with the proportions to get a mixture that is to your liking. Top it off with a sprig of rosemary, which is totally optional, but we think it adds a nice fragrance and looks good visually if you're hosting a party.
Of course we can't leave the kiddos out! For a non-alcoholic version, mix a half can of the ginger ale with a splash of cranberry juice. It makes a great beverage for the upcoming holidays. And what we really love about the ginger ale is that it's made with 100% real ginger. No random extracts or anything of that nature. Try it out and let us know what concoctions you come up with!