Air travel can be stressful. Holiday travel can be even more anxiety inducing. Throw in an infant or tiny child? May the odds be ever in your favor. But with the right mindset and strategy, traveling to see family and friends over the holidays can be no biggie. We've got some tips to help you make it through the day!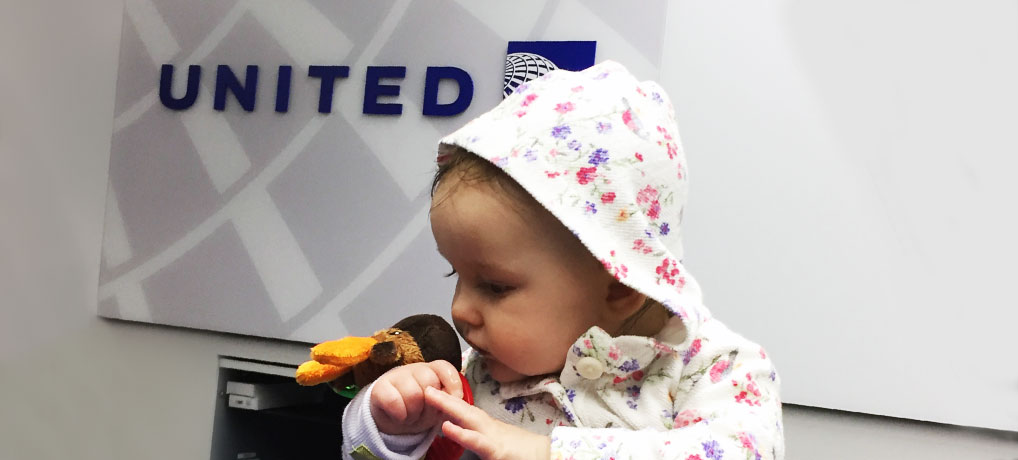 Budget Your Time Realistically.
Everyone knows you need to make it to the airport at least 90 minutes prior to your flight if you plan on checking a bag. If it's just a quick jaunt and are only carrying on, you can be pretty safe with just an hour. But remember: holiday travel means more people are on the roads, at the ticket counter, in the TSA security line, and at the gate. If you can afford the time, try to give yourself at least an extra 30-60 minutes leeway. Sure, if everything goes swimmingly, you'll have an extra hour at the airport to twiddle your thumbs. But if you experience some sort of set back? You can rest easy knowing you have the time and won't be stressed. Children can smell fear and react accordingly. Don't put yourself in that position!
Pack Light and Pack Efficiently…
Kids require stuff. So much stuff. So of course you're going to pack the entire nursery. Except you don't have to! Brittany and I constantly have to remind ourselves: they have stores where we are going. Absolutely, bring the essentials. But maybe don't bring the whole bulky thing of diapers and a whole box of wipes. Stop at the local grocery and pick up some for the time you are there. You'd have bought it either way, so why carry it across the country? Also, do you REALLY need a baby monitor for the hotel room? Skip out on 15 outfits for a 3 day trip – we know baby looks great in them all, but Dad looks silly carrying a ton of bags full of clothes that will never be worn and items that will never be used. Air travel is all about efficiency!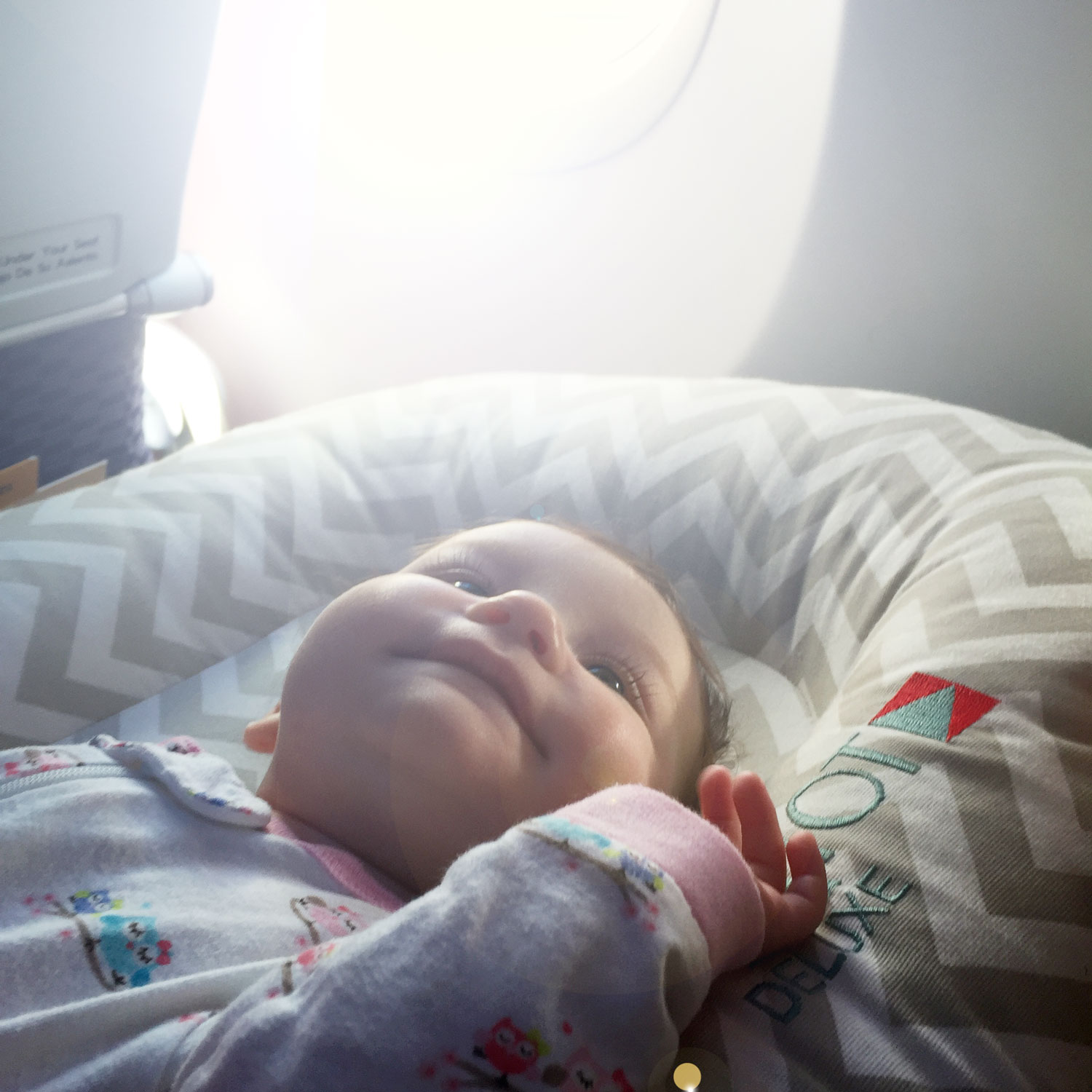 …but Pack for Emergencies.
From personal experience, one does not want to be in this position: half way through a five hour flight when the captain comes on the radio after turning on the fasten seatbelt lights. He instructs the flight attendants to stop beverage service and to buckle in for the duration. No. More. Moving. And then you hear it. Yup: a blow-out. And you're stuck. Thankfully, we planned in advance and brought some extra clothes, diapers, wipes, and a plastic bag to throw the mess into. It wasn't pleasant, but we survived it. Please, for everyone's sake: bring a sealable plastic bag or two for just such an emergency. You never know when it'll be necessary.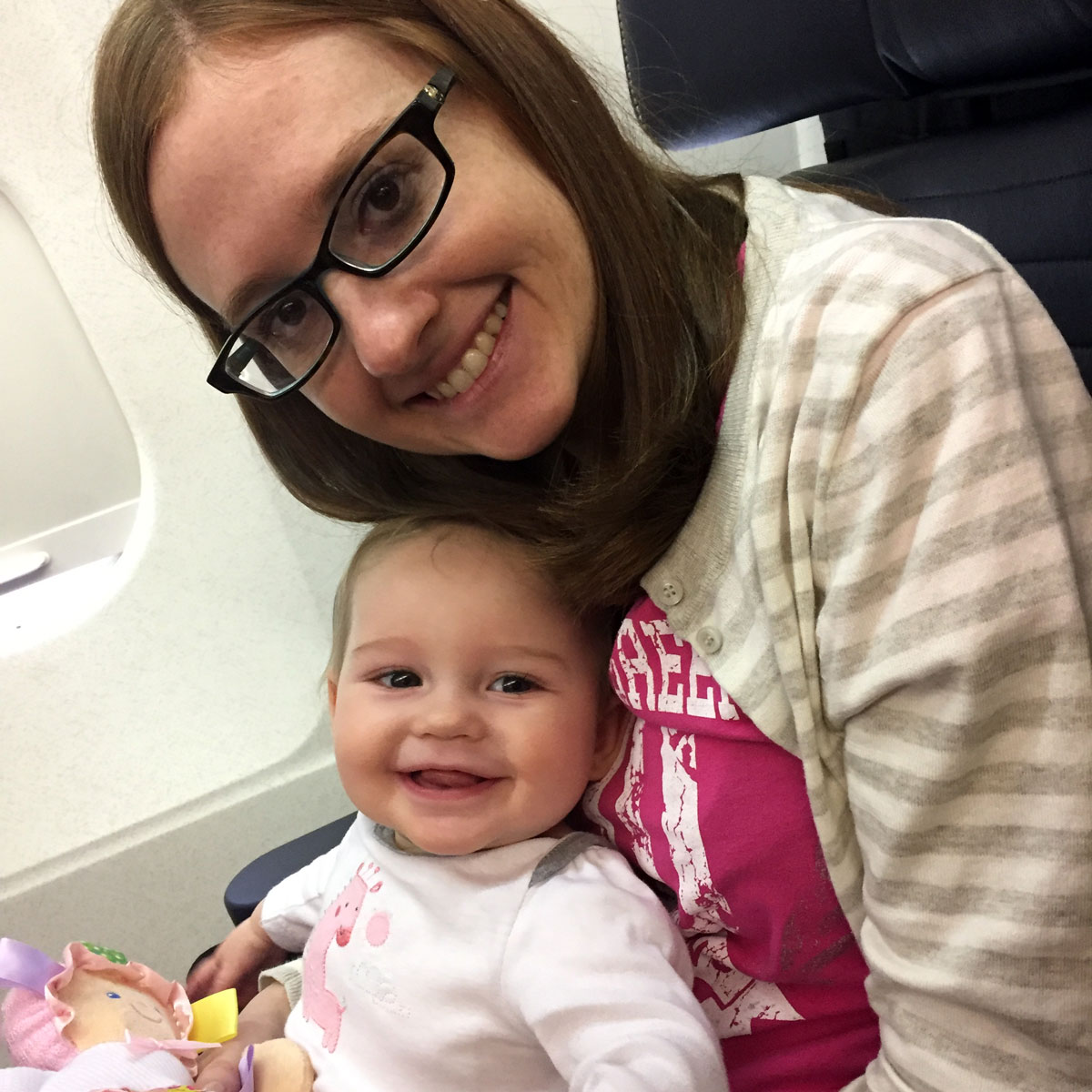 Know What to Expect.
There are a few things that are the same across basically all US carriers, legacy and budget alike to keep in mind. Air travel is nothing if not consistent.
You are able to bring an unlimited amount (reasonable for your trip, though loosely defined) of breast milk, cow's milk, and juice as a carry on, as well as an ice pack to keep it cold. Simply notify TSA and they'll do just a quick screen. Make sure to keep it in a separate bin so that you don't end up having to have your shoes and belt screened at the same time! Efficiency.
Strollers and infant car seats/carriers can be valet gate checked for free. That means you have your stroller when wandering from gate to gate to carry your extra bags! Just get the carrier tag from the gate agent when you get to your departure gate.
The whole stroller and car seat will need to pass through the x-ray, so make sure you have everything off/out of it before it's your turn. No one wants to hold up the line. As soon as we get in line, I put my belt, wallet, ticket, phone, and shoes in my backpack so all I need to worry about is unfolding that stroller faster than anyone has ever seen.
Families can pre-board! Just let the gate agent that you're traveling with a child under two and you'll be allowed to board the plane first to get settled. So much less stress!
You are able to carry a diaper bag in addition to your personal item, though this one DOES vary, so check with your carrier in advance.
Let the Milk Flow.
Take off and landing are the hardest parts of a flight for baby. Loud noises, tension on the plane, changing air pressure: all not fun things. So whether you are breast or bottle-feeding, have the food at the ready! Sucking easily distracts baby and regulates the ear pressure, plus if yours is anything like ours, she'll be asleep in no time. We usually try to space out feeding and make sure we're not doing it too much, but on the plane is our one true exception to the general rule. And just to address one concern we all have had at one time or another: on all of the flights we've been on, never once has anyone said anything about Brittany breastfeeding baby. It's relatively private by that window seat, so don't worry!
Air Travel Is Manageable!
You can do this! We promise. After that first flight with the kiddo, it's all down hill. Air travel with tiny children doesn't have to be hard and stressful if you plan it out (and are prepared for that plan to go to hell). The moral to the story: if you aren't stressed, your baby won't be stressed.
Happy travels! And if you're still anxious after reading these tips: get yourself a nice glass of wine on the plane. It's well worth it.