Winter is in there air! Like any normal adult, we decided to have some friends over to consume adult beverages and watch Harry Potter movies. Our only rule: everyone bring a dish and cocktail to share. The cocktail selections were easy: mulled wine and hard cider punch. Basically winter in a cup. Then we got to thinking what dishes could we make that would be fun and different. We decided on bourbon meatballs (because what's a party without meatballs?) and a mashed potatoes bar. This mashed potatoes bar was fun and easy to put together. It's so versatile that it would be perfect for any event. Friends coming over to watch football – check. Baby shower – check. Wedding – check. Birthday party – check. You get the idea. Of course feel free to put your own spin on it, but here's the basic format: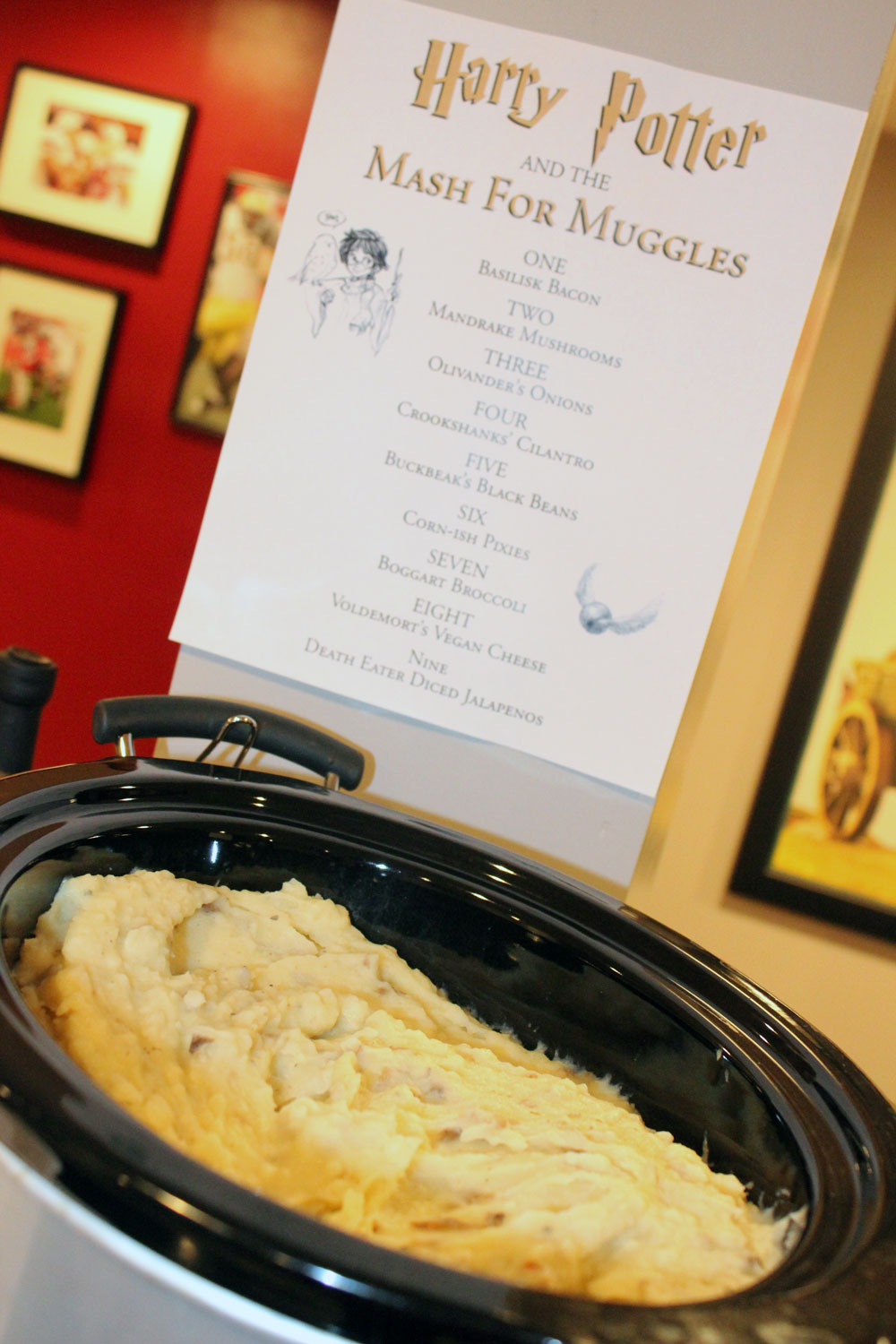 Mashed Potatoes: The Key Component
3 lbs russet potatoes
1/2 cup olive oil
4 garlic cloves
2/3 cup almond milk
2 tbsp white pepper
Salt to taste
We are working with a dairy allergy, so feel free to add a couple tablespoons of butter or substitute the almond milk for regular milk or heavy cream for a richer dish.
Directions
Wash and peel potatoes. Cut into 1/2 inch slices. Add to large saucepan and cover with water.
Bring potatoes to a boil, reduce heat, and simmer until potatoes are soft and easily pierced with a knife or fork. Potatoes will cook for 10-15 minutes on average.
While potatoes are cooking, heat olive oil and garlic in a small skillet about 3-4 minutes. Remove from heat.
When potatoes are done cooking, drain and run through ricer (or mash by hand to get the more traditional experience). Stir in almond milk, white pepper, and salt. Gradually add in the olive oil/garlic mixture until potatoes have your desired consistency. Drizzle any remaining olive oil mixture over top to serve.
And now for the fun part – it's time to pick out toppings for your mashed potatoes! This list is not exhaustive. Feel free to mix it up with your own flavors and style. But the toppings below should be a good starting point and provide some good inspiration. You could also go with a theme, Mexican (cilantro, salsa, ground beef, steak fajita slices, corn, guacamole), Italian (cheese, tomato, bread crumbs, basil, balsamic vinegar, salami), Greek (yogurt sauce, olives, sausage, feta cheese, tomatoes). Or you can just used what's in season. We included a little bit of everything at our party and it was fun to see the concoctions everybody came up with. The mashed potatoes bar was a hit and we hope yours is too!