As you know, we do a lot of traveling. So we're always on the lookout for kid products that work in our home as well as on the go. And when we find something really great, we love to tell other parents that may also be looking for a compact, portable solution. Except usually you find something that works either at home or while traveling, but not both. So we were super excited to try out The First Years Baby Minnie Mouse Feeding Seat. It's durable enough for regular use at home, and easy enough to carry with you while you're out and about. After taking it on a test drive for a few days, here's what we thought: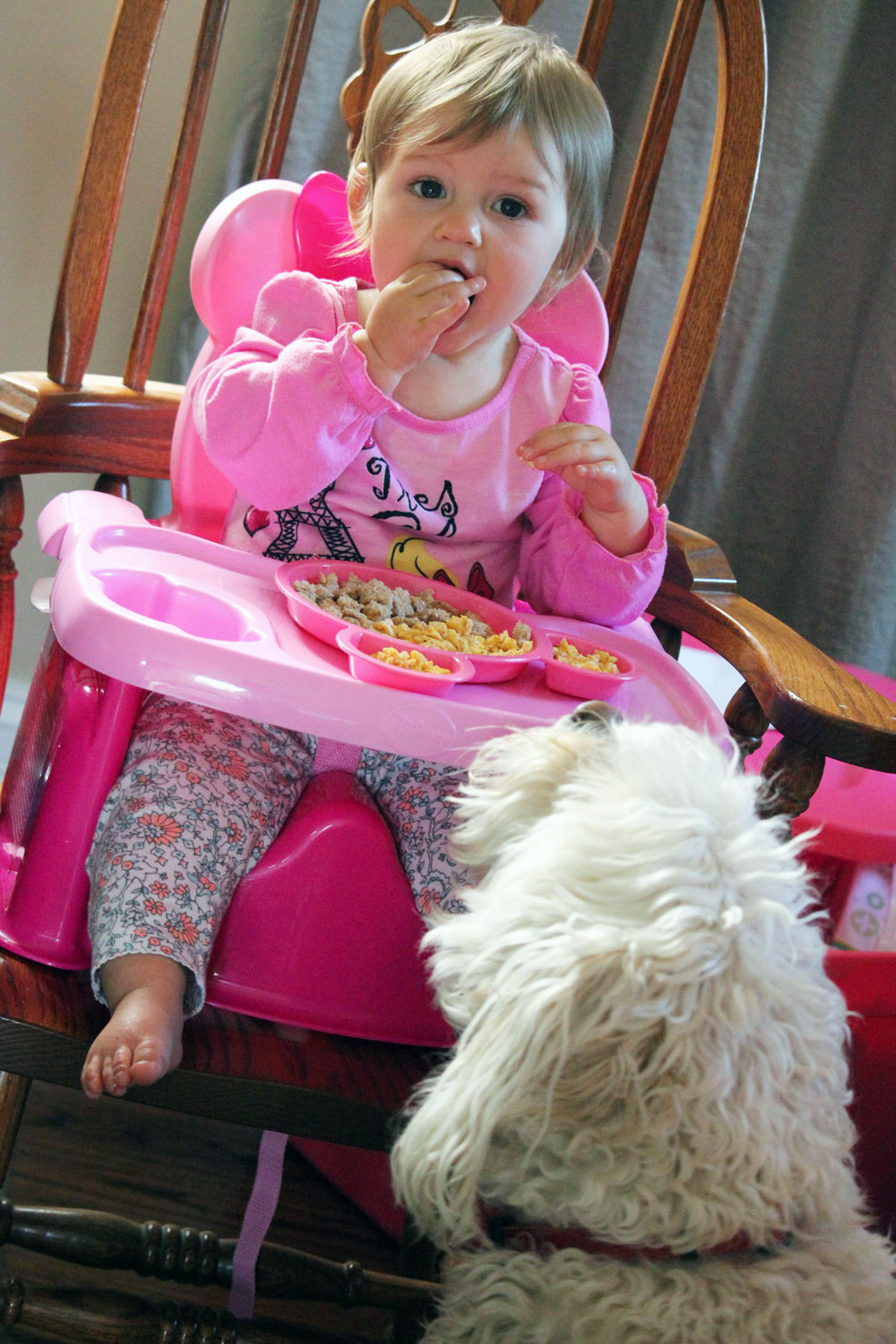 First Things First:
What are the Key Features?
Simple set up. It took virtually no effort to get this up and running. When you take it out of the box, you just click up the back and voila… it's ready to use. You of course need to strap it to a chair and put the tray on after the kiddo is comfortably seated.
The tray has a cupholder. And it's adjustable. Most people would focus on the fact that the feeding seat tray is adjustable, which is important in order to continue using it as your little one grows. We love the fact that the tray has a cupholder. Our last high chair did not. And it's just added convenience having somewhere to store milk.
Safety first. It has a three point safety harness to keep your child safely seated. If he/she is anything like our girl, you will need it to counteract all the squirming and attempts to escape.
Easy storage and travel friendly. When not using it, you can simply fold down the back and it becomes much more compact. The fold down feature also makes it convenient for travel.
Cute design. The design is adorable. It's Minnie Mouse and it will likely make you very popular with your little one. We love the little ears in back. We can't exactly test out the comfort level ourselves and we have a one year old, so she can't tell us. But the seat is contoured so it looks comfortable enough to us! It doesn't have any cushioning, but we were ok with that (see next point).
Super easy to clean. This booster is SO easy to wipe down and keep clean. There is no additional padding that needs to take a trip through the washer and you don't really have to worry about stains. The whole cleaning process takes maybe 90 seconds and we love it.
What's Our Favorite Feature
On This Feeding Seat?
This is a tricky one because there are a lot of great things about it. But if we were to pick just one, it would be it's awesome ability to stay clean. Our previous high chair was a complete and total mess. there was just no way to keep it clean. Partially because it had padding on it and we weren't about to wash it every day. Most days our house looks like a tornado swept through after Olivia gets home and pulls out all of our toys. So if we can make even one little cleaning duty easier during our day, we'll chalk that up as a win.
Is it Truly Convenient for Travel?
It depends. Would we take this on an airplane with us? Not a chance. It's compact, but still has a little bulk to it. It's not really a plane type product. But where we would take it with us is while traveling places via car. It folds easily so it really doesn't take much room. It's perfect for short trips to visit relatives. It's also great for taking along on vacations – especially when renting a condo or Airbnb.
How Does it Grow with your Little One?
Another key factor when picking out a feeding seat is how long you'll be able to use it. You can start using this when your baby is 6 months old. And you'll probably want to pack it away when they reach 50 lbs. So we'd say you can really get your use out of it. When your child is a little older, you can remove the tray and push the seat right up to the table.
Would We Recommend
It Over Other Models?
Yes – it gets our seal of approval! There are fancier models out there, but they aren't easy to store and are often time consuming to clean. This feeding seat is simple, compact, and easy to clean. And kids get to admire one of their favorite Disney characters at mealtime.  It's a win-win for both parents and kids!
We received samples from The First Years to help facilitate our review, however all opinions are our own!