We did it, ya'll! We bought a camper. And in the interest of total transparency, we never really intended to buy a camper this year. We only started talking about it a month ago. And here we are – the proud owners of a 2021 Coleman Lantern LT 17B. We couldn't be more excited about it and the upcoming adventures (which will be fully documented, stay tuned!). Ultimately, we knew flying wouldn't be in the cards for awhile, so we're hitting the open road. But first, we wanted to help some of you out if you're considering this camper.
When we first started looking at it, we could only find basic information and pretty scarce reviews from other owners. It's a new model, so this totally makes sense. But as someone who wishes there were less formal product images and more first hand experiences, I felt it could potentially help in your decision making process. So without further ado, our tour and review of the Coleman Lantern LT 17B travel trailer. That's a mouthful.
Best inside features of the Coleman Lantern LT 17B
We bought the Coleman Lantern LT for a really long list of reasons, but one of the biggest is that it truly makes excellent use of space. It has everything we need without being over the top (who needs a house sized refrigerator anyway?). But there are some features that really sealed the deal for us.
Bunkhouse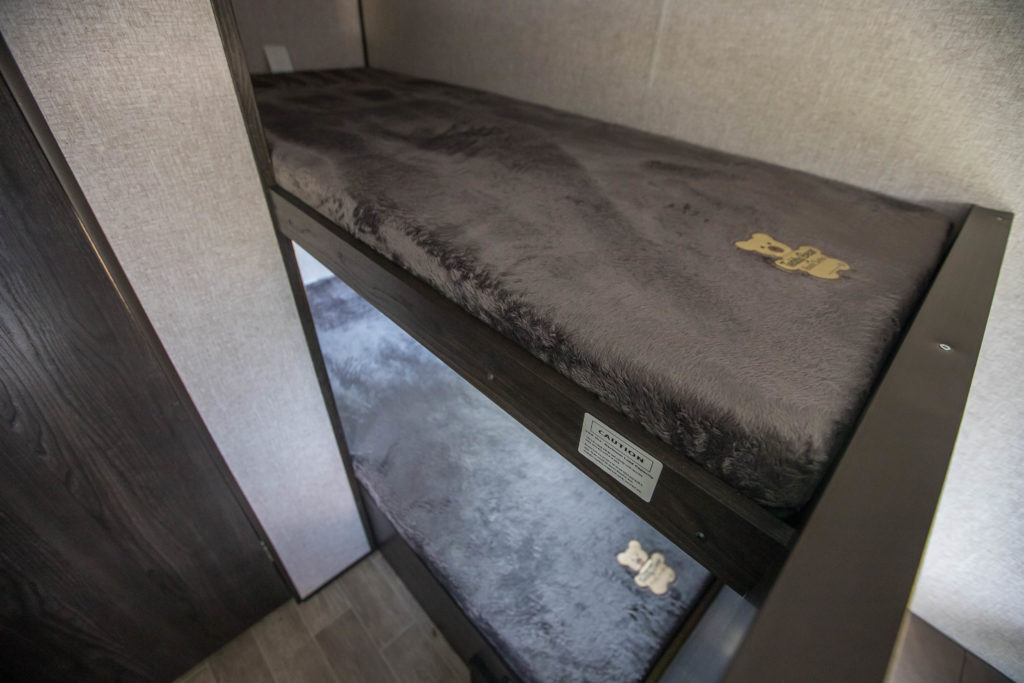 This was at the top of our priority list. We wanted the kids to have space they could make their own rather than pulling out a sofa or rearranging a table anytime they wanted to relax, nap, or go to bed. The Coleman Lantern LT travel trailer has one. It's size-able enough for young kids to sleep and also have room for their toys and books on their beds. Plus, plenty of wall room to hang storage by their beds. Thanks Target for the super affordable toy storage solution. The mattress is thin and it feels like it may be a little claustrophobic for adults, but for kids, it will do the trick just fine. It's only slightly smaller than a twin bed, so they'll hardly notice the difference. Only the person on the bottom bunk gets a window, so the two bunkmates will have to duke it out.
Related: RVing on a Budget (How to Save Money on your Next Camping Trip)
Queen master bed
Speaking of beds, with the Coleman Lantern LT 17B travel trailer, you'll get a big queen bed. It's plenty big. Like it literally takes up a third of your camper space, which we were totally fine with because we wanted a big comfortable bed. Only, we had to make some adjustments to make it comfortable. The mattress it comes with is garbage and if we were to recommend one purchase you get right away, it's a new mattress to put in there.
Pro tip: even though it's a queen bed, it's actually a queen short (so it's a couple inches shorter than a standard queen). When you purchase a mattress for it, make sure you get the queen short size.
We tried getting away with a standard queen, but quickly buried that idea because it will get bent and ruined. We went with the Cool Gel memory foam mattress which was actually pretty affordable and SO comfortable. The bed is right under the air conditioner unit, which is really nice when its hot out.
There is storage if you lift up the end of the bed that borders the table. Definitely a nice to have. And the other half of the bed also has storage (it's just the kind you access from outside the camper).
Table
It's your standard kitchen table, but it can seat 4. We like the bench seating because it's easier for small kids. You can corner them inside so they can't squirm out of their seat and run around during mealtime.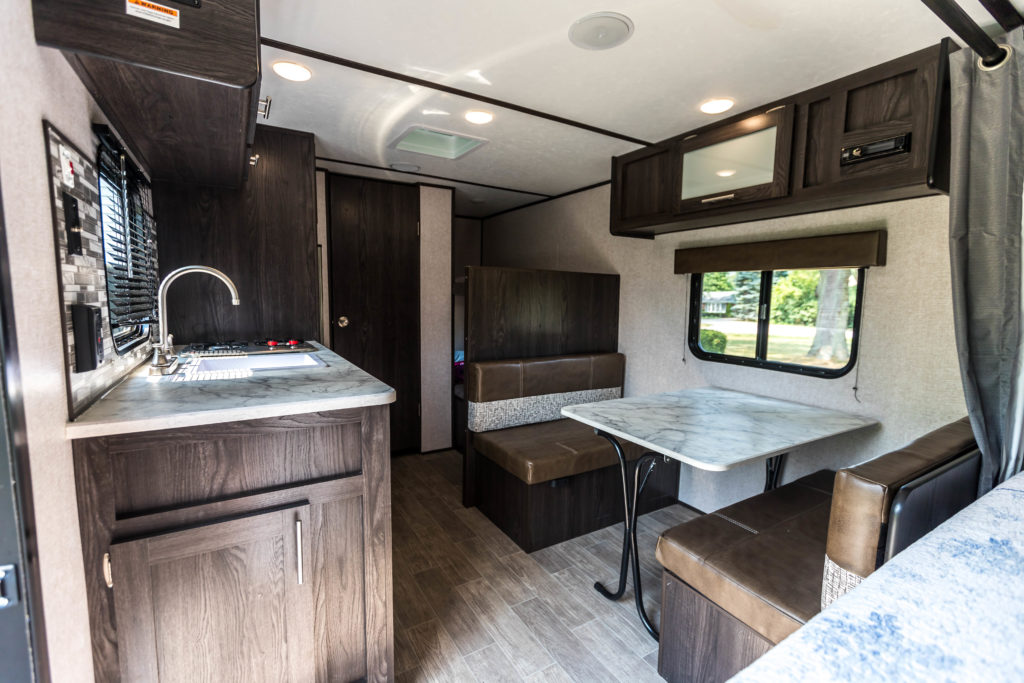 The bench seats also have storage underneath them, which we fully plan on using. It's great for big kitchen items like pots, pans, storage containers, or even an instant pot. The table also folds down into a bed (for those counting – this clocks the sleep count in at 5). Truthfully, the number of beds was one of the most important things for us because we plan to be outside the camper a lot during the day. So ensuring we had adequate sleep space was the goal. Oh, and if you use a portable crib, it fits in the table space!
Kitchen
The good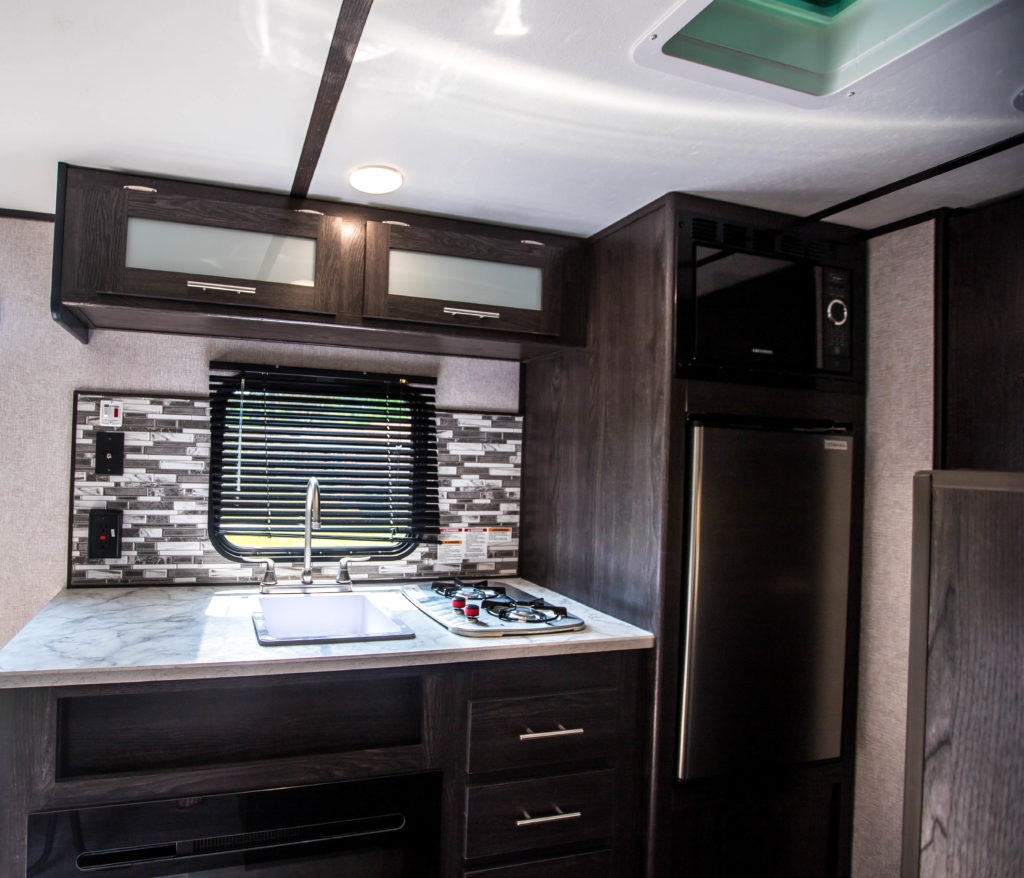 The kitchen in the Coleman Lantern LT 17B is fairly bare bones. But from our standpoint it's all you really need unless you are doing some heavy duty cooking. And it's comparable to other travel trailers of a similar size. You get a refrigerator (and a teeny tiny freezer at the very top). The fridge is small – you would only be able to fit a gallon of milk if it's on it's side (speaking from experience on this one). So we got one of the Yeti coolers (ah-mazing) to fit some additional cold foods that we want to keep frozen. And the fridge alone is a bit too small to completely meet our needs.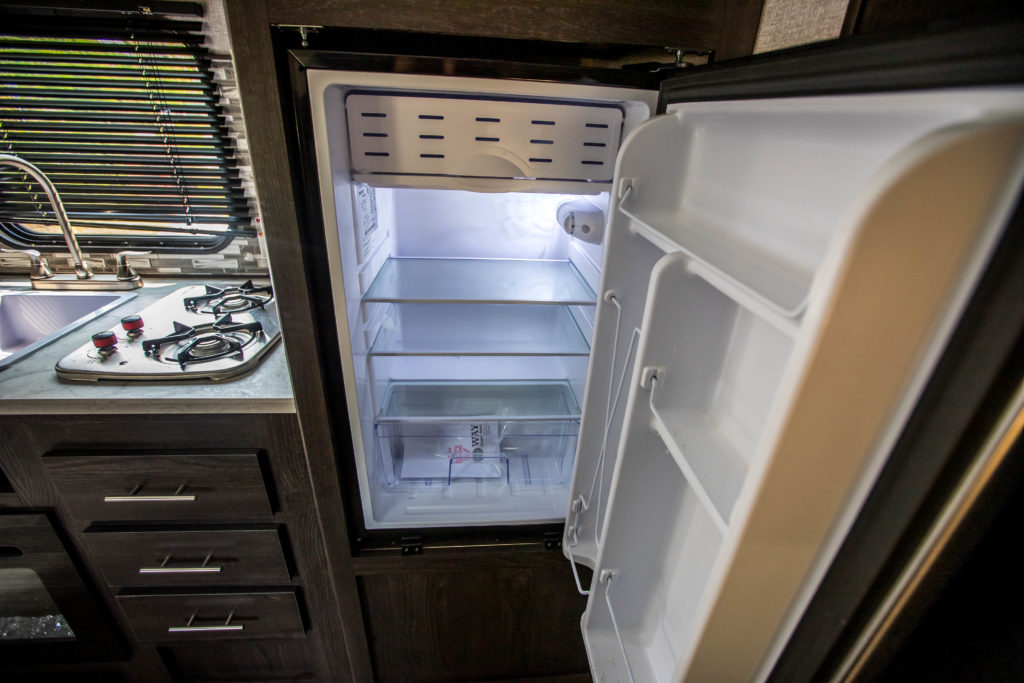 There is also a microwave above the fridge. And a two burner stove. Some campers have 3 burners, but honestly, I can't see us ever cooking three things at once, so this seems like a super non-dealbreaker. Plus, we found one of the infamous Instant Pots on sale and plan to do majority of our cooking in that. This is also a good place to point out the fridge runs off your camper battery and the stove runs on propane, so if you plan on doing any boondocking, you can use both without being hooked up to electric (as long as your battery is on).
And of course you have your sink in there as well. Above the sink is storage and this is where we plan on storing all of our dry foods. And you have three little drawers. They aren't huge but they will do the trick for utensil storage. There is no real spot for kitchen towels, fruits/veggies, paper towels, spices, etc. (stay tuned for countertop space), but there is some wall space next to the fridge, so we plan on command hooking a lot of those items.
The bad
The counter space with the Coleman Lantern 17B floorplan leaves a little to be desired. And that's putting it mildly. It's pretty much non-existant. You have one countertop – so use it wisely! The cable hookup is right beside this countertop so some people probably have their tv here. But then you have no space for food prep, so we nixed this idea. We plan to use it for our espresso machine, which is very compact. And then leave the space open for food prep. We also bought a Chemex pour over coffee maker, which we are VERY excited about (and already made a few cups – totally can attest to the quality!). So we can store it away and not have a bulky coffee maker taking up space.
Related: Installing a Tile Backsplash in an RV
Bathroom
The good news is that you have a shower and a toilet and if you don't want to use the community campsite facilities, you don't have to. The bad news is that the bathroom is very tiny. If you are taller than 6 foot, you are going to have to slouch down a bit in the shower because it's a low shower.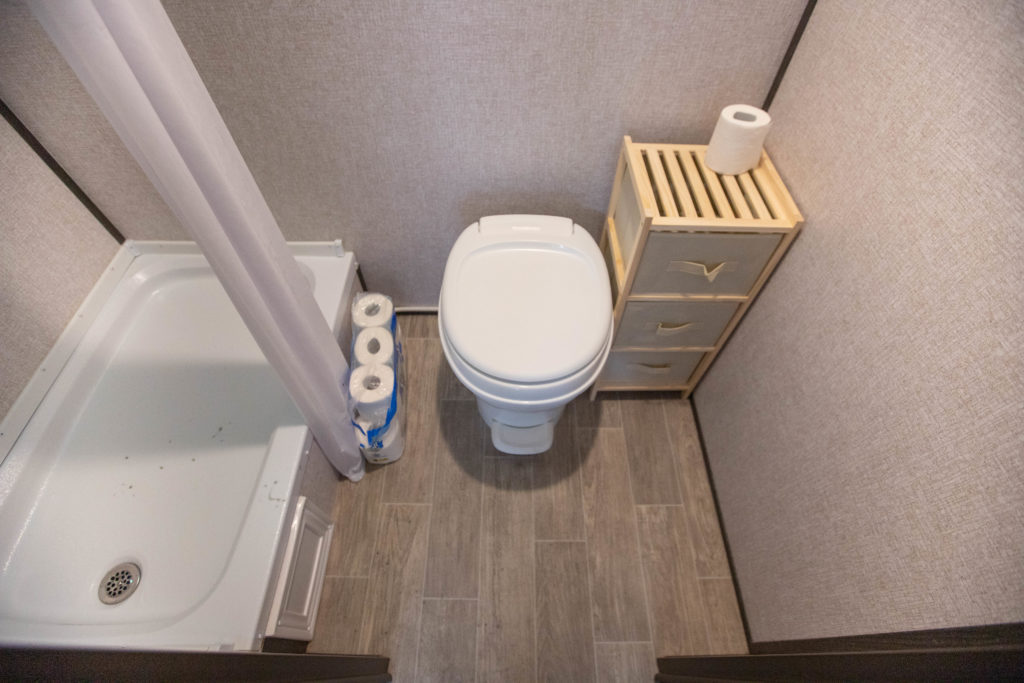 The toilet is a toilet, nothing really to write home about. And there is no sink in the bathroom. So, not super ideal, but you can use the kitchen sink. Also, there's no storage so you'll have to squeeze your own bathroom storage in. I searched high and low, and we found these storage drawers, which fit just perfectly.
It's also a bit of a tight fit sitting on the toilet with the door closed, but meh, not our top priority so we'll deal.
The extras
A fireplace?! Yes, there's a fireplace. Really it's where the camper heat comes out of. But you can also put it on ambiance mode and it shows the fire, but no heat comes out. It's excessive, but also fun.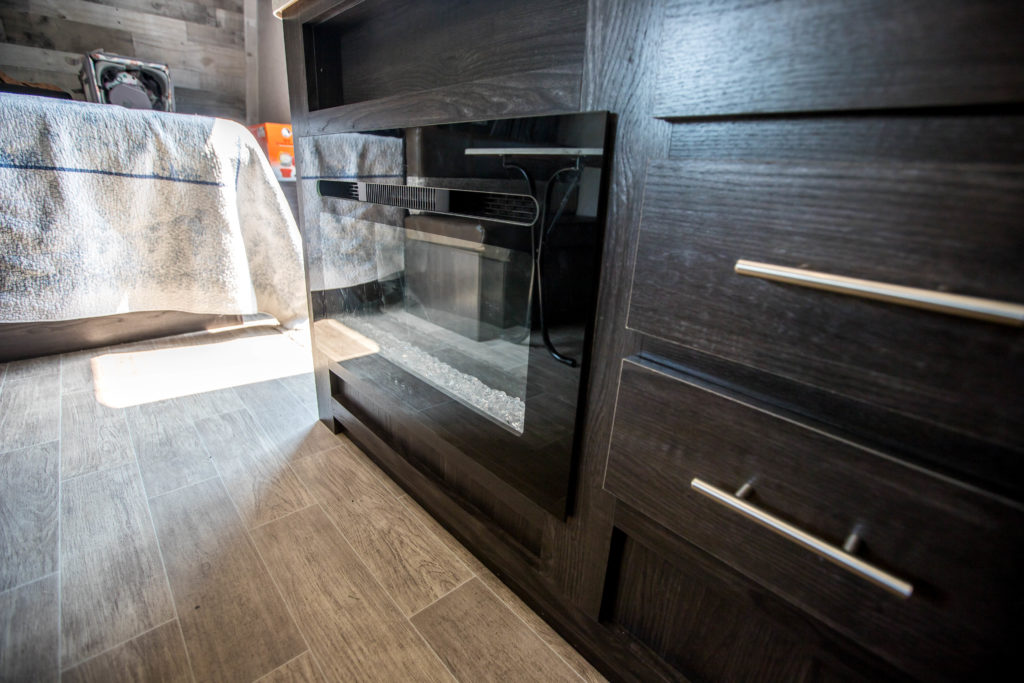 There are a few outlets in the camper: by the bed and by the sink. You'll have plenty of places to get charged up. Though, there's not one by the table and that's my only critique there.
Above the bed, there's a shelf so you have some extra storage place if you want it. Maybe for your clothes since there isn't a great place to store clothes. Or maybe for decor. Either way, it's an additional space you can use.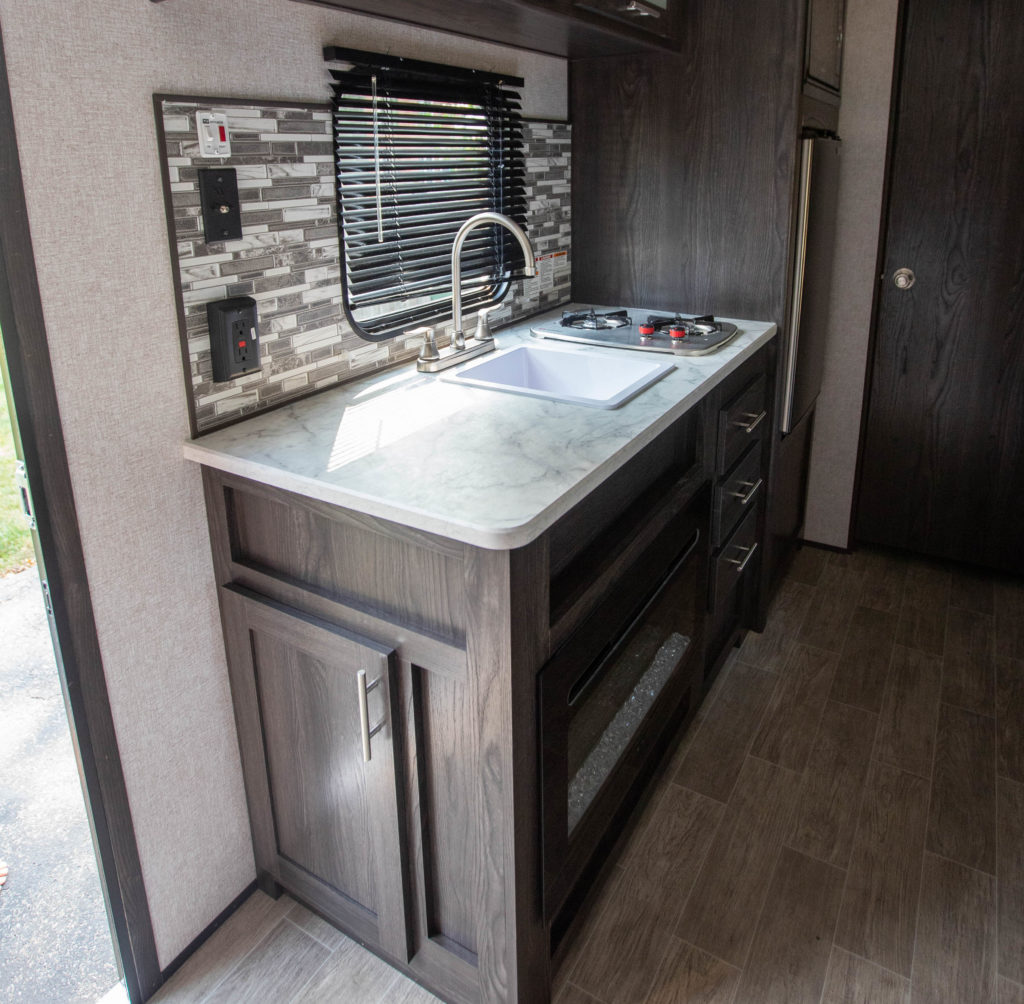 And one small, but nice, feature is the trash can storage. There's a cabinet that opens up by the door so you can store the trash can. It's nice so it doesn't get in your way. And not something a lot of other RVs have.
Our favorite outside features of the Coleman Lantern LT
The specs
Now on to the more boring (but likely the most important) features of the Coleman Lantern LT 17B. The weight is 3042 pounds, making this thing super lightweight. In all honestly, that was the most important consideration for us. We wanted something that would be easy for a Ford Explorer with a 5000 lb tow capacity to haul. If you are anything like us as you have an SUV with a comparable tow capacity, you'll likely need to stay below the 4k lb range. And this will do the trick. It's also smaller in length as far as RVs are concerned, clocking in at 21'5". This is good news because you'll be able to fit in most all campsites. It's a 30amp hookup and to power the air conditioning and outlets, you'll need to be connected to electric hookups.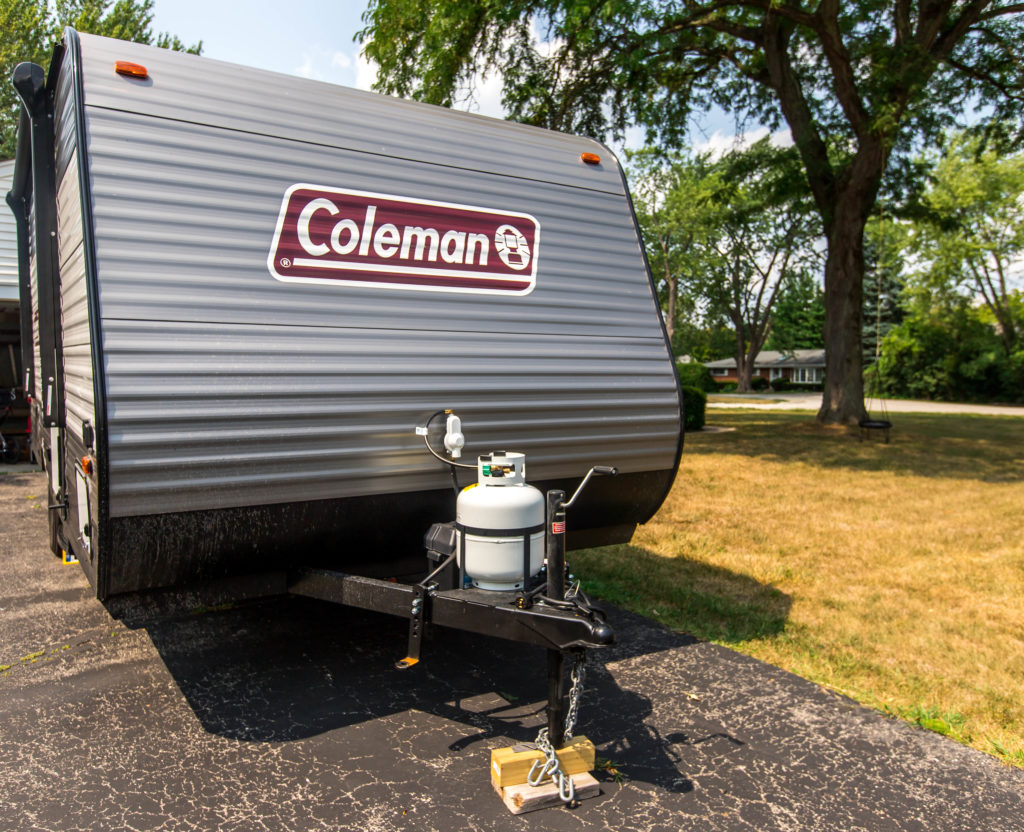 There's a 28 gallon grey water tank and 28 gallon black water tank. And a 6 gallon water heater. More to come in future posts on how the water heater works in practice. The quality of materials used to build the Coleman travel trailer, well, let's just say they aren't top of the line, but they'll do.
Awning
We were THRILLED to have an awning. Nothing overly fancy about it. It's your standard awning. The awning is 10 ft and is power retractable. You can control the angle of it, so you'll stay dry in inclement weather. Not much else to say here other than it's pretty simple to use. Oh, and there are no lights on the awning, which is a bummer. You'll have to add your own. Our like in our case, the Christmas lights get another time to shine.
Pre-wiring Prep
Since most of the Coleman Lantern LT 17B comes with the basics, you won't get a ton of extras. But I can't imagine you'd get these things with most campers. However, it does come pre-wired for several features you may want to add.
Backup Camera
This was one of the very first things we purchased for our camper. Unless you are a pro at backing up with a travel trailer, you may want to strongly consider a backup camera as they can help IMMENSELY. Important note here: the Coleman Lantern LT 17B (and in fact, I think most Coleman travel trailers) comes pre-wired for the Furrion backup camera. But, they are very expensive and we recommend going with a more affordable option. Don't let the "Furrion pre-wiring" fool you. We read many reviews and followed advice from others with Furrion wiring. You can get a backup camera from a different manufacturer, but you may need to do a little additional work depending on the type you get.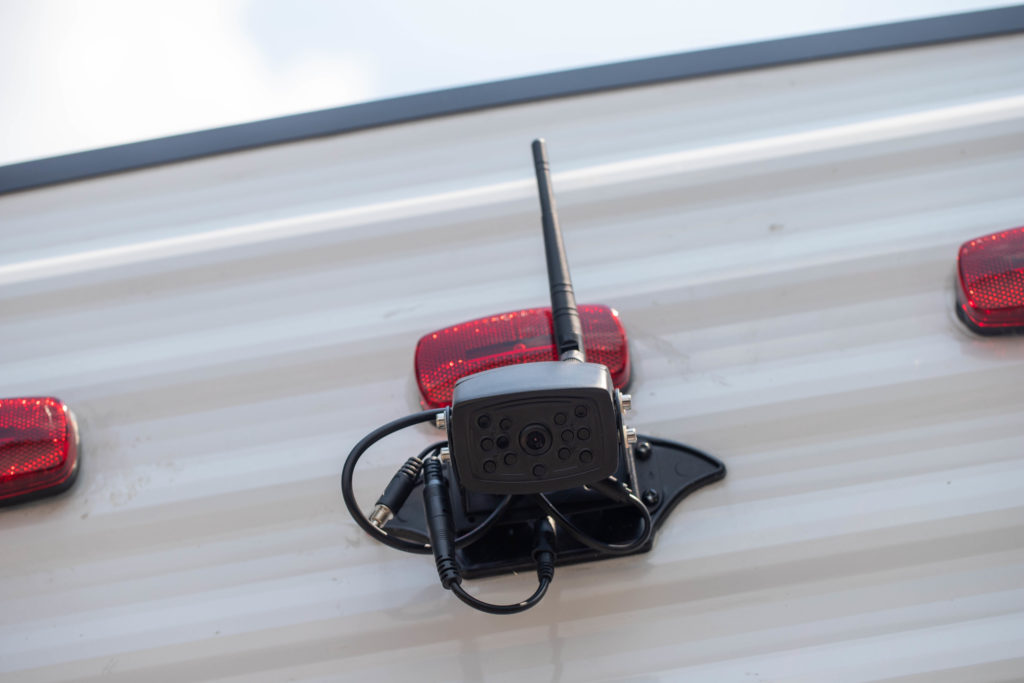 We can recommend the AMTIFO Wireless backup camera. It came highly recommended on Amazon from a bunch of RVers with the Furrion pre-wiring and is only $135 (Furrion is upwards of $400). And if you get this bracket adapter, you really don't need to do much extra.
Solar
We went back and forth on whether to get solar panels. And we landed in the camp of waiting, but it's probably something we'll add eventually. This is again pre-wired for Furrion, but I'm given to understand it functions much like the backup camera. If you get the proper adapter, you can spend considerably less. From my research, Renogy seems to be the most popular pick and is only about $130.
Price and similar brands
While that concludes our Coleman Lantern LT 17B tour, I wanted to touch on price and whether you can find a similar floorplan through any other brands. First, price…
Price is one of the biggest selling points of Coleman travel trailers. The 17B Coleman model is selling for less than $15K in most places. Ours was in the neighborhood of $11K. But for transparency, know that the final price was a bit higher. There are additional options you can add on like the warranty and the weatherproofing. We did both. The waterproofing actually applies to both the inside and outside. It's a coating on the outside to protect against in-optimal weather conditions. On the inside, it will protect against stains. You can also add on the tow package. And then you add in the taxes, registration fees, etc. and you have a little extra. So just keep that in mind (I had to keep reminding myself to throw a little extra on to the base price while RV searching). You can also purchase the Good Sam membership, which in our case came with roadside assistance and all the club benefits (the main one being 10% off campground fees).
Similar brands/floorplans
If you are super duper in love with the Coleman Lantern LT 17B floorplan, but you can't find one in stock (it's hard – we know firsthand), you do have some other options. Coleman Lanterns are actually under the Dutchman brand. And Dutchman makes other travel trailers with the same floorplan – check out the Kodiak Cub 175BH and the Aspen Trail LE 1760BH. We were SO close to actually buying the Aspen Trail camper. All these have the same floorplan so we weren't tied to a specific one, we just wanted the first we found in stock (did we mention travel trailers are selling like hotcakes and it's super hard to find one?).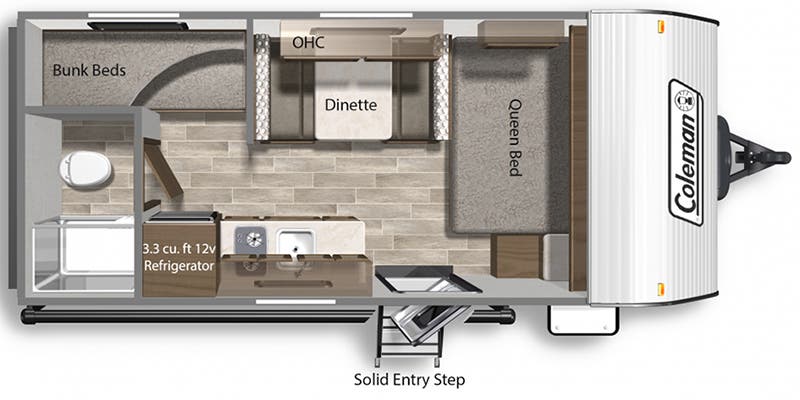 Two others that aren't under the Dutchman brand are the Jayco Jay Flight SLX 7 174BH and the Wolf Pup 16BHS. The Wolf Pup was the one we first saw that caught our eye, but it was very hard to find one in stock.
Are we happy with our Coleman Lantern LT 17B?
We've owned our Coleman Lantern LT 17B for about a month now, so I can't give a truthful, complete answer on this one. We've taken it out camping and so far, we love it. It has all the features we really need and I don't see the need for more space. We want to travel all over the country with it, so we want something light and easy to tow. The Coleman Lantern travel trailer fits the bill. In terms of durability, we'll have to give you a follow-up after some real, hardcore use.
Don't just take our word for it – join a group on Facebook that we're members of, the Coleman Lantern LT 17B Owners group. You'll find owners of this camper and conversations about towing, modifications, fixes, etc. It's a great group of people!
Follow our camper adventures
Speaking of, we are planning a month long trek in this guy. We'll be vlogging the whole thing on our Family on Standby Youtube channel. If you want to see more of this camper in action and how we organize the space. Or if you want camping with kids tips. First time RVer experiences. Whatever the reason, we will be showing it all. And probably quite a few stumbles along the way (did we mention we are first time RVers?).
Follow along and let us know what you want to see! Here's our full Coleman Lantern LT 17B video tour (along with the reasons why we chose this camper:
For More Family RV:
Our First Jellystone Park Experience
12 Camping Activities Your Kids Will Love
Books to Get Your Toddlers Excited to Be Outdoors
Harvest Hosts Review: A Step-by-Step of the Experience
More Camping Tips on our Family on Standby Site:
Questions to Ask Before Buying Your First RV
9 Best Family RV Trips for Kids Who Love Being Outdoors
30 Stylish Camper Ideas from RV Pros
15 Fast & Easy Camping Meals for Kids (That the Entire Family Will Love)
14 Tips: What We Learned from Tent Camping with Toddlers for the First Time