If it sounds a little too good to be true – camping at wineries, breweries, and farms…been there. I was skeptical. That's why I wanted to give you my full (unfiltered) Harvest Hosts review. Before our first Harvest Host stay, I was curious about things like "how flexible are they with arrival/departure times" and "do the spots fill up fast"? Now that we have 7 Harvest Host stays under our belt, we have it down to a bit of a science. And here's what I'd tell you:
First Step: Purchasing the Harvest Host Membership
Before you can start planning your winery hopping itinerary, you'll need to sign up for a membership. You can see locations of all the host locations before signing up. But access to the host names isn't available until after you sign up.
When you sign up for a membership you can choose the Harvest Hosts Classic Plan ($79/year) or the Harvest Hosts + Golf Plan ($119/year). We opted for the classic. One note on pricing – they always run discounts so chances are you can get a lower price. Or you can use our referral code to save 15% off your membership. (Quick note on that: we also get a bit of a reward if you apply through our link! Enough to buy us a glass of wine at our next Harvest Host stop, so we really appreciate the support!)
Be sure to also check out our guide to RVing on a budget for other memberships that can help you save.
Who can and can't stay at a Harvest Host? Many hosts accept vehicles of any length, but some have size restrictions. So if you have a large RV, be sure to check the host page. The only other restriction is that your RV is self-contained (aka a toilet and your own cooking facilities).
Next: Make a Harvest Host Reservation
After you buy your membership – the fun part! Browse the map of all host locations and choose the one you want to make a reservation. Each host page on the Harvest Host website has information on how to make a reservation.
In our experience, most hosts require you to call to make your reservation. And they were very responsive. If I left a voicemail, they would call back within an hour or two. And most people who answer the phones are able to take the reservation – no phone tag!
Harvest Hosts is now rolling out an online booking system for some Hosts. Click on a location from the Harvest Host location map and they'll have a link to the online booking if they are participating.
Here are a two questions I had during the reservation making process and how it actually worked:
Do locations fill up fast?
Before buying a membership my fear was that locations would always be full and I'd never get to stay anywhere. In practice, this rarely happened. Of the 9 places I called only 1 was on the date I requested. A couple others had guests, but were very flexible and said they'd make room for us. It depends on the host, but the main takeaway here is that if you call in advance, you should be ok getting a spot.
How far in advance do I need to book?
The other factor that goes in to getting a spot is your timing. The Harvest Host website encourages members to make a reservation no earlier than 2 weeks in advance. The reason being majority of hosts don't have a reservation system like a campground would. So it would make organization hard for them if everyone called months out.
My first few reservations I called a week in advance. One was full and the others said we got the last spot. So I started calling right at the two weeks out mark. I never had problems getting a reservation at that point, but when we arrived hosts said they had to turn people away. So two weeks seems to be the sweet spot.
And Then: Plan Your Visit
There's not much that goes into the planning process since you are bringing everything with you. To partake in a winery or brewery tasting, a farm tour, etc. you don't need to arrange it in advance. Hosts know most guests will want to do these things and they are flexible accommodating when you get there. Some even do tastings after hours!
Getting directions
For our 7 stays, we relied on Apple Maps to get us there. Turns out – that was a mistake. Some are pretty easy to find. But there were at least 3 instances of locations off the beaten path. Hosts admitted it was common and they are always willing to offer up directions. A couple had us call when we got close so they could help with directions. If you aren't totally sure – always ask. No one ever wants to pull their camper through 10 miles of hilly, dirt roads.
Asking about arrival times
I honestly didn't think about this until after buying a membership. While most hosts are flexible and they understand things come up (especially when you're road tripping), they do run businesses. Some are only there during business hours. Some allow later arrival times if their business is also their home. But it's something to keep in mind. Almost all Harvest Hosts wanted us there by 6-7pm. And it was a challenge some days. Full driving days. Kids. Food stops. Kids. Pulling a camper. Kids.
Finally: Arrive & Stay
Let the good times roll. Here's the part where you show up to your Harvest Host location. And of the seven Harvest Hosts we stayed at, they all told us the same thing upon arrival:
"Take your time getting set up and once you are comfortable, feel free to join us"
Super thoughtful. After a day of driving – all you want to do is get everything set up so you can relax for the rest of the day. They all let you do your thing and then invite you to come unwind a bit with them. Some even give you some info on arrival with wifi passwords and such.
I will say, the most we did in a row was 3 days, 3 different Harvest Host locations. And that's probably the most we could handle before needing electric and water hookups. And even that was a bit much. We charged all our devices in the car. Couldn't take showers. And could only cook via stove. The experience was well worth it, but something to keep in mind. You could of course use a generator, but it's recommended to use sparingly if around other guests. And to be mindful not using at night. This totally happened to us – someone used a generator ALL night – and we had so much trouble sleeping!
Supporting the Business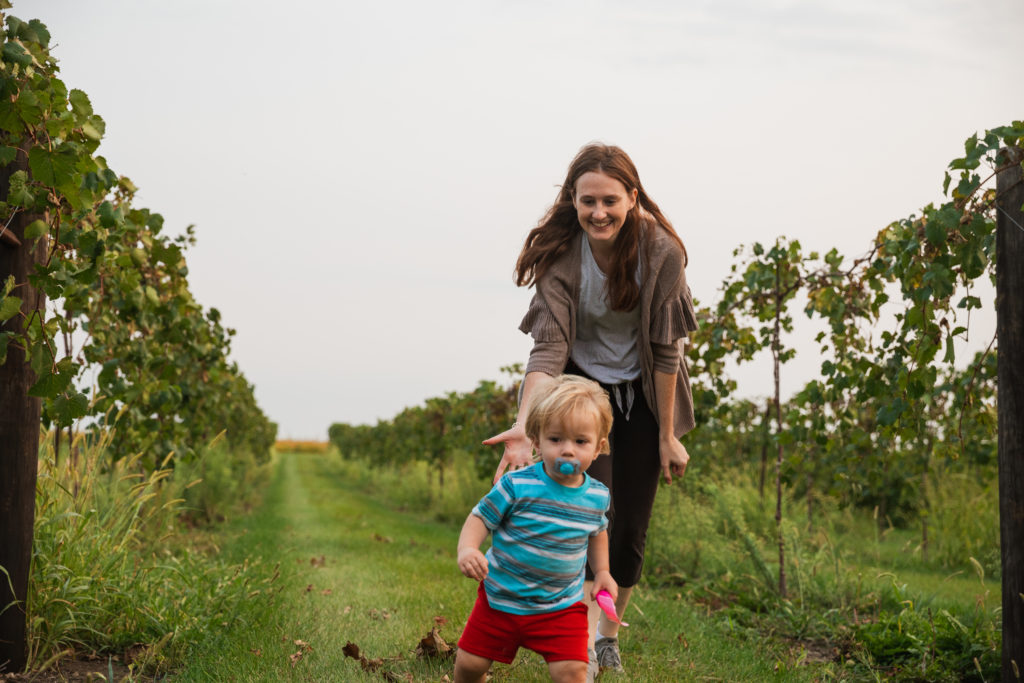 Once you get all set up, you then get the opportunity to experience and support a local business. In our case this meant wine tastings, cocktails, beer and appetizers, and even an alpaca farm tour. All the hosts we met were super friendly and hospitable. They love to talk about their stories. What they do. How they got started with their businesses. Hearing the stories is what makes Harvest Host experiences.
Are you required to make a purchase?
To be honest, I don't know if it's a rule or not. The expectation is that you will make a small purchase at each Harvest Host. We were totally ok with this because you are parking for free and they are such cool experiences. Plus, you get to support a local business. And the money you spend during your visit is the only form of payment these hosts get by welcoming you.
You can spend money by participating in tastings, ordering food, bringing back items from the shop. We even went to an alpaca farm and came away with some super cozy socks and hats. A lot of these places have things that would make excellent gifts! Honestly it felt so good knowing our money was going to support a small, local business as opposed to campground fees all the time.
What's the camping experience like?
While staying with Harvest Hosts, you're really left to your own devices. When you arrive, they'll help you with where to park. And then you do all the setup on your own as you normally would. After you're all set up, they'll typically invite you to come check out their business. While you're visiting the business most owners love to chat about how they got started, why they're passionate, their history, etc. It's a unique part of the experience.
And then when you're done, you go back and hang out at your RV. Cook dinner. Sit outside and enjoy the views. Whatever it is you normally do. You're on your own for the night. Some hosts live at their business. Others close down and hosts drive back to their homes for the night. Also, while we didn't experience it, most Harvest Hosts have a plan for bad weather and will ensure you have a safe spot if needed.
Related: Installing a tile backsplash in an RV
Is Harvest Hosts for You?
We wouldn't be doing this Harvest Hosts review justice if we didn't give you our recommendation on who would benefit from a Harvest Hosts membership.
Here are some reasons why you might not enjoy the Harvest Host experience:
You need hookups (electric, water, sewer – some hosts have hookups, but it's rare)
You don't have a self contained vehicle – if you don't have interior cooking facilities and a toilet, you won't be able to park at these locations. Tents, pop up campers without these amenities, and sleeping in your car are not allowed at Harvest Hosts.
You aren't interested in staying somewhere for only one night – Harvest Hosts allow a maximum of 24 hours at each location
You need all the campground amenities – as you are staying at local businesses you won't have access to things like laundry rooms, showers, and playground
Also, some locations have size restrictions (though many allow campers of all sizes) and varying pet restrictions (again, most allow pets).
Here are some reasons why Harvest Hosts is for you:
You love the idea of experiencing local businesses and meeting new people
You want to experience some unique views while camping
You'd rather spend your money support a local business rather than campground fees
If you need a quick place to rest your head during driving days in between locations
You like wine, beer, and farms
You don't mind not having hookups for a day or two
If you want to enjoy camping without being parked next to a bunch of other campers
You want the flexibility of not having to make a camping reservation months in advance
As you can see, the benefits, in our opinion, far exceed any of the drawbacks. If you opt for a Harvest Host membership, you'll be waking up to some truly amazing views, meeting people and hearing their stories, and sampling some unique local products.
Use our referral link to save 15% off if you're interested in your own Harvest Hosts membership.
We've truly loved all of our Harvest Hosts experiences and wanted other RVers to experience the same. To continue the Harvest Hosts review, check out the video we made with 3 different Harvest Host locations!
You may also like:
Camping Activities for Kids That Will Take Your Trip to the Next Level
When Does Camping Season Start? What is the Best Month for Camping?
Books About Camping for Toddlers to Get Them Excited for the Outdoors