If you only have one day in Grand Teton National Park it can be tempting to pack in as many sights as humanely possible so you can see it all. Yep, been there. We only had one day and we really had to make it count – swiftly moving from place to place only to collapse in bed at the end of the day. Well, we did collapse in bed, but it was more from chasing two kids around than because we were hurrying from place to place. Something most people don't tell you – once you get to Grand Teton, you'll quickly discover how beautiful everything is and there is no hurrying. And for that reason, we put together our perfect itinerary if you have just one day in Grand Teton. It leaves time to stay and wander if you want. And also, about how long we spent in each place – so you too can plan ahead and enjoy your day rather than watching it fly by.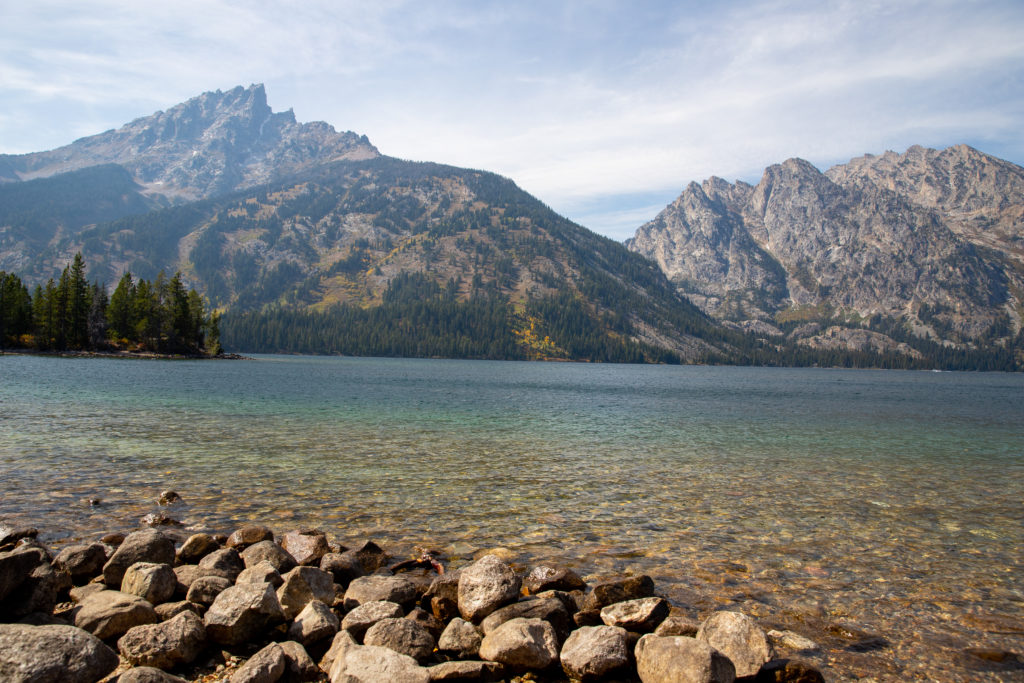 Wake up in a cute town an hour from Grand Teton National Park
Park your lil home on wheels at the Longhorn Ranch RV Park. It's located in the adorably western town of Dubois, WY. When you're driving to this place, it first looks like there's nothing around. And that's pretty true. Except when you get to Dubois you'll be met with the coolest little western town. Local places to eat and shop, and of course, the Longhorn Ranch RV Park, which is the perfect place to serve as your home base to Grand Teton.
This campground surprised us because there is grass everywhere, a nice stream you can stroll by, a big community grill/fire pit area, super clean bathrooms, and a playground for the kids. It was the most traditional campground-y of all the places we stayed and we'd absolutely stay again. It has the space for kids to run around. And the views from this place never get old. If you stay an hour away from the park, you'll get to enjoy a laid back experience on the former home of a longhorn cattle herd. Oh, and if you aren't doing the RV thing, they have hotel rooms.
✅ Step 1: Enjoy your morning coffee with a view
Drive to Schwabacher Landing for your first look at the Teton Mountains
Warning – this place requires you to drive down a very bumpy, gravely road. And on the way you may think "no way is this sketchy place worth it". But then you find the parking lot, get out of the car, and the view is epic. There's also a toilet (in the interest of helping with the planning). The trail is flat and you could spend all day here instagramming. It's located on the Snake River and kids will love stepping into the water here. This is the place you go to get the view.
✅ Step 2: Admire the magical mountain views – we spent about 30-45 minutes here but easily could have stayed longer.
Visit Historic Mormon Row
If there was ever a barn you need to photograph, it's here. The most photographed barn in the world in fact. This is definitely a must if you only have one day in Grand Teton and to be honest, you don't really need to spend much time here. Just as long as you make the stop so you can walk away with the quintessential Wyoming snapshot.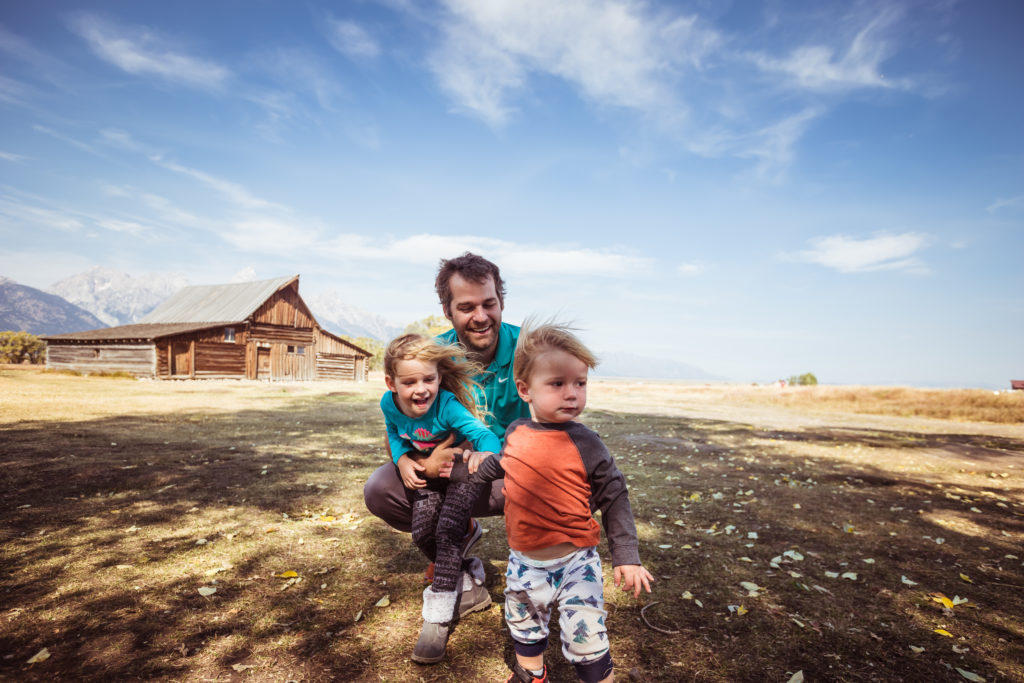 In the 1890's, Mormon settlers from Idaho were establishing a new community, now known as Mormon Row, consisting of 27 homesteads. The Homestead Act of 1862 granted land ownership to any person willing to build a house and cultivate the area for five years. So these settlers moved in and built some of the most famous barns in the world. Two barns in particular – the John Moulton Barn and T.A. Moulton Barn attract photographers from all over the world to capture the iconic building (made even more iconic with the stunning mountains that serve as the backdrop). Thomas Alma (T.A.) took over 30 years to build his barn. Crazy!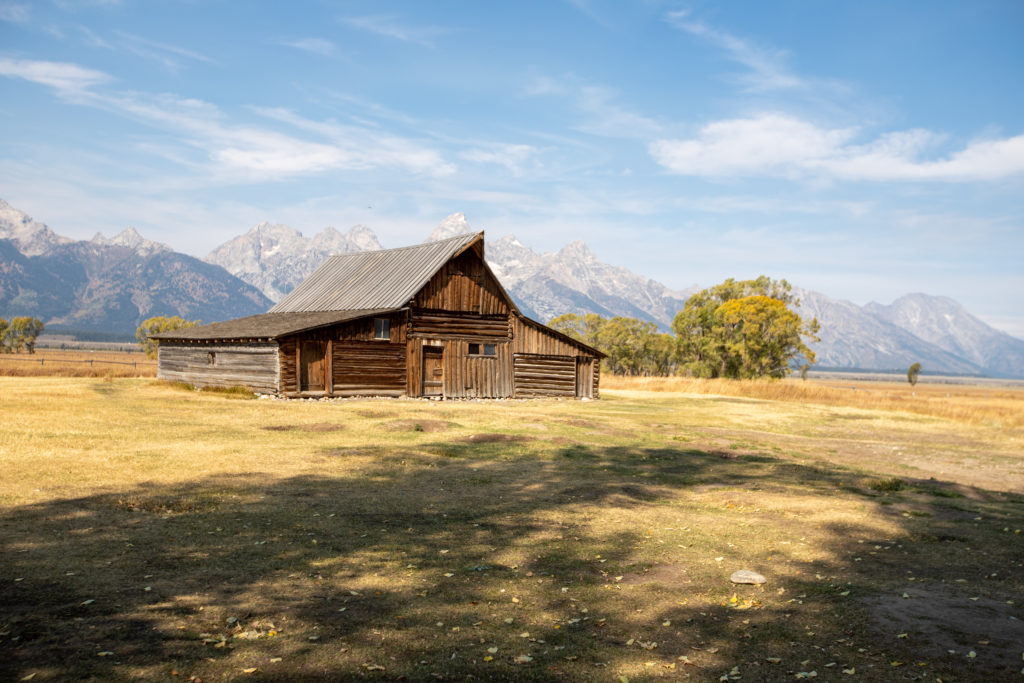 So not only will you be in the presence of some pretty cool history, snap a pic and you'll have your family holiday card for the year. In all seriousness, there's not a ton to do in the area. It's worth the stop to get the famous picture, but you'll probably want to take a few pictures and then head to your next stop. You can barn hop and photograph multiple if you want to stay and explore.
✅ Step 3: Acquire the highly sought after barn picture – we spent about 20 minutes here.
Eat lunch at a chuckwagon in a town called Moose
You could have a picnic. And if so, skip this and take it to the next location on our list. But if you want to dine with a view at a local chuckwagon, head to Dornan's. It's located in Moose, WY which is a tiny little town in Grand Teton National Park. We recommend going not only because it's a town called Moose, but also because it's a convenient stop on your way to most of the Grand Teton sights. And it has an incredible view for lunch. Plus, if like us, you forget to pack a lunch or just want to get on the road as fast as possible in the morning, you'll be happy to have a close lunch option (and there aren't many within Grand Teton itself).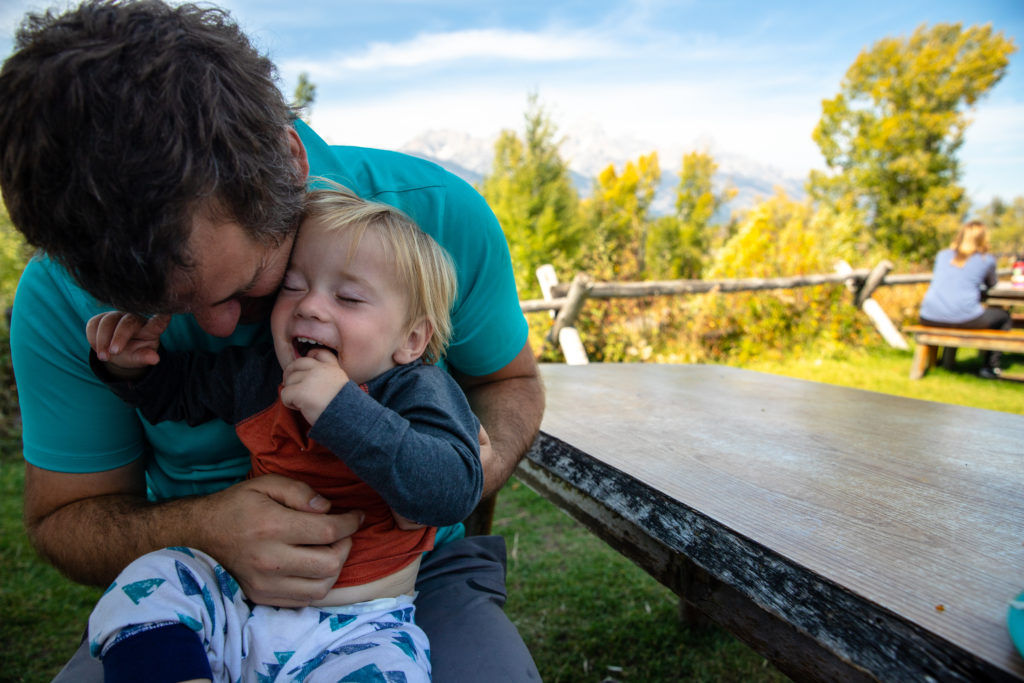 You can do sit a nice sit down lunch at the pizza/italian place – which has an outdoor deck seating area upstairs with that looks like an incredible view. Or you can do the slightly more casual option and order a sandwich or burger and sit down at one of the outdoor picnic tables (with an equally amazing view). We did the picnic table option, which is conveniently a chuckwagon. If you've been wanting to try a buffalo burger, because you're in Wyoming, this is your chance! But we recommend the pulled pork sandwich – it was delicious! The place is a bit touristy, but you're in it for the view, ambiance, and convenience. If you've got only one day in Grand Teton National Park After, it's worth the touristy stop. After lunch, you can walk around the shops and appreciate the teepees scattered about.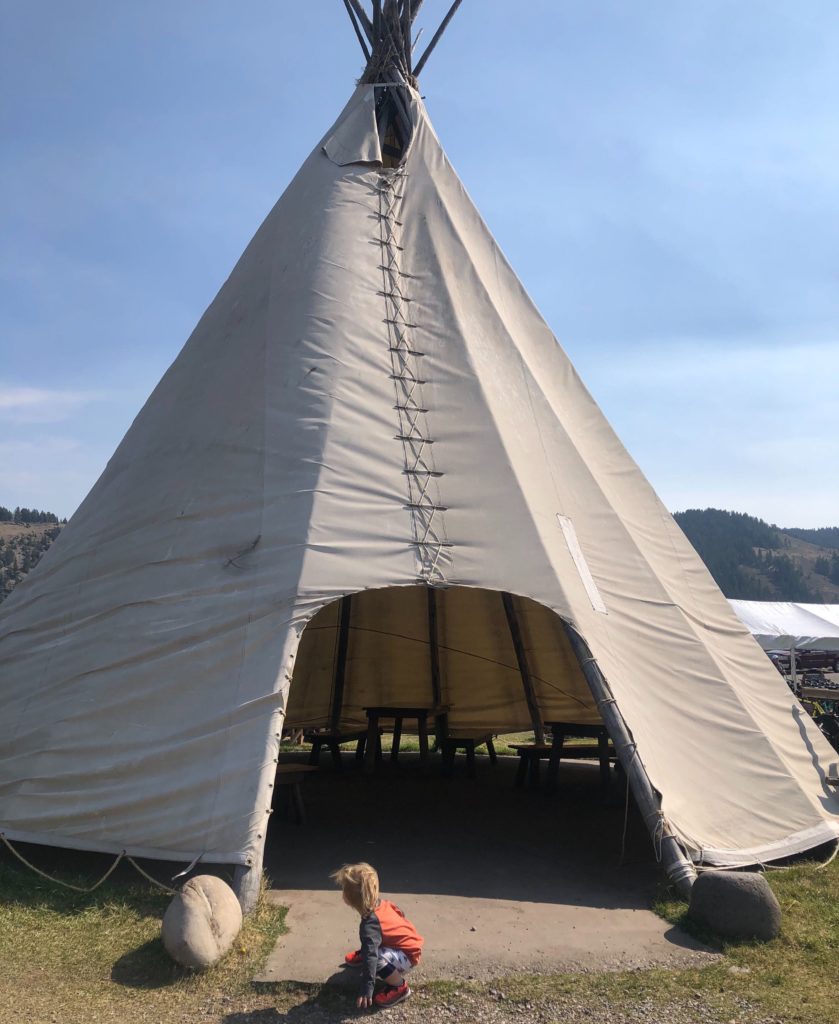 Protip: there is a gas station in this little town. It can be difficult to find places to get gas in Grand Teton National Park and driving through the mountains can eat up gas quickly. This is a good spot to fill up before heading in!
✅ Step 4: Fill your belly with delicious, iconic Wyoming dish before heading out on a hike – we spent about 1 – 1.5 hours here. Could have easily spent longer, but there may have been a tantrum in there that expedited our lunch a little bit.
Take a hike next to a beautiful (and popular) lake
Jenny Lake is one of the must sees if you only have one day in Grand Teton National Park. And its the place we recommend going for an afternoon hike. Jenny Lake offers several different trails depending on how long/challenging your goals. At the center of all the trails is beautiful Jenny Lake. There is a cute, little rocky beach just past the parking lot before you really get going on any of the trails (close to the Visitor's Center). This is a great place to gaze at the mountains, take an epic picture, and maybe splash around in the water if it's warm enough (or if you're immune to the cold like our children – even in the chillier months).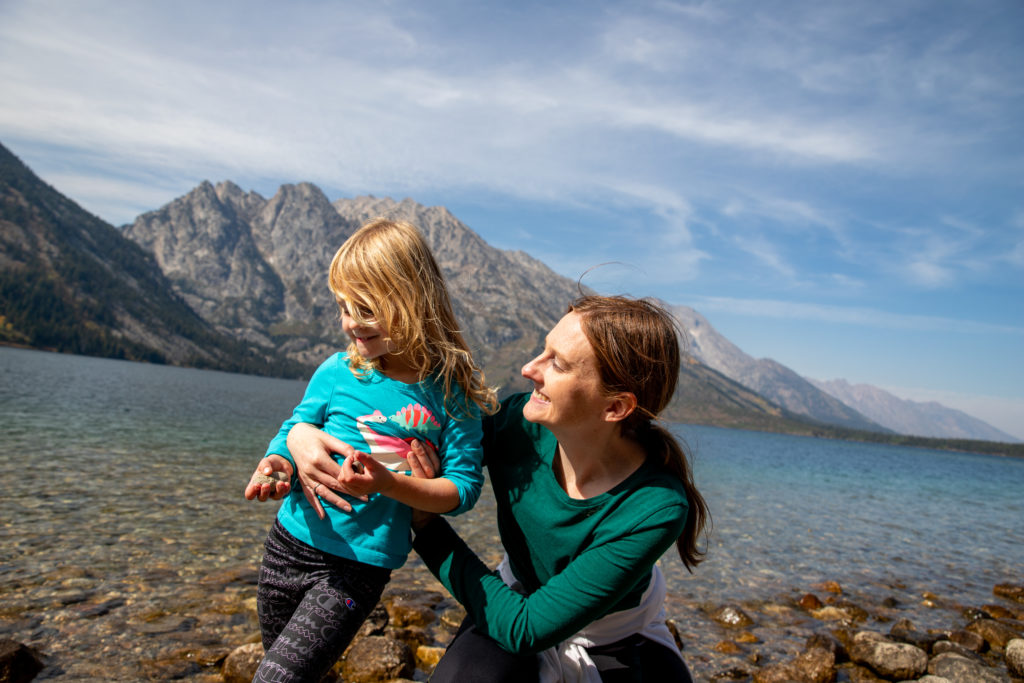 When it comes to choosing a trail, it depends on your personal preference. To hike fully around Jenny Lake is about 7 miles. You can also hike to Inspiration Point and Hidden Falls. Inspiration Point is a 5.8 mile hike, unless you take the shuttle over – then it becomes a 2 mile RT hike. The shuttle is pricey and as we were in this trip for a full month, we passed to save some cash. The long hikes would also take much more of your day as the park ranger recommended starting first thing in the morning to do these hikes. So it's probably more doable if you have a two or three day Grand Teton itinerary. But with a one day Grand Teton itinerary…
Moose Ponds Trail
Instead, do the hike to Moose Ponds! The trail is 2.7 miles RT, which we found to be the perfect length for kids. The path was pretty each to hike. We brought our BOB stroller and it did ok for most of it, but the closer we got to moose pond, the more challenging it because due to all the rocks. The trail is beautiful and I think no matter which trail you take, you'll be rewarded with some truly inspiring views.
One note on the Moose Ponds Trail – it's not super well marked. We weren't sure we were on the right track and thought we missed a turn somewhere and were headed for the full 7 mile circle around the lake. Nope, turns out kids just make you slower and we hadn't gone as far as we thought. Eventually we came to a sign for Moose Pond (and when you see the sign you are almost there). If you want to shave a little time off the hike you can park at the boat launch area instead of the main parking lot. It's a smaller lot though, so it probably gets filled up quick.
✅ Step 5: Hike off your lunch while experiencing some epics views – we spent the most time here – probably ~3 hours in total (including a stop at the Visitor's Center to pick up some Grand Teton swag).
Watch sunset from a pullout on your drive back to the campground
By now, it's probably close to evening time and your one day in Grand Teton National Park is coming to a close. One thing we underestimated was how much we'd love to just drive around and view the mountains from the road. Who knew after being in the car for 8 hours a day, we'd like being in the car here. But the drive is just as much a part of the experience. So on your way back to the campground, find a pullout that looks picturesque (you'll find them all over the place) and watch sunset. It's a nice cap and relaxing experience to your day. And they are super convenient because we never found one that didn't have a beautiful view. The main driving loop around Grand Teton National Park, 191 and Teton Park Rd, have frequent pullouts so its not something you have to plan and map out ahead of time.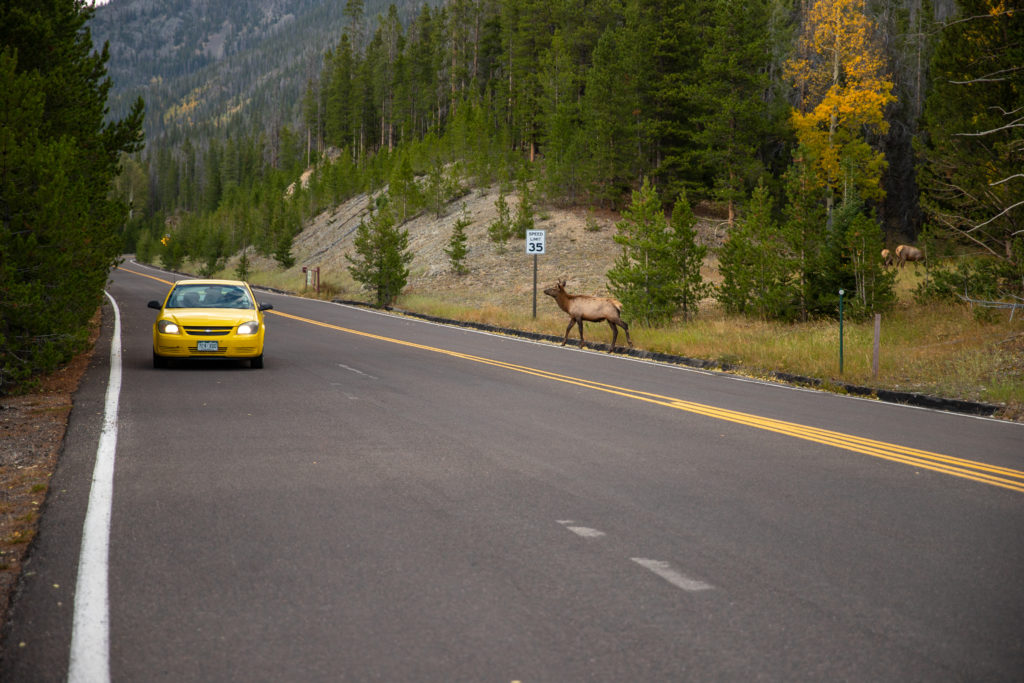 This is also a great chance to catch some wildlife since these pullouts are typically surrounded by open land.
✅ Step 6: Enjoy a panoramic sunset on your way home (and maybe an elk or two) – we were here for about 30 minutes.
And that's our itinerary if you only have one day in Grand Teton National Park. There is so, so much to do here, but we loved that this itinerary allowed us to take our time while covering a lot of ground. Each place is on the way to the next so you aren't zig zagging all over. If we had more time we would have also visited Leigh Lake. I guess that just leaves room for coming back and exploring a second day at Grand Teton!
Other road trip USA articles from our 30 day journey:
12 Brilliant Camping Activities for Kids Will Take Your Trip to the Next Level
Jellystone Park at Larkspur – One of the Best Campgrounds for Kids in Colorado